The AD Fitness 25kg Adjustable Dumbbells are one of the more impressive Bowflex Alternatives out there, and that's because they offer small weight increments. Most of the cheap Bowflex 552 alternatives only allow increments of 5kg, which is too big a jump even for serious lifters. The AD Fitness dumbbells use 2.5kg weight increments which are small enough not to slow progress and are suitable for any level of lifter.
Adjust Both Dumbbells in Under 5 seconds
Something else you'll love about this pair of bells is the adjustment system; it's a clone of the Bowflex weight selection dial, and its works just as well. Taking only a second to adjust each end of the dumbbell allows you to perform any exercise, even drop sets requiring the fastest weight changes.
Overall, AD Fitness has impressed me with their 25kg adjustable dumbbells. Still, there are a few minor drawbacks which I'll get into later. First, let's check out the AD Fitness 25kg dumbbell product specs!
Product dimensions – 43 x 22 x 23 cm
Weight – 25kg per dumbbell
Weight Increments – 2.5kg, 5kg, 7.5kg, 10kg, 12.5kg, 15kg, 17.5kg, 20kg, 22.5kg and 25kg
Solid in pairs and singles
Material – metal, plastic
Why Do We Like The Ad Fitness 25kg Adjustable Dumbbells?
When you buy a pair of adjustable dumbbells, you need to make sure the adjustment system is fast enough to cope with every advanced and basic bodybuilding technique. Many techniques require speedy weight changes, especially more advanced ones such as drop sets. So you'll need an adjustable dumbbell that takes no longer than 5 seconds to adjust.
The AD Fitness adjustable dumbbells can easily be adjusted in under 5 seconds. To use the AD Fitness adjustment system, you only need to press a button and turn a dial. It's very easy to do and fast.
Still, to ensure smooth, fast weight changes, always adjust the dumbbell when it's fully sitting in its storage tray.
2.5kg Weight Increments
Something else I liked about this pair of bells was the weight increments. Small weight increases are one of the keys to progress no matter what exercises you're performing or what gym equipment you are using, and for dumbbells, ideally, we want 1.25kg or 2.5kg.
It was good to see an affordable pair of 25kg dumbbells that use smaller 2.5kg weight increments.
Try to avoid adjustable dumbbells that use weight increments of 5kg. Jumps this large will slow your progress and cause you to cheat your form. Plus, they are almost useless for isolation exercises and bodybuilding in general.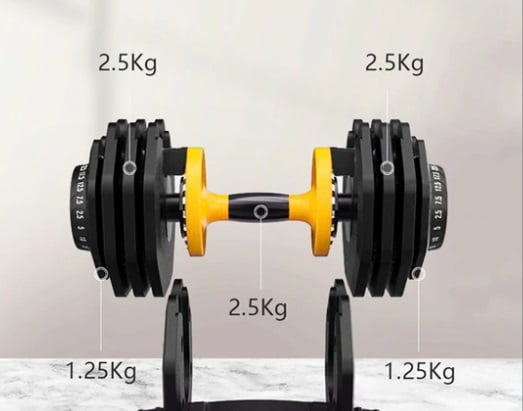 Plastic in Adjustment System and Handles
One of the drawbacks to owning adjustable dumbbells with a fast adjustment system is that it usually contains some plastic parts. This isn't just an issue with the more affordable pairs. Delicate adjustment systems affect most selectable dumbbells. Even more expensive pairs like the Bowflex 552s and Atviafit adjustable dumbbells have some plastic parts in their adjustment systems.
No Drops From Height
What all this means is that you cant drop the AD Fitness dumbbell from height because you'll break the adjustment system, and as drops aren't covered in the warranty, you'll be the one who ends up with the hefty repair bill.
Plastic in your adjustable dumbbell design isn't a deal stopper. You just need to be careful with the dumbbells.
Protective Paint Instead of Plastic
Thankfully the AD Fitness dumbbells do not use the plastic casing surrounding the weight plates; this is something you'll find on many adjustable dumbbells, including the popular Core Fitness dumbbells and both Bowflex pairs. AD Fitness decided to use paint rather than plastic to protect their weight plates from rust. This is a much better idea as there's less plastic to break, and using paint instead of plastic helps keep the dumbbell design more compact.
Solid With No Plate Movement
A number of users have commented on just how solid this dumbbell feels; this is great news, as most cheap adjustbales I've reviewed always have some plate movement. A solid adjustable dumbbell means a high-quality locking mechanism has been used, and this is usually the case with the dial weight selection system and safe lock. Bowflex were the first guys to use this system, and it's proven to be a very reliable, durable system over the years.
Long 40cm Handles
Long handles are sadly something you'll have to get used to if you don't want to spend the extra cash on a dumbbell with a compact handle. A fixed-length handle is a handle that stays some length no matter how much weight you are lifting. Most of the affordable, even some of the high-end adjustable dumbbells use a fixed length handle.
Fixed length handles can be awkward to lift with at first. I've used many adjustable dumbbells over the years that have fixed length handles, including the Bowflex pairs, and it can take a few weeks to get used to the length.
40cm is the length of the AD Fitness fixed length dumbbell handle. This is long, especially for curing exercises. Still you will adapt, and once you have, they shouldn't affect your training negatively.
If you'd prefer an adjustable dumbbell with a compact handle? It would be best to look for an adjustable dumbbell whose handle only increases in length when you add more weight. This type of dumbbell handle feels much more natural to lift with. The Powerblock Pros are an impressive example of an adjustable dumbbell with a compact handle.
Space Saving Design
And lastly, I thought I should mention just how much space a pair of adjustable dumbbells like the AD Fitness save. This pair replaces ten pairs of fixed weight dumbells. That's a heck of a lot of space to save, especially if you are tight on space in your home gym. Also, they save a lot of cash. If you wanted to purchase ten pairs of fixed weight dumbbells, it would cost £600, twice the price of a pair of AD Fitness adjustable dumbbells.
Solid pair of dumbbells with no plate movement when lifting
Small 2.5kg weight increments – essential for progress
Painted instead of plastic-coated weight plates, less plastic to break and keeps dumbbell more compact
Fast weight selection dial adjustment system, allows you to perform any exercises even advanced exercises such as drop sets 
Great price for a well made 25kg Weight select dial pair
Space saving design – replace 10 pairs of fixed weight dumbbells
Theres some plastic in the handle and the adjustment system which means no drops from height. They'll survive drops of 6″ or so but I wouldn't risk anything higher
Fixed length handle can be awkward to lift with at first,but you'll get used to in a week or two
No stand available – best to get hold of a small, sturdy table to put your dumbbells on as it saves you bending over every time you want to change the weight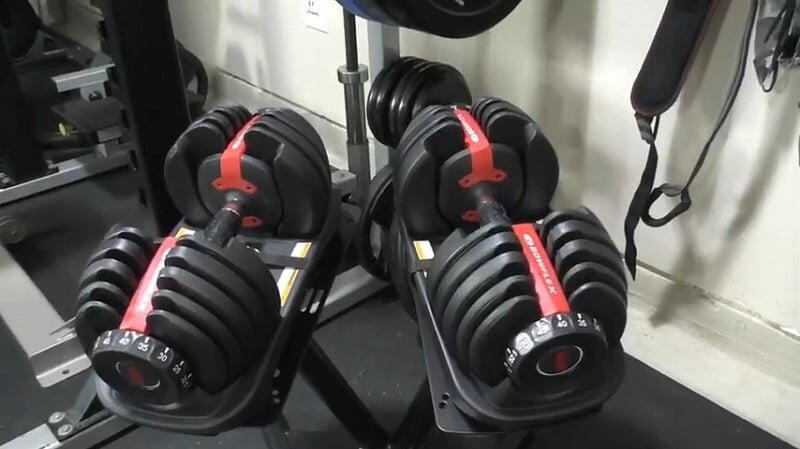 Bowflex 552 Adjustable Dumbbells
The Bowflex 552 dumbbells have been around for nearly two decades and have been at the top of the adjustable dumbbell market ever since. Selling more pairs than anyone else.
The Bowflex 552s were the first pair of adjustable dumbbells I bought many years ago. At the time, they were a no-brainer as there were no other adjustable dumbbells that boasted a super fast adjustment system and replaced 15 pairs of fixed weight dumbbells. They were a great buy for any beginner setting up his first home gym.
And they still offer great value for your money today. The adjustment system is fast and easy to use, and reliable. And most importantly, the Bowflex 552 adjustable dumbbells offer small weight increments including the desirable 1.25kg weight increments which are excellent for beginners and isolation exercises.
However, they share the same drawbacks as many of the cheaper adjustable dumbbells. Just like the AD Fitness dumbbells, the Bowflex 552 have long fixed length handles, and they also have a ton of plastic in the design which means they're another pair of dumbbells you must be careful with.
The cost is around £100 more than the AD Fitness Dumbells, partly because you are paying for the brand name and that their dumbbells are one of the only adjustable dumbbells to offer the 1.5kg increments, which, if you're a beginner, may well be worth that extra £100. It also means the Bowflex replace 15 pairs of dumbbells compared to the 10 of the AD Fitness dumbbells.
To Sum Up
For under £300, I think the AD Fitness Dumbbells are impressive. The adjustment system, which was so impressive on the Bowflex dumbbells, is now available for the cheaper pairs, which is great news as it is a fast, reliable adjustment system.
Also, what I like most about this pair is they adjust in 2.5kg weight increments instead of the 5kg increments I often see on the budget 25kg dumbbells. The 2.5kg increments sell the AD Fitness dumbells for me; they allow any level of lifter to progress fast with their lifting at home. Okay, there's some plastic in the design, but this is something that plagues most of the selectable/adjustable dumbbells. I've reviewed over 50 pairs, and 90% of them have some plastic in the design. It's something we have to live with if we want to benefit from their speedy adjustment systems.