I've always liked the Bowflex 552 dumbbells, they were the first company to bring to the market a superfast adjustment system with their SelectTech dial adjustment system, and they were the first adjustable dumbbell to offer 2.5lb increments. Bowflex set the standard high with their 552 set, and finding a Bowflex Alternative that provides everything the Bowflex Dumbbells do but doesn't include some of the well-known drawbacks isn't that easy.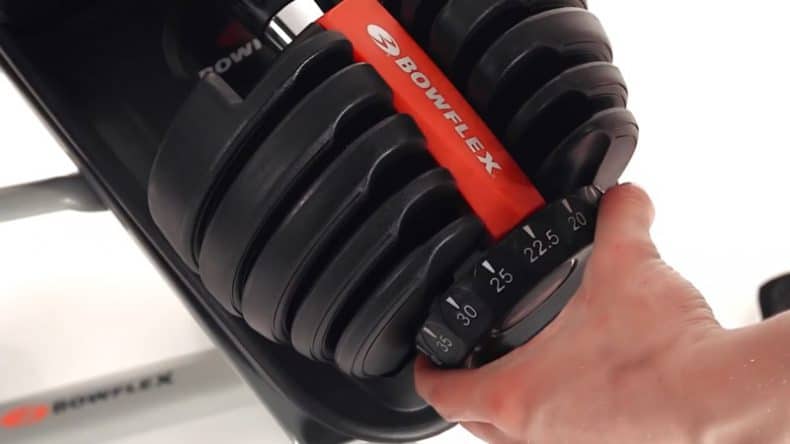 Only a Few Dumbbell Sets Can Rival The Bowflex.
Still, I've been using and reviewing dumbbells for many years, so I know everything this market has to offer, and it's a mixed bag out there. Most of the new adjustable dumbbell sets have too much plastic in their designs, and nearly all the latest heavy sets have too large weight increases. But that doesn't mean there isn't anything better out there than the Bowflex? There just aren't many sets that come close to the Bowflex, and only a few, in my opinion, make excellent Bowflex alternatives, and those few impressive sets are the ones we'll be looking at today.
Before we have a look at my 3 Best Bowflex Alternatives, I think its a good idea to quickly point out what's wrong with the Bowflex SelectTech Dumbbells
Bowflex Drawbacks
Long Handles – The main issue with the Bowflex dumbbells is their long handles. Long handles are awkward to lift with; they can get in the way, clash, and take away that natural feel you want from a dumbbell. The reason the Bowflex handles are long is that they use a fixed-length handle. A fixed-length handle is a handle that doesn't change in length no matter what weight you are lifting. You can lift 5lb or 50lb, and the length of the handle stays the same. What you want is a compact handle. Compact adjustable dumbbells give the feel of a fixed weight dumbbell and feel natural to lift with. A compact adjustable dumbbell is a dumbbell handle that only increases in length when you add more weight.
Too Much Plastic – The other issue with the Bowflex dumbbells is the amount of plastic used in their design. These things have a ton of plastic in the handle, the adjustment system. And worst of all, you have the plastic casing surrounding the weight plates. The plastic casing covering the weight plates is usually the first thing to break on a Bowflex dumbbell, and when the plastic casing cracks, it makes the dumbbell unusable. It's a common complaint about the Bowflex dumbbells and all the adjustable dumbbells that use the plastic casing for their weight plates. Drops aren't covered in the warranty of any adjustable dumbbell, so you'll end up with a hefty repair bill. Maybe not a deal killer, but it means you have to be extra careful with a set like the Bowflex.
Best Bowflex Alternative For 2022
We're going to look at dumbbells with just as fast adjustment times as the Bowflex, similar price tags, and dumbbells that use a compact handle.
I can't promise plastic-free but certainly less than the Bowflex. However good the Bowflex dumbbells are, the long handles and the amount of plastic lets them down in a big way, so it's time to consider the alternatives.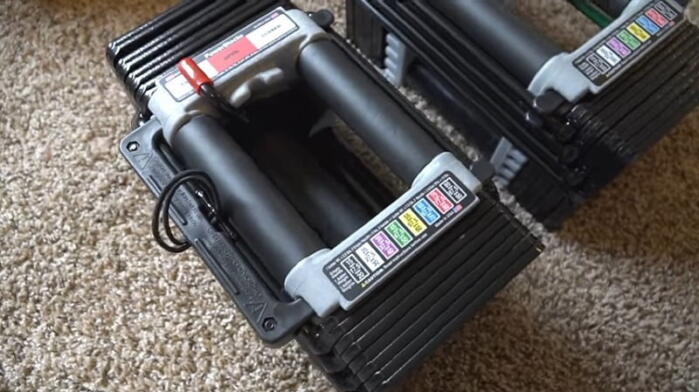 1. Powerblocks Elite 50 (50lb per dumbbell)
The Powerblock Elites have been around for years. They are one of the most popular dumbbells on the market and have always been my favorite. The reason I like the Powerblocks so much, and the reason I've owned a set for over a decade now, is that these things are compact. The handle of the Powerblocks only gets longer when you add more weight. They feel great to train with and natural, just like lifting with fixed weight bells in the gym.
And another reason the Powerblock dumbbells are so attractive to many lifters is the small weight increases. Small weight increases are one of the keys to progress, and ideally, for dumbbells, you want 2.5lb or 5lb increments if you want to progress properly with bodybuilding at home.
The 10lb weight increments I see featured on many adjustable dumbbells are just too big a jump even for season lifters. Large weight increases will slow your progress.
The Powerblocks adjust in 2.5lb increments which is perfect for most lifters and excellent for isolation exercises.
I'll admit the Powerblocks aren't the fastest to adjust out of all the selectable sets because you have to add the 2.5lb cylinders to the dumbbell handle if you want to adjust in smaller increments. However, you can use the magnetic selector pin for 5lb increments which takes just 1 second. Still, even with the cylinder changes for the 2.5lb increments, it takes less than 5 seconds, so easily fast enough for all advanced and basic bodybuilding techniques.
It's worth mentioning that the Powerblocks Elites 50's start at 50lb per dumbbell, which is a hefty amount, but what's great about this set from Powerblock is that they offer weight expansion packs for when you outgrow the 50lb per dumbbell max weight. You can buy the 70lb or 90lb expansion packs, and you won't have to pay out for a new set of heavier dumbbells, saving you a ton of cash.
There is some plastic in the handle, but that's about it. You won't see any plastic in the adjustments system as the Powerblocks use a weight staking system, and there's no plastic covering any plates here. They're one of the toughest fast-to-adjust dumbbells on the market. I wouldn't recommend throwing them around, but they'll survive the odd drop. I've had mine for more than ten years and never had any issues.
Overall a compact adjustable dumbbell, much tougher than the Bowflex, and you have the all-important 2.5lb increments for proper progression. The best on the market? Yes! And have been for years.
Solid dumbbells no rattle or movement when lifing
2.5lb & 5lb increments perfect for beginners and serious lifters
Compact natural feel handles
Less plastic than most adjustable dumbbells 
Fast adjustment times – under 5 seconds
70lb and 90lb weight expansion packs available
space saving design – replaces 15 sets of fixed weight dumbbells
Some people dont like the unconventional design
If you want the dumbbell stand you have to buy it separately and its pretty expensive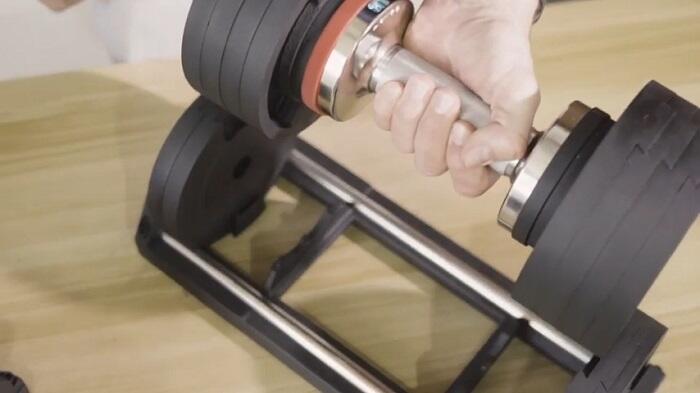 2. Snode AD-50 Adjustable Dumbbells
(50lb per dumbbell)
Another favorite of mine are the Snode AD-50 Adjustable Dumbbells. They haven't been around long, released in 2021, but they are already becoming popular among the more serious of lifters.
The Snode AD 50s stand out from all the other fast-to-adjust dumbbells because these guys haven't used any plastic for the plates. There's none in the handle. Only the adjustment dial is plastic. This still doesn't mean you can throw an AD-50 across your home gym and hope not to break it, but it's going to survive a few drops from height.
Would I risk training to failure and dropping a pair of these on that last killer rep? Probably not. I think they'd be ok. They're one of the toughest adjustable bells I've reviewed. Still, these things cost nearly $600, and as drops aren't covered in the warranty, I might not risk it.
Apart from being tough, the Snode Dumbbells are compact, and just like the Powerblocks, the length of the AD 50 handles only increases when you add more weight. They feel natural to train with and are one of the most compact dumbbells you'll find.
Adjustment times for the Snode AD-50s are fast, around 2 seconds. All you need to do is turn a dial.
Snode got all the essentials right with this dumbbell, such as being almost plastic-free, compact, heavy. Even the storage cradles are made from steel and feel as high quality as the dumbells. They really are a nice set of dumbells. However, the weight increments are too large for my liking. 9lb increments are too big a jump for most lifters.
Think of it this way if you can curl an 18lb Snode Dumbbells for ten reps and you want to keep adapting, curing a 26lb Snode dumbbell represents a 50% increase in load that's a big jump in weight, and something that will slow your progress, especially for isolation exercises.
The large weight increases are the only drawback I can find with the Snode dumbbells, if you can live with the 9lb increments? The Snode Dumbbells are unbeatable. Their the toughest fast to adjust dumbbells on the market, and they're compact too. About as close as you get to the natural feel of fixed weight dumbbell.
Compact handle – feels natural to lift with, no different to a fixed weight dumbbell
Tough, will survive drops so Snode says/ but drops aren't covered in the warranty
Single dial – 2 second adjustment times
High quality all-metal storage trays
Space saving design – replaces 6 pairs of fixed weight dumbbells
Anti-slip/Electroplating handle
9lb weight increments will not suit everyone
No weight expansion packs aviliable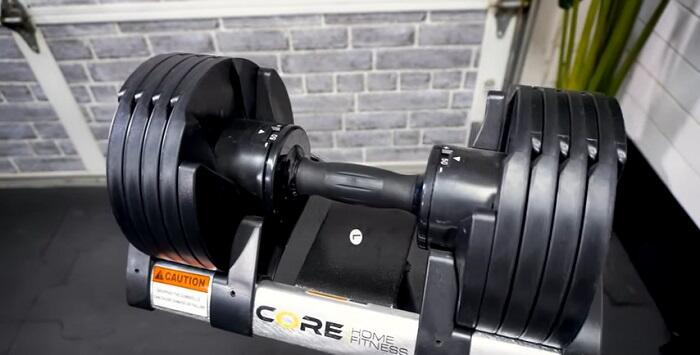 3. Core Fitness Twist Lock Dumbbells
(50lb per dumbbell)
Since the Core Fitness Dumbbells first appeared on the market 5 years ago, they have been a thorn in Bowflex's side. This set of bells has sold well ever since they were released. And one of the main reasons people love the Core Fitness Dumbbells is that they were the first set of adjustable dumbbells to use a twist-lock adjustment system rather than the dial on either end of the dumbbell.
What's so good about a twist-lock system is that you can adjust the dumbbell with a twist of your wrist. It's the fastest adjustment system and takes just a second to adjust. The adjustment system is this dumbbell's most impressive feature and one that's helped sell thousands of sets.
Perhaps what's more impressive, well to me anyway, is that the Core Fitness Dumbbells boast a compact handle. They're the first 1-second super-fast adjustable dumbbells with a compact handle. And that's why I like the Core Fitness dumbbells so much. They are compact, and they are fast.
And you don't have to worry about large weight increases either. The Core Fitness dumbbells adjust in 5lb weight increments, not perfect, but 5lb is good enough and much better than the 9lb increments of the Snode dumbbells.
Sadly there's a drawback, and that is the amount of plastic. You have the Plastic casing for the weight plates and plastic in the adjustment system, so it's a set that you'll have to be extra careful with. Still, I think they're a bargain with a price tag of just $359 for the pair. They replace 10 sets of fixed weight dumbbells, have the fastest and easiest to use adjustment system, plus they're compact. You'll have to live with some plastic in the design, but bang for your buck, the Core Fitness Dumbbells are winners.
Twist Lock adjustment system – single hand one second adjustment time
Compact dumbbell – handle only increases in length when you add weight
Space saving design – replaces 10 pairs of fixed weight dumbbells
Great price for 50lb per dumbbell pair of twist locks
As much plastic as the Bowflex – no drops!
Stand is available for the dumbbells but its over priced
To Sum Up
Even though there are more than 30 sets of 50lb dumbbells out there, only a few are better or equal to the Bowflex 552s. There's a reason the Bowflex's sell so well, they are basically a decent set of dumbbells and great for beginners because they're fast and easy to adjust and have small weight increases.
But as I mentioned, the Bowflex 552s have a few issues, the long handles being one of them and a ton of plastic in their design. The Powerblock Elites are the best alternative to the Bowflex 552s because they include the impressive features of the Bowflex but don't include any of the drawbacks.
The Powerblock Elites boast a tough design, they include small weight increases, and they're compact. The Powerblock Elites have everything you want, from an adjustable dumbbell. Plus, you won't outgrow the Powerblocks anytime soon either because they are the only fast-to-adjust dumbbell to offer weight expansion packs.
The Snode dumbbells are an awesome set of bells; their all-metal design is what sells the AD-50s. Ironmaster sells an all-metal set of adjustable dumbells, but they're slow to adjust. The Snodes adjust in two seconds. They're the only all-metal dumbbell with adjustment times fast enough for advanced bodybuilding techniques such as drop sets. Still, the Snode AD-50s are expensive, and it's debatable whether it's worth paying this much for a dumbbell with 9lb weight increments.
If cash is tight, the Core Fitness Dumbbells are a set I'd happily recommend, super fast adjustment times, small weight increases, and best of all, this set is compact. Yes, there's plastic there, so you need to be careful, but considering what's on offer here for the price, I still think this is a dumbbell set worth taking seriously.