A decent set of 90lb adjustables is hard to find, there are only a few decent sets out there right now, and one of those is the Bowflex 1090 Dumbbells, and the others are Powerblock EXP Pros, the Powerblock Elites, and the Ironmaster sets.
Are the Bowflex 1090 Pair The Best Heavies?
Are the Bowflex 1090s the best 90lb dumbbells you'll going to find? No, the Powerlbock Pro series win that one; they're compact and tougher. Still, if you want a pair of EXP Pros, the ones that allow for 90lb expansion packs, you'll be looking at a price tag of over $900 once you get them up to 90lb, and good luck trying to find the 90lb expansion packs as they're always out of stock.
The others are the Ironmaster Quick Locks, an impressive set of all metal dumbbells built to last a lifetime. The only problem with the Ironmasters is that they're a plate-loaded set, which means slow adjustment times, so advanced techniques such as drop sets are out.
Faster To Adjust & Cost Less
This leaves us with the Bowflex 1090s, a fast to adjust selectable dumbbell, not as pricey as the Powerblock EXPs, and much quicker to adjust than the Ironmasters, and they offer the 90lb of weight in a single dumbbell with no expansion packs to mess around with.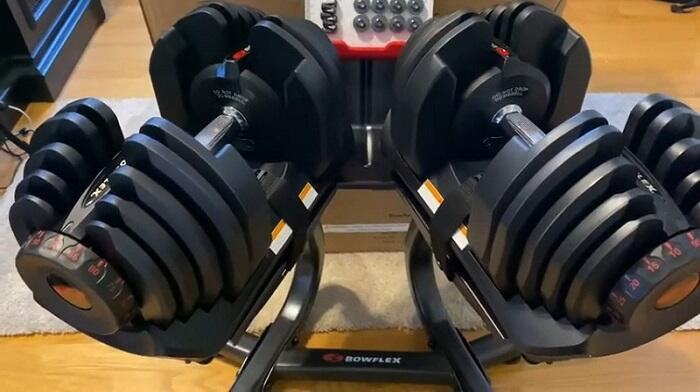 I've always thought the 1090s were impressive heavy adjustable dumbbells, they boast a lot of positives, but they do have a few drawbacks, which I want to get into later in the review.
First, a quick look at the Bowflex 1090 SelectTech dumbbell Product specs!
Product dimensions – 17.5 x 10 x 10 inches
Weight – 90lb per dumbbell
Adjustment system – weight selection dial
Material – metal, plastic
Why Do We Like The Bowflex 1090 Dumbbells?
There's a lot to love about this heavy pair of bells from Bowflex. The 1090 SelectTech dumbbells are the only 90lb dumbbells you'll find you can adjust in 2 seconds, these were the guys that introduced the weight selection dial to the market, and it's just as impressive now as it was almost two decades ago. It's a foolproof adjustment system that allows you to perform any exercise. It won't slow you down.
There are slightly faster adjustment systems like the twist-lock systems you'll see on a ton of 50lb pairs, but it's never been used for any heavy 90lb or 120lb sets. Bowflex's dial remains the fastest for the 90lb dumbbells.
The other heavy dumbbell set options are plate-loaded pairs like the Ironmaster and the old-school spinlocks and bars taking up to a minute to adjust. And lastly, the Powerblocks that use a magnetic selector pin and separate metal 2.5lb cylinders that have to be added to the handle every time you want to adjust the weight making them slower than the 1090s.
Small Weight Increases Are One of The Keys to Progress
Something else I like about the Bowflex 1090 SelectTech Dumbbells are the 5lb weight increments. Small weight increases are one of the keys to progress. You don't want an adjustable dumbbell that adjusts in 10lb increments which you'll find with many of the cheap adjustables.
10lb weight increments are too big a jump, even for the most serious of lifters, and almost useless for bodybuilding. Ideally, look for 2.5lb or 5lb increments for dumbbells.
Fixed Length Handles – The First of The Drawbacks
In the intro, I mentioned the 1090s had a few things holding them back, perhaps not deal killers but something you should think about. The fixed length handles are one of the drawbacks of owning the 1090s. Fixed length handles are handles that stay the same no matter how much weight you're lifting. Whether you're lifting 10lb or 90lb, the length of the handle remains the same.
 17.5″ Handles Can Be Awkard To Lift With
And these things have nearly 18″ handles which can be a pain, especially when curing or setting up for exercises. Long handles plague many of the fast-to-adjust sets, and if you want those super-fast adjustment times, it's something you'll have to live with.
You will adapt and get used to the length of the 1090 dumbbells, but they'll never feel natural to lift with like a fixed weight dumbbell.
If you want a more compact adjustable dumbbell that feels natural to lift with, you must look for an adjustable dumbbell whose handle only increases in length when you add more weight. The Powerblocks Pros and Ironmasters boast compact handles, and it is one of their most appealing features.
Bowflex and Too Much Plastic
I don't know what it is about Bowflex, but they seem to love using a ton of plastic in their adjustable dumbbell designs. Many adjustable sets use some plastic, but Bowflex seems to go overboard with the stuff.
There's plastic in the adjustment system, the handles, and plastic casings surrounding the weight plates. Do you need all this plastic? No, especially not the plastic casings for the weight plates. Sure the casings may reduce noise when changing weight, but the thing with plastic casings surrounding the plates is they can crack when dropped, and once they do, it will make the dumbbells unusable.
However, in the latest release of the 1090s and the 552s, they started to use more metal parts in the adjustment system which is a good thing because it too was one of the weakest points of the Bowflex dumbbells.
As I mentioned, plastic is something you'll come across in the majority of adjustable dumbbell designs. It's just the amount they use varies. Still, the Bowflex bells are pretty durable. They're a high-quality set of dumbbells. I've known people to own Bowflex dumbbells for years without any issues. The only rule here is not to drop them. There's no training to failure and dropping the dumbbells on that last killer rep because they will break. You need an all-metal set if you want to throw your dumbells around your gym.
Even sets like the Powerlblocks won't survive being dropped regularly.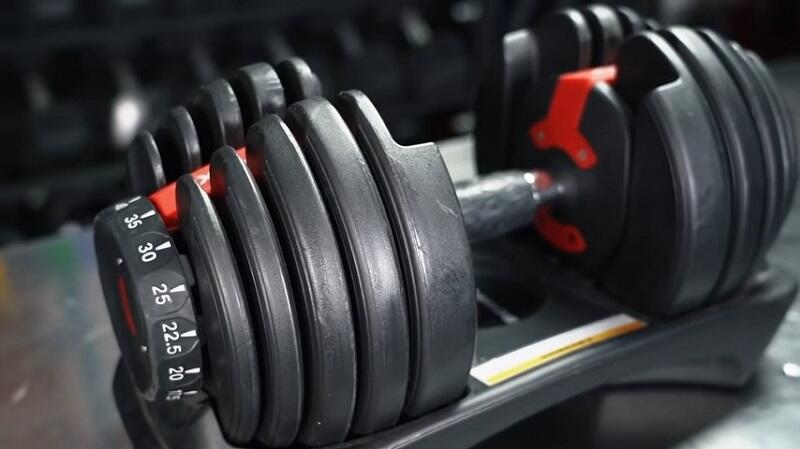 No Flat Ends
okay, im being picky now, but if you're going to spend this amount of money, it's worth knowing everything about the product. One of the minor issues with Bowflex 1090 dumbbells is the selection dial on either end of the dumbbells. When setting up for presses, the selection dial will dig into your thighs. This is a minor issue, but it's off-putting, and you'll certainly notice it most when lifting heavy.
Space-Saving Design
On the positive, the Bowflex 1090s save you a ton of space as they replace 17 pairs of fixed weight dumbbells or 34 single dumbbells. That's a heck of a lot of space to save. It's one main reason I own a couple of pairs of adjustable; they save so much space and a lot of cash as well – buying 17 decent pairs of fixed weight dumbbells will cost $1000+ whereas you can purchase a pair of 1090s for $750 or a single for $369
Come With Cradles
Each dumbbell has its own cradle, which is molded to fit each dumbbell perfectly; this helps to hold the dumbbell plates upright.
It's worth noting you can only adjust the dumbbells when they are in the cradles. Once the dumbbell is out of its tray/cradle, the dumbbell locks tight.
Solid no plate movement when lifting
No expansion packs needed to get up to 90lb
Fast adjustment system allows you to perform any exercise
Come with storage cradles
Fixed length handles – can be awkward to lift with at first
Fair amount of plastic used in the design. You'll need to be careful. No drops from height
adjustment dials can dig into thighs when setting up for presses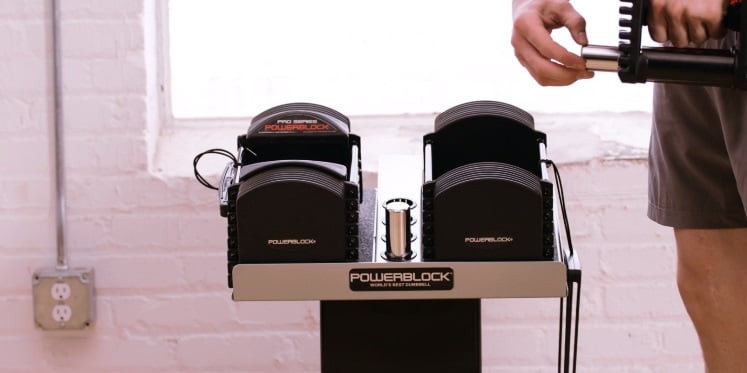 Powerblock EXP Pro Series Stage 3
Powerblock previously made a pair of adjustables called the U90s. They were an excellent option for anyone wanting to lift heavy because the package included two 90lb Powerblock dumbbells, which could then be expanded up to 120lb.
Powerblock stopped production of the U90s a couple of years ago and replaced their heaviest set with the Powerblock Pros EXP, but instead of stage 1 starting at 90lb, it now starts at 50lb, and you can purchase the 70lb and 90lb expansion packs separately. There are no 120lb packs available anymore (unless you buy the commercial sets)
Or you can save some money and buy the Stage 3 Exp Pro dumbbell, which adjusts from 10lb to 90lb. Stage 3 Pro EXP set includes both the 70lb and 90lb expansion packs, and Powerblock gives you a discount because you bought the whole package.
As I already mentioned, the Powerblock Pro Series are expensive. They're Powerblocks most impressive set of adjustable dumbbells. They use flex technology which allows them to bend slightly, making them much less likely to break when dropped. This tech is only used on the Pro EXP series. The rest of the Powerblock range is welded.  They're also the only Powerblock dumbbells compatible with the Kettlebell handle attachment, giving you access to an adjustable kettlebell option. And the only line that's compatible with the PowerBlock EZ Curl / Straight Bar handles converts the Pro EXP dumbbells into adjustable barbells.
But what really sells the Powerblock dumbbells is their compact design. The empty dumbbell handle measures just 10″ compared to the 17.5″ of the Bowflex 1090s. There are no fixed length handles here to deal with; instead, the handle only increses in length when you add more weight. And the weight staking system of the Powerblocks keeps things as compact as possible.
Adjustment times are fast if you want to adjust in 5lb or 10lb increments, as you can use the magnetic selector pin for the larger weight increments. However, if you're going to adjust in 2.5lb increments, you'll have to add the 2.5lb cylinder weights to the handles, which bumps up adjustment times. Still, it's great to find a heavy dumbbell that includes the desirable 2.5lb weight increments. 
The most noticeable thing about the Powerblocks is that there's much less plastic in the design than Bowflex 1090s, which is always a good thing. Still, even with Powerblocks flex technology, I wouldn't drop them from height regularly. There is still some plastic in the handles.
And lastly, the Powerblocks Pro EXP series includes an open deeper handle design, something I know many lifters have welcomed as the old handle design was restricting some of the larger guys. 
Overall the Powerblock EXP Pro Series is unbeatable, the compact, durable design and small weight increments make the EXPs a winner, but they're expensive. $900 for a pair of stage 3 90lb dumbbells. Remember, you can start at stage 1 and build up. Currently, the stage 1 pair (5-50lb per dumbbell) sells for $500. Powerblock weight expansion packs stages 2 and 3 are $199 each.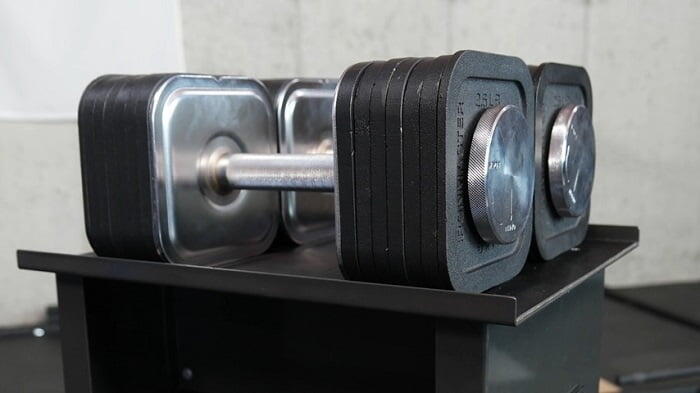 Ironmaster Twistlock 75 lb dumbbells
The Ironmaster dumbbells set is a set for serious lifters, the most durable option available because of the all metal construction, you can be sure this set will last a lifetime and this is backed by their lifetime warranty.
Available as a 75lb set sold with a stand, Ironmaster also offers two expansion packs, a 120 lb and 165 lb per dumbbell, by far the heaviest weight range offered out of the big 3 and a weight range that will not be outgrown by many or anyone.
Its great to see Ironmaster have thought their design through fully with their compact design just like the Powerblocks the Ironmasters handle only increases in length as the weight is increased.
2.5lb increments also make the Ironmaster a very versatile option.
There's only one real negative with the Ironmaster and that's the time it takes to adjust the weights, it's by no means slow but because you have to manually add and take off the weight plates it slows down adjustment times, so drop sets are out with the Ironmasters.
If you don't mind slightly slower adjustment times but love a dumbbell you can be a bit rough with then the Ironmaster TwistLocks should prove to be a very durable heavy duty option.
To Sum Up
If you want a conventional-looking fast to adjust heavy dumbbell, then the Bowflex 1090s are the best choise. The adjustment system is effortless to use and takes just a second or two to adjust. Speedy weight changes are what I love about the Bowflex 1090 pair. Also, the price, while not cheap, its a couple of hundred less than the Powerblock EXPs, which will make them more appealing to lifters on a budget.
The long fixed length handles are something that put me off the Bowflex 1090s at first but after training with both the 552s when I was younger and later the 1090s, the handle length is something you can get used to.
The only real drawback with the Bowflex 1090 adjustable dumbbells is the amount of plastic used. It's something Bowflex has always done, they feel the plastic casings for the plates make the weight changes smooth and keep the noise down, which it does. Still, all that plastic means you'll have to be extra careful not to drop a 1090 from height.
Bowflex 1090 Adjustable Dumbbells FAQs
Are The Bowflex 1090 Worth it?
The Bowflex 1090s are the cheapest of the heavy 90lb adjustable dumbbells. A few hundred dollars less than their competition represents excellent value for money. Especially when you consider a pair of 1090s replaces 17 pairs of fixed weight dumbbells which would usually  cost $1000+
Bowflex 1090s vs 552s Which is Best?
The significant difference between the 552s and the 1090s is how much weight they offer. The 552s offer a weight range of 5lb to 52.5lb and the Bowflex 1090s 10lb to 90lb. The low-weight dumbbell will always be a better choice for beginners. Also, the Bowflex 552s provide smaller weight increments of 2.5lb, which are perfect for beginners and isolation exercises that demand smaller weight increases.
The 1090s are an excellent choice for the more seasoned who need a heavier dumbbell to progress in their training. The 1090s carry a higher price stage because they offer more weight. 
How Heavy Do The 1090 Dumbbells Go?
Each Bowflex 1090 adjustable dumbbell adjusts from 10lb to a max of 90lb.  Adjusting in increments of 5lb
Can I Drop a Bowflex 1090 Dumbbell?
While the Bowflex 1090 Dumbbells are relatively durable with a high-quality build, there is a lot of plastic used in the design. You'll find plastic in the adjustment system, handles, and casings surrounding the weight plates. A dumbbell with this much plastic will not survive drops from height. And drops aren't covered in the warranty so you need to be extra careful with the Bowflex 1090s.
Does the Bowflex 1090 Dumbbell Feel Like a Fixed Weight Dumbbell to Train With?
The Bowflex 1090 Adjustable Dumbbells use a fixed-length 17.5″ handle. Fixed length handle will feel more awkward to lift with than the compact natural feel of a fixed-weight dumbell. However, you will get used to the length of the Bowflex 1090 handles over time, and it shouldn't affect your training negatively.