PowerBlock has been building quality home gym gear for decades they specialize in adjustable dumbbells, kettlebells, and weight benches, today we going to take a close look at their lightweight set of dumbbells the PowerBlock Sport 24 Adjustable Dumbbell Set.
High-Quality Dumbbell Set – Fast To Adjust
And just because this is their lightweight set don't think they have compromised on quality, the 24lb per dumbbell PowerBlock set is built to the same standards as all of their dumbbells, durable, high-quality materials and a warranty that puts their competition to shame.
Today we're going to take a close look at this versatile set of adjustable bells, I'll also be comparing the PowerBlocks 24s with ATIVAFITS 27lb per dumbbells set, the ATIVAFIT  dumbbells are quickly becoming a serious rival to PowerBlock in the Lightweight range so be sure to check out our comparison at the end of the review.
Before we get on the review lets take a quick look at the product specs!
Product dimensions –  10.5 x 5.2 x 5 inches
Weight – 24lb per dumbbell 
Adjustment system – Magnetic selector pin
Replaces 8 Pairs of Dumbbells – 3lb Increments – 3-24lb
Why Do We Like The PowerBlock Sport 24 Adjustable Dumbbell Set?
The reason I like the PowerBlocks Sport 24 dumbbells is the same reason I love all of the PowerBlock dumbbell sets, and that is their compact design. The PowerBlocks use a weight stacking system; this allows the dumbbell to be compact.
Nearly all the new fast to adjust dumbbells, including sets like the Bowflex, have long-handles, they look more like the traditional dumbbells because their design incorporates a long bar with weights at either end.
However, the handle is their downfall as it doesn't matter how much weight you are lifting, whether it be 5lb or 25lb; the length of the handle stays the same.
The PowerBlocks, because of the weight staking system, are far more compact; the length of the handle will only increase with the amount of weight you are lifting.
The compact design makes the PowerBlocks much more natural to train with, and you avoid those long awkward handles that can clash above your head or hit your hips as you perform dumbbell curls, so for size and ease of use the PowerBlocks score a big thumbs up!
Picture shows black handle design, I think the black looks sleek, but you can also buy the PowerBlocks sport 24's with the traditional white handle if you prefer
Adjustment System
It seems long gone are the days of collars, iron bars and weight plates, these new school sets of adjustable dumbbells do away with slow adjustment times, there's no more switching plates and screwing up the collars.
The PowerBlocks adjust in seconds; all you have to do is remove the selector pin and place it back into the weight stack at the desired weight you wish to lift, its that easy.
And this adjustment system is durable, yeah, the selector pin isn't made from steel like the weights. Still, it is made from a heavy-duty polyurethane material which is capable of supporting much higher weight capacities, its the same selector pin they use on the 90lb sets, so no worries of this thing breaking.
Who Are The 24's For?
24lb, as the name suggests, is the weight of each dumbbell, if your beginner or even an intermediate a 24lb adjustable dumbbell should do you good for a few years, but you have to remember there no expansion packs with this set.
An expansion pack allows you to add extra weight to the dumbbell once you have grown stronger and reached the max capacity of the dumbbell.
Many of you may never need a heavier dumbbell; it all depends on your training routine, are you training to get toned, training for strength or training for hypertrophy (muscle size).
These dumbbells are aimed toward the female market and at the beginner, so any serious lifters should look elsewhere, maybe try their Powerblock elite 50lb per dumbbell series.
If you are a beginner the 24lb sports are an excellent set of bells they'll last you at least a few years of growth, many of you will find them challenging for a much longer period. And heck, they cost half the price of the 50lb set, you don't want to splash out on a heavier set never to use the higher weight ranges.
In a few years, if you really start to take hypertrophy or strength training seriously and you feel the need for a heavier set, just sell the 24's and move on.
Durability
This is where the PowerBlocks shine, the PowerBlock are one of the toughest adjustable dumbbells on the market, and the ten years warranty is evidence of the confidence these guys have in their product.
Ok, you can't go throwing around these things like you can with dumbbells in your local gym, but they will survive the odd drop, unlike their competitors.
Nearly all adjustable dumbbells include a lot of plastic in their build, and as you might have guessed, plastic and weight training don't go together well; people drop dumbbells often. Still, it's a habit you'll have to stop with any of these adjustable sets, even the Powerblocks, as they too have some plastic in the handles.
But if we look at sets such as the Bowflex which have plastic surrounding the weight plates and throughout the handle, you can understand why so many people manage to break the Bowflex set.
Just one small drop, and you can crack the weight plates of the Bowflex and the adjustment system, and then you end up with an expensive repair bill as drops are never covered in the warranties.
So, yes, if you do want a durable set of fast adjusting dumbells, the PowerBlocks will always be your best bet, they're not invincible, but they'll take a lot more abuse then any of the other plastic-filled adjustable dumbbells sets.
Great build quality for price point
Space saving – replaces 8 sets of dumbbells
Ergonomic handle, with rubberized coating for a secure grip
Heavy-duty steel weight plates – coated with anti-corrosive paint
Blocky design may put a few people off
No option to expand weight range
Alternative & Comparison Table
Our Choice
Powerblock Sport 24lb
Max Weight Per Dumbbell – 24lb

Replaces 8 Pairs of Dumbbells – 3lb Increments – 3-24lb

Adjutment Sysytem – Magnetic Selector Pin

Our Rating – 4.5/5
Max Weight Per Dumbbell – 27.5lb

Replaces 5 Pairs of Dumbbells – 5.5lb-27.5lb

Adjutment Sysytem – Glide Tech

Our Rating – 4.2/5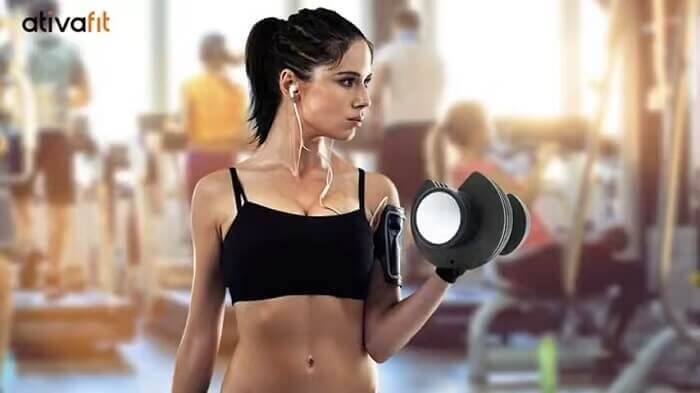 ATIVAFIT 27.5lb Adjustable Dumbbells
While there are a couple of designs very similar to the ATIVAFIT adjustable dumbbell, the ATIVAFIT dumbbells are the only ones worth some serious consideration. Why? Because these guys have really thought about their design, ok, you'll have to deal with the long handles, but at least the weight plates are not covered in plastic.
The weight plates are steel and covered with anti-corrosive paint rather than the easy to crack plastic covers, which makes them a lot more durable than similar lightweight sets available.
The ATIVAFIT also boasts one of the fastest adjustment systems, just a quick pull and slide of a lever to select your chosen weight; this can be done with one hand; it's that easy.
The PowerBlock replace eight sets of dumbbells while the ATIVAFIT only replaces four dumbbells, five if you include the handle on its own as a weight.
The reason the ATIVAFIT replaces fewer dumbbells than the PowerBlocks is that they adjust in larger increments 5lb rather than the 3lb of the  PowerBlocks.
Adjusting in 5lb increments can be a big jump of weight for beginners, its much better to be able to adjust in smaller increments, especially for isolation exercises such as tricep kickbacks, etc.
Some users, especially beginners, will not get along well with the 5lb increments of the ATIIVAFIT dumbbells. It's not a deal killer, but its definitely something worth taking note of before you buy this set.
However, if the 5lb adjustment increments are not an issue for you, the ATIVAFIT's are a superb set of bells. They are fast to adjust, they look great, and although they are not as durable as the PowerBlocks, they will last longer than most sets of adjustable dumbbells thanks to less plastic being used in their build.
Something else worth noting the ATVIAFIT dumbbells are sold in singles, I know a lot of people have ordered one thinking they will receive a set of dumbbells, this isn't the case. I have to admit their advertising is misleading. Remember to order two if you want the set—around $200 for two.
To Sum Up
The PowerBlock 24 Adjustable Dumbbell Set seems unbeatable for the price in the lightweight adjustable dumbbell range; the PowerBlocks boast the best build quality, the desirable compact design, and the longest warranty. They are an excellent set for beginners looking to add resistance exercises to their workout routines.
The ATIVAFIT bells do come close to the PowerBlocks in speed of adjustment and build quality, plus I'm sure many people prefer the look of the ATIVAFIT, but with longer handles and the 5lb increments, they don't quite make to the No.1 spot.
If you have been looking for a solid, well built, fast to adjust set of adjustable dumbbells, ones that are comfortable to lift with, and super easy to adjust the PowerBlock 24 Dumbbells are our first choice in the lightweight dumbbell market.