Searching for an adjustable set of dumbbells with a small budget can be hard work, choosing what's best and most useful to you in this price range can become increasingly difficult if you don't really know what you are looking for?
The Yes4all adjustable dumbbell set is an affordable option that allows you to train at home without splashing out too much of you're hard-earned cash.
Old School Dumbbell Set – Suitable For All Levels of Lifters.
So who are the dumbbells for? A beginner? At this price point you would think so, but not really, just about anyone can train with plate-weight dumbbells, you'd be surprised how many bodybuilders have old-school adjustable dumbbells similar to the Yes4alls.
I started with a set just like this and used them for a few years, the good thing about them is, as you start to lift more you can simply buy more weight plates as your strength increases.
Let's have a quick look at the dumbbells product description and then I'll help you decide if the Yes4alls are worth parting dollars for.
Cast Iron 1″ plates fit all standard 1″ bars
Weight 50lb – TWO 14"x 1" handles, FOUR 3-pound plates, FOUR 7.5-pound plates, FOUR collars
Weight
There are a few reasons I have reviewed the 50lb set, firstly it is a great set for a fitness fanatic to use, a 50lb set should be enough if you are not looking to build too much muscle but would like to include some resistance workouts in your exercise regime.Secondly, it's an awesome set for a beginner and the best set in my opinion Yes4all offer, why? because the plates in the 50lb set have the standard 1″ plate holes that will fit all standard bars, and in turn come with the standard size 1″ dumbbell bars, this allows you to buy more plates when you need them.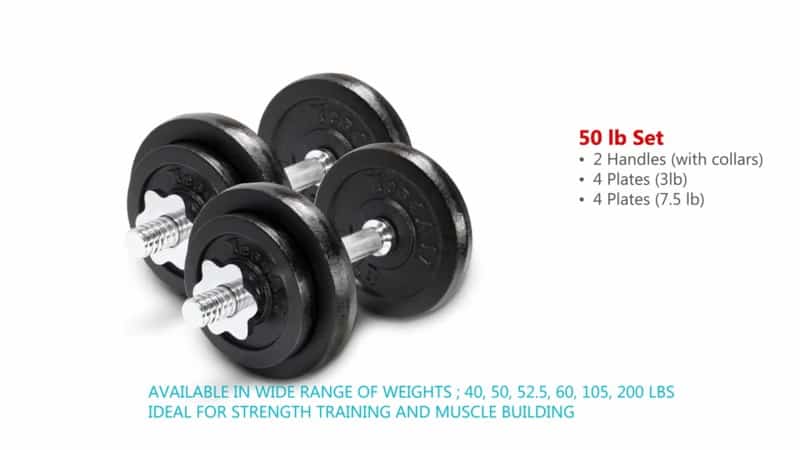 You may at some point want to buy yourself another bar such as an EZ bar or standard barbell and thankfully because you choose the standard size 1″, you will not have to buy any extra weights to fit the different training bars.
Unless your buying Olympic standard that is 2″, I would recommend you stick to 1″ standard size when buying plates or bars as a beginner.
What other reviews have missed out on is that the Yes4alls dumbbells offer 5 different weight sets, but only the 40, 50, 60lb sets come with the standard 1″ plates and bars.
The rest of the sets, the 52, 105 and 200 all come with measurements different to industry standard so you won't be able to use the weights with other bars or buy extra weights as Yes4all do not sell plates separately!
You will be hard pushed to find any other plates on the market to fit these bars other than the 1″…Something you really should take into account when choosing what set you would want from Yes4all.
50lb is a nice weight to get you started if you are a beginner, if you are planning on training  3-4 times a week you'll be surprised how quickly your strength will improve and you'll outgrow 50lb quite quickly but as mentioned above you'll be able to add weights to the set from any company as you so wish.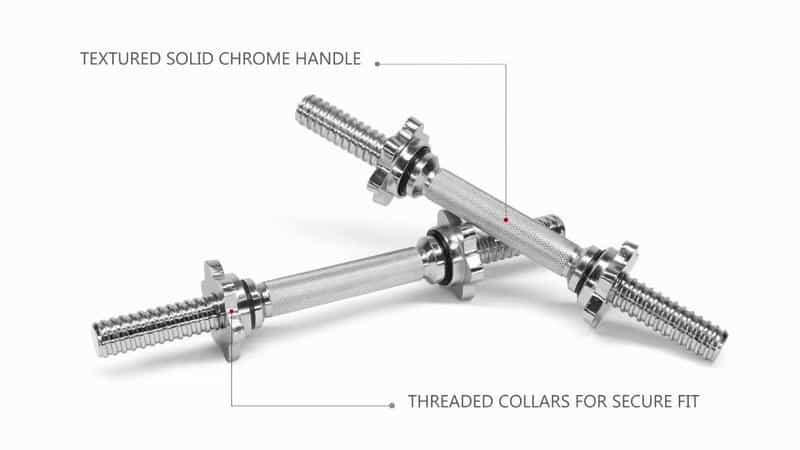 Unlike the more expensive sets of adjustable dumbbells such as the Bowflex or Power blocks, where you can increase or decrease the weight of a dumbbell with the pull and push pin system or with the Bowflex you turn a dial to select the weight.
The Yes4all have plates you can add or take off to set the dumbbell to the weight you desire. They use a spinlock collars to fasten or remove the weight plates, cost effective but more time consuming.
Spinlock collars are not always the most secure method as you will find they unlock quite easily and you can feel the plates move around sometimes as you lift, so make sure to tighten as much as you can before lifting.
Best Adjustable Dumbbell Set Guide And Reviews
Durability & Build Quality
Their iron weights, not a lot can go wrong with the build quality, you may get a few casting lumps and bumps but nothing to worry about.
Dumbbells like this should last a lifetime, the only thing I have known to go on them is the little rubber rim that fits around the collar, they're not essential and do like to fall off and some of the cheaply made ones wear easily.
I wouldn't stress if the rubber collar rims wear out and if they do and it bothers you they are very easy to replace. Yes4all give you a 10-year warranty and 60-day guarantee money back if you are unhappy with their product.
There have been a few reports of paint chipping off the weights, so maybe not a great idea to train on carpet, if you don't fancy vacuuming after each workout.All in all, a great set of dumbbells built to last with no major build issues, for the price they certainly should not disappoint.
Great value- At around $50 the Y4all dumbbells are an excellent set of dumbbells for most beginners looking to getting into weightlifting.
1″ bar allows you to buy additional standard size plates when you need that extra weight.
Easy to disassemble for storage
Watch out for the other sets in the range, they have different size plates and bars,  also the 52lb set has only 1 bar, I recommend the 40, 50, and 60lb sets. All come with the 1″ standard bars and plates.
To Sum Up
Apart from a few paint chips coming off the plates, there's nothing wrong with the Yes4all adjustable dumbbell set, targeted towards beginners they make a great buy for most people wishing to train at home, add a weight bench and you will have all you need for a complete upper body workout.
Budget priced but durable enough to last for years especially with the option of adding extra plates.