71.5lb per dumbbell is an impressive weight for a select dial adjustable dumbbell, most top out at 50lb! A heavier dumbbell is a good choice not only for beginners but for advanced lifters too. It's going to allow you a ton of room to grow without having to replace your dumbbell set when your strength increases.
Fast To Adjust Heavy-Duty Plates
Boasting a fast to adjust dial system, heavy-duty plates, and a 71.5lb max weight no-ones going to outgrow too soon, the Merax Deluxe Adjustable Dumbbells offer a lot of bang for your buck.
If this review, I'm going to take a close look at this excellent dumbbell set, all the pros, and a couple of issues the Merax share with the other select dial weight sets.
At the end of the review, I'll also be comparing the Merax 71lb adjustable dumbbells with the Bowflex 552's, so make sure to read through to the end.
First, let's take a quick look at the product specs!
Product dimensions –  16.5L x 8W x 9H inches (42L x 20.3W x 22.8H cm)
Weight – Single dumbbell max weight 71.5lb or 32kg
No. Adjustment settings – 12
Why Do We Like The Merax Deluxe Adjustable Dumbbells?
The first feature that stands out about this set of dumbbells are the plates; most selct dial-adjustable sets incorporate plates that are covered in a thin plastic coating; this includes the popular Bowflex and Core Fitness sets.
Plastic covered plates are a design issue, its the first thing to break on this type of set, just a small drop and you can crack a plate casing, resulting in plates that do not sit correctly in their cradle and thus are almost impossible to adjust.
Thankfully Merax has dealt with the issue and learned from the mistakes of their competition. The Merax weight plates are coated instead with anti-corrosive paint rather than the plastic, which gives you a more durable dumbbell.
Another useful selling feature of this type of dumbbell is the space you can save. The Merax adjustable dumbbells replace 12 sets of fixed weight dumbbells, so if, like many, you are tight for space to house your gym gear, the Merax adjustable dumbbells should prove to be a wise choice.
Adjustment System
Dial sets have been around for a couple of decades now, with Bowflex being the first to launch the Select-Tech system.
Select dial sets are known for their speedy adjustment times, but there's something different about the Merax dumbbells that makes them even faster to adjust than the Bowflex.
And what makes this set faster than the Bowflex's is that the Merax only has the one dial to adjust compared to the two of the Bowflex.
The Merax does have two dials, but you only need to turn the one dial to select the weight. With Bowflex, you have to turn the dial at each end.
Okay, with the Merax, you have to hold down the red button and turn the dial. Still, it literally is going to take you a split second and then less than a second to dial the desired weight; it's that simple, and as we said, extremely fast.
The only downside to having one dial that changes the weight at both ends as opposed to two is that you havent got a second dial to select smaller weight increments.
Two dials sets such as the Bowflex allow you to select weights in 2.5lb increments, which can be useful, especially for isolation exercises and for beginners who don't like to jump up in 5lb increments.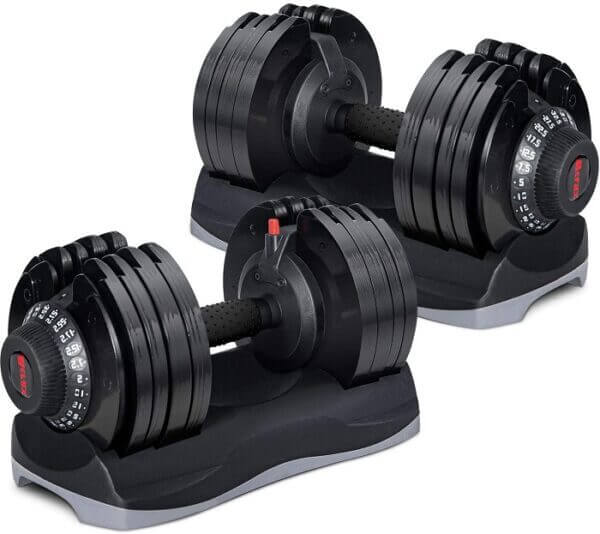 Build Quality
Usually, this is where most of the fast to adjust sets fail, and as I pointed out early, nearly all complaints about select dial sets are ones that include cracked weight plates.
We don't have to worry about cracking any weight plates with this set; in fact, all the plates are made from steel and covered in the durable paint finish.
But and there's always a but, we still have to be careful. The adjustment system on these things is delicate. It seems unavoidable that the makers of these dial sets can not produce dumbbells without some amount of plastic in the adjustment system.
Heck, its not a deal stopper, but it is something you need to be wary of, no drops! Drops are not covered in warranties, and a fix of the adjustment system can be pricey.
For a selectorized dial set, the Merax Deluxe adjustable dumbbells are one of the toughest we've seen on the market in recent years, with more steel in the build than most! Just be careful, and this set should last you years.
Handles
Talking handles is a boring subject, but its something I need to mention as you must know what type of handles the Merax incorporates.
The handles of the Merax are fixed length handles the same as you will find on old-school sets with bars and collars; it doesn't matter how much weight you are lifting, the length of the handle will always stay the same.
Yes, long handles are the norm with all the super fast to adjust selectorized dial dumbbells. Again not a deal killer, but long handles are awkward to train with at first. It's my main issue with this type of dumbbell because, ideally, you want a compact dumbbell as it gives a much more natural feel when weight training.
However long handles are something, you'll have to get used to if you want to take advantage of the speedy adjustment times of the dial select sets.
Give it a couple of weeks of lifting, and I promise you will start to get used to the length of the handles. I know from experience it can be a little bit of shock for those first few training sessions, but nothing serious enough to interfere with how you train.
Who Are They For?
This is where this set of bells shine. I love the 71.5lb max weight, so much better than a 50lb set. The extra 20lb per dumbbell will add a couple more years use for most lifters out there; in fact, most may never outgrow this set.
For a long time, you could only get hold of 50lb select dial sets and the much heavier 90lb sets which cost an arm and leg, so its great to see a dial select set somewhere in the middle at a reasonable price, great for beginners just starting out and intermediate lifters wanting to take their lifting that much further.
Impressive max weight for the price point – gives the dumbbell set a wider appeal
Space saving – replaces 12 sets of fixed weight dumbbells
Durable construction – steel plates and steel internal selection discs 
Adjustment cradles included/storage trays
Dumbbell stand sold separately – Buts its cheap compared to other dumbbell stands, less than 100 bucks
Fast to adjust – foolproof one dial system
No drops from height, adjustment system may break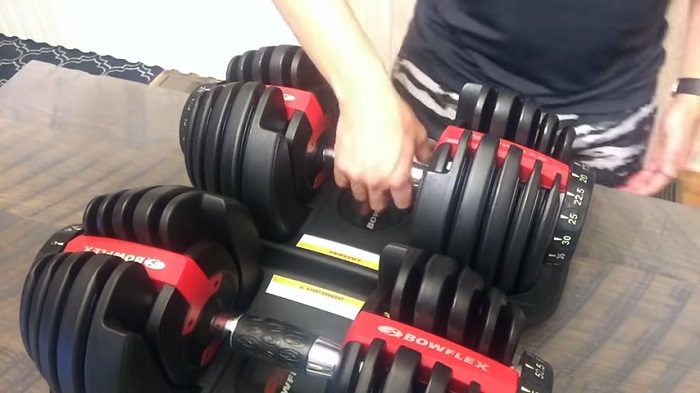 Bowflex 552 Select-Tech Dumbbells
Bowflex are a company people trust they've been around for a long time and build quality home gym gear. They produce a couple of sets of dumbbells, and one of these is their Select-Tech set the Bowflex 552's, probably the most popular set of adjustable bells on the market.
But just because they are popular, it doesn't mean they are the best; they just like the rest of the select dial dumbbells have their flaws, such as long handles and too much plastic in the build.
What I do like about this set is the 2.5lb increments. Isolation exercises are better suited to smaller increases in weight as they involve much less muscle than compound movements. Since you can't lift as much weight as you can with compound movements, smaller weight increments can be essential for proper progression.
The smaller increments are the only feature where the Bowflex trump the Merax.
The Merax overall are a better dumbbell, they offer a higher max weight giving the dumbbell a longer shelf life, and the Merax pair have a more durable build thanks to less plastic being used, plus they are almost twice as fast to adjust compared the Bowflex.
The Bowflex are a good choice for beginners; there's no doubting that, with smaller weight increments and a lower max weight, and if you think you are never going to lift heavier than the 52lb per dumbbell of the Bowflex, then they are worth some serious consideration.
To Sum Up
The Merax Deluxe Adjustable Dumbbells are a surprisingly good set of bells, and this is reflected in the customer reviews wherever they are sold, with 4.5/5 being the average rating.
I like the fact that this company has put their thinking caps on and actually done a lot of market research into their set, eliminating the main faults of previous dial select sets. Yeah, you still have to be careful of drops but overall a much more durable design than most out there right now.
If you have been searching hard for a set of dumbbells for hypertrophy training at home, one that's going to save you a ton of space, one that's fast to adjust (great for drop sets) and one that's both durable and kind on the eye, the Merax Deluxe Adjustable Dumbbells should prove to be an excellent choice!