Today I want to compare the top two adjustables on the market, PowerBlock vs Bowflex, the titans of the adjustable dumbbells market.
I've owned both. I bought a pair of Bowflex 552s when they first appeared almost two decades ago, and they were a no-brainer at the time; these things replaced 15 pairs of fixed weight dumbbells, saving a ton of space, and best of all, they used a weight selection dial which was super fast to adjust. You could even perform drop sets with a pair of Bowflex they were so fast, we'd never seen anything like them all those years ago, yeah, they had a few drawbacks, but nothing you'd call a deal stopper.
PowerBlcok Produced a Dumbbell That Ticks all The Essential Boxes.
That's right, Bowflex had it all for nearly a decade. There wasn't anything else out there that came close for a long time, tons of companies have tried to compete with the dominance of the Bowflex bells and failed. But it was the Powerblock guys who pushed the design of the adjustable dumbbell to another level. They produced an adjustable dumbbell that ticks all the essential boxes and addresses some of the issues many people have had with the Bowflex dumbbells. PowerBlock has taken the reins of the best adjustable dumbbell, and it looks like they won't be letting go anytime soon,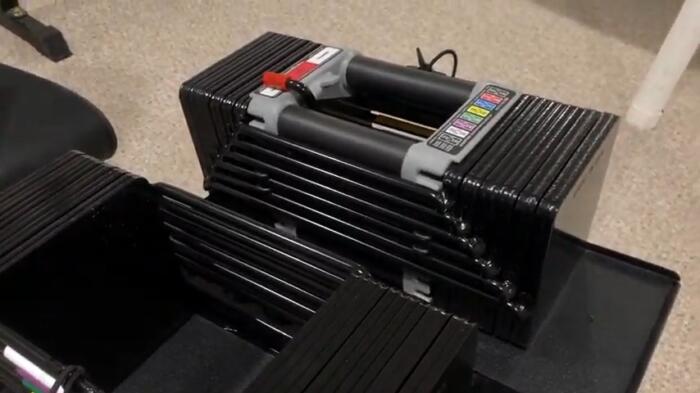 I'll let you in on a secret? The PowerBlocok dumbbells are unbeatable, I've reviewed at least 40 pairs of dumbbells over the years, and for the price, you're not going to find anything better. The Bowflex 552s are still a great set of bells, but they fall well short when compared with something like the Powerblocks. And we'll go into just why in this comparison article. Before we get into the reasons why, here's a table comparing both pairs.
Title
PowerBlock USA Elite 5-50lbs Dumbbell Set
Bowflex SelectTech 552 Adjustable Dumbbell
Preview
Title
PowerBlock USA Elite 5-50lbs Dumbbell Set
Preview
Title
Bowflex SelectTech 552 Adjustable Dumbbell
Preview
PowerBlcok vs Bowflex Dumbbells
Fixed weight dumbbells like those you might have used in your local gym are the Gold standard of dumbbells. We're doing well if we can get an adjustable dumbbell to feel anything like a fixed weight dumbbell.
And what makes a fixed weight dumbbell so appealing is its compact size. A compact dumbbell feels natural to lift with—the more compact, the better. You don't want long awkward handles; they're a headache to deal with when curing etc. This is where Bowflex gets it all wrong. The Bowflex 552 dumbbells use a fixed-length handle.
Bowflex: Long Fixed Length Handle
A fixed-length handle is a handle that stays the same length no matter how much weight you're lifting whether it is 10lb or 50lb, the length of the handle remains the same. Long fixed-length handles like the Bowflex 552s are awkward to lift. They're 17″ in length. Okay, you'll adapt and get used to the length after a few weeks, but they'll never feel anything close to natural.
Powerblock: Compact Handle
The PowerBlock Elites use a dumbbell handle that only increases in length when you add more weight. This makes for a much more compact dumbbell it feels natural to lift with, which is exactly what you want.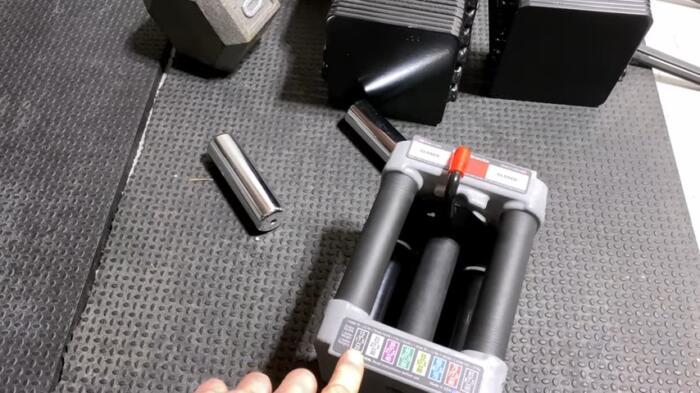 Plastic, How Much is Too Much?
It doesn't seem to matter which set of adjustable you choose; you'll always have to deal with some plastic in the design. Except for one or two sets like the Ironmasters and Snode AD-50s, but that's $600+ for a pair…
For us mere mortals with smaller bank balances, we'll have to put up with the plastic in our dumbells, but how much is too much? The Bowflex 552s have plastic in the handle, the adjustment system, and worst of all, they have plastic casing surrounding the weight plates. That's a heck of a lot of plastic to break. And it's the plastic casing surrounding the weight plates that goes first.
The Powerblock Elites use a weight staking system, so we haven't got any plastic casings to crack. The adjustment system uses a magnetic pin that is far less likely to break when dropped than the fragile adjustment system of selectable dumbbells like the Bowflex. Still, there's some plastic in the handle of the Powerblocks, so you can't throw them around your gym either.
No Drops From Height
What does all this mean? It means no training to failure and dropping your adjustable dumbbells on that last killer rep, especially the Bowflex. The Powerblocks will survive a few drops these things are pretty tough. Still, I wouldn't advise dropping either dumbbell from height.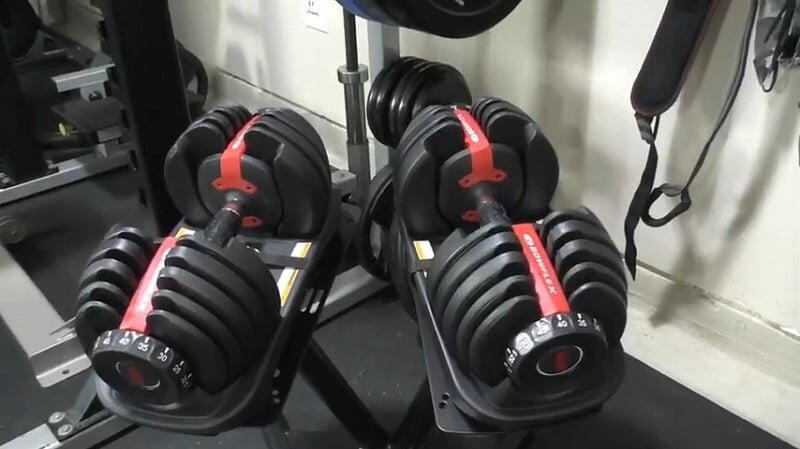 Adjustment Systems – Dial vs. Pin
This is where the Bowflex shine. I've always liked their adjustment system. It's simple and adjusts in a few seconds. All you have to do is turn the dial to the amount of weight you want to lift. It's that easy.
The Powerblock Elites use a weight stacking system and a magnetic selector pin. If you're only using the selector pin, the Powerblocks are as easy and as fast to adjust as the Bowflex. However, if you want to adjust the Powerblocks in the smaller 2.5lb increments, you have to add the metal cylinder weights to the handle. It doesn't take long, a few seconds at most, but it's still an extra hassle.
The Bowflex 552 adjustment system wins hands down on speed, but as I mentioned, there's more plastic with this type of adjustment system, which means a greater chance it will break if you do accidentally drop your dumbbells, and drops aren't covered in the warranty so you'll end up with a hefty repair bill.
So while I love the speed and ease of use of the Bowflex adjustment system, it's not as durable as the Powerblocks pin and cylinder system.
We can all this one a draw.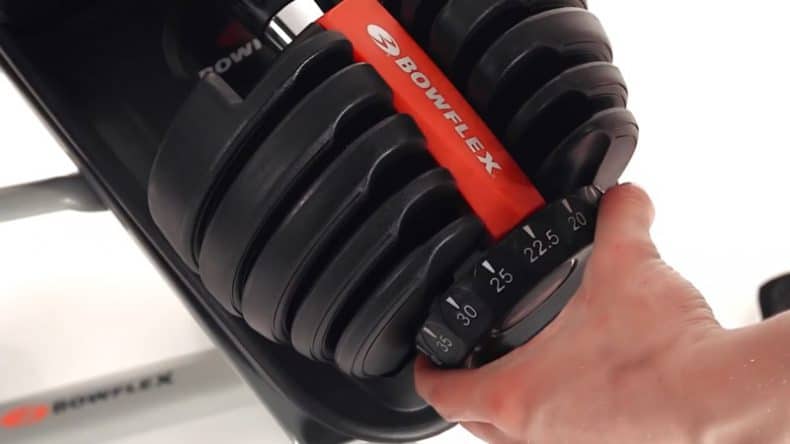 Small Weight Increases are One of The Keys To Progress
Small weight increases are one of the keys to progress regardless of exercises or apparatus and ideally, for dumbbells, we really need the ability to increment the weight in 2.5lb jumps. Surprisingly only a few sets of adjustable dumbbells offer the desirable 2.5lb weight increments and thankfully two of those sets are the Bowflex 552s and the Powerblock Elites.
The Bowflex 552s offer 2.5lb weight increments up to 25lb and 5lb increments after that up to the max of 52.5lb.
The Powerblocks offer 2.5lb weight increments through the entire dumbbells weight range but increase by 5lb every 10lb like this – 5, 7.5, 10,15, 17.5, 20, 25, 27.5, 30, 35, 37.5, 40, 45, 47.5, 50lbs
Whatever dumbbell you choose even if not one of these two. Never choose an adjustable dumbbell that boasts increments of 10lb. You'll find a lot of cheap 50lb pairs that use 10lb increments this is too big a jump even for serious lifters. 2.5lb increments are ideal, 5lb is still okay, 10lb just AVOID.
Weight Expansion Packs
Weight expansion packs are not something most people think about when choosing a set of bells, but they can be more important than many of you may think.  Not many adjustable dumbbells have weight expansion packs available there are only a select few. Still, they can come in handy and save you a ton of money down the line.
While most won't outgrow a 50lb dumbell anytime soon, you'd be surprised how fast you make gains in strength when you first start lifting, and for some people, the chance of outgrowing a 50lb dumbbell could come sooner than they think.
Both the Elites and 552s max out at 50lb per dumbbell. There's no way to add extra weight to the Bowflex pair once you hit the max. You'll have to buy an entirely new set of heavier bells to continue progressing.
PowerBlocks 70lb & 90lb Packs Avaliable
The Powerblock Elites offer weight expansion packs. There are 70lb and 90lb packs available, so once you go to the max of the 50lb elite dumbbells, you only need to buy an expansion weight pack rather than a new set of dumbbells. Saving a lot of cash.
Anything Else Worth Mentioning?
Only that the Powerblock Elites have flat ends! It's minor, but it's important for someone like me who likes to rest their dumbbells on thighs when setting up for presses. You want a flat-ended dumbbell, so it doesn't dig into your thighs. The Bowflex 552s have the adjustment dial on either end of the dumbbell, and they tend to dig into the thighs, especially when the dumbbell is heavy. It's not a deal stopper or anything, but worth a mention.
And lastly, there stands available for both sets of dumbbells. Still, they're pricey. Around $150-$200. Better off getting hold of a small, sturdy table or unbranded dumbbell stand.
To Sum Up
The Bowflex 552 Dumbbells outshine most dumbbells on the market because the build quality is there, they offer the smaller 2.5lb weight increments, which are appealing for beginners, and they're super fast to adjust. They've come down in price lately, so they continue to be a worthwhile buy. So I still feel the Bowflex 552s are more impressive than most dumbbells in their price range.
However, the Powerblocks are in another league. They're compact, so feel natural to lift with, which is really important. And I love that there's less plastic in the design. You only have some plastic in the handle. They're a much tougher dumbbell than the Bowflex.
Also, the Powerblock Elites have the desirable 2.5lb weight increments, and they boast something most adjustable dumbells can't, and that's the weight expansion packs.
There is nothing that can match the Powerblock Elites for the price point. These guys have thought of everything.  If I was really picky, the unconventional blocky design might put some off, but it is only aesthetics. It doesn't affect your lifting in anyways. In fact, it prevents any dumbbell roll, and the flat ends come in useful when setting up for exercises.
Powerblock vs Bowflex Dumbbells FAQs
Is Powerblock Better Than Bowflex?
The Powerblock dumbbells are a better choice for most lifters as they offer a compact handle, a tougher design, and weight expansion packs. The weight expansion packs make the Powerblock dumbbells more appealing to serious lifers who want to lift heavy at home.
Are The Bowflex Dumbbells Worth It?
The Bowflex 552 Dumbbells replace 15 pairs of fixed weight dumbbells offering great value for money. They are a good choice for beginners because they use small weight increments and the adjustment system is easy to use and fast.
Are Powerblocks Better Than Dumbbells?
Fixed-weight dumbbells are the gold standard for a home gym. However, they take up a lot of space and are expensive. The best alternative is a compact adjustable dumbbell like the Powerblocks, which replaces 15 pairs of fixed-weight dumbbells, saving you space and money.