EnterSports make a few sets of dumbbells with different weight ranges, 25lb, and 55lb. Today I want to look at their heavy set of bells, the 55lb EnterSports Adjustable Dumbbells.
The 55lb dumbbell has a few features I love – the super-fast twist-lock adjustment system and steel weight plates that don't have that horrible plastic casing which is great news. But this set of dumbbells also has a few drawbacks, such as long handles and large weight increases, which ill get into later.
EnterSports Dumbbells Sold In Singles.
They're priced competitively, about $60 cheaper than the top-selling dumbells like the BowFlex 552's and the Core Fitness sets. We need to remember the 55lb EnterSports Dumbbells are sold in singles, so two of these dumbbells will cost $330 or $165 for one.
It's never a good idea to buy a single dumbbell if you're into bodybuilding. Why? You won't be able to perform compound movements which should be the backbone of any proper bodybuilding routine. Still, if you haven't got the cash right now for two, one is better than none, and you can buy a second dumbbell later on. Just remember, compound movements increase muscle mass and strength much faster than any other exercise.
Before we get on with the rest of the review lets take a quick look at the 55lb dumbbell product specs!
Product dimensions – 16.7" L x 7.9" W x 1.8" H
Weight – 55lb per dumbbell
Adjustment system – twist-lock
Weight increments – 11lb, 22lb, 33lb, 44lb, 55lb
Material – metal & plastic
Why Do We Like The EnterSports Adjustable Dumbbells?
The first thing I liked about this dumbbell was its weight. The EnterSports is a heavy dumbbell. 55lb means most of you won't outgrow this dumbbell any time soon. Too many people make the mistake of buying the 25lb adjustable dumbells only to find they have outgrown the dumbbell's weight range in under a year.
A heavy dumbbell like this is always a good choice, even for beginners, as you'll be surprised how quickly you'll make gains in strength when you first start lifting.
Adjust the Dumbbell in One Second
Another feature that stands out about the EnterSports Dumbell is its twist lock adjustments system. This is the fastest adjustment system on the market. It can be adjusted with one hand in a second.
You need to twist your wrist to the desired weight you want to lift. It's that easy. Much faster than the Bowflex dumbells, where you have to adjust two select dials. You can easily perform advanced building techniques like drops sets that require a quick change in weight with the EnterSports Dumbbell
Nearly 18″ Handles Can Be Awkward To Train With
Many sets of fast-to-adjust dumbbells are designed with long handles. The reason they are so long is that they are a fixed length. A fixed-length handle is a handle that stays the same length no matter how much weight you lift. You can lift 11 or 55lb, and the handle length will remain the same.
Fixed-length handles aren't a deal killer, but they can be awkward, especially when setting up for presses and curling. I've trained with a few sets that used fixed-length handles, and they take some getting used to.
No Plastic Casing To Break
You'll be surprised how many complaints I've read about the plastic casing surrounding the weight plates cracking on sets like the Bowflex 552s. It's usually the first thing to break if you drop a dumbbell and makes them unusable. Plus, you'll end up with a hefty repair bill because drops aren't covered in the warranty of any adjustable sets.
Thankfully you haven't got any plastic casing surrounding the weight plates of the EnterSports adjustable dumbells. Instead, you just have a powder-coated finish to protect the plates from rust. This is what you want—the less plastic the better when it comes to dumbbells.
Still, we do have plastic in the handle of the EnterSports dumbells, so sadly, there is no dropping these dumbbells from height. A selectable dumbbell like this will survive drops of 6″ or so, but that's it. I wouldn't risk any higher.
11lb Weight Increments – is it too much of a jump?
Small weight increments are one of the keys to progress no matter what equipment you're using or what exercises you are performing, and ideally, for dumbbells, you need increments of 2.5lb to 5lb. The EnterSports Dumbells have large weight increases. This will slow your progression. Think of it this way if you can curl a 22lb dumbbell for 10 reps and you want to continue adapting, curling a 33lb dumbbell represents a 50% increase in the load. That's a huge jump.
Is it a deal killer? yes, it could be! Even a seasoned bodybuilder would shy away from a dumbbell that has weight increments of 11lb. It's just too bigger a jump, especially for isolation exercises. Still, large jumps in weight are a problem for many of the cheaper adjustable sets. Its something you have to live with if you don't want to spend more money on a dumbbell with smaller weight increments.
Anything Else Worth Mentioning?
Something I like about the EnterSports Dumbbells is that they feel solid, I don't mean you can throw them around, but they feel solid in hand. There's no plate movement when you're lifting, which is rare for a cheap adjustable dumbbell as it is usually one issue I find with most sets.
Another thing I should mention is to make sure you adjust the dumbbell when it is in its storage tray. Ensure the handle is seated all the way in its tray, then it will adjust easily.
No Weight Expansion Packs Available
And lastly, there are no weight expansion packs available for this set. 55lb is the max for this dumbbell. Most people will not outgrow this dumbbell anytime soon, but if you're serious about your lifting, a few of you could quite quickly outgrow a 55lb dumbbell. There are sets of adjustable dumbbells that offer weight expansion packs, such as the PowerBlock Elites, which provide 70 and 90lb packs for their 50lb Elite set, and Ironmaster dumbbells which offer packs right up to 120lb.
Twist lock adjustment system – fast and easy to adjust
55lb is a good weight for an adjustable dumbbell – should last most users a few years before outgrowing
Solid feeling dumbbell – no plate movement
No plastic casing surrounding the weight plates – less to break if dropped
Come with their own storage cradles
Space saving – replaces 5 sets of fixed weight dumbbells
Great price for a well made heavy dumbbell
11lb weight increments are not ideal for bodybuilders
Fair bit of plastic in the hanldes – so you'll need to avoid training to failure and dropping the dumbbells from height
Fixed length handles are awkward to lift with especially for beginners – takes a few weeks to get used to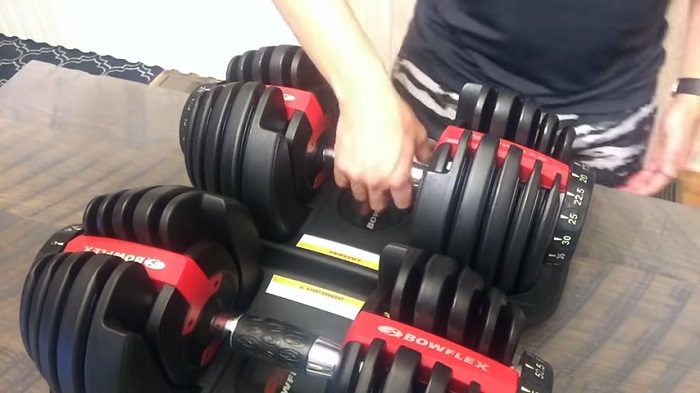 Bowflex 552 Adjustable Dumbbells
The Bowflex dumbbells have been around for years and continue to outsell most adjustable sets. The Bowflex sets sell so well because they are made by a company with an excellent reputation, plus they offer the smaller increments of weight.
The small weight increases are what I like most about this set from Bowflex. You can adjust them in 2.5lb increments up to 25lb and then 5lb. This makes them perfect for beginners and anyone who wants to progress properly with their lifting.
Also, the Bowflex dumbbells were the first super-fast adjustable sets. You can adjust them by turning a dial either end of the dumbells, which takes only a few seconds. So they are perfect for all advanced and basic bodybuilding techniques. 
Still, the Bowflex 552's, like many of the Selectable sets of dumbbells, have their problems. Too much plastic is one of them, with plastic casing surrounding the plates and plastic in the adjustment system, another set you'd have to be careful with.
And you have the fixed-length handles with the Bowflex around 17″.
Overall I like the BowFlex 552's you have the desirable smaller weight increments, and the quality is there with this set. They don't feel cheap. Since the Pandemic has calmed down, so too has the price of the 552s; they are now back to their normal price of $399, which is a reasonable price considering you have a dumbbell that replaces 15 sets of fixed weight dumbbells rather than just the 5 of the EnterSports. (the Bowlfexx 552's are sold as a pair – or singles)
To Sum Up
EnterSports got more right than they did wrong with their 55lb dumbbell. I love the twist-lock adjustment system; it's so fast to adjust, just a twist of a wrist takes a second, and that's what sells this dumbbell, the speedy adjustment times, and ease of use. Also, the amount of weight for the price point is impressive. A 55lb dumbbell for $165 is excellent.
But its the large jumps in weight that lets this set down from EnterSports, and its something sadly I see with many of the cheaper sets I've reviewed.
Other than the 11lb increments, The EnterSports Adjustable Dumbbells are a nice set of bells, solid, fast, easy to use, and heavy. If you can live with the large jumps in weight, bang buck this 55lb dumbbell is one of the best available right now.