Compact, fast to adjust, and easy to use adjustment systems are the key features we must look for when considering the Best Adjustable Dumbbell Sets for our home gyms.
There's a ton of adjustable dumbbells out there right now crowding the market, and choosing a dumbbell set that fits your training needs is vital. The last thing you want to do is splash over $400 on a dumbbell set that's only going to last you a year of training.
Outgrowing a dumbbell set is a real concern, especially if you take your lifting seriously; even if you are just starting out, you'll be surprised how much your strength can increase in just a matter of months.
So it's a good idea to have a really good think about what your needs are before purchasing, what do you need now and what will your training demand in the future?
What are the best adjustable dumbbell sets?
Today we're going to take a close look at a range of dumbbells, the best on the market right now.
Our review includes a few sets boasting the fastest adjustment systems available, and a few sets that put durability before anything else. And importantly for the more serious lifter out there a couple of sets that allow for expansion packs, which means there are no worries about outgrowing them!
But what's best of all is our No.1 choice of adjustable dumbbell includes everything you need from a dumbbell, durability, compact, and fast to adjust plus the option of expansion packs when your training calls for it.
Yes, we have carefully selected the Top 8 Adjustable Dumbbells on the market, from the select dial systems of the Bowflex to the compact weight stacking systems of the mighty PowerBlocks.
I've also included the best Oldschool set in there too the 'Yes4alls' great for anyone whos tight on cash but wants to reap the muscle-building benefits a dumbbell set brings to your workout routines.
Before we get on with the reviews, let's take a quick look at the Top 3 comparison table.
Best Overall
PowerBlock Elites 50lb Pair
Max Weight Per Dumbbell – 50lb

Expandable Upto 90lb

10 Yr Warranty

Fast To Adjust Selector Pin

Compact

Rating 4.5/5
Max Weight Per Dumbbell – 71.5lb

Non-Expandable

Super Fast One Dial Adjust Sytem

Steel Plates

Includes Storage Cradles

Rating 4/5
Max Weight Per Dumbbell – 52.5lb

Non-Expandable

Fast Dial Select Adjustment system

Newly Released Sets Have Improved Build Quality – Less Plastic Than Previous Sets

Rating 4/5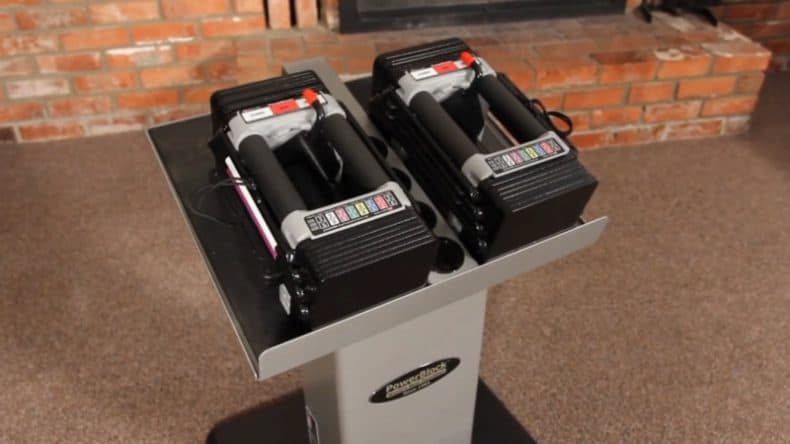 1. PowerBlock Elite 50s (Best Overall)
PowerBlock has been around for a few decades now, these guys really know what they're doing when it comes to home gym gear, they specialize in dumbbells and their Elite series is their most popular.
The PowerBlock Elite series of dumbbells are suitable for beginners right through to advanced thanks to the Elites being available in 50lb per dumbbell sets right up to 90lb per dumbbell.
And that's what's great about the Elite series; it's expandable.
If you are just getting into training or been lifting a year or so, a 50lb per dumbbell set will probably do for now. Still, when your strength has increased to a point where the 50lb per dumbbell isn't challenging anymore for specific exercises like bench press, you can upgrade the set and purchase one of their expansion packs.
Expansion packs can save a ton of cash because rather than having to go out and buy a whole new heavier set of bells, you can pay 100 odd bucks for the expansion set.
Heck, if you have the cash now and you take your training seriously, I'd recommend buying the 70lb set straight away as it will save even more bucks than purchasing the 50lb set now and the expansion pack later.
But remember, as we mentioned earlier, think of your training needs first. Will you ever lift 70lb per dumbbell? Because there's also no point buying a heavy set of bells if you're never going to lift that much!
Compact
What sells this set of dumbbells for me isn't just the versatility of the weight range on offer, what I like most is the compact design, so many of the select dial dumbbells, Bowflex, AtivaFit, Merax to name a few have long awkward handles.
There's no doubting sets like the Bowflex are great sets of dumbbells, and all adjust super fast, but because of their select dial systems, their handles are a fixed length.
The PowerBlock thankfully use a staking system; this makes the dumbbell much more compact and more comfortable to train with.
What's important here is that the PowerBlocks handle only increases in length when more weight is added compared to the select dial sets where the handle stays the same length whatever weight you are lifting, whether it be 10lb or 50lb.
When we buy a set of adjustable dumbbells for the home, we want them to feel as close to a fixed weight dumbbell as possible. And that doesn't happen with any of the long-handled dumbbells.
The PowerBlocks give a nice natural feel because of their compact size, and you avoid the bells hitting your sides when you curl or clashing above your head when you press.
And lastly, we must mention another big positive of the Elite sets is that you can change the weights in 2.5lb increments. 2.5lb increments are great for isolation exercises where you need smaller increments for proper progression; smaller increments are also excellent for beginners who might find the jump of 5lb too much.
Are the PowerBlocks fast to adjust? Yes, not as fast as the select dial sets, but they're fast enough for drop sets, so no complaints here.
To change up in 2.5lb increments, there are a number of small 2.5lb cylinders which you either take away or place in the handle of the dumbbell; the larger weight increments are selected using the magnetic selector pin. All in all, you're looking at around 5-10 seconds to change the weight.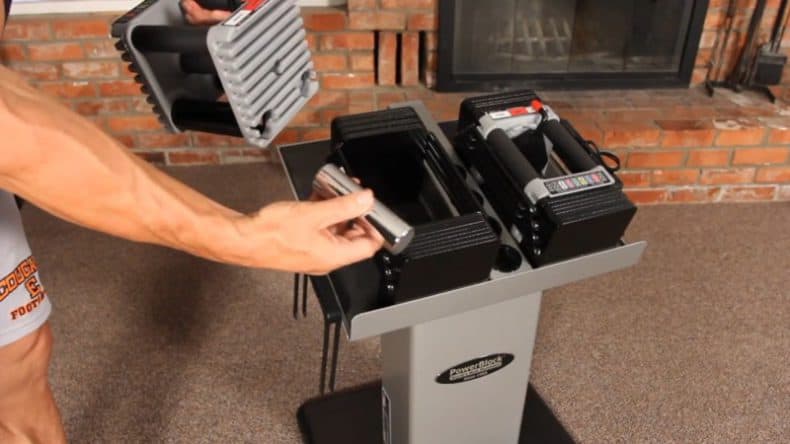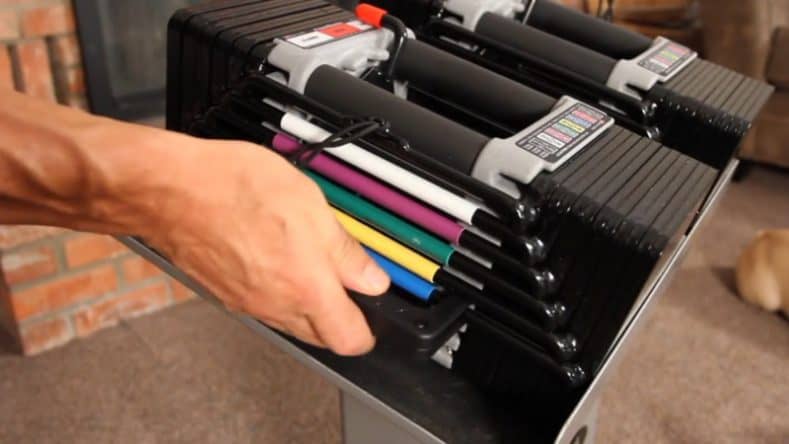 Overall an excellent versatile set of adjustable dumbbells, they're robust compared to the other fast to adjust sets as there's less plastic used in the build. And the PowerBlocks do not use the fragile select dial adjustment systems, which are the first thing to break on sets like the Bowflex.
I'm not recommending you drop one the PowerBlocks, but they'll probably survive a few drops, unlike the Bowflex's, etc.
I owned a set of Elites for about 5 years I had no issues with them at all, the only reason I sold them is that we moved house, I had more space so upgraded to fixed weight dumbbells.
That's another thing; the PowerBlcoks save you a ton of space I think the 50lb set replaces something like 16 fixed weight sets or 32 separate dumbbells. So if you're tight on space, they're a great choice too.
Quick and easy magnetic pin adjustment system
Compact well balanced natural feel
Wrist guards with comfortable grip handle
70lb & 90lb expansion packs availiable 
More robust than select dial sets
4-bar design can seem a little confining to those who like a free grip
The blocky design may put a few people off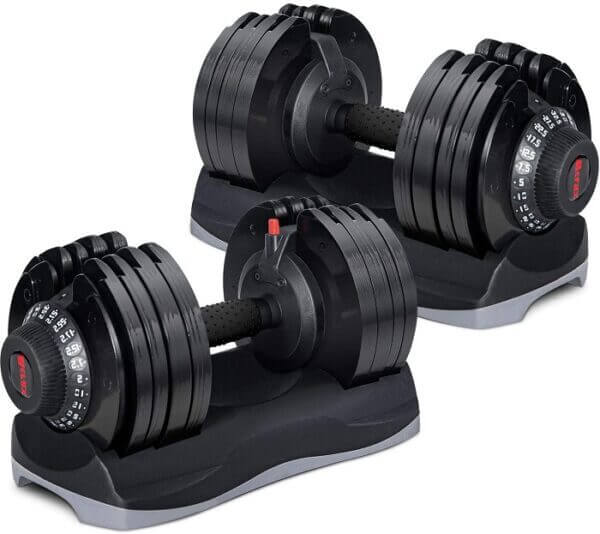 2. Merax Adjustable Dumbbells 71.5lb
The first of the select dial sets to feature in our review is the Merax 71.5lb dumbbell. There's a couple of reasons why we prefer the Merax to the Bowflex select dial sets, and the first is the weight of the dumbbell.
They only cost around $30 more than the Bowflex, yet they offer an extra 20lb per dumbbells; in terms of your training, that's a heck of a lot more weight to keep up with your strength gains.
I know an extra 20lb doesn't sound like much, but I assure you that extra 20lb will take a long time to outgrow. So yes, the Merax offers a more substantial weight range, one that should last most users years of growth.
Another feature I really like about this set of bells is that you only have to turn one of the select dials to change the weight; one dial means super fast adjustment times. Making the Merax only second to the Core Fitness set in the fastest on the market.
And what really shines about this select dial set is that they are durable, yes, surprisingly these guys have learned from their competition, Bowflex Core Fitness, etc.
What have they learned? Not to coat their weight plates in plastic, yes, one of the biggest problems with the select dial sets are plastic-coated weight plates.
Plastic coated plates cause a ton of trouble. Just a small drop can crack one; once they're cracked, they won't sit in their cradles correctly; thus, making them impossible to change the weight load. Merax, thankfully choose to coat their steel plates in an anti-corrosive paint rather than plastic, so a big thumbs up here!
Any major drawbacks? Well, as with all the select dial sets, you're going to have to deal with the long handles, not a deal killer but something you'll have to get used to if you want to take advantage of the speedy adjustment times.
And of course, we still need to be careful with a dumbbell set like this, not as cautious as with some sets, but because of the fragile nature of the adjustment system, avoid any drops because you will break it.
Yes, there's a few issues with this set, but nothing that will affect your training in a negative way, the long handles will take a couple of weeks to be used, but the pros of this set far outweigh the cons.
An impressive weight range of 5lb – 71lb durable and super fast to adjust, the newly released Merax 71lb dumbbells have put themselves right up there with the best.
If you have been looking for a super-fast set of select dial dumbbells, we havent found any better out there than the Merax.
N.B. At the time of writing this review, the Merax dumbbells are sold in singles. Their advertising can be misleading, so make sure you order two if you want the set.
Impressive max weight for the price point – gives the dumbbell set a wider appeal
Space saving – replaces 12 sets of fixed weight dumbbells
Durable construction – steel plates and steel internal selection discs 
Adjustment cradles included/storage trays
Fast to adjust – foolproof one dial system
Fragile adjustment system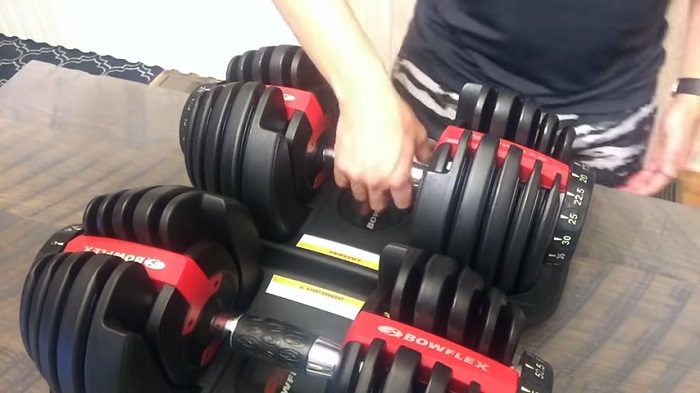 3. Bowflex 552 Adjustable Dumbbells
The Bowflex series of dumbbells have become by far the most popular set of adjustable dumbbells on the market right now.
The reason for the popularity may be their respected name in the home gym industry.
But on the most part, the reason these dumbbells became so popular is that Bowflex introduced an adjustment system that you change with a simple twist of a dial. It was something new to the adjustable dumbbell market, and it has helped sell thousands of the adjustable dumbbell sets.
The Bowflex 552 pair has a weight range of 5-52.5lb, adjustable in increments of 2.5lb up to 25lb and 5lb increments after that, replacing 16 pairs of standard fixed-weight dumbbells.
While not being the best set of adjustable dumbbells on the market, they were the first to introduce the Select-tech adjustment system. Each dumbbell has its own dial system on each end, simple to use, just twist the numbered dial to the amount of weight you want to select, it's very easy to do and very fast.
What's nice about the Bowflex system is you can select different weight settings on either end. This will allow for some offset training. Not a particularly important feature, but experienced weightlifters might get some valuable use from.
This feature, coupled with the 2.5lb increments settings are the only reasons the Bowflex dumbbells are ranked above the CoreFitness adjustable set.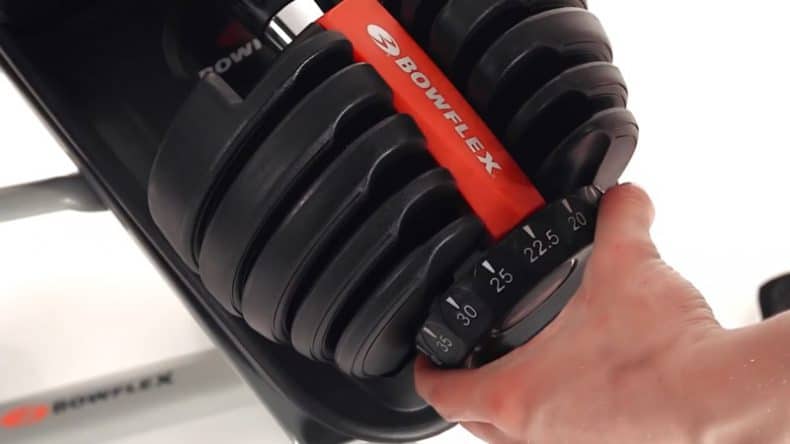 With a non-expandable weight range of 5-52lb, the Bowflex adjustable dumbbells will not appeal to the more serious of weightlifters.
The Bowflex set is geared toward the beginner-intermediate weightlifting market. And I'm sure 1000's of these sets sell to fitness fanatics who do not need a particularly heavy set of dumbbells for their resistance training.
Remember, with the Bowflex 552's; there's no way of adding any extra weight to the existing 52.5 lb per dumbbell. It should be more than enough weight for most people, but you will have to buy a completely new set of dumbbells if you need something heavier in the future.
With a Bowflex product, you usually are treated to premium quality, and the dumbbells are no exception, I like the ergonomic handle, which is slightly rigid and makes for a comfy non-slip grip.
The weight plates are coated with a thick super hard plastic and look to be reasonably durable. As with all of the fast adjustment systems, the amounts of plastic used is worrying.
The use of plastic is probably the Bowflex's biggest con, plastic surrounds the plates, and some plastic is used in the handles, which means you will have to be careful when training with the Bowflex dumbbells.
There will be no dropping from height or throwing around these dumbbells; you will more than likely crack the hard plastic surrounding the weight plates, which is not covered by the 2 yr warranty Bowflex offer.
The longest of all handles make the Bowflex the least compact of all of our adjustable dumbbells in this review.
Overall a very nice set of dumbbells from Bowflex, not as versatile, durable, or compact as the Ironmaster and PowerBlocks but a great set of adjustable dumbbells, high in quality with a decent weight range.
Comfortable ergonomic grip
Adjusts in 2.5lb increments up to 25lb
Plastic surrounding weight plates can crack if dropped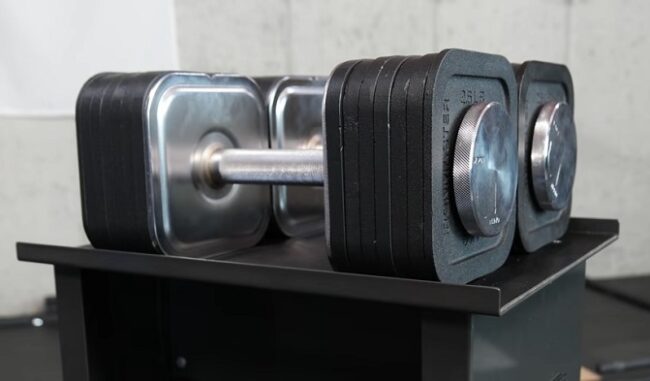 4. Ironmaster Quick-Lock Dumbbells 5-75lb
Ironmaster has done what Ironmaster does best, they have really thought about what a serious weightlifter wants from a dumbbell, and they have delivered exactly that.
A very nice compact design makes the Ironmasters more than desirable, no overly long handles here, the compact design gives you a dumbbell that reflects the natural feel we all like from a fixed weight dumbbell.
The length of the Ironmaster dumbbells' handles only increase in length when extra weight is added.
A little slower to adjust than the Core Fitness, Bowflex, and Powerblocks, the Ironmaster dumbbells adjust using a metal locking pin.
To lock them, you slide the steel locking pin through the dumbbell until it reaches its stopping point, with a half twist of your wrist it then locks in place. It's nice to see the locking pins are knurled on each end; the knurling will give you added grip when hands get a little sweaty, a nice touch from Ironmaster.
The locking pins lock extremely tight with no rattles from the weight plates.
By far the most solid of the new school adjustable dumbbell sets, the weight plates are square and have indented groves that attach with 1″ size holes, machine fitted to prevent any of that unwanted rattle.
There's no need to worry about plastic coasted weight plates here. The Ironmasters will survive drops at height, I can happily say there's no plastic in sight.
At 75lb per dumbbell, the Ironmasters should suit just about anyone from the beginner to the more experienced weightlifter, 32 different weight settings make this set highly versatile, adjustable in 2.5lb increments. There's no need to stress about outgrowing this set.
The Ironmaster set is expandable with the company selling separate expansion sets: set 1 – up to 120lb per dumbbell, and the second set a whopping 165lb. Great news for serious strength and bodybuilders.
The 75lb set sells for around $700; this is a fair price for an adjustable set that offers a lifetime guarantee and the option for adding extra weight in the future, not forgetting the fantastic quality stand to store the weight plates and handles—a rock-solid dumbbell set to last a lifetime.
The Ironmasters are a superior set, but why aren't they up there in the top spot? First, they take a long to adjust, so drop sets are out.
Secondly, you can't buy the 75lb set without the stand, and having to pay $700 for a dumbbell set with stand is out of most people's reach. So yes, they're an impressive set, but for now, a few things are holding them back. Still, if you're an advanced lifter and you've got deep pockets, I'll admit the Ironmasters take some beating.
Great quality dumbbell stand included
Plates will fit on any standard 1″ bar
Easy to disassemble for storage
Over 30 different weight settings
Can only be purchased with stand (expensive)
Having to manually change weight plates makes for slower adjustment times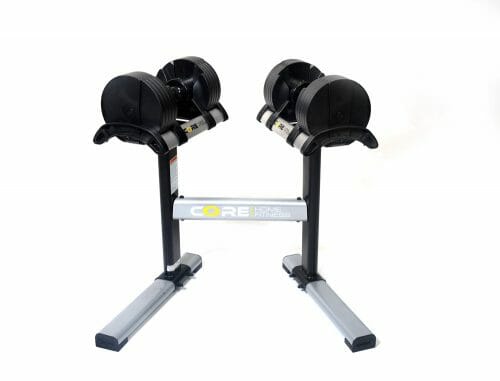 5. Core Fitness Adjustable Dumbbell Set
The Twist Lock adjustable system is what sells this dumbbell, and it must be the fastest of all of the adjustable dumbbells to adjust. Instead of having the adjustable select dial at each end of the dumbbell, the Core Fitness incorporates its adjustable system straight into the handle.
With one single twist, you can adjust the dumbbell in seconds. It's an impressive bit of kit and the easiest to adjust out of all of the dumbbell sets.
With a non-expandable weight range of 5-50lb, the Core Fitness dumbbells are not as versatile as the Ironmaster or Powerblocks and no 2.5lb option here, making the weight range somewhat limiting.
But what I really like about the Core fitness dumbbells is their compact size, just like the Ironmaster and the Powerblocks the handle length only increases in size when the weight is increased, making for a very solid natural feeling dumbbell.
If you are looking for that fixed weight feel, then Core Fitness are certainly the ones to go for, their size and shape feel natural, more so than any other adjustable dumbbell out there. If only you could add extra weight through expansion packs to a set like this then they could rival the top two, because the design is really that good.
Just like the Bowflex, the Corefitness weight plates are covered in a hard plastic coating and just like the Bowflex the handle has some plastic parts too. So it's another set you're going to be very careful with if you want to avoid any breakages.
The Corefitness dumbbells are the same or very similar to the Stairmaster dumbbells but half the price, so I highly recommend you buy the Corefitness dumbbells and not the Stairmasters, save yourself $300.
Both of the Corefitness dumbbells come with their own cradles to store the dumbbells in, this is also where you adjust the dumbbells, you place the dumbbell in the cradle twist and select the weight you want to train with, the selected weight plates lock in place through a little key inside the handle, the unwanted plates are then left behind.
There is absolutely no risk of any plates falling from the handle whilst exercising and the reason for this is the handle can only adjust while it's in the cradle.
You are left with a very solid compact dumbbell with no room for wobbles. Compact, foolproof and a decent weight range make the Corefitness a very welcome addition to any home gym.
Space saving, easy to store away
Good weight range of 5-50lb
Featuring the Twist-Lock super fast adjustment system
Plastic surround weight plates will crack if dropped from height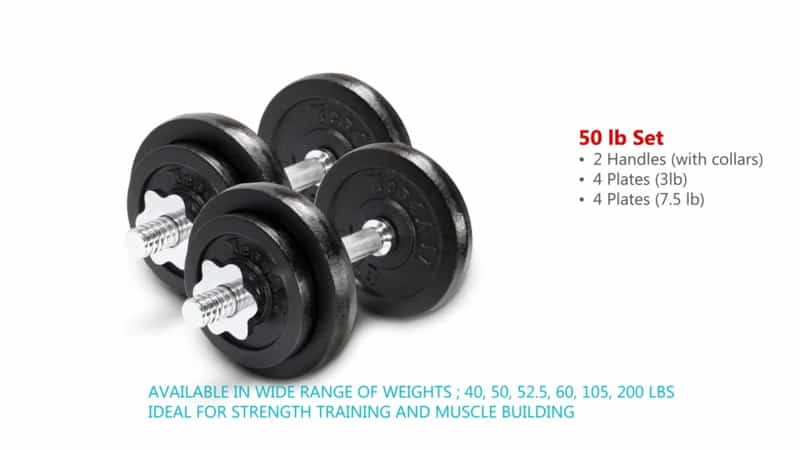 6. Yes4All Adjustable Dumbbells ( Best Old School Set)
I'll start by saying the weight is not 50lb per dumbbell; 50lbs is the weight of the whole set, including the handles, with around 20lb per dumbbell; this set is excellent for a beginner.
But don't forget old school sets like the Yes4alls are expandable, and that's because the 40lb, 50lb, and 60lb sets Yes4all offer come with the standard 1″ handles and plates."
Whys 1″ standard important? Well, when you grow out of the relatively low weight range offered, you will be able to buy extra weight plates from any other fitness company that sells the industry standard 1″ weight plates.
50lb is a great weight to get you started in weightlifting, especially if you do not have the budget for one of the more expensive new school sets.
Yes4All's are cheap, less than $60, almost unbreakable, and can grow with you as your strength increases. Yes, they take some time changing out the weight plates because you have to unscrew the collars, but when think you can get close 90-lb on each dumbbell, think how many years of training you can get out of a set like this for minimum damage to your wallet.
There's not a lot I can say about build quality their basically iron weight plates with two chromed handles and four spinlock collars; all are well made. You may encounter a few casting abnormalities "lumps, indents," but nothing that affects the overall use of the weight plates.
It's worth noting spinlock collars do become loose quite easily, make sure you tighten them as securely as possible to avoid any plate rattles when training. A few reports of paint coming off of the weight plates when in use, but nothing a vacuum won't sort out.
Old school weights and handles at a very reasonable price, extremely durable and versatile if you don't mind the slow adjustment times between sets then there's nothing bad I can say about this set, it's well worth the money.
Great value- At around $50 the Y4all dumbbells are an excellent set of dumbbells for most beginners looking to getting into weightlifting.
1″ bar allows you to buy additional standard size plates when you need that extra weight.
Solid durable – survive drops
There have been some reports of some small flecks of paint chipping off the dumbbells but  this does not affect use.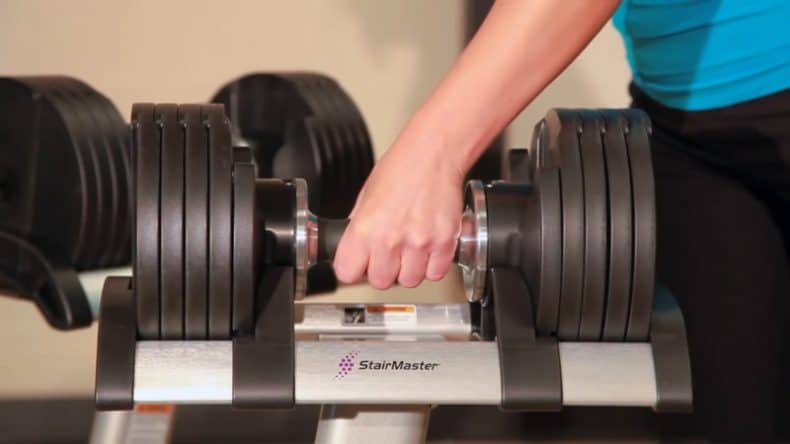 7. Stairmaster Twist-Lock Dumbbells
It's sad to see the Stairmaster dumbbells in last place, and it may surprise you seeing them here but there's a really important reason for this and that reason is the price tag of $600 and this price doesn't even include a nice shiny stand. It's just the dumbbells and their cradles!
Essentially the Stairmaster dumbbells are incredibly similar to the Corefitness set, actually, you would be hard pushed to find any differences.
For fear of repeating myself and wasting your time with the exact same review as for the Core Fitness set, I will not write a lengthy summary of the dumbbells here. The Stairmaster dumbbells look to be the same product as the Core Fitness bells but at double the price.
Buying Tips
Adjustable dumbbells have been around for well over 30 yrs. Working out at home has become increasingly popular, there's a growing need for a set of adjustable dumbbells that can match the speed and weight range of fixed weight sets people had got used to in their local gyms.
However, a decent set of fixed weight dumbbells cost $1000+ although they are the gold standard for home gym setups not all of us have that type of cash to spend, and many of us have limited space in our home gyms, 10 – 15 sets of dumbbells can take up a heck of a lot of valuable space in your home gym.
This is where the adjustable dumbbell wins its brownie points; just one set can have up to 16 different weight settings,  that's 16 pairs of fixed weight dumbbells in one set of adjustable dumbbells, you can see now why they are so popular.
And if you add expansion packs into the equation, then you can almost double that amount for some adjustable dumbbell pairs.
Now let's look at the four most important features you should take into consideration before parting with your cash!!
Weight Range
This is something you need to think about carefully before buying any set of adjustable dumbbells, are you training for strength? Bodybuilding? Toning? Are you a fitness fanatic looking to add resistance training to your overall fitness regime?
As you can see, there are many different kinds of weightlifters out there, and it's vital to pick an adjustable dumbbell that suits your needs. There are two types of adjustable dumbbells sets..And you must choose the one that suits you best: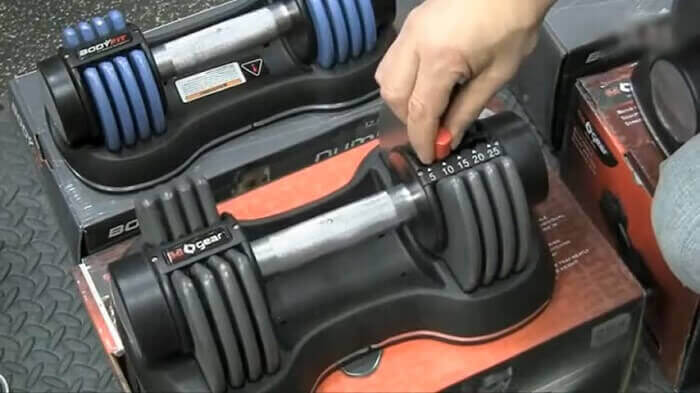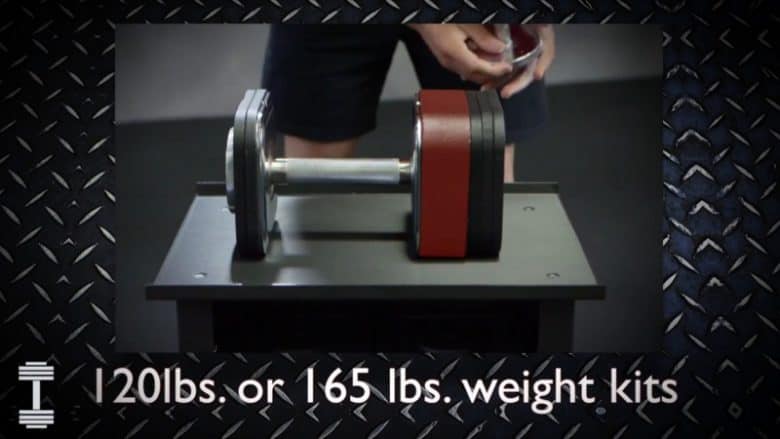 Non-Expandable
The first type of adjustable dumbbells are dumbbells that have a weight range that is non-expandable; this basically means you can not add any extra weight to the existing set you have bought.
Take the Bowflex, e.g., sets like the Bowflex offer you a weight range of 5-50lb but have absolutely no way of adding any extra weight in the future, so if you're buying a set like this, you need to consider how quickly you will outgrow them. You don't want to be left having to buy another complete set just a year on down the line.
Expandable
The second type offers the opposite of the non-expandable pairs. Expandable pairs offer extra expansion packs you can add at a later date as your strength increases; there's no real risk of outgrowing sets like this as you can buy additional packs to coincide with your strength development.
You'd be surprised how much your strength can increase in just six months of weightlifting, so keep this in mind when choosing an adjustable dumbbell set.
Ease of Adjustment
One of the most important features when it comes to sets of adjustable dumbbells is how quick and how foolproof are their adjustment systems; simplicity always works for me. Every set in this review has very easy to adjust systems that everybody should find a breeze to adjust.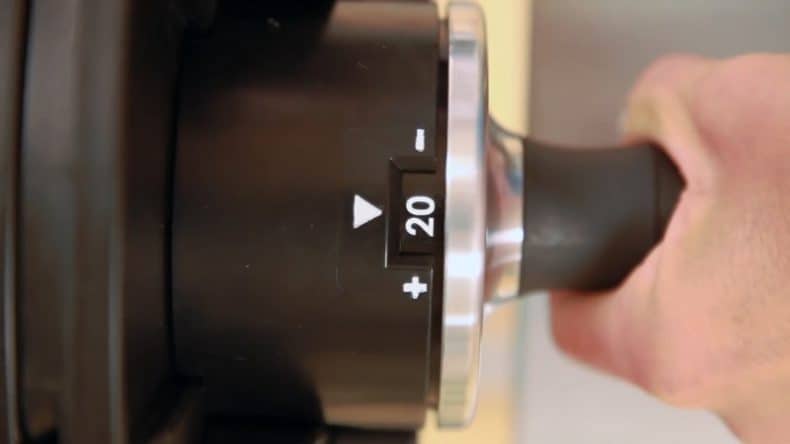 Not all of the new sets are super quick to adjust. Take the Ironmasters, which use a quick-lock pin; this proves to be a little slower than the twist lock systems because you have to change the weight plates manually, but as they use a metal pin with metal plates and handles the construction of the Ironmaster is tough.
What you lose with adjustment times you make up for with a very durable dumbbell, much more durable than the speedy sets like the Bowflex or Core Fitness.
If you're looking for speed, you will want to look at systems like the Twist-Lock of the Core Fitness or the Select-dial system of the Merax; these are the two fastest adjustable systems on the market. Still, because of the plastic built into the adjustment systems, they are also the most fragile.
Powerblocks are pretty quick to change too, they use a magnetic pin system, but if you want to change up in 2.5lb increments, you will have to manually add or take away a weighted cylinder doubling their adjustment times.
Not everyone is concerned about adjustment times between sets. If you are not, then I'd highly recommend a cheap set of iron plates and handles like the Yes4Alls, an affordable option that's almost unbreakable.
The Yes4alls are slow to adjust because of the twist-lock collars keeping the weight plates in place. You will need to unscrew these each time you wish to add or take off a weight plate; they are a fantastic choice for those of you who are on a tight budget, you can't go wrong with an old school set of iron plates.
Build Quality – Durability
Life for a dumbbell can be pretty tough. I'm sure many of you have trained in your local gyms and seen people dropping the dumbbells regularly.
I've watched guys throw them around in anger when they mess a set up, but for the most part, dumbbells get dropped because people like to train to failure and drop the weight on that last killer rep. But the last thing I would recommend is doing any of this with the adjustable dumbbell sets.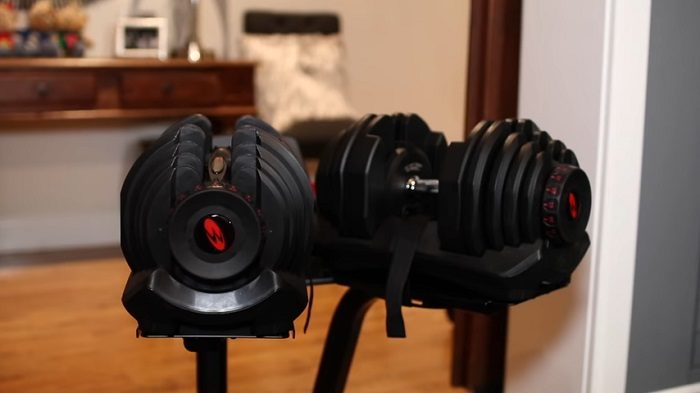 I wouldn't advise dropping a few of the adjustable dumbbells from height, and this is all thanks to the use of plastic in their construction. Some of the top adjustable sets use plastic in the handles, adjustment mechanisms, and surrounding the weight plates. A drop from any height above 6-12," and you're going to risk breaking something.
It's important to remember the warranties do not cover breakages from drops or the splitting of plastic surrounding weight plates.
It's a little scary to think of training with some of the top sets costing up to $300-600 and one drop from a height, and you'll be paying a substantial repair bill. So keep in mind when choosing or using sets with plastic parts that extra care must be taken with them.
People often forget when choosing their adjustable dumbbell set how important the length of the handle is, compact is better when it comes to adjustable dumbbells, longer handles can be awkward to train with. Longer handles have an annoying habit of hitting your hips when curling; they can also clash above your head when pressing.
Longer handles are not a complete deal-breaker because you will slowly get used to training with longer handles, but if you want a more natural feel, look for a shorter handle length or a handle that only increases in length when extra weight is added.
The Stand
A few of the dumbbell sets come with stands included in the price. However, many of the stands are available separately, the one set that needs the stand is the Ironmaster set, one because its pure quality, and two it's super useful, why?
Because of the design of the Ironmaster dumbbells, you will be adding and taking plates off quite frequently in your workouts, so rather than having to bend over all the time to pick plates up; it's nice to have a stand specially made for storage of the weight plates.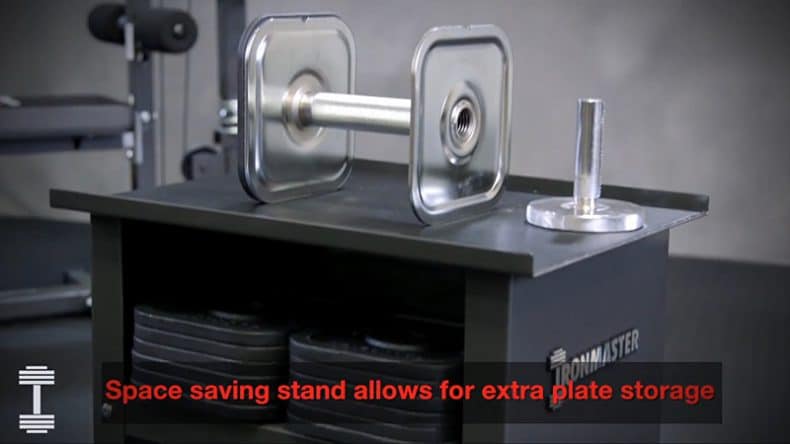 Powerblock, Bowflex, Core, and Stairmaster offer the choice of packages with or without the stand.
If you have the extra $'s, it will save having to bend and pick your dumbbells off the ground every time you use them, but it's definitely not an essential purchase and something most people can go without. But changing your mind and buying separately down the road will cost extra compared to a package deal.
To Sum Up
With so many excellent sets of dumbbells on the market right now, I can see why so many people find it difficult trying to choose the right set of dumbbells for their home gym.
Thankfully we managed to narrow it down to the top 7 with three sets of dumbbells really standing out from the others. Our top pick, the PowerBlock Elites, included everything on the tick list – fast to adjust, compact, durable, and expansion sets.
And I was surprised to see a select dial set in our top 3 this year-the Merax are impressive for a select dial set.
The single select dial makes the Merax super fast to adjust, plus there's no plastic coating the plates, plastic-free plates are an important move in the right direction for select dial sets less plastic is always a good thing.
The weight range on offer for Merax is just right too; 71.5 per dumbbell is a great weight for an adjustable dumbbell; it will allow for a ton of growth and years of use.
The Yes4Alls – Old School plates and bars, you can't go wrong with a set of plates and bars, these things are going to last years, and if you're tight on cash right now, they're an excellent choice for a home gym.
And because the Yes4all 50lb set has the 1″ standard size plates and bars you'll be able to purchase extra plates as your strength increases, you can go right up to 200lb on the bars, so I doubt anyone's going outgrow this set anytime soon.
And lastly, the Ironmasters, I love the Ironmasters; they are an excellent set of heavy-duty bells, but kind of pricey and sadly a little slow to adjust. Still, if you're after a rock-solid set of dumbbells ones that can offer heavy poundage and take everything you can throw at them, the Ironmasters are unbeatable.