It's tough out there trying to find a well-built, durable treadmill in the entry to mid-level price range; so many suffer from quality issues, and most lack a decent-sized running deck.
For the past month or so, we have researched and written a ton of detailed reviews on the best treadmills Under 800 and surprisingly found a few outstanding treadmills. This guide is the result of all of our hard work.
Commerical Size Running Decks & Power Inclines
We didn't expect to find 60″ long-running decks and 12% power-adjustable inclines, usually features like this are reserved for high-end treadmills. Nor did we expect to find lifetime warranties and excellent anti-shock systems, but we did!
We're happy to say we managed to find 5 excellent treadmills in this price range. All are built by reputable companies, all offer power inclines, a ton of workout programs, and all fold for storage, so are perfect for home use.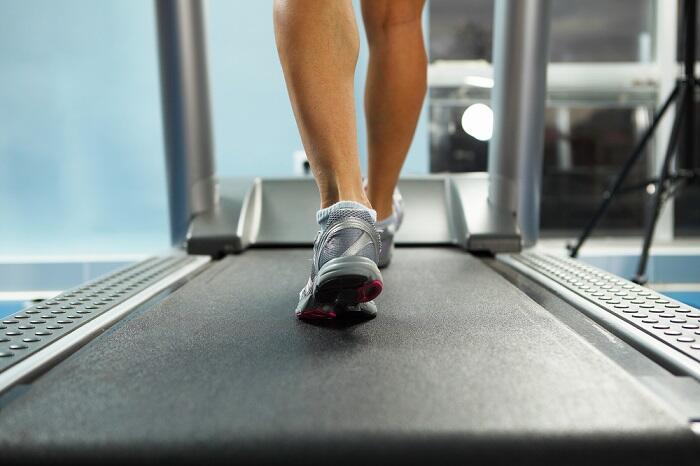 In this review, we're going to take a close look at all of the pros and cons of our Top 5 treadmills under 800.  We've also put together a handy buying guide that includes all the things you should look out for before purchasing any treadmill. 'Buying tips and general info follow the reviews'.
And for those of you in a rush, we've compiled a comparison table (below) which outlines the features of our best 3 treadmills in this price bracket.
Foldable

Weight – 200lb

Running belt – 20″ X 55″

Speed – 0.5 – 10mph

Motor – 2.6HP

Weight capacity – 300lb

Power Incline – 0-10%
Our Choice
Horizon T202 Treadmill
Foldable

Weight – 187lb

Running belt – 20″ X 60″

Speed – 0.5 – 12mph

Motor – 2.75HP

Weight capacity – 325lb

Power Incline – 0-12%
Foldable

Weight – 180lb

Running belt – 18″ X 50″

Speed – 0.5 – 10mph

Motor – 2.0HP

Weight capacity – 300lb

Power Incline – 0-10%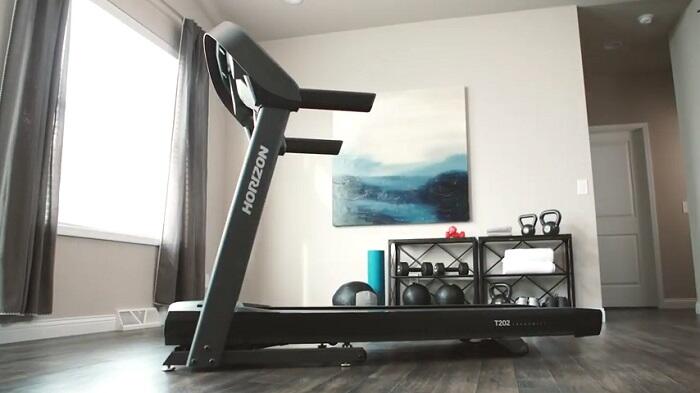 1. Horizon T202 Treadmill
Horizon Fitness are a company well known for building quality fitness gear. These guys offer some of the best warranties on the market, with lifetime on both frame and motor; their long warranties reflect not just the build quality of their cardio machines but also the confidence Horizon has in its treadmills.
If it's build quality and durability you're after, Horizon are one of the safest bets you can make in the home cardio space.
Today we're taking a look at their T202 treadmill. This treadmill sits somewhere between entry and mid-level and comes fully equipped with many useful features.
What sells the T202 treadmill isn't just the company rep and long warranties; this thing boasts the largest running deck of any treadmill in the price bracket with a 20″ x 60″ running belt.
60″ x "20 is gym size; we typically see running belts this size on machines costing twice that of the Horizon, so it was a nice surprise to see a gym sized belt on a machine in this price range.
Running belt size is the most important thing to look out there when buying a treadmill. It will determine who can use the machine and for what.
And while nearly all treadmills in the price category are limited to walking and jogging, the Horizon T202, because of the 60″ length belt, can be used to walk, jog, and run. The only machine we have found that can be comfortably used for fast-paced cardio in this price category.
The Horizon also provides the most impressive incline with a 0-12% power-adjustable incline, that's 2% higher than anything else in this review.
Owning a machine with an incline will let you target those hard to train muscles such as your calves, hamstrings, and glutes. Walking/Jogging at an incline will also burn twice as many calories as walking on a flat surface, so choosing a machine with a decent incline is essential.
The power-adjustable incline of the Horizon T202 can be adjusted via the monitor with one touch of a button.
Horizon gets all the important things right with this treadmill, large running deck, impressive top speed, incline, and a great warranty.
Still, where the T202 fails to impress is the number of workout programs with just 5, which is a shame because we would expect to see more in this price bracket.
The lack of workout programs is by no way a deal-killer; the T202 treadmill has far too many pros to let the lack of workout programs affect its overall appeal.
The lack of workout programs shouldn't be a big issue as there are many treadmill apps you can use with the Horizon T202 to keep you occupied and challenged, plus Horizon Fitness does provide a no subscription sports app.
Horizons free sports app lets you connect your tablet and Bluetooth to a heart rate monitor. This is an excellent app for the more serious runners out there as you can use a heart rate chest strap to monitor your heart rate, perfect for training in your chosen heart rate zone, plus a lot more accurate than pulse sensors.
The Horizon T202 was priced for a long time at over $1k. Currently, on sale for $799. If you can pick it up for $799 or anything near, it's great value for money. 
Impressive running belt size – 20″x 60″
Top speed of 12MPH suitable for walking, jogging and running
2.7CHP Motor – Powerful enough for running at pace but not powerful enough for advanced athletes 
0-12% power-adjustable incline
3 zone deck cushioning – anti-shock
Excellent warranty – lifetime frame, lifetime motor, 1 year labor and parts
The treadbelt is just one-ply. It's 1.4 mm thick. Treadmills that cost more have two-ply or even four-ply belts
Does not include a heart rate monitoring chest strap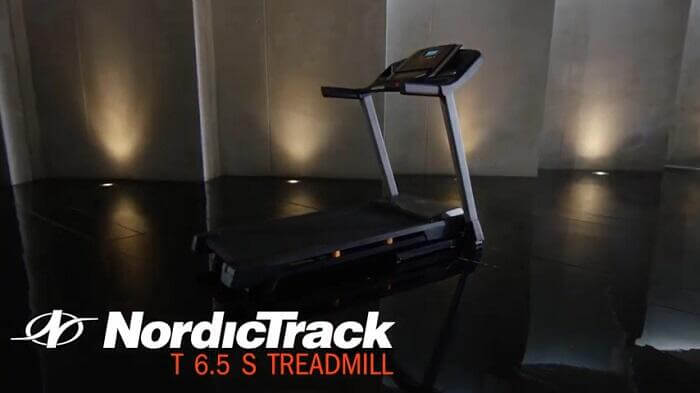 2. NordicTrack T 6.5 S Treadmill
NordicTrack has been around for decades, they are a company with many loyal customers and, just like Horizon, are known for building quality fitness gear at affordable prices.
Their T 6.5 S treadmill is their most popular affordable option. They do produce a T 6.5 Si treadmill, but it costs $400 more than the 6.5 S, and the only difference is the 6.5 Si includes an HD screen, and we don't think it's worth paying 400 bucks more for the same treadmill with an HD screen!
The NordicTrack T 6.5 S provides everything you need to increase your cardio fitness at home. This machine is packed full of useful features such as power-adjustable incline, a ton of workout programs, and a good-sized running belt.
With a 20″ x  55″ belt, taller users won't be able to use the machine for fast-paced workouts. Still, a 20″ x 55″ is an impressive size for this price bracket. You have to remember most treadmills under $800 come with belts ranging from 43″ to 50″ in length, so anything more than this is a good find.
Because of the belt length, we have to say the 6.5 S is best suited to walking and jogging, although some shorter users will be able to use the machine for fast-paced workouts as they have shorter strides.
The NordicTrack costs around $100 less than the Horizon, so we didn't expect it to beat the Horizon Fitness T202 on the other important features such as top speed and incline levels, but it's not far off with a 10% incline and a top speed of 10mph.
However, this machine does shine when it comes to the monitor as it includes 20 built-in workouts programs, plus it is iFit enabled.
iFit is one of the popular fitness apps out there; the app includes 1000s of workouts from its extensive online library that include studio classes, global routes, and a ton of other stuff too much to mention here.
The only downside of iFit is that it's a paid app around $1 a day, which isn't cheap. Still, even you don't take advantage of the iFit app; there are 20 built-in workout programs to help you reach your fitness goals and keep away the boredom of long cardio sessions.
The NordicTrack T 6.5 S is another surprisingly good treadmill in this price bracket, NordicTrack just like Horzion got all the important stuff right with the 6.5 S treadmill. A good-sized running belt, power-adjustable incline, 10mph top speed, a load of workout programs, and the option of iFit.
Good sized running belt 20″ x 55″
0-10% power-adjustable incline
FlexSelect cushioning system
Large 300lb weight capacity
Great price for a feature-packed treadmill
These models are not equipped with cooling fans
 On the T 6.5 S, you'll have to pay for iFit membership monthly to take advantage of its many benefits. (Treadmill can be used without iFit subscription)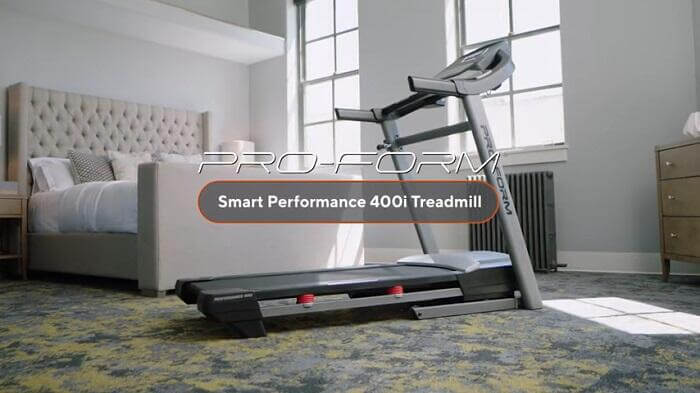 3. ProForm 400i Treadmill
The ProForm 400i treadmill offers more features than any other treadmill in this price range. And if its workout programs you are after, this is the treadmill for you as it offers 50 built-in workout programs and a 1-year free subscription to iFit.
One year free subscription to start with is worth over $300, so not only do you have the most built-in workout programs, you get 1000s of trainer-led workouts from iFit, which can all be viewed through the 7″ color HD screen.
Yes, this treadmill comes with its own HD color screen, so no need to use a tablet or a phone.
You can view all your studio training classes and jog anywhere in the world – viewed through your very own HD screen. The only treadmill in this price bracket to include an HD screen.
A cool feature of the iFit app is the self adjust option; the app will self adjust the speed and incline to mimic the terrain you are running on; not only does this make the cardio session more realistic it lets you focus more on your workouts as you don't need to adjust any of the settings yourself from the monitor.
You might be wondering if the ProForm offers all of this, including an HD screen why isn't it one of the Top 2 in this price bracket? Simply because the running deck is a lot smaller than both the Horizon and the NordicTrack.
A running belt this size is only suitable for walking and jogging. Even jogging for users over 6ft is going to cause issues.
And it's narrow at 18″, ideally, you want as much space as possible to walk-jog on your treadmill we need to feel safe and comfortable when we are exercising. A narrow running belt can be offputting, especially for larger users.
However, smaller belt sizes aren't deal-killers; they just limit what you can use the treadmill for. If you have been looking for a treadmill for walking and light jogging, the ProForm should suit your needs fine.
Overall we like what the ProForm offers by way of workout programs, and it's nice to have the built-in HD screen, especially as we have the free year of iFit. The running deck size and motor power are the only downsides of this machine, but as I mentioned, if you are under 6ft the deck size shouldn't be an issue
Solid, stable build – 180lb should feel like quality when your using it
iFit enabled 1000's workouts to choose from including global routes 1yr subscription included
High info monitor for price range
Impressive warranty – Lifetime on frame, 25 yrs on the motor, and 1 yr parts and labor
Not powerful enough for serious runners
No wireless heart rate monitoring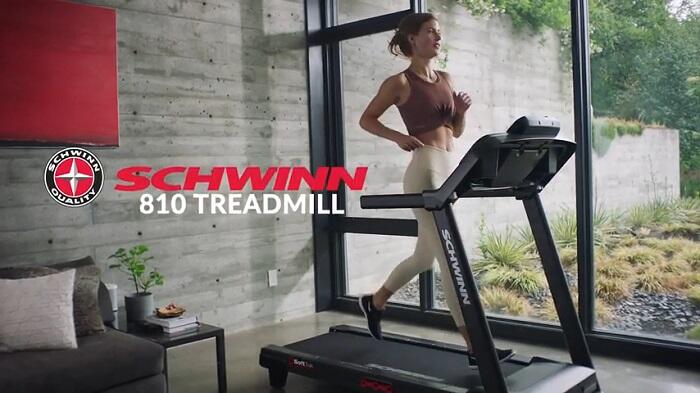 4. Schwinn 810 Treadmill
If there's a company that knows what they're doing when it comes to home fitness equipment, it's Schwinn. These guys have been around for over 100 years. They have more experience than anyone when it comes to home cardio gear.
The 810 treadmill is from their affordable range, it's a long off commercial grade, but it's easily good enough for home use and boasts a few impressive features for the price.
The best thing about this machine is its running deck size; just like the NordicTrack, the Schwinn has a 20″ x 55″ belt, so is suitable for walking and jogging for users up to 6'3″
It's also one of the better machines when it comes to workout programs as it has 16 built-in programs, and you will have access to the Schwinns Run Socal app, which includes 15 global routes and the choice to add more at $1.99 each.
When it comes to features, there isn't anything to shout home about with the Schwinn 810. What the 810 is, is a good all-round treadmill built by a reputable company.
The only thing that puts me off this machine is the power of the motor at 1.3CHP.
A 1.3CHP will have enough power for jogging, but if you weigh over 200lb and want to jog regularly on this machine, a motor that lacks any real power isn't going to last long.
However, most Schwinn fitness gear is durable, and lighter users should get years of use from this machine. It's just not built for heavy use. The 810 has a lightweight build and a weak motor, so it is best suited for light workouts.
With a 10mph top speed, 10% incline,  good-sized running belt, and more workouts than most even with the weak motor, the Schwinn still offers a lot of bang for your buck
Decent sized running belt – 22″ x 55″
10% power-adjustable incline
High info monitor for price range
16 preset workout programs
Easy to use soft drop folding system
Built in speakers and fan
An HR chest strap is not included
The USB port doesn't allow workout data transfer only device charging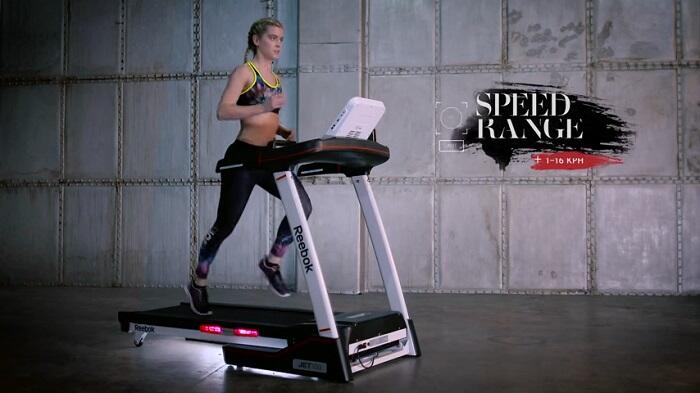 5. Reebok Jet 100 Treadmill
The Reebok Jet 100 is the lowest priced treadmill in this review, and even though it's priced under 700, this thing provides you with everything you are going to need for a calorie-burning workout at home.
The monitor is probably this machine's best feature as it comes with 24 workouts programs, more than enough to keep away the monotony of long workout sessions. If that isn't enough, Reebok provides their very own FREE fitness app.
The Reebok fitness app includes a ton of global routes which you can either use on your own, or you can hook up with friends and jog alongside them wherever you wish in the world, one of the only treadmills you'll find that includes global routes for free. You will, however, need a tablet or phone to access them.
When we get to the important features such as running belt/deck size and incline, the Reebok doesn't shy away there either, with 12 power adjustable incline levels and a 51″ length running deck.
The only drawback with this treadmill is how narrow the running belt is. At 17," it is on the cramped side of things. Jogging with a belt this narrow might be an issue for larger users as stepping off the machine while jogging is a problem with narrow belts.
At least the length of the belt is decent at 51″. It's going to allow users up to 6'1″ to walk/jog comfortably on the machine.
The Reebok Jet 100 includes the excellent SoftDrop system, which makes folding and unfolding the machine a breeze. It's so easy you can do it with one hand.
And something I know users praise about the Jet 100 is its air cushioning system, usually reserved for high-end treadmills; it was good to see Reebok have included the anti-shock system on one of their lower-priced treadmills.
A good anti-shock system can take up to 40% of each stride's impact, so it's always worth looking for a treadmill that incorporates a cushioning system into the design. It's never too early to protect your joints from the stresses of exercise.
Built by a reputable company/solid build, long warranty
12 levels of power-adjustable incline
Easy to use high info monitor
24 built-in workout programs
Sync with free Reebok fitness app
Air Motion Deck Cushioning – protect joints
The console is not telemetric
Buying Guide – Treadmills Under $800
Because of the vast difference in quality on offer in the under $800 price bracket, it's worth taking some time to read up on a few important features a good treadmill in this price bracket should offer.
Many people find themselves having to send back treadmills because they either didn't suit their body sizes or fitness needs. Sending back large fitness equipment is a headache; it's the last thing you need!
We've written a handy guide of some of the most important features you should check and consider before purchasing.
1. Incline
There's a ton of treadmills out there they don't offer a power-adjustable incline in this price bracket; heck, I've seen a few costing $1000+ that don't provide this essential feature.
When you choose a treadmill, you at least want a treadmill that offers a 0-10% incline power adjustable incline. We're not going to find a 15% incline for under $800. Still, 10% is good enough for a home treadmill and will provide enough extra resistance for faster calorie burn and muscle strengthening/toning.
Most budget treadmills come with a 3 level manual incline. While they're nothing wrong with manual incline, requires you to get off the machine and change the incline level. This is why we love power-adjustable incline; there's no getting off the machine in the middle of a workout. You can simply change the inclination level with a touch of the button on the monitor.
An incline cardio session will tone the muscles much faster, improving quads, hamstrings, glutes, and ankle strength. A higher incline tones muscles and burns calories 3 times quicker for fast fat loss.
Walking or jogging at an incline will also push your heart rate even further than jogging on a flat, increasing your cardio fitness.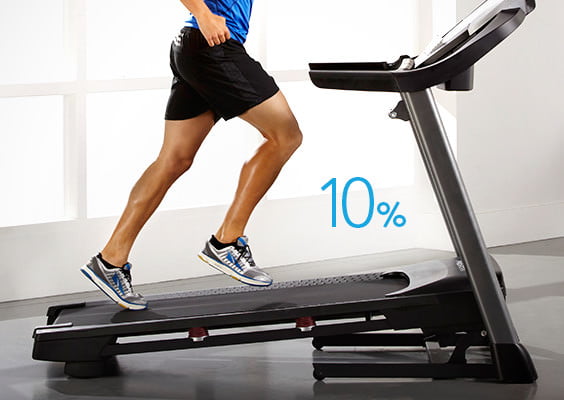 2. Running Belt
The length and width of the running belt are more important than most people think. The length of the running belt will determine whether you can walk, jog run on the machine.
Typically we see running belts with a length anywhere from 36″- 50″ on budget machines.
36″ – 43″ running belt is best-suited for walking or power walking – shorter users may be able to jog on a belt this length. However, it will still depend on the motor; if the motor is under 600W, it may not be powerful enough to keep up with a jogging pace.
43″ – 50″ running belt is usually ok for both walking and jogging. If you're over 6ft, I'd recommend paying more and finding a machine with at least a 55″ – 65″ running belt, especially if you want to run on the machine.
3. Monitor/Control Console
We certainly won't find any advanced monitors VR and 100 of pre-set workouts in this price range. What we will find are basic monitors that track useful workout data such as speed, distance, time, calories and hear rate etc.
I often think basic is better when it comes to monitors of fitness equipment. Some monitors I've used on high-end cardio machines take half an hour to figure out before you can use the thing.
What's nice about basic is you can switch it on and get going with your cardio session, and that's all a lot of people need, and I don't blame them because over-complicated monitors are troublesome, and half of the features most won't use anyway.
So what can we expect from an entry-level monitor? Some of the better basic monitors provide workout programs; preset programs are great for providing extra challenges that help push your cardio sessions harder. They're also excellent for keeping you interested and coming back for more.
All of the treadmills in this review include tablet holders – if you own a tablet, take advantage of some of the free treadmill apps. Long workout sessions can get boring – prest workouts, fitness apps all help to kill time.
Not as accurate as heart rate chest straps, we do see a lot of treadmills that include built-in pulse sensors. If you can, choose a machine that has the pulse sensors built into the handlebars; they are easier to reach than the thumb alternative that are built into the monitors.
The best entry to mid-level treadmills will include:
Preset workout programs
Pulse sensors
Tablet holders
Option to control speed from monitor and handlebar buttons
Power Incline
Workout fans
BlueTooth
Fold For Storage
Most treadmills in the under $400 price bracket are foldable. This is a good thing as a treadmill has a large footprint, and finding one that folds to half its original length is going to save you a lot of space. When it comes to the folding feature – Look for one that includes systems like the soft drop! Systems like this make unfolding the machine hassle-free. A few budget machines are a nightmare to fold and unfold, so look out for easy to use folding systems. If you're super tight on space, then a fold-flat is your best option. These machines will fold almost completely flat. They can be stored under beds or propped up against a wall.
Power
Unless you are buying a treadmill just for walking, you will need a motor of at least 1.5HP anything less will have trouble with keeping up with your pace even when jogging. A rough estimate to motor power is 500W – 1.5HP for walking, power walking | 1.5 – 2.5HP jogging |  2.5 – 5HP running
To Sum Up
Horizon Fitness is fast becoming the go-to company for home cardio equipment. It's no surprise when you consider their products offer the best warranties and customer service out there. Long warranties are a sign this company stands behind its products, and the user reviews reflect this.
Their T202 treadmill outshines everything else in this price bracket. The running deck size is its main selling feature, and if you've owned a treadmill before, you will know how important it is to have as much space as possible to exercise comfortably.
It is the only machine in this price bracket that you can use for walking, jogging, and running. The incline is also better than its competition, so too is the top speed and warranty.
As I mentioned earlier, if you can get hold of this machine for around $800, it is unbeatable for the price; heck, even at $1k and under, there still isn't anything better on the market than the Horizon T202 treadmill.