NordicTrack T 6.5 S Treadmill
NordicTrack may call the 6.5 S the affordable option in their T range, but don't let that fool you into thinking this thing is an entry-level treadmill.
The NordicTrack T 6.5 S Treadmill offers more features than anything else in this price range, heck; it boasts one of the best sized running decks of any treadmill in under $1k bracket, and if you can get hold of it for around $600 (on sale now) you've got yourself a bargain.
There are two versions of the T 6.5 S treadmill: the 6.5 S and the other is the 6.5 Si.
In this review, we're going to take a close look at the 6.5 s. We choose to review the 6.5 S because it offers more value for money. The 6.5 S costs $400 less than the 6.5 Si, and the only real difference between the two machines is an HD screen.
So if you can live without an HD color screen and want to take advantage of everything else this T range treadmill offers, such as power-adjustable incline, 20 workout programs, iFit apps, Bluetooth, a long-running belt, and heart rate monitoring, then please keep reading as our in-depth review will cover everything you need to know about this capable treadmill.
Before we get on with the rest of the review, let's take a quick look at the product specs!
Product dimensions – 67.5″ L x 35.75″ W x 73″ H
Running belt size – 20" X 55″
Why Do We Like The NordicTrack T 6.5 S?
What I like about this treadmill is that it gets all the fundamentals right. The most important is the size of the running belt. The running belt size of any treadmill will determine who can use the machine and what they can use it for.
Most treadmills in this price range offer a 50″ belt; while this is still good enough for many people looking to walk and jog on the machine, taller users will be limited to walking.
When we start seeing belts of 55″-60," not only will taller users be able to jog comfortably on the treadmill, all users will have more space to exercise. When it comes to treadmill belt size, the larger the running belt, the better.
Okay, the T 6.5 S belt is not a commercial size running belt, still for the price, 55″ length is impressive, and so too is the belt's width at 20″. A 20″ width will allow enough room for you to jog comfortably without worrying about stepping off while you workout.
Incline
Another excellent feature of this treadmill is the 0-10% power adjustable incline. I always recommend when looking to purchase a treadmill to look for one that includes an incline feature.
Incline workouts bring an extra challenge to your cardio sessions; they'll work a ton of different muscle groups strengthening and toning your calves, butt, and hamstrings, plus you'll burn a load more calories than walking or jogging in flat.
Walking at a 10% incline will burn 3 times more calories than walking on a flat; that's a huge difference and a handy feature for those of you looking to burn off some unwanted fat.
The NordicTrack T 6.5 S provides you with a 0-10% power-adjustable incline, easily controlled from the monitor's large one-touch buttons.
Monitor/Control Console
When we're looking to pay under $700 for a treadmill, we can't expect advanced monitors with HD screens and 100s of workout programs.
However, for the price point, the T 6.5 S monitor is better than most; you have twice as many workout programs compared to its competitors, you also benefit from the easy to use one-touch buttons which are used to select speed, incline, and workout programs, plus you have a backlit 5″ screen that shows all your workout data.
And another useful feature of this monitor is that its iFit enabled. iFit is one of the best fitness apps out there its owned by Icon Fitness, and these guys at Icon also own ProForm and NorciTrack, so it's no surprise to see iFit featured on all of their cardio gear.
Because we're looking at the affordable version of the 6.5 S, the machine lacks the HD color screen, so if you want to use the iFit app, you'll need your own tablet to access the app.
Not everyone will want to use iFit; it's a paid app, and at around $1 a day, it's on the expensive side.
Still, iFit is a very cool fitness app; they literally offer 1000s of workouts that include personal trainers, global routes where you can run anywhere in the world, and I know a fav among a lot of people is their studio classes where a personal trainer trains alongside you.
One cool feature of the iFit apps is it adjusts the treadmill's incline and speed to mimic the terrain you are walking/jogging. This is great because not only does it make it more realistic, it also saves you having to adjust anything in the middle of your cardio session, leaving you to focus fully on your workouts.
If the iFit app isn't for you, don't forget there are still many workout programs, 20 in total, to challenge you and keep you coming back for more.
The monitor also tracks all the usual stuff such as speed, distance, time, heart rate (built-in handlebar pulse sensors)
Bluetooth enabled speakers included but no workout fan.
Oh, and I should mention, if you are not going to use iFit, make sure you hold down the iFit button to disable iFit otherwise, the machine will not work.
A lot of people think their treadmill is broken or they have to sign up for the iFit subscription to get the machine to work, that's not true; just hold down the iFit button for 30 seconds, and you're ready to go
Anti-Shock System
A good treadmill should come equipped with an anti-shock system. The NordicTrack 6.5 S comes with its very own patented FlexSelect™ Cushioning. The FlexSelect anti-shock system is used on their high-end treadmills so it was nice to see it featured here on their affordable option.
The FlexSelect system will absorb up to 40% of the impact of each stride; this will help protect your joints and allow you to enjoy a longer workout and recover quicker.
Owning a treadmill with a cushioning system is one of the big advantages of running indoors. It's one of the main reasons people use a treadmill to avoid the high-impact of road running. Protecting your joints at any age is always a good idea.
Still, there are a few people that like their treadmill to mimic the hard outdoor running surfaces. If this is you, you'll be happy to hear you can turn off the cushioning system of this treadmill to mimic outdoor surfaces, turn the dampener until it reads: "Off." 
Easy To Store
Although we have a fairly large running deck with the T 6.5 S, it's still relatively easy to store thanks to the folding system, treadmills typically have large footprints, and if you live in an apartment or you do not have space to house one permanently, a folding feature is essential.
Thankfully the 6.5 S folds to nearly half its original length and, once tilted, can be rolled on its integrated transport wheels to a corner of a room to store.
A simple easy to use fold feature that can be folded with one hand it's that easy – it takes a few seconds to fold.
Whos It For
Although the NordicTrack T 6.5 S shines when it comes to all the important features such as running deck size incline and build quality, it's still a long way off commercial grade. This thing hasn't been designed for serious runners.
The 6.5 is a machine perfect for those of you who want to walk or jog at home on a decent treadmill.
It's not going to take heavy impact running every day; you'll need to spend at least twice that of the price of the 6.5s if your a serious runner or someone training for marathons, etc.
Good sized running belt 20″ x 55″
0-10% power-adjustable incline
FlexSelect cushioning system
Large 300lb weight capacity
Great price for a feature-packed treadmill
These models are not equipped with cooling fans
 On the T 6.5 S, you'll have to pay for iFit membership monthly to take advantage of its many benefits. (Treadmill can be used without iFit subscription)
Alternative & Comparison Table
Our Choice
NordicTrack T 6.5s Treadmill
Foldable

Weight – 200lb

Running belt – 20″ X 55″

Speed – 0.5 – 10mph

Motor – 2.8HP

Weight capacity – 300lb

Workout programs – 20

Power Incline – Yes
Foldable

Weight – 155lb

Running belt – 20″ X 55″

Speed – 0.5 – 10mph

Motor – 1.3HP

Weight capacity – 275lb

Workout programs – 16

Power incline – Yes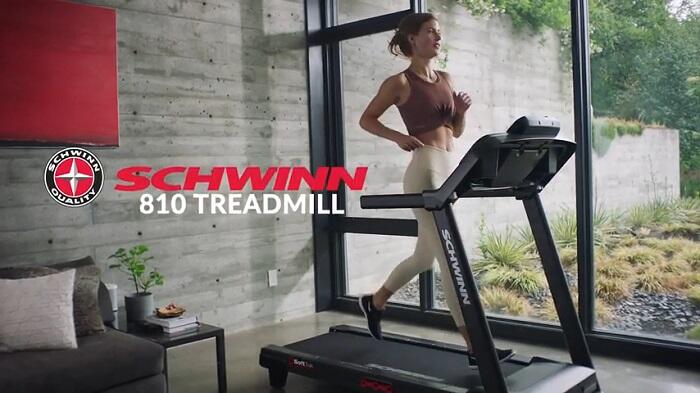 Schwinn 810 Treadmill
Schwinn, just like NordicTrack, are a company that's well respected in the home fitness industry. These guys have been around for decades and are known for building high-quality fitness gear.
Their 810 treadmill is an entry to mid-level treadmill and sits in the same price bracket as the NordicTrack T 6.5s.
Before the NordicTrack 6.5 S came along, the Schwinn was by a small margin the best treadmill under $800 with a great sized running deck for the price point and the all-important power-adjustable incline.
However, there's one thing holding back the Schwinn 810, and that's the power of the motor, at just 1.3HP its disappointing for the price point; yes its powerful enough for walking and light jogging, but you could run into issues, especially if you are a heavier person as a 1.3HP motor will have trouble moving the running belt under  heavy weight loads.
On the positive, the Schwinn provides 16 workout programs, and an extra 15 global routes can be accessed via their Free Run Social App. Just like the NordicTrack, there's no HD monitor, so you will need a tablet to make the most from the free app.
There really isn't a huge amount of difference between the two machines. Both boast great sized decks, both include the 0-10% power incline, and both have a ton of built-in workout programs.
Still, when you consider the Schwinn costs $100 more and has a weaker motor, the NordicTrack is the better buy if only by a little
To Sum Up
The NordicTrack T 6.5 S Treadmill is an impressive machine, one that's packed full of useful features such as power incline and an excellent anti-shock system.
We love that the T 6.5 provides a load of workout programs as we know not everyone will want to pay out for the iFit app.
There are no major drawbacks with the NordicTrack T 6.5s. My only slight reservation is the cost of their fitness app iFit at $1 a day. It's too expensive.
iFit is an awesome fitness app but needs to more affordable. As we mentioned, this machine comes with enough workout options that the iFit app isn't a necessity.
Overall there isn't anything else out there that can match this machine on features for the price point. It's an excellent machine for anyone looking to improve their cardio fitness at home, and with an easy to fold system, storing after use should be a breeze.