The Xterra TR300 Treadmill isn't a treadmill packed with features you won't find in VR or an HD screen. Xterra has never been a company that pushed a ton of tech on its users. Instead, these guys concentrate on the important stuff like a long, wide running belt and a heavy solid build. So although the TR300 might not be able to match its competitors when it comes to features, it smashes them when it comes to quality.
Users Praise How Solid The TR300 Treadmill Feels.
And that's what you'll love most about this treadmill it feels solid. Many users have praised how stable Xterra treadmill feels, similar to machines they have used in their local gyms, and this is exactly what you want; the closer you can get to the feel of a commercial-grade treadmill for your money, the better.
In todays reviwed we're take a close look at everyhting the Xterra TR300 treadmill has to offer.
First the product specs!
Product dimensions – 72.2 x 54.1 x 35 inches
Speed – 0.5 – 10mph in 0.1mph increments
Running belt size – 20" X 55″
Why Do We Like The Xterra TR300 Treadmill?
The size of a running belt determines who can use the machine and for what. Anything over 50″ in this price range is impressive. A 50″ belt will allow users up to 6ft to jog comfortably. The Xterra TR300 boasts a 55″ belt which is great news for taller users as it bumps up the max user height for jogging to around 6'3″
But it's not just the belt length that's impressive about the TR300 belt. The belt width is 20″, we're talking gym size here for the width. A wide belt is important as it will prevent you from stepping off the side of the belt in the middle of a session which is a common issue with narrow treadmill belts.
Heavy Treadmill 207lb
Still, perhaps what impressed me more than the belt's size was the treadmill's weight. 207lb is heavy for a treadmill in this price bracket. That extra weight gives us a good clue to the quality of materials used in the build, and that extra weight will help with stability. This is not a treadmill that's going to feel cheap and unstable.
10% Power Incline
If you want to strengthen and build those hard-to-train muscles like your glutes, calves, and hamstrings? A treadmill with an incline feature is one of the best ways to do it. And if you can find a treadmill with a power-adjustable incline in your price range, that's even better.
Power adjustable inclines save you from getting off the treadmill in the middle of a workout to adjust the incline level manually.
The Xterra Treadmill features a pretty good power incline for the price point that adjusts to 10% (10 levels). But what I like about this power incline are the handlebar controls. Xterra Fitness thought to include a second pair of control buttons for the Incline which means you won't have to lean forward to the monitor to change levels while jogging.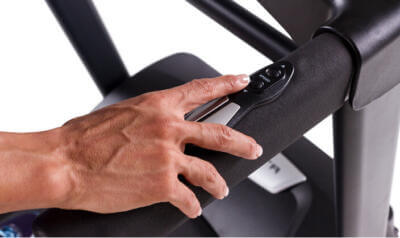 Deck Cushioning System – XteraSoft
One of the main reasons I bought a treadmill was to get away from road running, as those hard surfaces can damage joints over time. A treadmill with a decent cushioning system or anti-shock system will reduce the impact of each foot strike by 40%, which almost halves the impact on your joints. Many cheap treadmills do not include a deck cushioning system which is a shame as I feel it's a vital feature. You'll be happy to hear Xterra Fitness has its own cushioning system, the XteraSOFT, and it works well.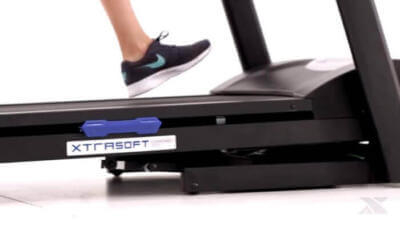 Basic but Easy To Use One-Touch Monitor
I mentioned in the intro there's nothing fancy about this treadmill; it's what I call a fuss-free well-built treadmill. The monitor isn't anything you're going to shout home about. In fact, it seems slightly dated, but this isn't a bad thing. It is not over complied like so many monitors I've reviewed. You won't have to spend half an hour to figure out how to use the thing.
Just switch it on and get going.
You can turn this monitor on and get going with your workouts. I like the fuss-free design as it includes all the essentials you need, such as workout programs, speed, distance, incline, pulse, built-in speakers, and fans. Plus, you have wireless heart rate monitoring, which is excellent for those who love to train in their chosen heart rate zones. There's no need to scroll tough a ton of menus either, as everything can be accessed with a single touch of a button.
Soft Drop Folding System
Treadmills with large running belts like the Xterra take up a lot of space which is why this thing comes with a folding system. It's pretty easy to fold thanks to the hydraulics, so easy you can lift the deck with one hand and fold.
I mentioned earlier the Xterra Fitness treadmill is heavy, which is a good thing, we want a solid treadmill, but heavy means it's tougher to move. The TR300 includes built-in transport wheels, making moving the machine that much easier. Still, it can take two people to move a large treadmill. It's best to ask someone to give you a hand when moving a treadmill of this size.
Can I Use The Xterra TR300 For Running?
The Xterra TR300 boasts a 2.25HP motor and a 55″ belt, so yes, it has the power to cope with more intense cardio sessions. Users up to 6.3″ can use a 55″ belt for walking and jogging, still for running the max height will be slightly lower because of the larger strides. The max hight for running on a 55″ belt is closer to 6ft.
30 Minutes Assembly
It shouldn't take long to assemble this treadmill as most of it comes pre-assembled. All you'll need to do is attach the handlebars to the running deck and attach the monitor. It takes, on average, 30 minutes to complete.
Treadmills do not require a whole lot of maintenance, most important is to keep the running belt clean, as this will prevent any debris from getting into the motor. Also, you'll need to lubricate the belt and deck every 90 hours of use.
Clear assembly instructions are provided so are the tools for the job.
Solid treadmill, many users have commented how good this treadmill feels when jogging on it
Large, wide running surface for the price point, suitable for users up to 6'3″ for walking and jogging
10 levels of power-adjustable incline, you'll burn 50% more calories jogging on an incline and build those hard to train muscles in your legs
Can adjust speed and incline from the handlebars
Easy to fold thanks to the soft drop folding system
Cushioning system reduces the impact on joints by 40%
Easy to use monitor with 24 workout programs and wireless heart rate monitoring
Built in transport wheels, just tilt and roll to move
If you place a tablet on the holder you'll  your cover part of the monitors LCD
The monitor may feel dated for some users
Schwinn 810 Treadmill
Schwinn are a company everyone's heard of. These guys have been around for decades and are well known for building high-quality fitness gear. I've reviewed a ton of their gear over the years, and most of the time, I've been impressed with what's on offer. 
Their 810 treadmill is one of my favorites in the under $800 price range.
The Schwinn 810 Treadmill is similar to the Xterra Fitness TR300 Treadmill in that both offer power-adjustable inclines, soft drop folding systems, and large running belts. The Schwinn measures 20″ x 55″, the same as the Xterra TR300. It is equally impressive. Also, the Schwinn 810 is nice and heavy at 190lb so it feels solid with all that weight keeping the treadmill planted to the floor.
The Schwinn Monitor is basic, but it includes a few more workout programs and access to their free online treadmill app, which is something the Xterra lacks.
The only drawback of the Schwinn is the power of the motor at just 1.5HP. It's weak for a treadmill of this size, but still, it's powerful enough for walking and jogging, which is what most people who buy the 810 use it for.
The Schwinn has been a best seller in this price range for a long time, and it's easy to see why, just like the Xterra TR300, the build quality is high, the running deck is large,e and the monitor, although fairly basic, includes all you need.
To Sum Up
If you want a high-end monitor with loads of features and you want a high-quality solid treadmill? You'll need to spend twice the money the Xterra TR300 costs.
In this price range, you either choose a treadmill that's well built and has got all the essentials right, or you can go with a treadmill where the company has spent all of the money on the tech and forgotten about the rest.
This is why I liked the Xterra TR300 Treadmill. It made a nice change to review a treadmill where the best feature wasn't the cool subscription fitness apps VR or 10″ HD screen. Instead, the Xterra Treadmill shines because of its long wide running belt and high-quality build, which is what you should be looking for from a treadmill. Something that lasts and does the job well.