If you buy a treadmill from Schwinn, you know you'll receive a quality product; these guys have been around for decades. They know what they're doing and do it well. The Schwinn 810 treadmill is their more affordable option but packs a punch of a much higher-priced machine.
It has some great features, including one of the longest-running belts in the price range and 'widest', plus power incline, a soft drop folding system, and you get access to their FREE fitness app, which includes global routes.
No Wireless Heart Rate Monitoring and Only a 2HP Motor
The Schwinn 810 isn't perfect. There's no wireless heart rate monitoring, and the motor is a little weak for the price point. Still, every treadmill in this price range has a few drawbacks, and the Schwinn 810's aren't deal killers. The Schwinn 810 has a lot more going for it than against it. This is a 155lb treadmill it's a heavy treadmill, that extra weight tells me it's made from quality materials, and this is what's most important. Plus, you have a 55″ x 20″ belt, an impressive monitor, and a power incline. Schwinn has got 90% of the essentials right, a higher percentage than anything else with a similar price tag.
It's certainly a treadmill worth taking seriously, which is why I want to take a close look at everything the 810 treadmill has to offer, including those drawbacks. First, let's check out the product specs!
Product dimensions – 72.05 x 29.92 x 11.81 inches
Max user height – 6'2″ – jogging
Running belt size – 20" X 55″
Schwinn 810 Treadmill Review – Why Do We Like it?
The best feature of this treadmill is the size of its running belt. I've reviewed many treadmills in this price range, and the majority can only boast 50″ belts. The Schwinn 810 has a 55″ belt. This means users up to 6'2″ can use the Schwinn 810 for more intense cardio sessions. You're not limited to light workouts with the Schwinn.
And the belt is wide at 20″. You are not far from commercial size with a 20″ width. Commercial treadmills use a 22″ width, so we're close, which is impressive for a treadmill under $1000. A wide running belt is vital as it prevents you from stepping off the side of the treadmill in the middle of your workouts; this is a real issue with narrower belts. You won't feel restricted on a belt this size.
Solid Machine It Doesn't Feel Cheap
As I mentioned in the intro, perhaps what's most impressive about the Schwinn 810 is its weight. It doesn't feel cheap. It's a heavy solid machine, and that's precisely what you should be able to find in this price bracket. Yes, heavy treadmills can be a pain to move, but I'd much rather a heavy, high-quality machine than a lightweight one that feels cheap and unstable.
10% Power Adjustable Incline
I always recommend that if you buy a treadmill, make sure you get hold of one with an incline feature.
Incline workouts bring something else to your cardio sessions; when walking or jogging on an incline, you work different sets of muscle groups such as your glutes, calves, and hamstrings, and the higher the incline, the more you'll strengthen and build these hard to train muscles.
Burn 3 Times More Calories
Also, you burn a ton more calories when walking or jogging at an incline. Walking at four mph for 30 mins on an incline burns 375 calories; that's three times more than you'll burn walking for the same amount of time on a flat surface.
So if you're looking to burn some unwanted fat, a treadmill with an incline option is one of the best ways to achieve it.
Most budget treadmills (under $500) do provide a manual incline. However, when we move up a level and pay a little more, we come across power-adjustable inclines, and thankfully the Schwinn boasts a 10% power-adjustable incline; this is what I'd hope to see in this price range.
You can control the level of incline via the monitor.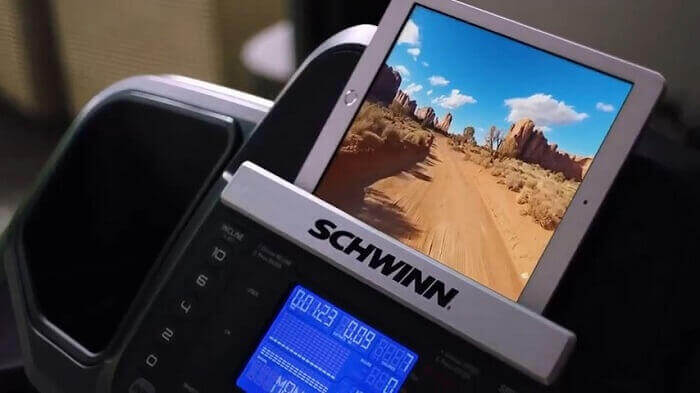 Hi Info Monitor/Control Console
At this price, we cant expect to see advanced monitors with HD screens and built-in apps. Still, what we have with the Schwinn 810 is better than most on the market. 
You have preset workout programs that are excellent for providing extra challenges. They are also great for keeping away the monotony of long workout sessions.
Run Social App With 15 World Routes
Plus, if the 16 workout programs aren't enough to keep away the boredom and the clothes turning your treadmill into a clothes horse, you can also download apps such as their Explore The World App that includes a ton of global routes for you to run. You get 15 routes free, and then you can buy if you wish extra full routes for $1.99
(you need to download the fitness apps to your tablet or phone they do not come with the machine)
If apps aren't your thing, users have said the motor on the 810 treadmills is surprisingly quiet, so you could set the treadmill up in front of a TV and watch your favorite shows to pass the time.
And let's not forget BlueTooth, where you can plug in your phone and listen to your music through the integrated treadmill speakers.
Other features of the monitor include pulse sensors to monitor your heart rate. You can also change your level of power incline through the monitor and choose your workouts.
The monitor allows for two users, and finally, its tracks all of your usual workout data such as time, distance, calories, speed, etc.
And I should mention there is a handly cooling fan, plus a tablet shelf which, surprisingly, when loaded with a tablet, doesn't hide the monitor screen of the treadmill. I say surprisingly, as the monitor gets hidden behind the tablet in most of the treadmills I've used. So thumbs up to Schwinn for addressing that issue.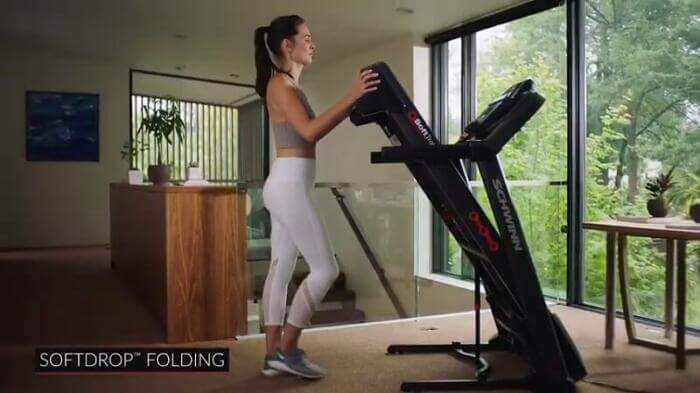 Folds For Storage – Soft Drop
Treadmills have large footprints, so a folding feature for some is essential. The folding feature of the Schwinn 810 treadmill almost halves its original length, great for people tight on space, but even when folded, these larger machines will still take up a lot of room.
You have to remember we have a long-running belt on the 810, so it makes for a large treadmill, its good idea to measure before buying as sending a 170lb large piece of equipment back is a headache.
What I love about this fold folding system is the Soft Drop. All you have to do is give it a little kick, and folds down almost effortlessly, so much better than the nightmare fold systems we had to put up with a few years ago. This system is super easy to both fold and unfold, anyone can do it.
To move after folding, just tilt and roll on the integrated transport wheels.

Desk Cushioning – Reduce Impact on Joints By Up To 40%
Any treadmill costing over $400 should come equipped with an anti-shock/deck cushioning system.
Good anti-shock systems take away some of the impact of running on the treadmill.
Even fast-paced walking puts extra stress on your joints and running almost twice as much, owning a treadmill that includes an anti-shock system will reduce the impact on your joints by up to 40%
Schwinn call their anti-sock system 'SoftTrak deck cushioning.
Anything I didn't Like?
Schwinn has got almost everything right with this treadmill. It's certainly one of the more impressive treadmills I've reviewed in this price range. Still, if anything lets this treadmill down, it's the motor's power.
You'd expect at least 3HP on a treadmill this size. The Schwinn uses a 2HP motor which is okay, but if you're a larger user, whos going to use this treadmill regularly? You could end up with motor burnout. It's best to keep well under this treadmill's max capacity. 
The max capacity for this treadmill is 275lb. A more realistic max capacity for a 2HP motor is 225lb.
Assembly 1 – 2 Hours
The majority of users found assembling the 810 Treadmill relatively easy with an average assembly time of 1-2hours.
Most of the treadmill comes pre-assembled however, there are a few parts you will need to assemble. It's always easier to do this with two people as some parts may need to be held in place.
The only part a couple of users had difficulty with was aligning the running belt; as one user says,
" Aligning the deck took some time and patience, the alignment ports are on the ends of the deck, and you just use the included Allen wrenches to adjust the centering of the belt. However, each adjustment needs a couple of minutes of the belt running before you see the difference, so patience is key."
Good sized running belt suitable for user up to 6'2″
10% power adjustable incline 
Excellent deck cushioning system – reduces impact of each foot strike by up to 40%
Can be folded with one hand – soft drop folding system
Decent monitor for price point with 16 workout programs and access to their free app
Built – in transport wheels just tile and roll to move
Only contact pulse monitoring no wireless capabilities
Would of liked to of seen a more powerful motor
A few people found assembly tricky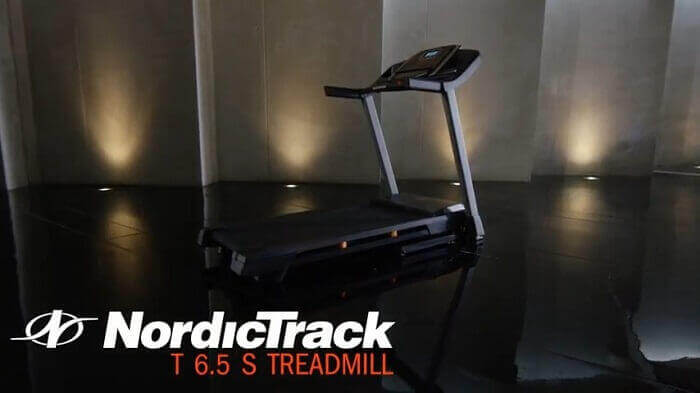 NordicTrack T Series Treadmill
The T Series Treadmill is NordictTrack's most popular treadmill. You'll love this treadmill because it offers a lot of bang for your buck. The S version of the T series treadmill is the best buy. This is the version without the HD screen; it's the exact same treadmill as the Si but costs $300 less than the one with an HD screen.
I think this treadmill is so impressive because, just like the Schwinn, it boasts a large running belt for the price, measuring 55″ x 20″. And just like the Schwinn, the NordicTrack T series treadmill has a heavy-duty build. Weighing nearly 200lb, this thing feels solid with no chance of it moving around while you workout.
There's also a power-adjustable incline, an impressive monitor with 20 built-in workout programs, and the option to join their fitness app, iFIT. It isn't a free app, it costs $15 a month, but it is one of the best fitness apps out there, with 1000s of workout programs, personal trainers, and global routes.
As you might have noticed, the NordicTrack and Schwinn treadmills are similar machines. They share the same impressive features, including the soft drop folding system. The only real difference is the power of the motors. The NordicTrack  T Series has a 3HP motor which is what I'd expect to see on a treadmill of this size.
Overall an excellent treadmill from NordicTrack, and a great alternative to the Schwinn 810, especially if you want something with a little more power with the same price tag.
To Sum Up
The Schwinn 810 Treadmill is unmatched on quality. For under $1000, you'd be hard pushed to find a better treadmill. For me, it's the size of the running belt that sells this machine. Yes, the quality is important, and I know the Schwinn 810 has that, but without a large running belt, its appeal would be limited. 55″ is as large as you will find in this price range and great to see.
You also have access to their fitness app with no subscription required and tons of workout programs and power incline. Anyone who buys this treadmill shouldn't be disappointed.
The Schwinn 810 and the NodrticTrack 6.5s are the two best treadmills in this price range.
Schwinn 810 Treadmill FAQs
Does The Schwinn 810 Treadmill Have Incline?
Yes the Schwinn 810 treadmill boasts a 10% 10-way power-adjustable incline that can be adjusted from the monitor
What Are The Schwinn 810 Treadmill Dimensions?
The Schwinn 810 treadmill dimensions are 72.05 x 29.92 x 11.81 inches
Does The Schwinn 810 Treadmill Include BlueTooth
Yes the Schwinn 810 treadmill is Bluetooth enabled and has a USB charging port and speakers
Does The Schwinn 810 Come With an HR Chest Strap
The Schwinn 810  is not Telemetry Enabled it only has the built-in handlebar pulse sensors. The only treadmill Schwinn makes which is telemetry enabled is their 870 treadmill