It's hard work trying to find a high capacity treadmill that costs under $600, there isn't much out there to choose from, and after a few hours of research, we've found there are only two treadmills that offer a weight capacity above 350lb that are affordable and worth taking a closer look at.
One of those two treadmills is the Progear 4000 HCXL, and the other is the Exerputic T1000.
Both Exerputic and Progear are owned by the same company Paradigm Health & Wellness, both treadmills cost around the same, and both offer similar features. Basically, they are the same treadmill but marketed under different brand names.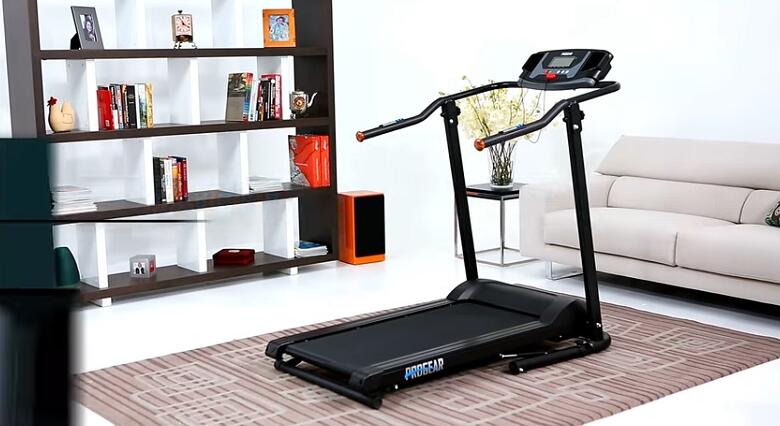 High Capacity Treadmill – Affordably Priced
We're going to focus on the Progear today. The 4000 HCXL is an entry-level treadmill designed for walking or light jogging.
This thing is a long way from commercial-grade, but when you consider the other treadmills on the market with a 400lb weight capacity cost well over $1.5k, you start to realize that the Progear 4000 HCXL is offering a lot of treadmill for the price.
And what's great about the Progear 4000 Treadmill is it's going to give so many people who usually wouldn't be able to afford a high capacity treadmill the opportunity to start their fitness journey at home and reap the health benefits of regular cardio workouts.
In our review, we're going to look at all the Pros and cons of this attractively priced high capacity treadmill, but first, let's take a quick look at the product specs!
Product dimensions – 51.2 x 32 x 63 inches
Running belt size – 20" X 40″
Why Do We Like The ProForm HCXL 4000?
It goes without saying the best feature of this treadmill is its high weight capacity, but the HCXL offers some other excellent features worth mentioning, such as the extended handrails.
The handrails on the Progear are twice the length of handrails we're used to seeing on regular treadmills. Long handrails are excellent for giving you extra support while you exercise.
Long handrails also give users the confidence to get on the machine in the first place.
Many people find treadmills slightly intimidating when they first purchase one, and the need to feel safe when using the machine is an important factor.
Long handrails will give you that extra boost of confidence to get on the treadmill and start exercsing. They're also great for giving seniors extra support as they will help prevent falls or slips on the machine.
Something else people have praised the HCXL 4000 treadmill for is how quiet it is when in motion. The good thing about a quiet treadmill is that you can watch TV while you exercise; long cardio sessions can get boring. Having the option to watch TV to pass the time while you exercise is a bonus.
Easy To Use Monitor
We're not going to find an advanced monitor with tons of workout programs and HD screens in this price bracket.
What we usually find with entry-level treadmills are basic, easy to use monitors, which can sometimes be a blessing as advanced monitors can be over complicated and offputting for many people.
The monitor of the Porgear HCXL tracks all the essential workout data such as speed, time distance, and pulse.
Plus, they have included an extra set of speed buttons built into the handlebars, this is a cool feature as it saves you having to reach forward in the middle of the workout to adjust the speed from the monitor; instead, you can simply adjust your speed from the handrail buttons.
There's also pulse sensors built into the handrails. The pulse sensors monitor your heart rate and are useful for those who like to exercise in their chosen heart rate zone.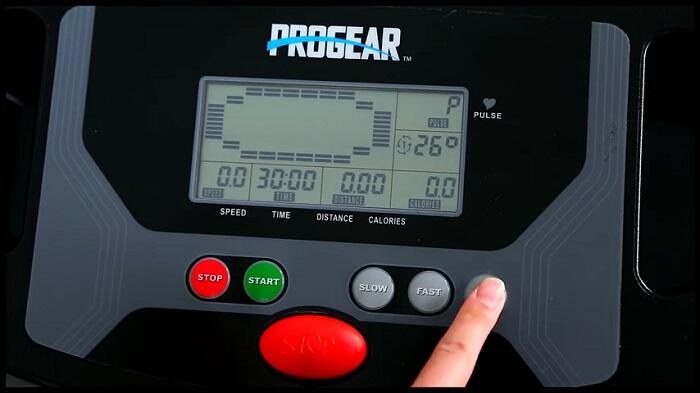 2 Levels of Manual Incline (Burn Twice As Many Calories)
While it would be great to see a power-adjustable incline, a manual incline is better than nothing, and many treadmills in this price bracket don't include an incline at all. Hence, it's always a nice surprise to find an incline featured on an entry-level treadmill.
Owning a treadmill with an incline will let you target different muscle groups than walking on a flat surface.
When walking on an incline, you'll build and strengthen your calves, glutes, and hamstrings, and that's not all because walking at an incline also burns twice as many calories as walking on a flat surface. So as you can see, owning a treadmill with an incline feature has a few important health benefits.
Easy To Store – Folding Feature
Probably one of the easiest to store treadmills out there as not only does it fold for storage, this machine is light and compact thanks to its short running belt.
If you need to store the machine after use, all you need to do is fold, tilt and roll on the integrated transport wheels to a corner of a room to store.
Running belt/Deck Size.
The Progear HCXL treadmill has been designed for walking, so we can not expect a large running belt.
The belt is short at 40″ and will only allow users to walk or power walk on the machine. Some shorter users may use the machine for light jogging as shorter people have shorter strides.
What's impressive about the running belt is its width, because at 20," it's surprisingly wide for an entry-level machine.
Running belts of this width are usually reserved for high-end treadmills similar to ones you would see in your local gym.
Wide running belts let you feel comfortable on the treadmill; you won't have to worry about keeping your knees together and stepping off the machine while exercising. The wider the belt, the better when it comes to treadmills.
Durability
Entry-level cardio machines aren't known for their durability. They are not built with heavy-duty frames and expensive materials, which is why most, including the Progear treadmill, come with short warranties.
However, when well maintained, an entry-level treadmill should last years. Ok, it's going to last decades, but at this price, we wouldn't expect it to. Just look after the machine, lubricate it as per instructions and make sure the belt is always centered, and you should be fine, plus, don't go over the max weight capacity.
One Person Assembly
Assembly is one of the things most people dread when they buy fitness equipment, but no worries with the Progear: this thing comes almost fully assembled; all you have to do is attach the monitor, which takes a few minutes ten at most.
Assembly can be achieved by one person, although you may need two people to move the box in place when it arrives as the box is heavy.
Most of the treadmill comes pre-assembled – short assembly time
Long handrails – extra support
Very quiet – watch TV while you exercise
Integrated transport wheels – fold, tilt and roll to store
LCD screen is fairly small
To Sum Up
There aren't many choices out there for people on a budget looking for a high capacity treadmill. If it weren't for companies such as Progear, you would have to spend almost 3 times as much for a treadmill with a 400lb weight capacity.
And although the Progear Treadmill doesn't come packed full of advanced features, it does offer a lot of bang for your buck.
The long handrails are great for people who need that extra support while walking, and the two-way incline is a feature you can take advantage of once walking on a flat isn't challenging enough.
Yes, there's no jogging on this machine, but you can still lose a ton of calories walking regularly on your treadmill; you'll also improve your cardiovascular health, increase lung capacity and lower your blood pressure.
Overall a well built easy to use treadmill, one that's compact, folds for storage, and lightweight, making it perfect for home use. It's also quiet enough that you won't disturb anyone else with the sound of your workouts.