If you don't mind settling for a smaller touchscreen and a little less power? The EXP 7i Treadmill might be a better choice than some commercial machines costing twice that. It's amazing how much more you'll pay for a large HD screen and a slightly stronger motor.
3CHP Suitable For Most Users.
And the Nordictrack EXP 7i motor isn't anything to moan about either. A 3CHP motor is easily powerful enough for jogging and more intense running sessions, the only time you'll need anything stronger is if you're a serious athlete in training; otherwise, save yourself some cash and avoid the commercial grade treadmills. This is a treadmill that packs a punch way above its price tag in build quality, deck size, and incline.
Usually, I wouldn't shout about NordicTrack treadmills; they are, if anything, a bit hit and miss, but sometimes these guys release a treadmill that just outshines everything else in its price category, and the EXP 7i is that mid-level treadmill for 2022/3. It's their diamond in the rough, and today I want to look at everything it offers, including any drawbacks.
Product dimensions – 77.3" L x 35.3" W x 59.6" H Footprint
Max user height – for jogging 6'3″ for running 6'1″
Running belt size – 20" x 60″
Why Do We Like The EXP 7i Treadmill?
The size of the running belt is the most important feature of a treadmill. It determines who can use the treadmill and for what. The last thing you want is to feel restricted when exercising on your treadmill, so it's best to avoid short narrow belts. The EXP 7i boasts a decent-sized belt measuring 20″ x "60, which is impressive for a treadmill in this price range.
A belt this length is suitable for users up to 6'4″ for jogging and 6'2″ for running. You won't find a larger running belt in this price bracket. This is as good as it gets.
Belt Width Is Important Too
If you want to avoid stepping off the side of a treadmill in the middle of a session, it's best to look for a width of at least 18″. Steeping off is more of an issue when running, but even so, narrow belts feel restrictive even when walking at a fast pace, so it's always best to avoid them.
Commercial treadmills use 20-22″ widths, and the NordicTrack EXP 7i has a belt width of 20″, which means we're not far off the widest commercial belts, so a thumbs up for belt width.
Heavy Solid Machine
I think something else you'll love about this treadmill is how solid it feels. Many users have mentioned how good and stable it feels when exercising, which is what you want from a home treadmill. It's a heavy treadmill for the price point, weighing well over 200lb.
That extra weight is also a telling sign this treadmill is made from quality materials.
And with a 10-year frame, 2-year parts, and 1-year labor warranty, it looks like NordicTrack also has a lot of confidence in this treadmill; that's a good warranty for a mid-level treadmill.
Monitor With 7″ HD and iFit
What I like about this monitor are the large quick-touch buttons. You can adjust speed or incline with a single touch of a button, making everything nice and easy.
The touch screen is on the small side, but as I mentioned in the into, if you want anything larger, you have to pay so much extra that I don't think it's worth it.
It's impressive even to find an HD screen in this price range, the graphics are crisp, and it's easy to see while you work out, so no complainants from me. If you're under 5'4″, you may have to tilt the screen.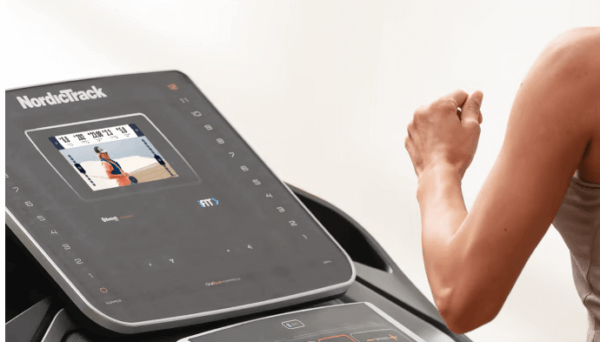 iFIT Over Sixteen Thousand Workouts – $1 a Day
NordicTrack and ProForm are owned by iFIT, which is why you always see this fitness app featured on all their fitness gear. iFIT is one of the best fitness apps out there. It comprises 1000s of workouts, global routes, and personal trainers. There are Google maps too.
But what I liked most about iFIT is that the trainer or the route you're on auto adjusts the speed and incline of the treadmill; this is cool as it leaves you to focus on your training session without having to reach to monitor to adjust the speed or incline.
The only downside? iFIT isn't a free app. It costs a little over $1 a day, which isn't too bad if you consider how much is on offer. The good news is that Nordictrack allows for a one-month free trial period.
# It's worth noting this treadmill can be used without the subscription to iFIT
And if you're interested in track training? The EXP 7i treadmill has a manual mode that features a 1/4 mile track that indicates your speed as you move around the track. (you don't need an iFIT subscription for this option)
Work Those Glutes & Burn Twice as Many Calories
Buying a treadmill with an incline feature is essential if you want to get the most out of your cardio sessions. Jogging on an incline burns twice as many calories as jogging on flat, and it builds and strengthens those hard-to-train muscles such as your glutes, calves, and hamstrings.
The NordicTrack EXP 7i boasts a 12% incline which is about right for the price point. You don't need anything much steeper than this. You can either let iFIT auto adjust your incline or adjust the incline level from the quick-touch buttons on the monitor.
Anything Else Worth Mentioning?
The FlexSelect system is NordicTrack's deck cushioning system, and it's worth a quick mention because you can adjust it from firm to soft. If you're a road runner and need a treadmill when the weather is bad, this is a valuable feature as it allows you to replicate road conditions.
Of course, soft is the best setting for most of us, especially if you want to protect your joints from the impact of each footstrike. If turned to soft, they say a decent cushioning system like the one featured on this treadmill can reduce the impact on your joints by up to 40%!
To adjust, ensure the treadmill is in the folded position, and you'll see a knob underneath the running deck. It's clearly marked firm & soft.
Hydraulic Folding System
The NordicTrack EXP 7i Includes their EasyLift Assist system, which is basically a soft drop system that uses hydraulics. These are great systems, and they are effortless to use. You can fold or unfold the running deck with a single hand. It's so easy anyone can do it. And once folded, you'll more than halve the treadmill's footprint. 
Just tilt and roll on the built-in transport wheels to move and store. 
Solid build with 300lb max capacity
7″ HD touchscreen gives access to iFIT and thousands of workouts
Good sized running belt – suitable for walking, jogging and running 
Impressive power incline – 12% 12 level
Adjustable FlexSelect cushioning system to protect your joins from the impact of each foot strike
3CHP motor can handle jogging and running
Hydraulic folding system – can fold with one hand
handrail pulse sensors – can be used in conjunction with iFIT it can use Bluetooth HR strap
Built in transport wheels, just tilt and roll to move
Some users may feel the screen is too small
The auto breeze fan won't hit you at the right angle if you're tall
NordicTrack are well known for slow customer service
LifeSpan TR1200i Treadmill
LifeSpan has been building treadmills for decades. These guys mainly concentrate their efforts on mid-level treadmills. Although they offer a couple of high-end machines, it's their mid-level treadmills that sell best.
The TR1200i is LifeSpans lowest priced mid-level machine it priced a $100 cheaper than the NordicTrack EXP 7i. It doesn't offer any fancy fitness apps like the Nordictrack treadmill, but what I like about The TR1200i is its fuss-free design, its super easy to use, and setting up takes just a few minutes. This is a treadmill that has got all the essentials right without too many bells and whistles.
The heavy-duty frame keeps the LifeSpan TR1200i planted on the floor. Like the NordicTrack EXP 7i it's a heavy machine weighing over 200lb, again a good clue to the overall quality of materials used, and most importantly, that weight gives the TR1200i treadmill its solid feel.
The LifeSPan 1200i also boasts the best power adjustable incline in this price range, with a 30 level 15% incline, you can adjust this incline in 0.5% increments which is handy.
However, motor power is lacking with TR1200 treadmill. The top speed is 11mph and the motor can only provide 2.5HP at peak performance, which means this treadmill is best suited for walking and jogging.
Also the running belt is shorter than the Nordictrack EXP, but not by much. The TR1200i has a 56″ belt with a 20″ width, so it's still impressive for the price point, but the limits the max height for jogging on this treadmill to 6'2″.
Overall the TR1200i is a good buy, its a solid machine with an excellent power incline. If you want something that's fuss-free and is going to last, this treadmill is a good choice.
To Sum Up
At last, NordicTrack has produced a mid-level treadmill that's simply better than anything else on the market. The impressive belt size is this treadmill's best feature. I also love the sturdy build and the 12% power incline, a feature I know many people will get a lot of use from
Even though the HD screen is small, just finding one in this price range is impressive, so I don't have any bad words to say about the screen; the graphics are crisp, and it even has a tilt option, something usually reserved for much higher priced treadmills.
Overall the NordicTrack EXP 7i is a well-equipped mid-level treadmill suitable for most fitness levels.
Still, if you're s serious runner, I'd recommend going for something with a little more power, and if you're over 6'4″, you'll need a treadmill with a 62-inch belt.