One of the most impressive treadmills in its price range, the ProForm Performance 400i Treadmill shines when it comes to both features and build quality.
50 Workout Programs iFIT & Power Incline.
Power adjustable incline, 50 workouts programs, and a one-year subscription to the popular iFit app are just some of the excellent and useful features of the 400i treadmill.
And because this treadmill is made by ProForm, you get one of the best warranties in the business, with 25yrs on the motor and a lifetime warranty on the frame.
Yes, it's not a commercially rated treadmill, nor is it built for serious runners. What the Proform 400i is, is a treadmill designed for walking and jogging. It's perfect for home use thanks to the fold to store option and offers more workouts options than anything else in this price bracket.
So, if you're under 300lb and are looking for a feature-packed, easy to use treadmill, one for light/medium cardio workouts, the Proform 400i should be worth some serious consideration.
In this review, we're going to take a close look at all the pros and cons of this capable treadmill, but before all of that, let's take a quick look at the product specs!
Product dimensions – 32.75" Wide x 65.77" Deep x 56.42" Tall 
Running belt size – 18″ X 50″
What Do We Like About The ProForm Performance 400i Treadmill?
One of the things I've always disliked about cardio workouts is how boring they can be; long cardio sessions become monotonous if done every day.
What we need are features to keep our interest, ones that make us come back for more, and, most importantly, provide new challenges to help improve our cardio fitness and burn those unwanted calories.
Keeping our interest and providing extra cardio challenges are what workout programs are for! And thankfully, the 400i is packed full of them. First, we have 50 built-in workouts, and then we're spoilt with a year's subscription to iFit.
The iFit app is one of the most popular fitness apps out there; it provides custom workouts, daily coaching, sleep suggestions, and meal plans daily to help you reach your fitness goals quicker. You can choose from over 1000 workouts from their extensive online library. 
You can also track and set new goals and share them with your friends, and the best feature of all is their global routes option; this is where you can choose to run anywhere in the world, and if you like, you can have one of there coaches run with you and encourage you along the way, it's up to you.
You can even design your own routes with Google map integration.
The cool thing about all of this is the self-adjusting system. Both the incline and the speed self-adjust to mimic the course and terrain you have chosen; this is such a handy feature as it saves you having to touch any controls while you exercise, leaving you to concentrate on your cardio session.
The self adjust also works for the studio classes where a trainer will self adjust the speed etc. to suit the class you are in. 
There's a ton of other stuff involved with iFit too much mention here, and I'm sure most of you will love it, but for those of you who aren't interested in the app, you can always use the built-in 50 programs, these too take advantage of the cool self adjust.
And lastly, we have the 7″ HD touch screen; no need to use your own tablet. You can follow all your global routes and fitness classes on the built-in HD screen. The screen is also used for simple stuff such as tracking your pulse, distance-time, etc.
18″ x 50″ Running Belt
A 50″ running belt is what you would expect to see in this price range. It's not an ideal length for running, so it does have its limitations.
Tallers user, anyone over 6'1″ will have issues even jogging on this length running belt. Tall users should be ok walking as walking allows for a shorter stride. In general, people over 6ft need a running belt with at least 54″ length for jogging.
So whos it for, the ProForm 400i Treadmill is designed for anyone 6ft and under for walking and jogging, heck, shorter users 5'8″ and under will probably be fine running on the machine as they have smaller strides.
It's always important to check out the running belt length before you buy any treadmill.
So many people buy a treadmill and send it back because the deck is to small for jogging 'the main reason they bought the thing in the first place' and sending these large treadmills back is a nightmare, so its a good idea to get this right before you buy.
I'll say it one last time, so you're sure of the sizes.
6ft and under 50″ belt is great for walking & jogging – Taller users can use shorter belts for walking
6ft and over 54″ + belt is great for walking & jogging + fast-paced running for users 6ft and under
6ft and over 55″ – 60″ belt is great for fast-paced running (ideal for everyone/high-end commercial machines)
Power Adjustable Incline
When you're thinking of purchasing a treadmill, always look for one that includes an incline feature.
Incline workouts target different muscle groups compared to walking or running on flat. Hard to train muscle groups such as you glutes, calves, and hamstrings are all worked and when walking at an incline.
Plus, when walking at an incline, you'll burn a ton more calories.
A 30min, 4mph walk at a 10% incline will burn 374 calories; that's three times more than you would burn when walking on a flat surface for the same amount of time. So as you can see, an incline feature is almost essential to get the most out of your cardio sessions.
Budget treadmills usually come equipped with a manual incline, while owning a treadmill with any sort of incline is beneficial; a manual incline requires you to get off the machine and change the level manually.
Power adjustable inclines can be adjusted by simply pressing a button on the monitor. There's no interrupting your workout having to jump off the machine and change the inclination level.
Power-adjustable inclines are the gold standard for treadmills, and the ProForm 400i boasts a 0-10% power adjustable incline. Nice!
Cushioned Running Deck
Another important feature to look out for, especially if you have joint problems, is a treadmill that includes an anti-shock system. ProForm calls its anti-shock system ProShox™ Cushioning.
ProShox™ Cushioning is basically four patented shock absorbers that help keep impact to a minimum.
Good anti-shock systems should take away up to 40% of the impact.  With less stress on your feet, ankles, knees, and hips, you'll be able to enjoy a longer workout and faster recovery time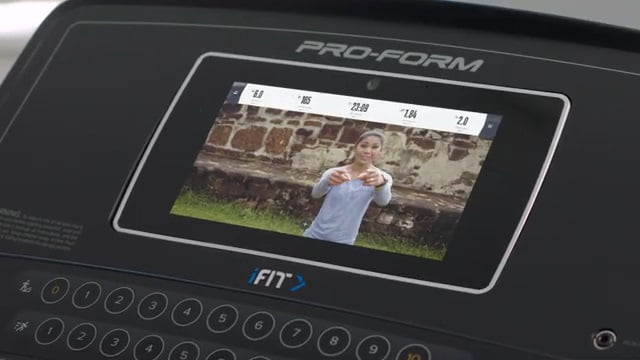 Anything We Didn't Like?
Icon Health & Fitness own ProForm, NordicTrack, and iFit, so it goes without saying they'll always promote iFit with all of their cardio machines. I have nothing against iFit. I think it's an excellent fitness app.
The only thing is, all of their fitness gear, including this treadmill, are designed around the app, and if you don't use the app, it seems you won't get the most from the treadmill.
I do think it's great this treadmill comes with one year of iFit free, but after the free year subscription, it will cost $1 a day to use the app, which doesn't sound much, but when you add it up to its $365 a year that's a lot of cash. I feel that's overpriced for a fitness app, however good it is. It should be ten bucks a month at most.
Still, even if we don't continue to use iFit after the subscription runs out, we do have the 50 built-in workouts programs, which should provide enough challenges for most of us.
Many people have mentioned how quiet this machine is when in operation, so if the boredom really kicks in, you can always watch TV to pass the time.
Space Saving
I think ProForm was the first company to introduce the folding treadmill. It's a fantastic space-saving feature that almost halves the original length of the machine, so if your tight on space to house a treadmill, this feature is probably one of the most important to look out for.
Once folded, the treadmill is easy to move. All you have to do is tilt and roll on the integrated transport wheels to store.
Solid, stable build – 180lb should feel like quality when your using it
iFit enabled 1000's workouts to choose from including global routes 1yr subscription included
High info monitor for price range
Audio auxiliary port with 2-inch speakers
Impressive warranty – Lifetime on frame, 25 yrs on the motor, and 1 yr parts and labor
Not powerful enough for serious runners
No wireless heart rate monitoring
To Sum Up
When we compare the ProForm 400i with its nearest rivals, the Sunny Health SF-T7515 and the Schwinn 810, you realize how much more ProForm offers you.
Even without the iFit app, the Proform provides three times more workout programs with an impressive 50. None of the other machines include an HD screen and none offer apps that can adjust the speed and power incline.
The ProForm has it all at an affordable price; ok, it doesn't have a motor powerful enough or running belt long enough for fast-paced workouts but nor does its rivals.
The ProForm is a machine packed full of features designed to improve your fitness levels and keep you interested in using the machine.
If you have been looking for a well-built treadmill with a long warranty and lots of useful options plus a folding feature to save space in your home, for the price, you won't find much better than the ProForm 400i Performance Treadmill.