Merax Folding Treadmill
Owning a treadmill to improve your cardio fitness is going to benefit your health in many ways. Most importantly, it will lower the risk of heart disease, increase your lung capacity, lower blood pressure, and if you walk-jog or run regularly, improving your cardio fitness is also going to help you burn some calories and lose a few lbs.
If, like many, you don't have the time to travel to a busy gym and prefer to train in the comfort of your home, you are going to need a decent cardio machine to reap the health benefits of cardio workouts.
Treadmills are the Number 1 choice for cardio workouts in the home, but sadly many people choose the wrong treadmill for their needs, especially when it's their first treadmill.
It's a good idea to ask yourself, what do I need the treadmill for? Is it walking, jogging, running, marathon training, or simply for losing weight? We say this because the variety of treadmills on offer is so huge it can be confusing choosing the right one for your fitness needs.
For Walkers & Joggers
So let's start this review by first mentioning the Merax Folding Treadmill is an entry-level treadmill. It hasn't been designed for serious runners.
Its compact has a low powered motor and a short running belt, which means it's not suitable for running or tall people.
The Merax is one of the best treadmills under $300 for walkers,  joggers, and people under 6 feet.
Before we get on with the rest of the review, let's take a quick look at the product specs!
Product dimensions – 56.3″L x 25.2″W x 42.1″H
Running belt size – 15.7″ X 43.3″
Why Do We Like The Merax L510C Treadmill?
This treadmill's best feature has to be the 12 preset workouts programs; many treadmills in this price bracket typically have no more than six workouts programs, so to see double that was surprising.
Preset programs are great for keeping away the boredom of long workout sessions. The monotony of long cardio sessions is something I often dread before a workout, so it's always good to own a machine that can offer an extra challenge to keep you interested.
And if workout programs aren't enough, what's nice about this machine is that the motor is quiet. Many users have commented on how quiet the motor is in use; this means you can watch TV while you walk or jog, and the time should fly by.
Lastly, you can also plug in a phone or tablet and listen to your favorite tunes through the integrated speakers, a nice option to have at this price.
Monitor/Control Console
We're not going to see advanced monitors packed full of features in this price range.
Heck, most of the time, people pay 100s of dollars extra for a machine with loads of features and end up never using half of them; I know it's something I've done in the past and regretted.
What's nice about a basic treadmill is that the monitors are easy to use. You don't have to spend hours trying to figure out how to use the thing. And for a basic monitor, the Merax is better than most,
The Merx monitor boasts a large easy to read LCD so you can keep an eye on all your workout stats.
You can monitor your heart rate thanks to the built-in handlebar pulse sensors, plus this monitor also tracks all the essential workout data such as speed, distance, and calories burned.
You might have noticed a few buttons on the handlebars. These are for changing speed. I like that they now include these on lower priced machines; it's a handy feature that saves you having to change the speed from the monitor in the middle of a cardio session.
There's also a tablet holder and two water bottle holders.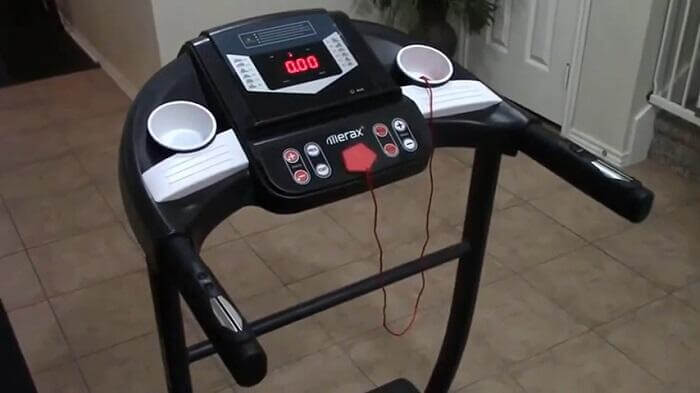 Folds For Storage
Treadmills are large machines, and not all of us are lucky enough to have enough room to house one permanently.
Thankfully the Merax folding treadmill folds to half its original length. This makes it a great choice for people living in apartments or anyone whos tight on space.
And because its light, just 73lb, this thing is easy to move once folded; all you have to do is tilt and roll on the built-in transport wheels to store.
Whos It For?
This is an excellent machine if you don't want to spend a ton of cash for something more heavy-duty. If you need a treadmill for walking and light jogging and you weigh less than 200lb, it's going to be a great addition to your home gym.
I know it says 240lb max capacity, but with entry-level treadmills, it's always a good idea to go slightly less than the max because of the lightweight build;  budget treadmills won't last long if you take them to the max each day.
Shorter, lighter users will get the most from this treadmill; the running belt is only 43″ long, so for anyone over 5'10", even jogging might prove problematic.
However, taller users can still get a lot from this machine if they only need a treadmill for walking as walking requires a shorter stride; thus, the max height for walking will probably be around the 6'2″ mark.
So, yes, a great buy for most people looking for light cardio workouts, and the fact that it folds makes it even more appealing to people who don't have a load of space to keep fitness equipment.
Assembly
It's not going to take you long to get this treadmill up and running as most of it comes pre-assembled. All you have to do is screw in 3 bolts.
The treadmill comes with all the tools needed for the job, instructions, plus lubrication. It should take you no longer than 20 minutes.
12 preset workout programs
Suitable for walkers & joggers
max capacity of just 240lb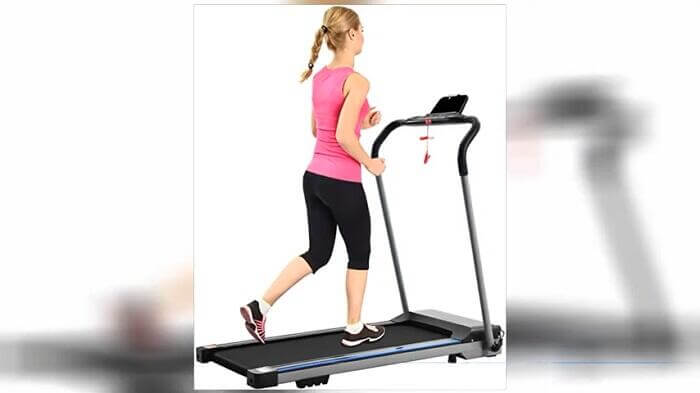 FYC Folding Treadmill
The FYC treadmill is new to the market, and so far, it's received a lot of praise from its users with an average user rating of 4.5/5, which is good going for an entry-level treadmill.
What sells this treadmill is that it folds flat for storage. All you have to do is fold it flat, and you can either slide it under a bed or prop it up against the wall. It's a treadmill targeted at people who are really tight on space, as it is literally so easy to store, and once folded, has a smaller footprint than most on the market.
The FYC shares similar specs to the Merax with a slightly shorter running pad at 41.3″ so 2″ less, and it boasts the same power motor at 1.5HP. So as for who it suits fitness-wise, again similar to the Merax, walkers, joggers, and people under 6ft.
The FYC treadmill costs around $40 more than the Merax. Is it worth the extra cash? No, not really, as it doesn't offer any more in the way of preset program's motor power or running belt length. It's only worth the extra bucks if you need a treadmill that can be folded flat to store.
Still a thoughtfully designed treadmill, one that's well built and offers more than enough workout programs to keep you happy.
To Sum Up
It can be challenging in this price range to find a decent treadmill. There's a lot of treadmills out there for under $300, but the quality on offer varies so much it's hard to separate the good from the bad.
The Merax Folding Treadmill is definitely one of the better ones. It's well-designed for light cardio workouts with a stable build and enough power in the motor for light jogging, so you will be able to burn off some of that unwanted fat.
It's compact too, so shouldn't take up much room, and we like the easy to use monitor with the large display to help you keep track of your workout stats while you are exercising.
For around 300 bucks, it's an excellent buy for people looking to improve their cardio fitness at home. As long as you keep the machine well maintained, keep below the max weight limit for the treadmill, and are 6ft or under, the Merax shouldn't disappoint.