If you live in an apartment or are tight on space at home, a compact treadmill is always a good idea. The FYC Folding treadmill is one of the smallest treadmills you can buy, but unlike so many budget compact treadmills I've reviewed, the FYC doesn't suffer from quality issues.
Built by a company with a ton of experience in affordable cardio gear. Their treadmills are some of the best in this price range.
Cheap but Good
These guys got everything right with their folding treadmill. And that's why so many people are praising this low-cost, compact machine, it's cheap, but the quality is there. It even boasts workout programs, the only fold flat treadmill in this price range to include them. And best of all, it's ready to use right out of the box with no assembly to deal with or complicated monitors to figure out. It's a fuss-free well-made treadmill worthy of some serious consideration.
And In today's review, I want to take a close look at everything the FYC treadmill has to offer, including its drawbacks, because there are a few minor ones. First a quick look at the product specs!
Product dimensions –  57.5" x 21.3" x 5.5"
Running belt size – 41" X 15″
Why Do We Like The FYC Folding Treadmill?
What I like most about this treadmill is its price. There aren't many treadmills out there that offer a fold-flat design are well made and a decent monitor for under $300. 
Cheap treadmills are like a minefield; you never really know what you'll get until it arrives, but with the FYC Treadmill, it's different. It has quality. Okay, it isn't a high-end treadmill, and it doesn't pretend to be, but it is well made, it feels stable, and it doesn't feel cheap, which is rare for a fold-flat design at this price point.
12 Workout Programs
Something else I like about this treadmill is that it boasts 12 workout programs. This is an impressive amount of preset programs for an entry-level treadmill. Workout programs are great; they bring that something extra to your cardio session.
The workout programs will challenge you, thus taking away the monotony of walking or jogging for long periods. They'll push you that bit further, helping you increase your cardio fitness—a big thumbs up for the number of workout programs.
Let's Talk About Belt Size?
Sometimes small is best, especially if you're tight on space. And its the size of the running belt determines the machine's size; the smaller the running belt, the smaller the treadmill. However, the length of the running belt also determines who can use the machine and for what.
The FYC Treadmill has a 41″ running belt. A 41″ running belt will allow users up to 5'5″ to jog on the machine. Anyone taller than this can only use the FYC Treadmill for walking.
Compact treadmills are always a better choice for shorter people as shorter people will get the most out of this treadmill; they can use it for both walking and jogging. Still, even if you are taller and only use this treadmill for walking, you can burn up to 300 calories an hour walking on a treadmill, so it's still a worthwhile buy if you want to lose weight.
Basic Easy To Use Monitor/Control Console
Don't go getting your hopes up; there are no advanced monitors with fancy features in this price range. And it's not a bad thing, so many people splash out a load of cash for high-end treadmills and monitors with 100's of features to only ever use a few of them. Most of the time, advanced monitors just aren't worth the cash.
I like simple budget monitors on cardio equipment, and its because they're basic, they are easy to use,  you don't have to spend hours trying to figure out how to work the thing.
You can just jump on, turn it on, and get going; it's that easy.
The FYC treadmill tracks all the essential stuff, such as distance, speed, calories, and time. Yeah, there's no heart rate monitoring, but as we mentioned, its something you will have to go without if you're after a fold flat for storage design at this price point.
Ultra Slim – Can Be Stored Under a Bed
The FYC folding treadmill is one of the easiest to store treadmills I've reviewed. Not only is its footprint small because of the short running belt, but it also folds completely flat for storage (remove the tablet holder for full flat). This means it can store against a wall, or many people like to store this treadmill under their bed or sofa. And the folding system is nice and simple. You just turn a knob and push the handle down. Once folded, turn the knob to lock the handles in place. It's that easy, and all can be done with one hand.
Anything I didn't Like?
So far, FYC has got everything right with their treadmill. There really isn't much I can fault. For a small treadmill, it's been designed right. Still, if I were to be picky, I'd have to say the lack of an incline is this treadmill's only major drawback.
Most budget treadmills include a manual incline. It's not an expansive feature to add to a basic treadmill, and it's a shame these guys didn't include one because walking or jogging on an incline burns twice as many calories as walking on flat surfaces, plus it strengthens and builds your glutes, calves, and hamstrings. It's not a deal stopper but a feature I know many will miss.
Assembly?
Some treadmills can take hours to build and set up. Thankfully the FYC treadmill comes fully assembled; all you have to do is unbox it, and it's ready to use. Nice!
Maintenance is pretty easy too. I clean and vacuum my treadmill belt (vacuum under and sides) once a week only takes a few minutes. Make sure to lubricate the belt every few months or 100 miles, whichever comes first. And clean the treadmill belt as this will prevent debris from getting into the motor.
Check out our How Your Clean a Treadmill article for some tips
Do I Need a Treadmill Mat?
The FYC Treadmill is failry light, so if you were thinking of using it on a polished floor, a treadmill mat would help keep things stable and prevent slipping. Also, treadmill mats protect your floors from scratches. Another reason to buy a treadmill mat is to absorb some of the vibrations from your workouts, particularly important if you live in an apartment.
Treadmill mats don't cost much, and I've found Sunny  Health & Fitness makes the best affordable ones. Click the link below to view them on Amazon.
Good quality for price point
Quiet motor can watch TV or listen to music without being disturbed by the sound of the machine
Folds flat – can be stored under a bed or sofa
Can use straight out of the box, no assembly is required
Compact design, great for small spaces
Short running belt has a height limit of 5'5″ for jogging
Monitor LCD isn't backlit making it heard to read in low light conditions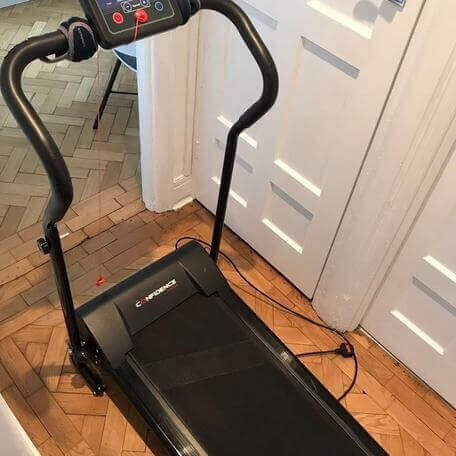 Confidence Fitness Treadmill
This treadmill is designed for walking, maybe some light jogging, but it only boasts a 600W motor that isn't really powerful enough for anything intense. However, this treadmill costs under $200, and if you only want a treadmill for walking, the Confidence Fitness treadmill is one of my favorites on the market.
This is another cheap treadmill that doesn't suffer from quality issues. It's well made and weighs nearly 60lb which is a good weight for a treadmill this cheap, and this tells me the quality of materials isn't too low.
Also, its compact has an even smaller running belt than the FYC, measuring just 39″, making it another excellent choice for small spaces. This one doesn't fold completely flat, but almost. And once folded, it really doesn't take up much room at all.
The monitor is basic, but even including a monitor in this price range is impressive. The monitor tracks all the basics, such as speed, time, distance, and calories.
Overall it's one of the cheapest and most durable treadmills you'll find for under $200. Only worth checking out if you want a compact treadmill just for walking.
To Sum Up
The FYC treadmill is a fuss-free treadmill, simple to use, and one of the easiest to store on the market.
This treadmill is an excellent choice if your tight on space or live in an apartment building because not only quick to store under a bed or propped up against a wall; its quiet too, so anyone living underneath you shouldn't hear you exercising.
Although the monitor is basic, no Bluetooth, etc., it does include 12 preset workout programs, a decent amount for this price bracket.
Is it worth the money? Yes, it definitely is if you are after a fold-flat machine, and weigh under 200lb.
The FYC Folding Treadmill scores, on average, 4/5, and most users seem impressed with the build quality and ease of use.
You could pay an extra couple of hundred bucks extra for a high-end fold flat treadmill with a better monitor, but in my opinion, it's usually not worth it. Yes, for the price, this is a good treadmill that should last years if used correctly – (walking, jogging under 200lb)
FYC Folding Treadmill FAQs
Does The FYC Treadmill Include Transport Wheels For Easier Storage?
The FYC Folding Treadmill includes built-in transport wheels. All you need to do is fold the treadmill, tilt, and roll to store.
Can You Monitor Pulse Rate With The FYC Folding Treadmill?
Most fold flat treadmills in this price range do not include pulse sensors as the design typically doesn't allow for any. So no there is no way to monitor your pulse with this treadmill.
What Type of Oil Do You Use To Lubricate The FYC Treadmill Belt?
FYC Reccomedn using silicon oil to lubricate the treadmills running belt. You can buy this on Amazon.