One of The Best Fold Flat Treadmills, Even Though We Miss Out on A few Features.
Sadly the FYC Folding Treadmill misses out on a few important features. There's no pulse sponsors or chest strap, so no measuring your heart rate while you exercise, and there's no incline feature either, and to be honest, It would have been nice to of seen one of these options featured on the FYC treadmill at this price.
Heck, it's not all bad, as none of these features are essential for a decent cardio workout, and there is a good reason why we are missing the pulse sensors. The design simply doesn't allow for it.
Great For Appartments And Small Spaces – Folds Flat For Storage
This thing folds flat for storage, and it's because of that, there are no handlebars to fit the pulse sensors; this is the trade-off.
If you want a machine that can fold flat for storage so you can push it under a bed or stand it upright in the corner of a room, you will have to go without a few features you'd usually expect to see in this price range.
And I'm sure there's a ton of people out there who would much rather have an easy-to-store treadmill, 'especially people living in apartments rather than one that takes up a ton of room.
I think we can live without the pulse sensors; they're never very accurate anyways.
Even though this machine lacks a few features, it is one of the best fold flat treadmills in the price range, and it's for that reason we're going to take a close look at this capable, compact treadmill today, but before we get on with the rest of the review lets take a quick look at the product specs.
Product dimensions –   Unfolded 49.2″ x 25.5″ x 45.6″ (L x W x H) Folded –  51.1″ x 25.5″ x 7.9″ (L x W x H)
Running belt size – 41.3" X 14.9″
Why Do We Like The FYC Folding Treadmill?
I think we have already covered the best feature fo this treadmill, and that's how easy the thing is to store, but there's something else I liked about this machine, and that's how many preset workouts it comes with.
Surprisingly, the FYC treadmill boasts 12 workouts programs. This is an impressive amount of preset programs for an entry-level treadmill. I love workout programs; they bring that something else to your cardio session.
It's easy to get bored of long cardio sessions. The workouts programs add an extra challenge, thus take away the monotony of walking or jogging for long periods. They'll push you that bit further, helping you increase your cardio fitness—a big thumbs up for the number of workout programs.
Monitor/Control Console
Don't go getting your hopes up; there are no advanced monitors with fancy features in this price range. And it's not a bad thing, so many people splash out a load of cash for high-end treadmills and monitors with 100's of features to only ever use a few of them. Most of the time, advanced monitors just aren't worth the cash.
I like simple budget monitors on cardio equipment, and its because they're basic, they are easy to use,  you don't have to spend hours trying to figure out how to work the thing.
You can just jump on, turn it on, and get going; it's that easy.
The FYC treadmill tracks all the essential stuff, such as distance, speed, calories, and time. Yeah, there's no heart rate monitoring, but as we mentioned, its something you will have to go without if you're after a fold flat for storage design at this price point.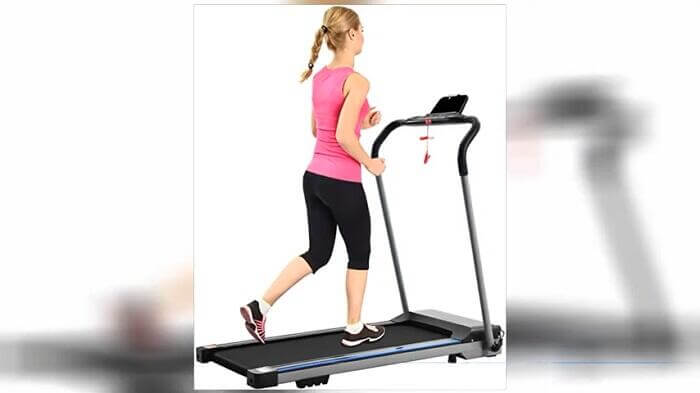 Whos It For?
The FYC Folding Treadmill has been built for walkers and joggers. The reason we don't recommend it for running is because of its compact design.
A compact design inevitably leads to a short running belt and this one is short at 41″. Anyone over 6ft is going to have trouble even jogging as jogging or running requires a larger stride.
It's a great machine for shorter users as some may be able to use the machine for running, but if you are over six foot and you need a treadmill for jogging or running, I urge to look for a machine with a longer running belt 50″ +
Also, we have a low powered motor at 1.5HP this sized motor is only designed for faced paced walking or jogging not for serious runners. This after all an entry-level treadmill and it's not going to take heavy use every day itss been built for light cardio workouts.
If you're under 6ft and under 200lb this will be an excellent cardio machine for your home and should last a long time. It's always a good idea to stick to the correct weight capacity or a little under.
Assembly
Some treadmills can take hours to build and set up. Thankfully the FYC treadmill comes fully assembled; all you have to do is unbox it, and it's ready to use. Nice!
Excellent design for people who are tight on space – Folds flat
12 preset workout programs
To Sum Up
The FYC folding treadmill is a fuss-free treadmill, simple to use, and one of the easiest to store on the market.
This treadmill is an excellent choice if your tight on space or live in an apartment building because not only quick to store under a bed or propped up against a wall; its quiet too, so anyone living underneath you shouldn't hear you exercising.
Although the monitor is basic, no Bluetooth, etc., it does include 12 preset workout programs, a decent amount for this price bracket.
Is it worth the money? Yes, it definitely is if you are after a fold-flat machine, and you're under 6ft and weigh under 200lb.
The FYC Treadmill scores, on average, 4/5, and most users seem impressed with the build quality and ease of use.
You could pay an extra couple of hundred bucks extra for a high-end fold flat treadmill with a better monitor, but in my opinion, it's usually not worth it. Yes, for the price, this is a good treadmill that should last years if used correctly – (walking, jogging under 200lb)