The Ancheer 2 in 1 Folding Treadmill is one of Ancheers budget treadmills. These guys don't make any high-end gear; most of it is budget. Still, this company has been around for over a decade. They have a ton of experience in this price range, so no need to worry about quality. I've reviewed a lot of their equipment, and the quality has really improved over the years.
Ancheer is fast becoming one of the go-to companies for low-cost cardio gear, rivaling some big brands like Sunny Health & Fitness.
Well Built, Easy To Use, and No Assembly.
The Ancheer 2 in 1 treadmill is so popular, and a favorite of mine is because it's well built, easy to use, and there's no assembly involved. It has a top speed of 7.5mph, so it can be used for jogging and boasts a fold-flat design that allows it to be stored under a bed. This treadmill has a lot going for it. And in today's review, I'm going to take a close look at everything it offers, including its drawbacks, as there are a few monitor ones.
Product dimensions – 49x42x27 inches
Speed – 0.5 – 7.5mph – in 0.1mph increments
Running belt size – 16″ X 40″
Why Do We Like The Ancheer 2-in-1 Folding Treadmill?
The best feature of this treadmill has to be that it's an under-desk walker, and it can be used for jogging when you raise the handles. Great if you want to burn some calories while working at your desk and even better if you want to take things up a level and for faster-paced workouts.
I like that it's quiet too, so many of these cheap under-desk treadmills are noisy, and if you're on a zoom call at work, the person at the other end of the call can hear the treadmill. You won't have that problem with this treadmill as it uses an ultra-quiet 2.25HP motor. It's so quiet you can watch TV without being disturbed by the sound of the machine.
Setting Up Takes A few Minutes
Treadmills with large footprints and bulky designs can take over an hour to set up, and they're a headache to move. A compact treadmill like the Ancheer 2 in 1 takes no more than a minute as it's ready to use right out of the box, there is no complicated monitor to figure out, and there's no assembly involved. Just unbox, switch on and get going.
However, if you want to use this treadmill for jogging, you will have to lift the raiser and lock it with a few turns of an Allen key (supplied) this takes at most another minute. Bear in mind you will have to lower the raiser and lock it each time you want to store the treadmill in the flat position or use it for walking at your desk.
Unboxing The Ancheer 2 in 1 Treadmill
Height Limit of 5'5″ for Jogging
The length of the running belt is the most important feature of your treadmill as it determines who can use the machine and for what. And the problem with the compact 2-in-1 machines is they use short running belts.
The Ancheer treadmill uses a 40″ running belt. A 40″ belt is one of the smallest belts you'll find on a treadmill and something you should expect if you want a compact treadmill.
A running belt this length will allow users up to 5'5″ to jog on the machine. Anyone taller than this will only be able to use the Ancheer treadmill for walking.
Monitor With Remote Control
Simple and easy to use is what this monitor is all about. There are no fancy high-end monitors found on 2 in 1 treadmills; the machines' design doesn't really allow for one.
Still, I like the basic monitors as they track all the essential stats such as time, distance, and calories, and they are so easy to use with nothing complicated to set up. There's a large LCD built into the treadmill's deck, which shows all your workout stats, and you can easily view it while you're jogging.
The Ancheer treadmill gives you four options for controlling the treadmill, including control through their fitness app. You can control speed from the remote control, the handrail buttons, or the touch screen. This is a significant improvement over the other 2-in-1 treadmills I've reviewed, which only had a single option to control the treadmill, and that was through remote control, which, if you lost it, you couldn't use the machine.
I should mention the remote control/watch needs a battery.
Anything I Didn't Like?
The only thing I don't like about the Ancheer 2 in 1 treadmill is that it doesn't include an incline feature which is a shame as walking or jogging on an incline burns twice as many calories as walking on a flat source, and you strengthen and build those hard to train muscles like your glutes and hamstrings. Still, this is a $300 treadmill, so we can't expect too much.
Protect Joints By Up To 40%
On the positive, the treadmill includes a 7-layer running belt which is great news, and a cushioning system under the belt, both of these features will help protect your joints. You need a treadmill with a deck cushioning system as it helps absorb the impact of each foot strike, which can protect joints by up to 40%. I was surprised to see an anti-shock system on a treadmill in this price range.
One of The Easiest To Store Treadmills on The Market
Not only is this one of the most compact treadmills you'll find because of its short and narrow running belt, but it also folds completely flat, making it one of the easiest treadmills to store. You can store it up against a wall, under a bed, or many people may leave this treadmill as it is without folding because the overall footprint is so small.
There are built-in transport wheels, so once folded, you can tilt and roll the machine to where you want to store it. This treadmill is light enough that it's fairly easy to move, but it is not the lightest, which is a good thing. There's actually some weight there, enough to help keep things stable. 
Should I Buy a Treadmill Mat?
If you have any problems with the treadmill slipping on polished floors when you're jogging, which is a common problem with the smaller treadmills, you can get hold of a cheap treadmill mat. Treadmill mats are a good idea because they help keep things stable, absorb a lot of vibrations from your workouts, and help protect your floors from scratches made by the treadmill.
You'll only need a small treadmill mat for this treadmill, and Sunny Health & Fitness makes the best cheap treadmill mats. Check the link below.
Good quality for price point
Can be used for walking and jogging with a top speed of 7.5mph
Fuss free treadmill – easy to use and set up
Remote control saves you from having to learn forward in the middle of a workout to change speed
Compact – fold-flat design can be stored under a bed
Built in transport wheels just tilt and roll to move
12 months free parts warranty
Only users 5'5″ and under can use this treadmill for jogging because of the short belt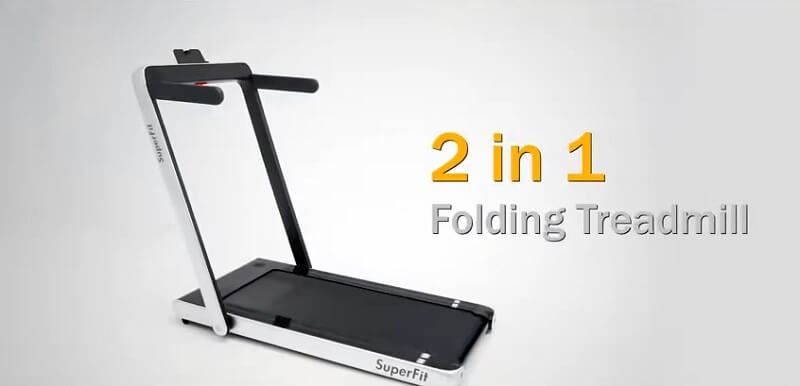 GoPlus 2 in 1 Treadmill
The GoPlus Treadmill has been the most popular cheap 2-in-1 treadmill for some time, outselling every other budget 2-in-1 on the market. This machine is so popular because the quality is impressive, just like the Ancheer. It is not a lightweight, cheaply made 2 in 1 treadmill. Users have praised how good this treadmill feels when exercising, which is surprising for a $300 treadmill.
The GoPlus Treadmill is very similar to the Ancheer Treadmill. Both use the 40″ x 16″ running belts, weigh the same, boast the 2-in-1 feature, share the same top speed, and use a 2.25HP motor. 
Other than the monitor, these two treadmills are almost identical. The only differences are the monitor features. The GoPlus includes Bluetooth and built-in speakers but doesn't have touch screen controls or a fitness app.
It's a great alternative to the Ancheer if you want the same treadmill but one that includes Bluetooth.
To Sum Up
I liked the Ancheer 2 in 1 Treadmill as the quality is a bit higher than most out there, so like the Golplus treadmill, its stands out among the rest. You can't expect too much in this price bracket, but for the price, the Ancheer 2-in-1 treadmill is impressive. The build quality is there.
The Ancheer treadmill, I feel, is best suited for users 5'5″ and under; as you'll get the most from this treadmill, you can use it for what it's designed for, and that's walking at a desk and jogging. If you're any taller? You'll only be able to use this thing for walking, and there is not much point in buying a 2-in-1 treadmill if you're only going to use it for walking.