Best Treadmill Under 400 
Just because we are searching for the Best Treadmill Under 400 Dollars doesn't mean you have to miss out on important features.
Ok, we will not find any commercial-grade machines in this price bracket, nor will we find long-running belts suitable for fast-paced running. What we will find are a few excellent entry-level treadmills that really pack a punch for their price tag.
When we buy a treadmill, we need to consider what we want to use the treadmill for? Running, jogging, marathon training, or walking because the variety on offer out there is huge, and finding the right treadmill for your fitness needs is essential.
Best For Walking & Jogging
So we should start this review by saying exactly what you can expect to find on a treadmill in the under $400 price bracket. Entry Level treadmills are just that 'entry-level'; they havent been built for serious runners.
Treadmills under $400 have been designed for walkers and joggers.
You're not going to find long-running belts or heavy-duty builds in this price bracket. You'd have to pay well over twice the price of a budget treadmill if you're after a machine that's good for running.
What we're going to take a close look at today are 5 of the best treadmills for walkers and joggers.
You can still lose a ton of calories on these machines, they're great for increasing cardio fitness and lung capacity, plus a few of the machines boast an incline feature excellent for toning and strengthening the muscles in your legs.
Yes, you can still reap all the health benefits of owning a treadmill at home, even if you don't have a ton of cash to splash out on a heavy-duty machine.
You'll be surprised how good some budget machines are, especially the first three treadmills featured in this review.
Before we get on with the reviews and for those of you in a rush, let's take a quick look at the Best 3 Treadmills Under $400 Comparison table.
If you have the time, don't forget to read our buying tips, which follow the reviews!
Our Choice
Sunny Health SF-T4400
Foldable

Weight – 103lb

Running belt – 15.5″ X 49″

Speed – 0.5 – 9mph

Motor – 2.25HP

Weight capacity – 220lb

Incline – 3 levels
Foldable

Weight – 103lb

Running belt – 16″ X 50″

Speed – 0-10mph

Motor – 2.25HP

Weight capacity – 250lb

Incline – 2 levels
Maxkara Folding Treadmill
Foldable

Weight – 95lb

Running belt – 16″ X 43.3″

Speed – 0.5 – 8.5 mph

Motor – 2.5HP

Weight capacity – 220lb

Incline 3 Levels
Best Treadmill Under 400 Dollars Reviews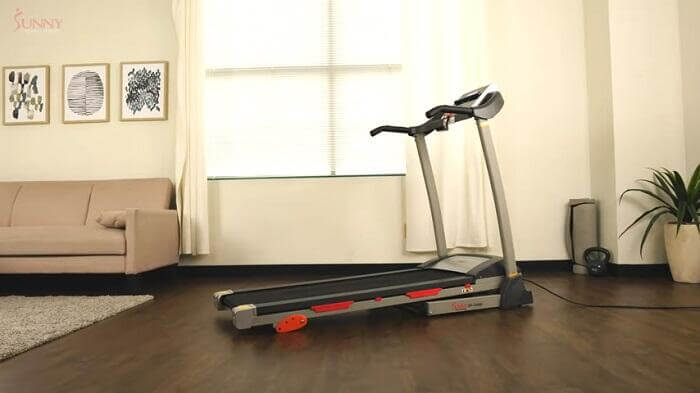 1. Sunny Health & Fitness SF-T4400 Treadmill
Sunny Health & Fitness are a company that's been around a long time in the home fitness industry.
These guys specialize in quality cardio gear at affordable prices, their entry-level rowing machines are some of the best on the market, so too are their exercise bikes, and by the looks of things, their treadmills are hitting the mark too.
The Sunny Health SF-T4400 has become one of the most popular treadmills under $400, and there's a good reason why. This thing is packed full of useful features, such as a 3 level incline, 9 workout programs, handlebar pulse sensors, an anti-shock system, and one of the longest-running belts for the price.
Finding a treadmill with an incline in this price bracket is surprising, but finding one with 3 levels is impressive.
Incline workouts are going to add that extra challenge to your cardio session, you're going to burn up to 40% more calories when jogging at an incline, plus you're be working different muscle groups which are going to help you build and strengthen your butt, hamstrings, and calves,
Another prominent feature of this treadmill is it's near 50″ running belt; this is nearly 6″ longer than anything else you'll find in the under 400 price bracket.
The extra length of the running belt will allow taller people to jog comfortably on the machine. The extra 6″ makes a huge difference in who can use the machine for faster-paced cardio sessions.
Long cardio sessions can get boring, which is why it's always useful to own a treadmill with a few built-in workouts programs.
The Sunny Health boasts an impressive 9 workouts programs, so not only will the pre-set programs help keep away the monotony of long cardio workouts, but they'll also give you an extra challenge and help increase your cardio fitness.
Also, users have mentioned the motor on this machine is surprisingly quiet, so if the pre-set workouts aren't enough to keep away the boredom of long sessions, you could always watch TV while you workout, without being disturbed by the sound of the machine.
Another feature worth noting is the anti-shock system, again great to see on an entry-level machine. A few years ago, we'd only see anti-shocks on high-end machines.
Anti-shock systems are there for protecting your joints, mainly your knees, they'll help absorb up to 50% of the impact. It's a useful feature to have and something you should always look for when buying a treadmill.
And lastly, one of the best features of the SF-T4400 is that it folds to nearly half its overall length, great for apartment living or anyone tight on space; just fold, tilt and roll on the integrated transport wheels to store.
Overall, the SF-T4400 is a very capable treadmill from Sunny Health and Fitness. I love the incline feature, the anti-shock, and the workout programs.
I also like the small touches, such as controlling the speed from buttons on the handlebars and the soft drop system, which effortlessly lowers the running deck when you unfold the machine.
I've been researching this price range for some weeks now, and there really isn't anything better out there than the excellent Sunny Health SF-T4400 in the under $400
Folds for storage – Soft drop system
Built-in heart rate sensors
Water bottle holders and media ledge
Decent length running belt for price 
Great value for money – Better than a lot of machines that cost $200 more
 Not the best choice for users over 6'4″ tall
Maximum weight of just 220lb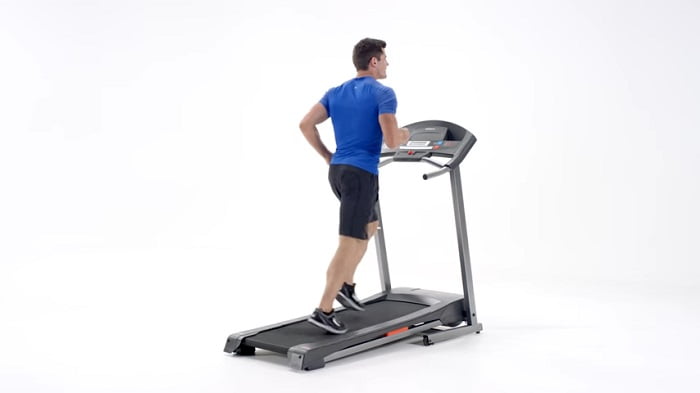 2. Weslo Cadence G 5.9i Treadmill
The Weslo 5.9i is another treadmill built by a well-known company. Weslo is owned by Icon Health & Fitness, these are the guys who own Proform and NordicTrack, so there's no lack of experience when it comes to this company; they know what they are doing, and they do it well even in the budget ranges.
The Weslo, just like the Sunny Health SF-T4400, includes an incline feature. It can only boast two levels compared to Sunny's three but as I mentioned, even having an incline is a plus at this price.
We also see a shock absorption system, so another excellent treadmill for protecting your joints.
Thankfully Weslo has included heart rate monitoring, except rather than using pulse sensors in the handlebars; they have a thumb sensor built into the monitor.
Handlebar pulse sensors are the better option as there no need to lean forward to touch the monitor in the middle of a session, still to include a pulse sensor is a bonus even though it's just a thumb sensor.
But what sells this treadmill is the length of its running belt; just like the Sunny, this thing has a 50″ belt, fantastic to see at this price.
Yes, the belt suffers from being relatively narrow, the same as the Sunny's. Still, at this price, we're never going to find a wide running belt lets at least be happy its 6″ longer than the entry-level standard 43″!
The Weslo benefits from 6 built-in preset workouts 3 less than the Sunny but impressive for an entry-level machine. However, because the guys build this machine over at Icon, the Weslo comes iFit enabled.
iFit is one of the best fitness apps you are going to find, and because the Weslo has BlueTooth, you can take advantage of it, its the first time I've seen iFit available on a budget cardio machine, so if you're into your fitness apps the Weslo might sound more appealing than the Sunny SF-T4400.
iFit offers 1000s of workouts from its extensive online library. They include personal trainers who train alongside you and encourage you, global routes so you can run anywhere in the world, and a google maps feature that lets you design own your routes; there's a ton of other stuff, too much to mention here.
It's an awesome app, but as with most good things, it comes at a price! A dollar a day doesn't sound much, but when you add it up, it's over $300 a year, so it might not be an affordable option for all.
Heck, you don't have to use iFit to enjoy this machine; to disable it, simply hold down the BlueTooth button for 30 seconds. Remember, you still get the six workout programs, and there are other apps you can use on the treadmill. Some good ones are free.
Overall an impressive machine for the price, suitable for users 6'1″, it lacks a few features compared to the Sunny Health, such as one less incline level, fewer workout programs, and there are no controls on the handlebars, which is a shame.
Still, a good length running belt for an entry-level machine, and its come iFit enabled, which might be a big selling point for some of you.
Affordable well-built treadmill for walkers and joggers
Impressive monitor for the price, includes – Bluetooth, pulse sensors, and 6 workout programs
The LED screen has no backlight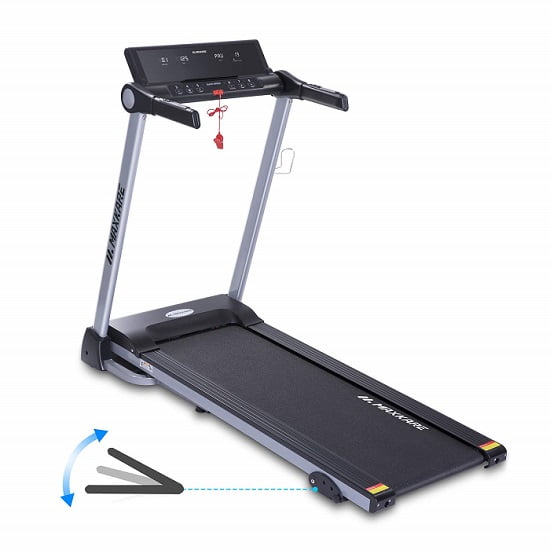 3. Maxkare Folding Treadmill
The Maxkare treadmill ticks all the right boxes; there really isn't much I can fault about it.
Again it's great to see that this treadmill includes 3 levels of incline, which is more than the Weslo. Also, the Maxkare beats both the Weslo and the Sunny Health when it comes to workouts programs, with a whopping 15 in total excellent for a budget treadmill.
And yes, it too folds for storage, so it's great for you guys who need to pack away your gym gear after a cardio session, and I love that it has both the pulse sensors and speed controls on the handles. (you can also control speed from the monitor)
Plus, it has the most powerful motor at 2.5HP, so why you ask, is it stuck down here in 3rd best? Sadly the Maxkare can only boast a 43″ x 16″ running belt that's 6″ less than both the Weslo and Sunnys SF-T4400.
It's such a shame this treadmill suffers from a short running belt as it offers so much for the price. However, if your above 5'8," you're going to have issues jogging on this machine.
The Maxkare folding treadmill is an excellent buy if you 5'8″ and under, and even if you are a bit taller, you can still use the machine for walking.
Let's look at this way; if my girlfriend had $350 and asked me what's the best treadmill for her budget, I'd probably recommend the Maxkare because she's 5'4″ and weighs 120″ a perfect treadmill for shorter people.
It all depends on who is going to use the machine? Because if I wanted to use it and I'm 5'11", I wouldn't be able to jog comfortably on it, so my girlfriend and I would have to buy separate machines, which isn't practical!
The Sunny Health SF-T4400 would be the best buy for both of us. You need to consider before purchasing whos going to use the machine is it suitable for everyone?
So yes, if it's just you and you're under 5'8″, this is an excellent machine for walking and jogging. It boasts the more powerful motor, the most built-in workout programs, the all-important 3-way incline; it looks slick too and receives on average around 4/5 -4.5/5 users love it.
Powerful motor for price point 2.5HP
Quiet & compact, great for apartments
Easy to use control panel
Taller users will have trouble jogging on this treadmill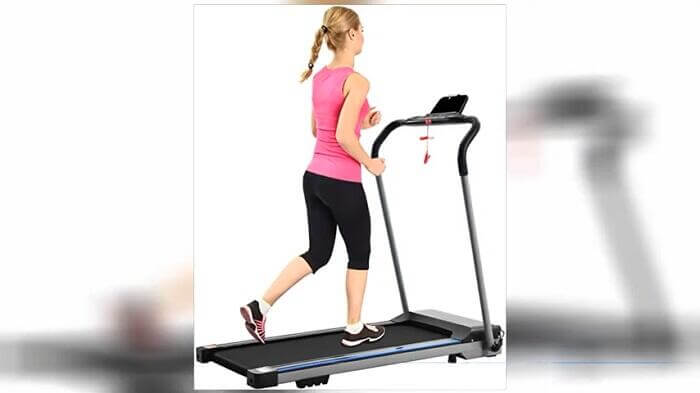 4. FYC Folding Treadmill
The FYC is a no-frill treadmill, its not as powerful as the top treadmills in this review as it only has a 1.5HP motor. Still, this less powerful motor is sufficient for powerwalking and light jogging.
While there's no incline on this machine and I didn't expect there to be (it cost less than the above three) yet it has features I know a lot of people are going to love. One of them is that the treadmill folds flat for storage. What's great about the fold-flat is you can fold it and store it under a bed or prop it up against a wall.
The fold-flat feature is this treadmill's main selling point, and for people who live in apartments, it's an appealing feature as it saves a ton of space.
And what's surprising about this no-frills treadmill is it provides 12 workouts programs that's not bad at all considering the price.
The running belt on the FYU is short at 41.3″ but, this is a compact treadmill designed for small space, so we expect to see a short running belt.
And just like the Maxkare, this treadmill is best suited for shorter people because of the running belt length, plus the weaker motor isn't going to allow for fast-paced running; there's just not enough power.
Overall it's an excellent choice if you really don't have much room to house a running machine at home; ok, it can't provide much in the way of features, but it does have all the essentials for a decent cardio workout—the monitor tracks all the important stuff such as distance, speed, time, and calories.
Excellent design for people who are tight on space – folds flat
12 preset workout programs
Short running deck tallers users will have trouble achieving a full stride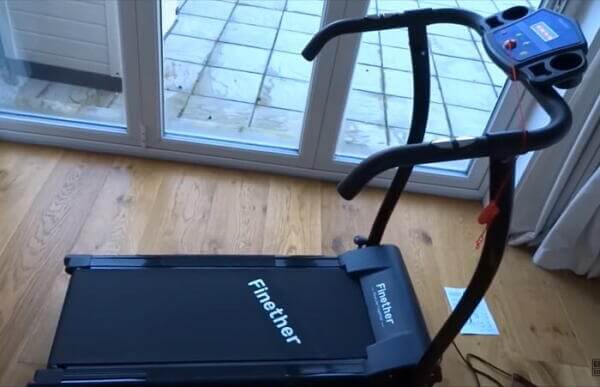 5. Finether 800W Treadmill
The Finether treadmill costs considerably less than our top 3 treadmills in this review however it's an excellent alternative for many people who are just after a treadmill for walking.
We particularly liked this budget treadmill as it offers a 3 level incline, the incline does have a low max angle of 2.1 degrees still this is high enough to increase the workload, raising the heart rate without having to risk aggravation of injury by running.
The running belt of the Finether is 38″ by far the shortest in the review, and with the weaker motor, we can't recommend this machine for any fast-paced cardio sessions. I'm sure shorter people will be able to use the machine for light jogging but that's about it.
One positive of owning a machine with a short running belt is that you end up with a compact treadmill – plus it folds, so it's going to be nice and easy to move and store.
What's also impressive about the light weight Finether treadmill is the monitor; it includes heart rate monitoring using the pulse sensors built into the handlebars. Great for those of you who like to walk or jog in your target heart rate zone.
If you have been looking for a cheap, simple, compact treadmill for walking or power walking there isn't much better for the price than the Finether.
Most people who have bought the Finether are really happy with the machine saying it provides all they need for a light cardio session at home and many are impressed with how easy it is to store
Not designed for heavy use
Buying Guide – Treadmills Under $400
Because of the vast difference in quality on offer in the under $400 price bracket, it's worth taking some time to read up on a few important features a good treadmill in this price bracket should offer.
Many people find themselves having to send back treadmills because they either didn't suit their body sizes or fitness needs. Sending back large fitness equipment is a headache; it's the last thing you need!
We've written a handy guide of some of the most important features you should check and consider before purchasing.
1. Incline
There's a ton of treadmills out there they don't offer an incline in this price bracket; heck, I've seen a few costing $500+ that don't provide this essential feature.
When you choose a treadmill, you at least want one level of incline if you can find two or more at this price point, even better. We're not going to find a power-adjustable incline in the under 400. Still, 3 levels of manual are ideal for an entry-level treadmill
An incline cardio session is going to tone the muscles much faster, improving quads, hamstrings, glutes, and also ankle strength. A higher incline tones muscles and burns calories 5 times quicker for fast fat loss.
Walking or jogging at an incline will also push your heart rate even further than jogging on a flat, increasing your cardio fitness.
2. Running Belt
The length and width of the running belt are more important than most people think. The length of the running belt will determine whether you can walk, jog run on the machine.
Typically we see running belts with a length anywhere from 36″- 50″ on budget machines.
36″ – 43″ running belt is best-suited for walking or power walking – shorter users may be able to jog on a belt this length. However, it will still depend on the motor; if the motor is under 600W, it may not be powerful enough to keep up with a jogging pace.
43″ – 50″ running belt is usually ok for both walking and jogging. If you're over 6ft, I'd recommend paying more and finding a machine with at least a 55″ running belt, especially if you want to run on the machine.
3. Monitor/Control Console
We certainly won't find any advanced monitors with HD screens and VR in this price range. What we will find are basic monitors that track useful workout data such as speed distance etc.
I often think basic is better when it comes to monitors of fitness equipment. Some monitors I've used on high-end cardio machines take half an hour to figure out before you can use the thing.
What's nice about basic is you can switch it on and get going with your cardio session, and that's all a lot of people need, and I don't blame them because over-complicated monitors are troublesome, and half of the features most won't use anyway.
So what can we expect from an entry-level monitor? Some of the better basic monitors provide workout programs; preset programs are great for providing extra challenges that help push your cardio sessions harder. They're also excellent for keeping you interested and coming back for more.
All of the treadmills in this review include tablet holders – if you own a tablet, take advantage of some of the free treadmill apps. Long workout sessions can get boring – prest workouts, fitness apps all help to kill time.
Not as accurate as heart rate chest straps, we do see a lot of treadmills that include built-in pulse sensors. If you can, choose a machine that has the pulse sensors built into the handlebars; they are easier to reach than the thumb alternative that are built into the monitors.
The best entry-level treadmills will include:
Preset workout programs
Pulse sensors
Tablet holders
Option to control speed from monitor and handlebar buttons
Fold For Storage
Most treadmills in the under $400 price bracket are foldable. This is a good thing as a treadmill has a large footprint, and finding one that folds to half its original length is going to save you a lot of space.
When it comes to the folding feature – Look for one that includes systems like the soft drop! Systems like this make unfolding the machine hassle-free. A few budget machines are a nightmare to fold and unfold, so look out for easy to use folding systems.
If you're super tight on space, then a fold-flat is your best option. These machines will fold almost completely flat. They can be stored under beds or propped up against a wall.
Power
Unless you are buying a treadmill just for walking, you will need a motor of at least 1.5HP anything less will have trouble with keeping up with your pace even when jogging.
A rough estimate to motor power is 500W – 1.5HP for walking, power walking | 1.5 – 2.5HP jogging |  2.5 – 5HP running
To Sum Up
Although it can be hard to find a treadmill in this price bracket that's both well built and has enough features to cater to most people's fitness needs, it wasn't impossible.
After much research, we came across the excellent Sunny Health & Fitness SF-T4400. This treadmill stood out because it has everything you can expect and more from a treadmill in this price bracket.
Not only does the Sunny Health SF-T4400 provide a 3 level incline and an excellent length running belt, but it also boasts the soft drop folding system, pulse sensors, and an impressive amount of workout programs.
And what's best of all it's built by a company with more experience than anyone at making quality cardio gear at affordable prices.
Sunny Health & Fitness has come up trumps again in the entry-level cardio range, and this time it's with one of their treadmills. It is by a small but noticeable margin better than anything else out there right now under $400.