Not many companies build treadmills for under $1500 that include an electric folding system; actually, I think these guys are the only ones. Lifespan are a company that loves to be at the front of the line when it comes to innovative designs. And heck, thankfully, you don't have to pay through the nose for the cool stuff either.
The LifeSpan TR2000e Electric Folding Treadmill is priced competitively considering its advanced features, the machine sits nicely in the mid-level pricing range and offers more than most for the price bracket.
Mid-Level Treadmill – Great Warranty
What I like most about LifeSpan is that they offer long warranties; this is a telling sign these guys have a lot of confidence in their products.
If you have been looking for a mid-level treadmill, one that's packed full of useful features, including 15 levels of power-adjustable incline? Then please read on because we are going to be taking a close look at all of the TR2000e Pros and Cons, plus I'll also compare the Lifespan treadmill with one of its closest rivals, the ProForm 400i Treadmill.
But first, let's take a quick look at the product specs!
Product dimensions – 70.25 x 33 x 55 inches
Running belt size – 20" X 55″
Why Do We Like The LifeSpan TR2000e?
As its name suggests, the main selling feature of this treadmill is the electric folding system. This feature will appeal to many people, especially seniors, who may otherwise have trouble folding a treadmill manually.
What's impressive about the LifeSpans Enfold folding system is that it uses a smart stop safety sensor.
The safety feature is triggered when movement is detected underneath the deck while lowering from the folded position. It will detect if a child or pet is standing underneath the deck and stop automatically.
So yes, probably the easiest to fold treadmill on the market and a feature that's going to save you a ton of space as it folds to almost half its original length. Still, the electric folding system, although impressive, isn't my favorite feature of the LifeSpan 2000e treadmill; the 15 level incline is this machines best feature
15 Levels of Power Adjustable Incline
By a long way, the most impressive feature of the LifeSpan TR2000e has to be the power-adjustable incline. This thing boasts 15 levels of power-adjustable incline, that's more than most in the price bracket.
I always recommend if you are looking to purchase a treadmill to choose one with an incline feature and, if you can afford it, one that's power-adjustable.
Incline workouts target different muscle groups than walking on flat surfaces. When walking at an incline, you'll be working, strengthing, and toning those hard to train muscles such as your calves, hamstrings, and glutes.
Plus, walking at a 10% incline burns 3 times more calories than walking on a flat surface, so if you are after a fat-burning workout choosing a treadmill with an incline feature is a must.
Deck Size/Running Belt
One of the most important features of any treadmill you are interested in will be the running belt's size. The running belt size will determine what you can use the treadmill for.
The running belt of the LifeSpan TR2000e treadmill measures 20″ x 55″. This isn't a particularly large running belt, but for the price point it's about right. Mid-level treadmills are typically designed for walking and jogging which is why we're are not going to find 60″ commercial-sized running belts.
Users up to 6'1″ should be comfortable jogging on the LifeSpan TR2000. However, shorter users may use the machine for faster-paced workouts as they have shorter strides.
Easy To Use Monitor/Control Panel
Sadly there's no HD color screen or 100's of workouts to choose from. Still, the monitor of the TR2000e does boast a few useful features, one I particularly like are the large one-touch buttons.
It's always nice to find a machine that doesn't over-complicate the monitor. The TR2000 monitor provides large easy to use buttons for all the essential workout features such as speed and incline which are selected by a single push of a button. LifeSpan call this feature their 5 Quickset™ speed and 5 Quickset™ incline buttons.
Another nice feature of the monitor is its large six-inch blue backlit display, making it very easy to read all your workout stats.
Most mid-level treadmills should include a load of workout programs, and the LifeSpan doesn't let you down here either with 17 built-in programs and 2 heart rate programs, 2 customized user programs.
Owning a machine that includes its own workout programs is a big plus as workout programs are great for providing you extra challenges. More importantly, they help take away the boredom of long cardio sessions.
The monitor also includes:
BlueTooth – Wireless connection to 

your treadmill to your smartphone to play music and audio

Audi Centre – Auxiliary audio jack and built-in speakers let you exercise to your favorite music
USB Plus – Dual-purpose USB port charges your mobile devices 
Media Holder – Conveniently holds your phone or tablet just behind the control buttons for easy access and viewing
Intelli-Guard™  – 

This patented feature ensures safety by automatically pausing the belt 20 seconds after stepping off the treadmill deck.

Intelli-Step™ – 

This step-counting feature works like a pedometer, automatically counting steps taken

Heart Rate Monitoring

And the monitor tracks all the usual workout data such as Time, Distance, Calories Burned, and Time of Day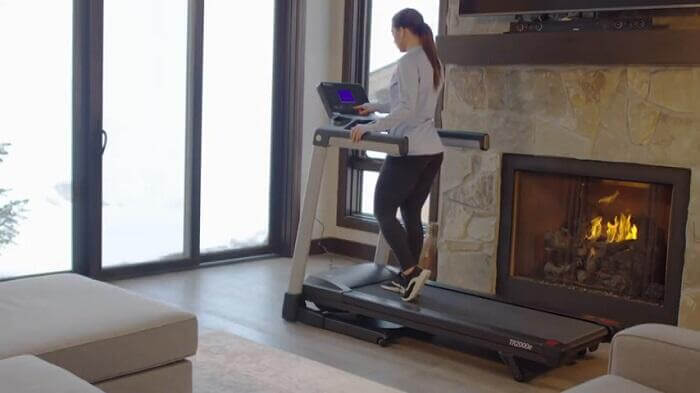 Joint Friendly Treadmill
One of the main reasons people buy a treadmill for home use is to get away from high impact road running. Running, jogging even fast-paced walking on hard surfaces such as roads, puts a lot of unneeded stress on the knees, ankles, and hips.
Indoor cardio on a treadmill is an excellent alternative to outdoor running, especially if we can find a treadmill with a decent anti-shock system.
Thankfully the TR2000E is equipped with one of the best antishock systems out there. The LifeSpan treadmill uses 8 separate compression shock absorbers. This deck cushioning system can reduce the impact on your joints by up to 40%
The cushioning system of the TR2000e treadmill is going to allow you to exercise longer and recover quicker from your cardio sessions. It's a good idea at any age to protect your joints when exercising its not just a recommendation for seniors.
Most of The Treadmill Comes Pre-Assembled
Most users who bought the TR2000e mentioned assembly was easy and took no more than an hour.
When the LifeSpan TR200e Electric Folding Treadmill arrives on your doorstep, the majority of the machine is preassembled, which leaves you only have to attach a few small parts.
The machine does come with a step by step manual and should include the tools needed for the job. Even though the machine is easy to assemble, I'd recommend two people for the job as treadmills are heavy pieces of equipment to unpack.
Long Warranty
LifeSpan offers some of the best warranties out there, and it's good to see they are not just reserved for their high-end treadmills.
Their mid-level TR2000 also benefits from an excellent warranty with a lifetime on frame and motor plus a 5 year on the parts, which is impressive for a treadmill in this price bracket.
Long warranties are a good sign LifeSpan builds quality, durable machines; it's also a sign of a company that stands behind their products, which is somewhat rare in the home fitness industry!
Solid, high quality build
15 levels of power-adjustable incline
Large weight capacity 300lb
Advanced cushioning system to protect your joints
Advanced cushioning system to protect your joints
Built-in workout programs
Wireless data syncing with mobile apps
Taller trainees might need more room for sprinting
Alternative & Comparison Table
Our Choice
LifeSpan TR2000 Treadmill
Electric fold system – Yes

Weight – 211lb

Running belt – 20″ X 55″

Workout Programs – 21

Speed – 0.5 – 11mph

Motor – 2.5HP

Weight capacity – 300lb
Electric fold ssytem – No

Weight – 180lb

Running belt – 18″ X 50″

Workout programs – 50 + 1 yr free iFit

Speed – 0.5 – 10 mph

Motor – 2.0HP

Weight capacity – 300lb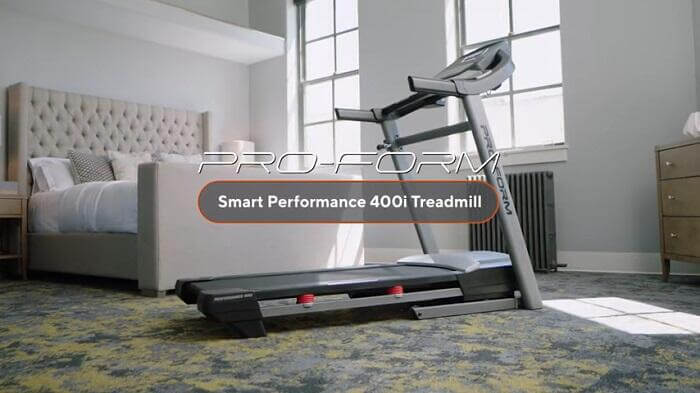 ProForm 400i Treadmill
ProForm are another company that has been around for a long time, and just like LifeSpan, they too produce quality cardio gear for home use. The ProForm 400i is in the same price bracket as the LifeSpan, but they differ on a few important features.
The ProForm 400i is all about workouts programs. This thing is packed full of them.With 50 built-in workout programs and 1-year free subscription to iFit.
iFit is the leading subscription fitness app; it literally has 1000s of workouts you can choose from through its extensive online library. Choose from global routes anywhere in the world to studio classes led by professional fitness instructors.
My favorite feature of iFit is their Google maps feature that lets you plan your own routes anywhere. There so much to iFit, too much to mention here.
Plus, we must mention the 400i comes with its own HD color touch screen so you can follow all your workouts, no need for a tablet.
Yes, the 400i is impressive when it comes to workout options, you'll never get bored using this machine, but we also have to remember once your first year with iFit is up, it will then cost you a $1 a day to keep the subscription which works out at over 300 bucks a year which is on the pricey side.
The other treadmill features are very similar to the LifeSpan; the Proform can boast a 0-10% power-adjustable incline, 10mph top speed, an excellent cushioning system, and it folds for storage.
However there isn't an electric fold system with this one. Still Profrom are the guys who invented the foldable treadmill, so they've had years to perfect their folding system, and its one of the best you'll find; it can be easily folded with one hand.
The only drawback of the ProForm is its small running deck size.
At just 18″ x 50″, the running belt is much smaller than the LifeSpan, it's not a deal killer; 18″ x 50″ is still ok for both walking and jogging, but it may feel uncomfortable for some users and when you're paying $1000 for a treadmill we do expect at least 55″ in length.
With the ProForm, you are paying for the HD touch screen, which is why the machine doesn't include such a good-sized running deck, they had to cut back somewhere.
I think this is an excellent choice for smaller users as you won't need such a large-sized running belt. Plus, if you love the HD screen,  iFit app, and built-in workout programs, there is no other treadmill in this price bracket that offers more.
To Sum Up
The LifeSpan TR2000 is a safe choice for a treadmill; the long warranty is going to give you the confidence this machine has been built well, and should anything go wrong in the next few years, you are covered.
The TR2000 isn't a treadmill with a loads of advanced features. It is a treadmill that gets all the basics right. The impressive 15 levels of adjustable incline is its best feature. We then have the electric fold system, a handy feature that saves you some time and effort! A good-sized running belt for walking and jogging, plus an easy to use monitor with one-touch buttons.
If you're after a treadmill with an electric folding feature? Then for the price point, there inst anything better than this one. Even without the electric fold feature, this machine is still good value for money when compared with others on the market.