People love that the GoYouth 2 in 1 Electric Under Desk Treadmill doesn't include any handles. Why? Because when the handles of 2 in 1 treadmills are locked down, it limits the treadmill's speed to 2.5mph. This is way too slow for some people, especially those who want to burn more calories and benefit from faster-paced workouts at their desks.
Powerful 2.25HP Motor For Walking and Jogging.
6mph is this treadmill's top speed, which is pretty fast for an under desk budget machine. The 2.25Hp motor easily has enough power to cope with walking and jogging. Okay, I wouldn't recommend running on this thing, but if you've looking for an under desk treadmill that allows you to take things at a faster pace than most of its competitors? The GoYouth Treadmill might be what you're looking for.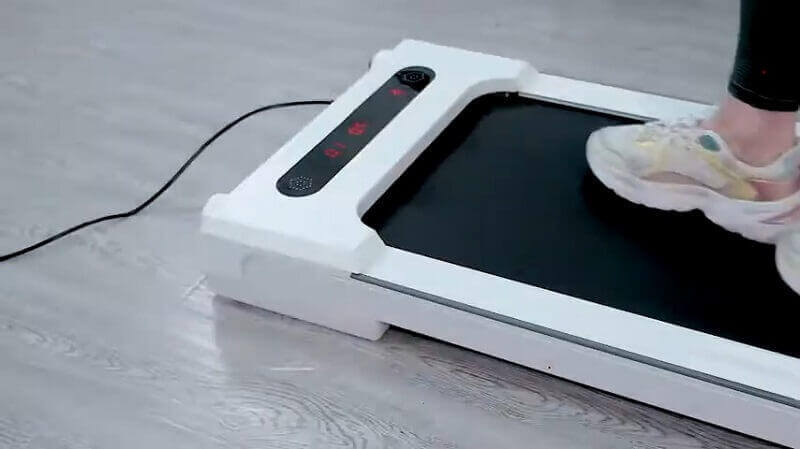 In today's review, I want to look at everything this treadmill offers, including its drawbacks, because there are a few! But first, let's take a quick look at the GoYouth 2 in 1 Treadmill product specs.
Product dimensions – 50.59″ x 22.44″ x 5.51″
Running belt size – 16″ X 41″
Why Do We Like The GoYouth 2 in 1 Under Desk Electric Treadmill?
It's great there's finally a budget under desk treadmill that allows users to workout at a faster pace than just walking. This is excellent news for people who want to burn more calories while working at their desk, but the no handle design isn't what I like most about this treadmill?
What stands out to me is just how easy the GoYouth 2 in 1 treadmill is to set up and use. You can basically use this treadmill right out of the box, there's no tricky assembly involved, and there's no over complicated monitor to figure out. It's a fuss-free compact treadmill.
Just remember to lubricate and center the running belt before your first use.
Ultra Quiet Motor
And it's quiet, these guys have used an ultra-quiet 2.25HP motor allowing you to watch TV and listen to your music without being disturbed by the sound of the machine. If you're in a meeting/on zoom etc., you can still use the treadmill, but it's probably better to stick to walking as this will help keep noise to an absolute minimum.
Slim, compact design can be stored under a bed.
Measuring just 50″ in length this GoYouth Treadmill is compact, you can use the GoYouth 2 in 1 Treadmill anywhere in the house, and moving it is a breeze thanks to the lightweight design and transport wheels. Just tilt and roll to move.
Short Running Belt
A short running belt is the main drawback of owning a compact treadmill or any budget under desk treadmill. The GoYouth running belt measure 41″, which is one of the shortest running belts you'll find on any treadmill. A running belt this length will limit who can use the machine and for what.
Under 6ft For Walking and Light Jogging
If you're under 6ft, you should be okay using a 41″ belt for walking and light jogging but for anything more intense that requires a larger stride, like running. You'll have to choose a treadmill with a longer running belt.
The good news is if you're under 5'6″, you can pretty much use this treadmill for anything walking, jogging, and running. Still, I wouldn't recommend running on a treadmill with no handles and a narrow belt, as it can be dangerous.
And the narrow belt was the next thing I wanted to mention, as the GoYouth treadmill belt measure just 16″ in width, which is narrow.
The problem with a narrow belt is that it can be quite easy to step off the side of the treadmill when exercising. Narrow belts are more of an issue when running but even jogging on a narrow belt is a concern. It's best to start with walking for your first few sessions and get used to the width of the belt; once comfortable, you can increase the speed.
Decent Monitor With 12 Workout Programs
The monitor of this treadmill is built into the treadmill's deck, so it is not your typical monitor. However, it's nice and easy to read thanks to the large screen, and perhaps what's best is that you have a remote control to change speeds and select workout programs.
The remote control isn't a high-quality remote, but you don't need it to be. Anything that keeps the price down is a good thing. The remote works well, and it's effortless to change speed. Using a remote saves you from leaning forward in the middle of a workout session as you would with a traditional monitor. It's a cool feature and perfect for this type of treadmill.
I was surprised to find 12 workout programs included with this monitor, as most under desk treadmills in this price bracket don't have any. Workout programs will keep you challenged and coming back for more, and they're great for keeping away the monotony of long cardio sessions.
Includes Bluetooth & Speakers
As you would expect, this monitor tracks all the basic workout stats such as time, distance, speed, and calories with the bonus of Bluetooth and built-in speakers, plus a built-in pedometer to count steps.
Anything Else Worth Mentioning?
The GoYouth treadmill is a lightweight treadmill, so there isn't much weight keeping this treadmill planted to the floor. Light treadmills typically benefit from a treadmill mat as this will help prevent slips. Also, treadmill mats help absorb some vibrations from your cardio sessions and are especially useful for those living in apartments. And if you have polished floors? A treadmill mat will help protect your floors from scratches.
Sunny Health and Fitness make the best cheap treadmill mats under $20.
No handle design – Can be used under a desk at speeds up to 6mph
Fuss-free treadmill is easy to set up and use. 
Compact design can be stored under a bed or against a wall
Monitor includes 12 workout programs
Selecting speed and workout programs is effortless thanks to the remote control
Built in transport wheels just tilt and roll to move
Short running belt means anyone over 5'6″ can only use this treadmill for walking or light jogging
No way to monitor heart rate
GoPlus 2 In 1 Folding Treadmill
The most popular 2-in-1 treadmill is the GoPlus 2-in-1 Folding treadmill, this machine has been around for a couple of years but was recently updated, and it now represents the best value for money of any 2-in-1 treadmill.
What I like most about the GoPlus treadmill is the build quality. This treadmill weighs over 70lb which is pretty heavy for a compact under desk treadmill. That extra weight tells us it's made from quality materials, and that extra weight will help keep the treadmill planted to the floor. It's a sturdy treadmill for the price point.
However good the GoPlus treadmill is, it does include handles, so the top speed for this treadmill, when used as a desk treadmill, is just 2.5mph which is fine if you only want to walk while at your desk, but for others who want a faster-paced workout, the handles might be the deal killer.
However, you can raise the handles and use this treadmill as a traditional treadmill. With handles raised and locked, it has a top speed of 7.5mph, so can be used for jogging.
Besides the handles, the GoYouth treadmill and the Goplus treadmill are very similar. Both have short 41″ running belts. Both use the 2.25HP motor, and both boast compact designs so they can be easily stored.
The monitor of the GoYouth treadmill is more impressive as it includes some workout programs.
Overall the GoPlus 2-in-1 treadmill is an excellent choice for anyone looking for a well-made cheap under desk 2 in 1 treadmill.
To Sum Up
What most people will love about this treadmill is how easy it is to set up and use. There is nothing complicated about it, even the monitor can be controlled by a remote with a push of a few buttons. Everything about his treadmill is fuss free. You can walk or jog within 15 minutes of it being delivered to your doorstep.
It's a lightweight treadmill for light workouts. It's not a high-end treadmill, so don't expect commercial-grade quality when you receive it, it's been designed for walking and jogging, and the price tag reflects this. Still, the quality is decent, and the machine will last if you look after it. Make sure to lubricate the belt regularly and keep the belt clean. By cleaning the belt you will prevent debris from getting into the motor.
Overall the GoYouth 2 in 1 under desk Treadmill is impressive for the price and one of the only treadmills that allows for faster-paced workouts at your desk.