The heavy-duty frame on this treadmill gives it an almost commercial feel. Weighing over 200lb, the OMA Treadmill is a solid bit of kit, with users praising how stable it feels. It's not a cheaply made dressed-up treadmill like so many I've reviewed. This is a treadmill that's good enough to rival the market leaders such as Schwinn and Nordictrack.
Oma Treadmill – All The Essentials You'll Need
The guys at Oma seem to have to got all the essentials right with their mid-priced offering. Boasting one of the best inclines you'll find in the price bracket, a decent monitor and a running belt suitable for both jogging and running. It is definitely a treadmill I want to take a closer look at, and today we'll check out everything it offers.
First a quick look at the product specs!
Product dimensions – 69.7″ x 31.1″ x 64.4″
Speed – 0.5 – 11.2mph in 0.1mph increments
Running belt size – 20" X 55″
Why Do We Like The OMA Treadmill?
I already mentioned in the intro that the build quality sells this treadmill. Its heavy-duty frame ensures this machine doesn't shake when you're exercising on it.
But it is not just the build quality that impressed me. I love the 15-level power adjustable incline. I wouldn't buy a treadmill without one. You'll burn twice as many calories running on an incline, and an incline will allow you to build and strengthen those hard-to-train muscles such as your glutes, calves, and hamstrings.
If you can get hold of a well-built treadmill with an impressive power incline in this price range, you're most of the way there, and the OMA treadmill has one of the best inclines in this price bracket with a max incline of 15%. Even the Nordictrack T series Treadmill only inclines to 10%, and the Schwinn 810 has a max of just 10% also.
You can adjust the incline using the one-touch buttons of the monitor or allow it to self-adjust when using one of the 36 built-in workout programs.
55″ Running Belt Suitable For Users Up to 6'2″
The size of the treadmill running belt is another feature you must consider when buying a treadmill, as it really does determine who can use the treadmill and for what.
A 55″ ruuning belt  is what I'd expect to find in this price bracket. However its not as long as something you'd find in your local gym. Most gym treadmill belts measure 60-65″ in length.
Typically a 55″ running belt will allow users up to 6'2″ to jog and run. Taller users will still be able to use a 55″ belt for lighter cardio sessions requiring shorter strides, but if you're over 6'2″ and need a treadmill for more intense workouts? It's best to look for a treadmill with a longer belt.
So yes, if you're under 6'2″, you can use this treadmill for just about any intensity, and the 3HP is easily powerful enough to cope with it. The only thing I wouldn't recommend is to go over the max capacity of the machine. I'd advise sticking well under 300lb. A max capacity of 250lb is more realistic for a 3HP motor.
Wide 20″ Belt
And lastly, the width of the running belt is 20″. A commercial treadmill has a width of 22″, so you are not far from commercial size for the width, which is excellent news as a wide belt will prevent you from stepping off the side of the machine in the middle of a session, a common issue with narrow running belts.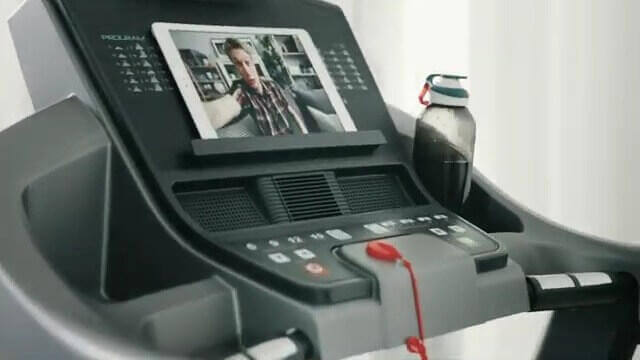 Monitor With 36 Workout Programs and BlueTooth
There's no HD color screen with this monitor, which is sometimes a good thing as an HD screen normally bumps the price up a couple of hundred dollars, and if you own a tablet, you won't need one.
It's a fairly basic monitor, it's not packed with features, but it is good enough to include everything you need. There are a ton of workout programs, Bluetooth, and the monitor is compatible with fitness apps such as Zwift, Kinomaps, and AnyRun. So you'll never get bored. There's always something to keep you challenged and coming back for more.
And because it is not featured-packed, it's nice and easy to use. Everything can be accessed with a touch of a button. There is no scrolling through lots of menus. It's easy and fast.
Monitor Features
Backlit 7″ display
Tracks time distance, speed pulse, and incline
One-touch buttons
Compatible with several fitness apps such as AnyRun, Zwift, and Kinomap
36 workout programs that auto-adjust speed and incline to match the terrain you're on
Bluetooth & speakers
Good Treadmills Come With An Anti-Shock System
Owning a treadmill with a deck cushioning system is one of the advantages of running indoors. It saves your joints from the high impact of hard surfaces like roads. The Oma Treadmill uses one of the better deck cushioning systems I've come across. It's a 4-point system, two on each side of the running deck. This should help reduce the impact of each foot strike by up to 40%
Can Fold With One Hand
One of the advantages of paying a bit extra and choosing a mid-level treadmill is that they come with a soft drop folding system. This is a hydraulic folding system. You can fold the treadmill with a single hand. It's that easy.
The Oma Treadmill folds to almost half its original footprint, and once folded, you can tilt and roll it on the treadmill's built-in transport wheels to store against a wall.
Do I need a Treadmill Mat?
Some people buy a treadmill mat because they have purchased a light, low-cost treadmill and a mat helps to keep the treadmill stable on polished surfaces. The Oma Treadmill is pretty heavy, so you shouldn't have too many issues with stability. Still, treadmill mats are a good idea if you want to protect your floors. Also, if you live in an apartment and want to keep your neighbors happy, a treadmill mat can be vital as it will help absorb a lot of the vibrations from your cardio sessions.
Sunny Health & Fitness makes the best cheap Treadmill mats. You can click the link below to view their mats on Amazon.
Anything I Didn't Like?
There are a few features lacking with the Oma treadmill which should be included in this price range. The first is wireless heart rate monitoring. This treadmill only has the built-in handle bar pulse sensors; while these are still useful, they're not as accurate as using a heart rate chest strap. It's an important feature for those who love to train in their chosen heart rate zones and something I know many users will be disappointed with.
Also, theres no fans! If we're paying over $1000, we expect a treadmill with a couple of cooling fans.
Heavy-duty frame, solid treadmill
15% power-adjustable incline with 15 levels of of incline, great for burning calories and building leg muscles
Decent monitor with 36 workout programs and BlueTooth, compatible with fitness apps
Good-sized running belt suitable for users up to 6'2″
Easy to fold, with a soft drop folding system, can folded with one hand
Anti-shock system – reduces impact on your joints by up to 40%
Built-in transport wheels, just tilt and roll to move
No wireless heart rate monitoring
Some users found it difficult to connect the treadmill to BlueTooth
Schwinn 810 Treadmill
For a long time, the Schwinn 810 was the No.1 treadmill for under $1000. Made by a company with more experience than anyone in the fitness market, the Schwinn 810 has always impressed.
What I like most about this treadmill is the quality because, just like the Oma Treadmill, it boasts a heavy-duty frame that keeps this machine planted to the floor. It feels like a much more expensive machine.
The monitor is fairly impressive too, featuring wireless heart rate capabilities and a ton of workout programs, including access to Schwinn's free fitness app. The Schwinn 810 also comes with a power-adjustable incline, inclining to a max of 10%, so not as impressive as the OMA Treadmill, but it's still good for a treadmill that costs under $1000.
The running belt measures 20″x 55″, so again just like the OMA Treadmill, the Schwinn 810 is suitable for jogging and running users up to 6'2″.
The only thing that really lets the Schwinn 810 treadmill down is the power of the motor. At just 1.9HP it's weak for such a large treadmill and slightly disappointing. Still, that is the only drawback, everything else these guys have got right.
Even with the weaker motor, the Schwinn 810 remains one of the best buys in the under $1000 price category.
To Sum Up
I couldn't find much wrong with the OMA Folding Treadmill. It's a treadmill that outshines most in its price bracket, thanks to the solid build. It's sturdy, which is why so many users have praised how good it feels exercising on this machine. Not only that, you have one of the most impressive inclines in the price range.
Okay, there's no HD screen or advanced monitor features, but if you want a well-made treadmill with all the bells and whistles? You'll have to pay quite a bit more than this.