Weslo Cadence G 5.9i Treadmill
I've reviewed a lot of treadmills in the under $400 price bracket, and I can tell you most of them are held back by their lack of features and extremely short running belts.
The Weslo Cadence G 5.9i Treadmill bucks this trend somewhat. It's packed full of features for a budget treadmill and boasts a few beneficial ones such as incline, pulse sensors, preset workout programs, a decent length running belt, and a top speed of 10mph; that's impressive stuff for an entry-level treadmill, and it made us want to take a closer look at this capable machine!
Ok, this thing hasn't been built for serious runners, nor will it take heavy use every day. What it is, is an excellent treadmill for walkers and joggers.
In this review, we're going to take a close look at all the pros and cons of the Weslo Candence 5.9 treadmill. At the end of the review, I'll also compare the Weslo with its main rival in this price bracket, the Sunny Health & Fitness SF-T4400 Treadmill.
But first, let's take a quick look at the product specs.
Product dimensions –  55.5" H x 29" W x 64.5" D 
Anti-shock system – Comfort cell cusioning
Running belt size – 16″ X 50″
Why Do We Like The Weslo Cadence G 5.9i Treadmill?
This treadmill's standout feature has to be the 2-way incline as the majority of entry-level treadmills do not include an incline.
I'd always recommend if you can to choose a treadmill with an incline. Why? Incline workouts bring something extra to your cardio sessions; not only does walking or jogging at incline burn up to 50% more calories than jogging on flat surfaces, but it also works different sets of muscle groups.
Incline workouts target your butt, your hamstrings, and your calves, a handy feature for toning those hard to train muscles, plus you will be burning a ton of extra calories at the same time. The stronger and larger these muscles become, the more calories they will burn every time you exercise.
Your body and your heart have to work much harder when jogging or walking on an incline, and by pushing yourself harder, you'll start to see a big improvement in your cardio fitness.
As you can see, owning a treadmill with an incline feature is a big positive all round.
Monitor/Control Console
The monitor of the Weslo comes iFit enabled. This is the first budget cardio machine I've come across that offers iFit. Usually, we see iFit enabled monitors on mid-high level cardio machines.
We see iFit being featured on this machine is that Icon Health and Fitness own Weslo; these are the same guys that own ProForm and Norictrack, two companies that both offer high-end treadmills, ellipticals, and exercise bikes.
So yes, it's great to see an iFit enabled treadmill at this price, but the question is, do you need it for your cardio workouts?
iFit is one of the best fitness apps out there. The app offers 1000's of workouts from its extensive library.
The workouts include personal trainer workouts, and my fav, the global routes, where you can run anywhere in the world, choosing routes such as the alps to the streets of San Francisco.
And what's cool about this app is that it can recognize which piece of cardio equipment you are using. And allows trainers to make real-time adjustments by adjusting your speed to mimic the class activity you are currently performing or which global route you are on.
There's also a google map feature; this feature lets you plan your own route literally anywhere in the world. You can even map out a route near your house if you wish.
Fitness apps are an excellent way to keep you interested in using the treadmill and help stop it from becoming a clothes horse. Still, an app like iFit is expensive ($1 a day), plus you'll need a tablet to use the app. 
We need to mention many people who buy this treadmill get confused by thinking you have to purchase the iFit app to use the treadmill. This isn't true. All you need to do is to hold down the Bluetooth button for 30 seconds, and the iFit app will be disabled.
Even if you opt not to take advantage of the iFit app, you can still benefit from the six built-in workout programs. The preset programs are there to give you an extra challenge, thus help increase your fitness levels. 
Many users have mentioned how quiet this thing is in operation, so to prevent the boredom of long workout sessions, you could watch TV while you exercise, without being disturbed by the sound of the machine.
As well as the workout programs, the monitor tracks all the useful stuff such as speed, time distance, and pulse.
Folds For Storage
Not everyone has a spare room to house their fitness equipment, which is why foldable treadmills have become so popular.
The Weslo Cadence G 5.9i Treadmill folds to half its original length. And what's best about this is once it's folded, you can easily move it to store thanks to the integrated transport wheels just tilt and roll.
Nearly all entry-level treadmills are compact because of their short, narrow running belt, so even when this machine isn't folded, it's not going to take up anywhere near as much room as a full-sized commercial treadmill that you see in local gyms, etc.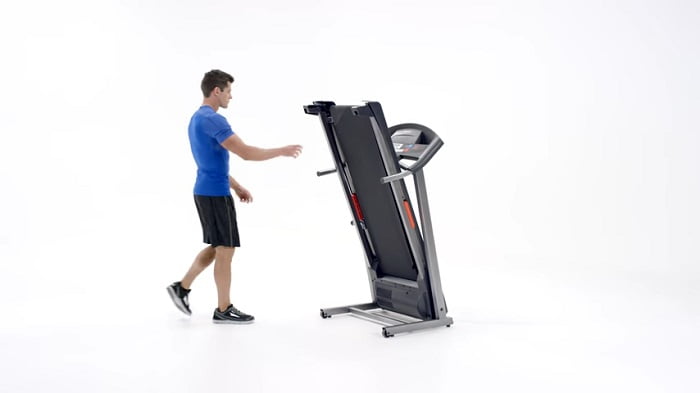 Comfort Cell Cushioning – Anit-Shock
To include any anti-shock system on a treadmill, this cheap is impressive; the Weslo 5.9i treadmill uses a couple of cushions either side of the machine to soften the impact of your running steps.
While the cushions aren't the best anti-shock treadmill system in the world, they're good enough for home use and will take up to 40% of the impact of each step on the treadmill.
The cushions will help protect your joints, especially your knees. So a big thumbs up to Welso for including an anti-shock system to protect your joints.
Important! Whos It For?
The Weslo treadmill is not designed for running; this thing has a light build weighing just 103lb plus its relatively small for a treadmill, which means it has a shorter running belt than the ones you might have used in your local gym.
Shorter running belts won't let you run at pace because running at pace demands a longer stride. Maybe shorter people under 5'7″  will be ok running on this machine, but really, if you're serious about your running, you need a machine with at least 55″- 60″ running belt.
However, at 50," the running belt of the Weslo is longer than most in this price range so it should allow users up to 6″ to walk and jog comfortably on the machine. 
And at 16," the running belt is narrow, and if this is your first treadmill, you might be surprised at just how narrow when you take your first steps on the machine.
You'll find you have to concentrate at keeping your knees close together as not to step on the plastic side supports as you walk/jog. It is something you get used to, and it all depends on your natural stride, whether this may be a problem for you or not.
Sadly at this price, we're not going to find wide running belts. 16″ is around the norm. At least the length of the running belt is longer than most in this price bracket.
Assembly
While most users didn't run into too many problems when setting up the Weslo, a few mentioned its a good idea to have a second person to help you screw in the bolts at the bottom of the machine.
Thankfully apart from the few bolts mentioned, most of this treadmill comes fully assembled. Average build time 30 mins – tools and instructions are provided.
Affordable well-built treadmill for walkers and joggers
2 levels of incline – work your glutes, hamstrings, and calves
Impressive monitor for the price, includes – Bluetooth, pulse sensors, and 6 workout programs
The LED screen has no backlight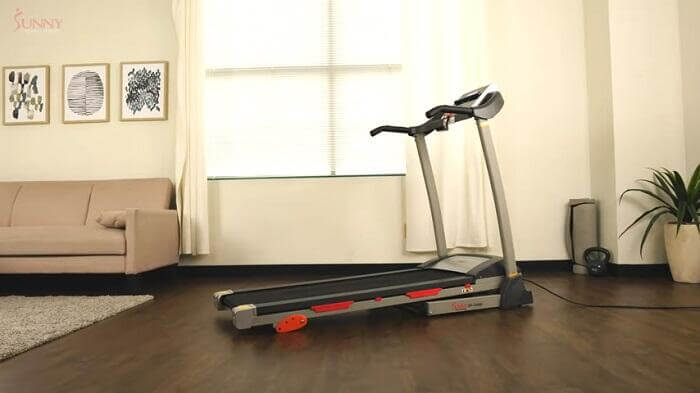 Sunny Health & Fitness SF-T4400
Sunny Health is the No.1 company that specializes in affordable home fitness equipment. If you're on a budget and looking for a quality cardio machine, it's usually these guys most people turn to.
I've reviewed a load of their gear, and it's not often they fail to impress, and by the sounds of the user reviews for the SF-T4400, their entry-level treadmills are no exception when it comes to value for money.
The Weslo 5.9 treadmill has, for a while, been the top treadmill in the under $400 price bracket, and for a lot of people, it will remain so, but I feel the Sunny SF-T4400 offers just as much as the Weslo for the price.
Just like the Weslo 5.9i treadmill, the Sunny can boast a near 50″ running belt; it beats the Weslo on incline as the Sunny provides three levels compared to the two of the Weslo. The Sunny also has preset workout programs with nine, that's three more than the Weslo.
They both weigh 103lb. They both share the same strength motor 2.25HP,  both machines have similar max weight capacities, and most importantly, the Weslo and the Sunny Health treadmills are built by reputable companies with great customer service.
These two machines are the top 2 on the market right now for the price, and because they are so similar in features, it's difficult to choose between them.
Ok, the Sunny has an extra incline level and a few more workout programs, but the Sunny lacks  BlueTooth and iFit, which will be a deciding factor for many people out there who love the iFit app.
It's a tough choice to make because, at the moment, both machines are retailing at around the same price. A few months ago, the Weslo was $100 cheaper, so I would have said go for the Weslo as it was fantastic value for the money. Now with the Sunny Health at a similar price, the choice isn't so clear.
If you think you're going to use iFit, then there's only one choice the Weslo 5.9i Treadmill!
If iFit isn't your thing, then I urge you to take some time and seriously consider the Sunny Heath SF-T4400 as it offers just a little bit more in the way of useful features than the Weslo.
Click Here For Our Sunny Health & Fitness SF-T4400 Full Review
Whichever one you choose, I'm sure neither will disappoint. Both are excellent foldable treadmills for walkers and joggers.