If you want to walk or jog your way to weight loss? The SereneLife Folding Treadmill might be the perfect choice. It hasn't been designed with serious runners in mind; the running belt isn't long enough, and the motor lacks the power. Still, for people who aren't planning to run a mile in 4 minutes and only need a treadmill to burn some calories? A treadmill like the SereneLife makes the most sense.
Well Made Treadmill – Feels Solid
The SereneLife treadmill is a budget treadmill, and it's surprisingly well made. Many users have mentioned it feels solid. Plus, it's packed with features for a treadmill in this price bracket, including 16 workout programs and incline. Also, budget treadmills are compact, making them an excellent choice for apartments or anyone tight on space. It's small enough to be used in a bedroom and can be folded afterward.
It's certainly a treadmill I thought was worth taking a closer look at, and today we'll consider everything the SereneLife Treadmill has to offer, including its drawbacks because there are a few.
First, the product specs!
Product dimensions – 54.73 x 26.78 x 49.61 inches
Running belt size – 16″ X 43.3″
Why Do We Like The SereneLife Folding Treadmill?
As I mentioned in the intro, its size sells this treadmill. It's a compact treadmill the running belt measures just 43″ in length, this is a treadmill that can be used anywhere in the home, and thanks to the soft drop folding system, it can be folded and stored against a wall in under a minute.
It's a simple treadmill; there's nothing complicated about the SereneLife treadmill. The monitor is easy to use, the treadmill can be assembled in under 20 minutes, and it's lightweight, so pretty much anyone will find it moving the machine a breeze.
Fuss-free treadmills like this are great for beginners or people who don't need a heavy-duty machine for intense cardio sessions.
3.5°

Incline – Strengthen Hard To Train Muscles

I feel it's essential if you're going to buy a treadmill, even a budget one, to look for a treadmill with an incline feature. Walking on jogging on an incline not only burns twice as many calories but it will strengthen and build those hard-to-train muscles like your hamstrings, calves, and glutes. The SereneLife treadmill thankfully includes a manual incline. It's a 3-way incline that starts at 1.5°, 2.5°, and 3.5°; it's not a steep incline, but it's good enough to give those muscles a really good workout.

If this is your first treadmill, I wouldn't recommend incline walking/jogging straight away, as it's usually better to let your legs get used to the treadmill and regular workouts first. Give it a week or two, and when you feel ready, you can take your cardio sessions to the next level.
Short Running Belt (43″)
The drawback of choosing a compact treadmill is a short running belt. The SereneLife Treadmill uses a 43″ running belt which means most users unless you're under 5'3″, won't be able to use this treadmill for fast-paced workouts.
Users up to 6ft will be able to use this machine for walking and light jogging, but anything requiring large strides is a no-no on a machine with a 43″ belt.
A 43″ belt isn't a deal killer, all it means is that most of you won't be able to run on the Serenetreadmill; as I already mentioned, it's a compact treadmill designed for walking and jogging.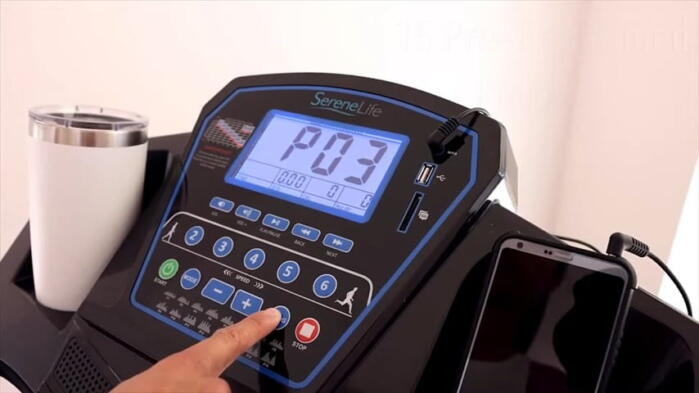 One-Touch Monitor With Workout Programs
This is a great monitor for the price point. I love the large 5″ display allowing you to read all your workout stats easily, and it's so easy to use. Everything can be selected with a touch of a button. You don't have to scroll through a ton of menus.
It's not a high-end monitor with a vast amount of options, it is basic, and that's what Id expect to find on a treadmill priced under $400, but we do get workout programs which is great news as you'll have something to keep away the monotony of long cardio sessions. There's also a fitness app and M3 player.
There are a couple of cup holders and the added bonus of having the speed and start and stop buttons on the handles, saving you from reaching forward while in the middle of a workout.
Overall it's definitely one of the better ones I've across lately in this price range.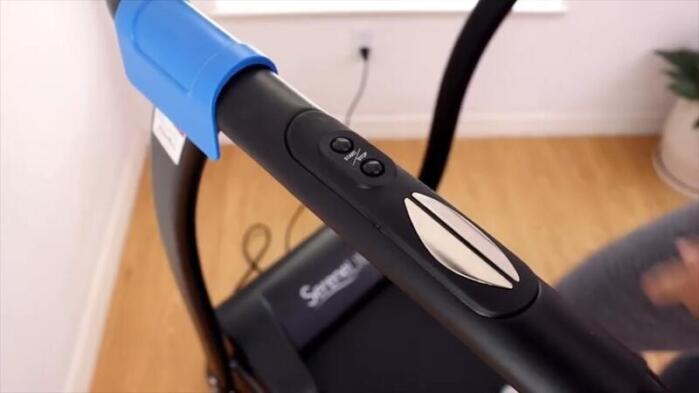 Narrow Running Belt – Be Careful Not To Step Off
One issue I always encounter with the more affordable treadmills is a narrow running belt. 15.5″ is the minimum recommended width of a running belt for walking, and with a 16″ width, the SereneLife treadmill belt just qualifies. Still, for faster-paced workouts, you really need a wider belt, light jogging will be okay, but for anything faster than this, Id recommend a wider running belt to avoid any risk of stepping off the machine while in mid-flow as it can be dangerous.
Cheap Treadmill Mat Will Prevent Slips
The SereneLife Treadmill only weighs around 75lb which is light for a treadmill. Being light has its benefits, like making it easy to move around but being this light means there isn't much weight to keep the treadmill planted to the floor. It's always best to get hold of a treadmill mat as it helps keep the treadmill in place and protect your floors.
Sunny Health & Fitness make some pretty good treadmill mats, and they're affordable.
Click here for Sunny Health & Fitness Treadmill Mat on Amazon.
20 Minute Assembly
The running deck with its belt, motor, and rollers comes pre-assembled, so that's most of the heavy lifting done for you. All you'll need to do is attach the two upright bars to the deck and attach the monitor. Most users have managed this in under 20 minutes. Still, take your time if you can.
For maintenance, keep the deck clean to prevent any debris from getting into the motor. And keep the running belt lubricated. A fully illustrated manual is included, as are all the tools for the job.
Well made, users say it feels solid, surprising for a treadmill in this price bracket
Compact – perfect for people tight on space
Folds for storage – anyone can fold this machine with ease as it uses a soft drop folding system. Press a button!
Quiet 1.5HP motor can watch TV while you workout
Decent monitor for price point with large screen and 16 workout programs
On and off, plus speed control buttons on the handles
Manual incline – burn twice as many calories
Short running belt – not suitbale for fast-paced cardio sessions
Narrow running belt, be careful not to step off the machine. Not so much of problem when walking or light jogging
Marcy Folding Treadmill
Marcy has been around for years. These guys are well known for making affordable cardio gear, and they're always worth checking out if you are looking for well-made budget equipment.
I thought I'd show you their latest treadmill as it shares a similar price tag as the SereneLife treadmill, except for the Marcy treadmill folds completely flat for storage. It's so easy to store that many users store it in a closet or under a bed.
Also, what I liked about the Marcy treadmill is the 49″ running belt, this is an excellent length belt for a treadmill in this price range, and it will allow taller users to jog comfortably on the machine.
The Marcy treadmill boasts a peak performance of 2.5HP, which is one more HP than the SereneLife, meaning it can cope with heavy users and has a slightly higher top speed of 8mph.
The Marcy Monitor isn't as impressive; it only comes with 12 built-in workouts and doesn't include an MP3 player or any fitness apps. The monitor on this one is basic. Plus, you won't get any controls on the handlebars, which is a shame.
And sadly, there's no incline with the Marcy treadmill. Still, even though the Marcy isn't so impressive when it comes to features, the 49″ running belt is something that will appeal to taller users looking for an affordable compact folding treadmill.
To Sum Up
Don't make the mistake of expecting something heavy-duty if you choose the SereneLife Treadmill. It's not going to feel like a treadmill you've used in a local gym. Those machines cost $1000s.
The SereneLife Folding Treadmill is a lightweight, easy-to-store treadmill, and it's an impressive one. I think people will love just how easy this treadmill is to use. There's no complicated monitor to set up, and you can select everything on the monitor with one touch of a button. Assembly takes under 20 minutes, and folding the machine is effortless thanks to the soft drop system.
The narrow running belt is my only reservation, but considering this treadmill is used mainly for walking and jogging, the narrow belt shouldn't be much of an issue.