3 Best NordicTrack Ellipticals
Spending anything over $1k for an elliptical for home use is in one-word 'overkill' for any home gym. Unless you're opening your own commercial gym, you'll do just fine with a medium level elliptical.
Our best NordicTrack elliptical review includes three mid-level, durable, solid ellipticals for home use built by a company whos been around for decades.
All three ellipticals in this review are capable of providing light, medium, and intense low impact workouts, so are suitable for nearly all fitness levels with perhaps the exception of professional athletes.
Packed full of features, including power-adjustable incline! The NordicTrack ellipticals are a cut above the rest in the popular elliptical market, rivaled only by their long time adversaries Schwinn.
However, with NordicTrack offering high-end features such as their iFit app, easy to use one-touch monitors, and power adjust options, we feel NordicTrack might just be starting to edge ahead of  Schwinn, especially in the under $1k price bracket.
Best NordicTrack Elliptical Under $1000 Reviews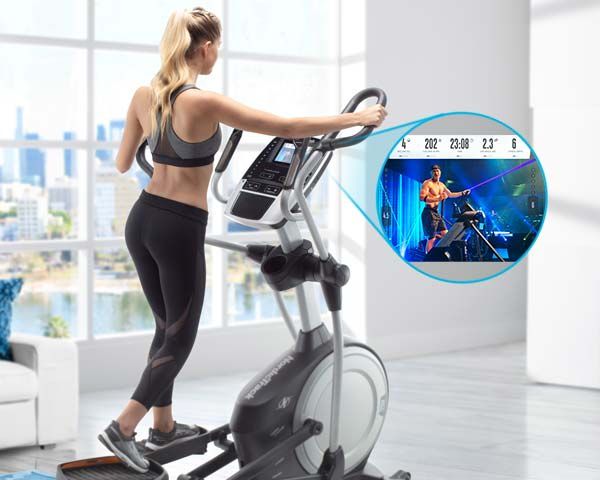 1. NorckTrack C 9.5 Elliptical Trainer
The NordicTrack C 9.5 is our top pick of NordicTrack Elliptical in under $1000 category, heck it's probably the best elliptical out there at this price point. Coming in at just under $1k, the C 9.5 comes equipped with a ton of features, the most important being the 20″ adjustable stride length.
Short stride lengths plague so many machines in this price bracket; some machines are almost unusable because of this.
Thankfully the NordicTrack C 9.5  boasts a power adjust 18″ – 20″ stride length, and if you're unsure what a 20″ stride length feels like? Just think of an elliptical you have used in your local gym; nearly all ellipticals in commercial gyms use a stride length of 20″ – 22″.
Except for taller users 6'1″ and over, most people should be able to exercise comfortably on the C 9.5.
My second favorite feature of the C 9.5 has to be the power-adjustable incline, any elliptical that includes an incline is great, but an incline that power adjusts is even better! (inclines/ramps let you target different muscle groups especially your butt, calves, and hamstrings)
Being able to adjust the level of incline from a touch of the button saves getting off the elliptical and changing it manually. Instead, you can continue your workout without being interrupted. Nice
And no more complicated hard to use monitors, the C 9.5 has the updated one-touch monitor, one-touch monitors are great because everything is there right in front of you, no messing around trying to find what you need. Instead, you can choose resistance levels, incline, and workout programs with a single touch of a button.
The monitor also provides 24 magnetic resistance levels, more than enough to suit most user's fitness needs plus a whopping 32 workouts programs. And if 32 workout programs aren't enough to keep you happy, the C 9.5 also comes iFit ready.
iFit is NordickTrack's fitness app, and it is available for most of their cardio machines. It's an excellent app that allows you to download unlimited new workouts to your elliptical – various fitness trainers take you through different workouts in any global destination you choose, such as Greece, Swiss Alps, etc
And that's not all; what I thought was most impressive about the C 9.5 monitor  was being able to use Google maps to create your own trails.
The Google map feature lets you run anywhere you wish, even your local streets, if you want to. Plus, something I thought was quite special is that the power adjust incline self adjusts to mimic the real-world terrain, an excellent feature, and something I didn't expect to see on an elliptical in the under $1k bracket.
And lastly, we need to mention the NordicTrack C 9.5 is the only NordicTrack Elliptical in the under $1k to feature a full color 7″ console and web browser.
Overall a capable machine for the price, with an impressive stride length, advanced monitor, and a 0-20 degree power incline to target different muscle groups. There's enough strength in the resistance for intense calorie-burning workouts and enough workout options to keep you busy and coming back for more.
High quality, stable build
7″ high definition touch screen
32 pre-loaded workout programs
24 whisper quiet magnetic resistance levels (25lb flywheel)
Power adjustable stride impressive 18″ – 20″
2 sets of handles fixed and moving for full body workout
High weight capacity – 350lb
'Autobreeze' workout fan which adjusts speed automatically to keep you cool whilst exercising
No wireless heart rate monitoring
No Resistance Controls on Moving Arm Bars
2. NordicTrack C 7.5 Elliptical Trainer
We could say the C 7.5 is the little brother of the NordicTrack C 9.5, almost identical in design and boasting the same build quality the C. 7.5 only differs when we start to take a look at the features.
So what's different? There's not a huge difference in features, especially when we look at the important ones, such as stride length. Both machines provide the power-adjustable 20″ stride length, and both include the 0-20 degrees power incline, which is excellent considering the C 7.5 costs a couple of hundred bucks less.
The big difference we see here is between the monitor's screens:
The NordicTrack C 7.5 doesn't include the advanced 7″ full-color display; you only get the 5″ backlit display here, so if you want to make the most out the iFit app, you'll have to have your own tablet with the C 7.5 elliptical machine. Not a biggy, and if you're not interested in using the iFit app, then the difference in screens shouldn't bother you at all.
Again both machines are similar when it comes to the all-important resistance levels with C 7.5, providing 22 and the C 9.5 boasting 24, although the flywheel of the C 7.5 weighs 5lb less.
And lastly, the C 9.5 includes ten extra workout programs with C 7.5 proving 26. I think you'll agree 26 workout programs is still nothing to complain about, and don't forget this bike is also iFit ready, so you'll have unlimited workouts to choose from.
Another excellent front-drive elliptical from NordicTrack. If you already own a tablet and can live with fewer workout programs and the more basic monitor, this machine provides everything its bigger brother does but a slightly lower cost. ($200 less)
High quality, stable build
Generous 20″ stride length
Advanced easy to use one-touch monitor
NordicTrack iFit® Membership Ready – follow personal trainers as they lead you all over the world
Power adjusted incline – great to see at this price
Auto breeze workout fan – self adjusts with your workout intensity
Power adjusted incline – great to see at this price
22 whisper-quiet magnetic resistance levels
Smaller display at just 5"
Non-adjustable pedals may be a comfort concern
Not wired for wireless heart rate monitoring
NordicTrack SE7i SpaceSaver Elliptical
The NordicTrack SpaceSaver Elliptical is as the name suggests suitable for people who have limited space to workout. While I wouldn't usually suggest purchasing a foldable elliptical as they typically suffer from poor builds and stability issues, the NordicTrack SE7i is one exception I'm happy to recommend.
This thing is built well, and we can tell that just by the weight, it weighs nearly 230lb that's a hefty weight for a foldable elliptical, not only does the weight help a ton with stability its also a telling sign this machine is made from quality materials.
This is a rear-drive machine as I mentioned rear-drive ellipticals are usually larger in footprint, but that's not a problem here because of the fold for storage feature.  And if you opt for a rear-drive, you can take full advantage of their smooth elliptical motion, which is said to be smoother than that of front and mid-drive ellipticals.
Also, because of the rear-drive design, there are fewer parts, thus less maintenance to worry about.
Unlike most foldable machines, the SE7i doesn't cut on features, similar to the other two NordicTrack ellipticals in this review the SE7i benefits from power-adjustable incline 0-10 degrees and an impressive 18″ stride length not bad at all considering the lower price.
The monitor is very similar in features to the C 7.5 offering 22 resistance levels and 24 workout programs plus the option of iFit, and you'll be happy to hear the monitor also includes the updated one-touch controls.
One of the best foldable ellipticals on the market and what's nice to see is the foldable feature does not affect the quality or stability of the machine.
If you are tight on space but what to reap all the benefits of a full size elliptical, the SE7i could be the right choice for your cardio and home needs
Stable quality build for a foldable elliptical
22 levels of smooth magnetic resistance
18″ stride length ( suitable for users upto 6ft)
Resistance isn't strong enough for advanced athletes & heavier trainees
No wireless heart rate receiver
5″ screen is small for ellipticals nowadays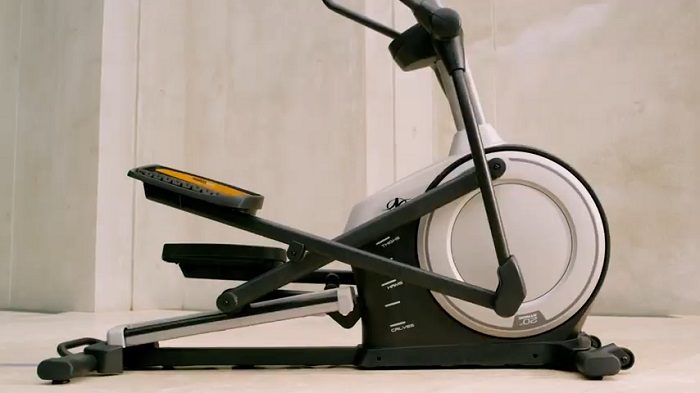 While there are many design varieties out there, ellipticals can be divided into three categories. All three of these categories are defined by the placement of the flywheel (drive system). The drive system is the main component that facilitates the elliptical motion.
When you first take a look at an elliptical, the first thing you will notice is where the drive wheel is situated. Some are placed at the front of the machine; you'll also see there are ellipticals with flywheels placed in the center of the machine. And finally rear-drive ellipticals.
The placement of the flywheel can be particularly important as it can affect the smoothness of the elliptical motion, the length of the machine and the level of noise while the elliptical is in motion.
Front Drive – Front-drive machines are the most popular mainly because their price is slightly lower than a rear or mid-drive; they also tend to have smaller footprints, so they are best suited for home use.
A basic yet durable design, front-drive machines are typically a little noisier than their front and rear drive counterparts but nothing too noticeable or offputting.
Centre Drive – Centre drive ellipticals are a recent addition to the elliptical market, having only been around for a few years. Designed to be similar to a treadmill, except the pedals are where the track would usually be. Centre drive designs allow for a gentle workout.
Centre drive, just like the front-drive, tends to be compact in design. However, you need to be careful when choosing a center drive machine as the compact design can lead to short stride lengths!
Rear Drive Ellipticals – Most rear-drive ellipticals have a smaller wheel housing that is located behind the pedals making these the longest in design. Many manufacturers claim the rear-drive machines allow for a smoother, more circular pedal motion.
The pedals can also be on a track, which allows for an incline. Rear drives systems are usually reserved for high-end ellipticals. Some of the widest stride lengths can be found on rear-drive ellipticals.
Other Key Components To Look Out For
Resistance Type – There's a couple of resistance types available for elliptical machines; one is magnetic; the other is air. Which is best? For home use, I'd always recommend you go with magnetic.
Magnetic resistance is much quieter in use than air resistance. You'll be able to exercise without disturbing yourself or others around you. A near-silent machine is great for people who live in an apartment or do not have a dedicated room to house a machine.
Magnetic resistance has another useful advantage over air resistance. Because magnetic resistance is constant i.e the resistance strength only changes when you manually select a higher or lower level. You can exercise at a slow pace on a high resistance level, something that is impossible with air resistance as air resistance is dynamic; it only gets stronger when you walk/run faster.
Resistance Strength 
Budget ellipticals $400 and under typically provide eight levels of resistance. While this isn't a ton of resistance levels, it will provide enough resistance for medium to light cardio workouts.
That's not to say you won't burn any calories on a cheaper machine; it all depends on your fitness levels. Still, in general, a machine with eight resistance levels is usually best suited for beginners, walkers, seniors, or anyone looking for lighter workouts.
When you spend a few more bucks $600+, we start to see 16-24 resistance levels here; you can expect reasonably strong resistance in the upper levels. the machines are, in general, of higher quality and will provide the user with much more of a challenge and will allow for years of growth.
$1k+ ellipticals will, of course, come with the most resistance levels and heavier flywheels – Great if you can afford one but sometimes overkill for a home gym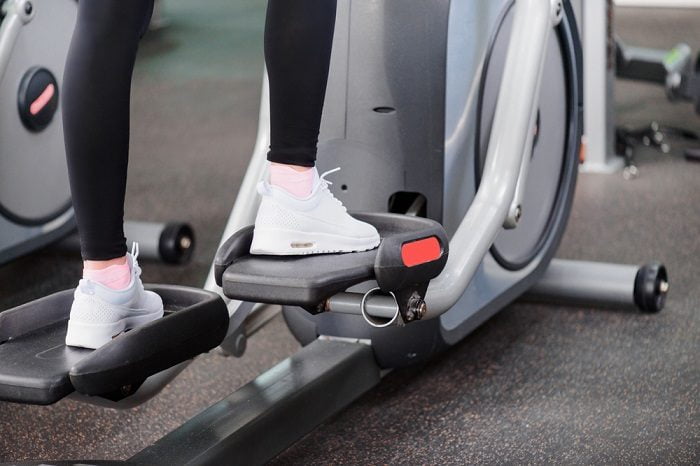 Stride Length
The most important feature you need to look out for when buying an elliptical is the stride length, the last thing you want is to set up the machine only to find the stride length is too short for you to run or walk freely.
If you don't know how the stride length is measured? It's the measurement from the toe of the front pedal to the heel of the rear pedal while the pedals are at their widest stride.
For many who only plan on walking or running slowly will find they can get away with a shorter stride length, but for taller users or anyone wishing to use an elliptical for fast-paced walking or running, you will need a stride length of at least 18″.
If you have exercised on an elliptical in your local gym – nearly all have a stride length of between 20-22″ So if you'll able to run freely using a machine at your local gym you should have no issues with the NordicTrack ellipticals.
Over 6'2″? You may need to find an elliptical with a stride length of 22″+ especially if you plan on intense workouts which require longer strides
Workout Space
Even compact ellipticals are large machines; most people are surprised how big elliptical machines are once they are delivered to their doors. So be don't be caught out, take a look at measurements of the elliptical you are interested in and make sure your home has the space needed to house one comfortably.
Most ellipticals are between 5 and 7 feet long, and remember, you'll need to leave room for the pedals of the machine while they are in motion.
If you are going to opt for a rear-drive, another important thing to remember is the pedals can extend a foot behind the mainframe. Also, allow for 20″ either side of the machine.
And let's not forget the height. This is particularly important for those of you who might be thinking' of keeping the elliptical in the basement. Check the elliptical max pedal height plus your hight-the the combined height of both will be the maximum height of the chosen elliptical. The last thing you want is to be banging your head!
Above are the most important features you should consider when first buying an elliptical. Of course, there are bonus features such as wifi, fun workouts app, workout programs, HD screens, wireless heart rate monitoring, etc. just remember the more bonus features you choose, the higher the price of the elliptical.
To Sum Up
All three of the NordicTrack Ellipitcal are perfect for home use; none are oversized, all take advantage of smooth whisper quiet magnetic resistance system. All include power inclines, a good selection of workout programs, and all are iFit ready. And one year free iFit subscription if you purchase from their site here.
The NordicTrack C 9.5 is the most impressive of the bunch with its HD 7″ screen tons of workout programs and the impressive power adjustable 20″ stride length with the 0-20 degree power incline. This elliptical beats everything else out there when it comes to features including Schwinn's offing in this price bracket.
But if like me, you can use your own tablet and don't mind missing out on a few built-in workouts programs, I'd highly recommend considering the NordicTrack C 7.5 elliptical or E 7.5. This thing boasts the same build quality comes equipped with all the essential features, including the power-adjustable incline and you'll save yourself a couple of hundred bucks!