When paying entry-level prices for a standing elliptical machine, we need to be especially careful! There's a lot of junk out there in this price category, so choosing wisely is vital.
Thankfully the Exerpeutic 1000XL elliptical machine doesn't fall into the 'junk' category the 1000XL offers you a lot of bang for your buck and reassuringly is built by one of the most reputable companies in the home fitness industry.
Solid Build – Reasonable Price
If you have been looking for an affordable elliptical machine that works both your upper and lower body, the 1000XL could be for you.
It's one of the most capable machines in the under $200 price bracket. Boasting eight levels of smooth magnetic resistance, a heavy-duty quality build, and a 3yr warranty.
In this review were take a close look at the Exerpeutic 1000XL heavy-duty elliptical machine with pulse. We also compare the Exerpeutic with two other similar priced ellipticals, by the end of the review you should have a pretty good idea if the 1000XL is the right choice for your fitness needs.
First, a quick look at the product specs.
Product dimensions –  54 x 23 x 63 inches
Resistance Type – Magnetic
Frame – Heavy duty steel tubing
Why Do We Like The Exerpeutic 1000XL Elliptical Machine?
To find a cardio machine that can work both your upper and lower body for under $200 is a great deal. There's only a couple of cardio machines out there that can offer you a full-body workout. The first is elliptical, and the second is a rowing machine.
Getting hold of a decent rowing machine in this price bracket is nearly impossible, I've reviewed over 20 of the things and researched 100's, and if you wanted a rowing machine with similar quality build to the Exerputic elliptical you'd be looking at paying $300+
However, most Ellipticals in this price bracket do suffer from a poor quality build and weak resistance. Luckily there's a handful of well-built machines out there, and the 1000XL is one such machine.
Exerpeutic is well known for building quality home gym gear at prices most can afford, and after reviewing a ton of their equipment they have never failed to impress me, the Exerpeutic 1000XL is no exception. A sturdy elliptical weighing 88lb! That's an impressive weight for a budget elliptical.
The heavier, the better when it comes to ellipticals, not only does weight help with stability, it also provides us with an excellent clue to the overall quality of the materials used in the build. For build quality, Experpeutic gets a thumbs up for their 1000XL.
Stride Length
One important feature to consider when choosing an elliptical is stride length. Stride length is the measurement from the toe of the front pedal to the heel of the rear pedal while the pedals are at their widest stride.
The stride measurement is vital as it determines how naturally you will be able to stride. The stride length of the Exerpeutic elliptical is short at 13″ not only does this limit the max user height for the machine; it also limits the intensity of exercise you can perform on the elliptical.
A 13″ stride length will not allow for any serious running on the machine for that you will need a longer stride length; also, users over six feet will struggle even at a slow pace achieving a full stride.
So for taller users and people looking for high-intensity workouts, you may need to look for a more serious machine with a longer stride length. 18″ – 22″ stride length is recommended for fast-paced running and people over 6.'
For light to medium cardio workouts and users under 6,' the Exerpeutic should do the job well.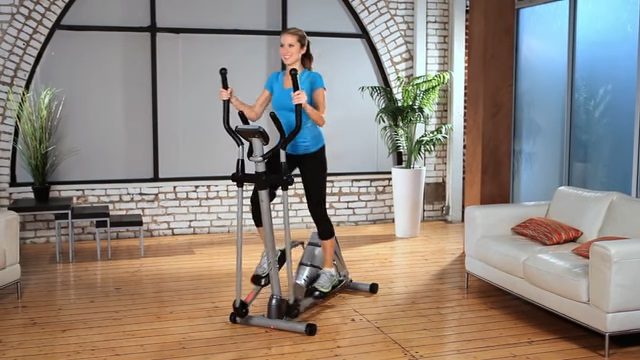 Magnetic Resistance
Magnetic resistance is undoubtedly a powerful selling feature of the Exerpeutic elliptical. Why? Because magnetic resistance is whisper quiet in motion
Magnetic resisrance does away with the noisy fan used in air resistance ellipticals and allows you to watch TV or listen to music without being disturbed by the sound of the machine.
And because magnetic resistance is constant i.e., it doesn't matter how fast you walk or run; the resistance stays the same strength unless you manually change it. You can even walk at a slow pace in a high resistance setting, something that is impossible with air resistance.
The Exerpeutic comes with eight levels of magnetic resistance, there is enough scope in resistance levels to suit most beginners and intermediate users.
Users have praised the smooth motion, and strength of resistance, which is surprising and great to hear, especially in the budget range!
Control Console/Monitor
The Exerpeutic elliptical features an easy to read large LCD, it is quite basic as you would expect in this price category, but it does track all the useful stats such as distance, calories burned, time elapsed, heart rate and speed.
You can not select resistance levels from the monitor; the resistance levels can only be selected via a knob under the monitor.
It was nice to see this elliptical does monitor your pulse rate, although not as accurate as using a heart rate chest strap the built-in handlebar pulse sensors will let you monitor your heart rate with some accuracy.
N.B There is a Bluetooth option for the 1000XL, which allows you to download your workouts data and access your favorite fitness apps.
Excellent build quality for price
8 levels of smooth, quiet magnetic resistance
Dual action workout (lower & upper body)
Low impact workout with minimum stress on joints
Built-in-handle bar pulse sensors
Dual direction flywheel for frontwards and backwards capability
Short stride length of 13″
Sunny SF-E905 Elliptical Machine
Sunny Health and Fitness are another company that shines when it comes to building affordable home cardio machines. And just like the Exerputic, the Sunny SF-E905 is another entry-level magnetic elliptical that provides a safe and low impact upper and lower body workout.
The Sunny doesn't boast quite the same heavy-duty build quality of the Exerpeutic, but it does boast a small footprint, which will make it appealing to many people who's exercise space is limited.
Again just like the Exerpeutic, the stride length is 13," which, as we mentioned above, is suitable for light workouts and people under 6ft.
Priced similarly to the Exerpeutic at just under $200, it's an affordable choice. And with eight levels of smooth magnetic resistance, it has also proved to be a popular choice for people who are after a quiet machine to exercises on.
The small footprint and low price are what sells this machine to many. Still, considering it has a lower weight capacity of 225lb compared to the Exerpeutic, and is 20lb lighter, it doesn't quite trump the Exerpeutic in this price category.
It's still one of the top 3 machines in this price range, and it's built by a company you can trust and one with a ton of experience in this popular niche. If you are tight on space, then this would be the best choice for a low impact elliptical under $200.
To Sum Up
If your budget is limited, the Exerpeutic 1000XL Elliptical Machine is one of the best performing cross-trainers within the under $200 price bracket. It is solid, sturdy, and features a pulse monitoring system to keep an eye on your heart rate while you are exercising.
Although the Exerpeutic is not close to gym level, it is a great starting point for anyone looking for a basic elliptical machine for low impact cardio workouts.
If you can live with a 13″ stride length, you won't find much better out there for the price than this capable Elliptical. Bang for your buck this one's a winner!