Sunny Health & Fitness has been around for a few decades. These are the guys who specialize in building high-quality cardio gear at affordable prices.
The Sunny Health SF-E320002 elliptical is one of their mid-range ellipticals; it's packed with useful features such as a whisper-quiet magnetic resistance system, 24 workout programs, a large easy to read display monitor, and pulse sensors to monitor your heart rate.
Solid Well-Built Elliptical
We cant expect commercial-grade quality in this price range, but with a solid 85lb build, it's not going to feel cheap either. The only thing holding this machine back is its stride length which I'll talk about later. First, a quick look at the product specs!
Product dimensions –  49.4L x 23.4W x 63.4H in
Resistance type – magnetic
Why Do We Like the Sunny Health SF-E320002 Elliptical?
It wasn't so long ago that all our home gym cardio gear used air to create resistance, and while there's nothing wrong with air resistance, it can be noisy. Not only does a nosey cardio machine disturb your workout, but it can also disturb others around, which isn't ideal for a home workout.
We need an almost silent machine that allows you to watch TV while you exercise and doesn't disturb other household members with the sound of your workouts.
Thankfully the Sunny Health SF-E320002 supports a magnetic resistance system. It's whisper-quiet, and it's the best feature of this entry-level elliptical.
Magnetic resistance is maintenance-free, easy to use, and, most importantly, hardly makes a sound when in motion.
The Sunny Health & Fitness elliptical trainer offers you 16 magnetic resistance levels, which is more than enough to suit most fitness levels from beginner to intermediate. You shouldn't have any trouble finding a resistance strength to suit your needs.
Another benefit of magnetic resistance is being able to walk or jog at a slow pace but on a high resistance level, something that's impossible with air resistance, beneficial for those looking to strengthen and tone your butt and leg muscles.
Sunny does offer you a choice of flywheel weight with the SF-E320002 11lb, 15lb, and 18lb. Is the flywheel weight important? Only to a point, a heavier flywheel will ensure a smoother motion, and in the upper resistance levels, you will feel the difference as resistance is stronger with a heavier flywheel but not by much.
If you after an elliptical machine for weight loss, muscle toning, etc., and only plan to use the machine a few times a week, the 11lb flywheel should be just fine for your needs. There's no need to spend the extra $100s on a heavier flywheel.
11.5″ Stride Length – Not suitable For Taller User
One of the most important features you should consider before buying any elliptic is its stride length.  Stride length is the measurement between the toe of the front pedal to the heel of the rear pedal. This measurement is so important as it will determine how naturally you will be able to stride.
The stride length of the Sunny SF-E320002 elliptical is disappointing at just 11.5″.
Short stride lengths are a common problem with lower-priced ellipticals, limiting their appeal, especially for taller users. Anyone over 5'6″ is going to struggle walking or running at pace on this machine.
While it's a great budget elliptical for shorter users, anyone over 5'6 should avoid the Sunny and choose a machine with at least 14-20″ stride.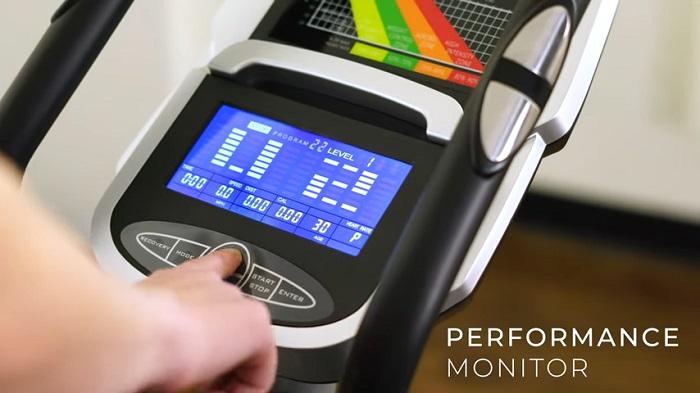 Easy To Use Monitor – Full of Features
I really like the monitor of the Sunny SF-E320002 elliptical its nice and easy to use with clearly labeled buttons and a good-sized backlit screen that tracks all your workout data.
What's most impressive is that it includes 24 workout programs. Three times as many as the similarly priced Schwinn A40
Workout programs are excellent for keeping away the monotony of long cardio sessions. They keep you challenged and help you reach your goals faster.
The monitor also includes 16 levels of magnetic resistance that can be selected by a push of a button.
16 levels of resistance is around what I'd expect to find at this price point.  And suitable for most fitness levels.
Overall an impressive monitor okay, there's no HD screen, and I wouldn't expect there to be for the price. However, we still get a decent monitor that includes all you need for your elliptic workout,s and what's nice is that the monitor isn't over complicated. You can just jump on the machine and get going.
Full Monitor functions:
 

Speed, RPM, Time, Distance, Odometer, Calories, WATT, Heart Rate, Target Heart Rate, Program, and Resistance Level.
Build Quality
Most cardio gear from Sunny Health and Fitness is good quality. I've reviewed a ton of their stuff, and one thing most users are happy with is the build quality for the price point. Dont go expecting commercial quality, but for home use, it's easily good enough.
And at 85lb, this machine is a decent weight. The majority of budget ellipticals weigh around 65lb. The extra 20lb of the weight of the Sunny is going to give the Sunny that extra feel of quality when exercising on the machine its not going to feel cheap and unstable like many ellipticals in this price range.
As well as being a stable machine, the extra weight is also a telling sign this elliptical is made from quality materials.
Haevy is always better for cardio equipment. It will help keep the machine stable and prevent any lateral movement or wobble when you're on the machine.
Sturdy frame – suppoorts up to 285lb
16 magnetic resistance levels (whisper-quiet operation)
2 sets of handlebars – one fixed with pulse sensors and a set of mobile handlebars for a full-body workout
Large pedals with a non-slip center and side/front guards for improved foot stability
Tablet and bottle holder included
Small 11.5″ stride length
A few users had issues with the company shipping the wrong parts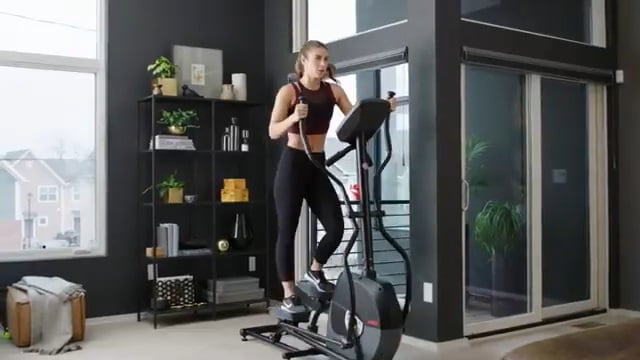 Schwinn A40 Elliptical
Schwinn has a long history that goes back more than a century. For the past 50 years, they have been building cardio gear for our homes. There's no other company out there with as much experience as Schwinn when it comes to home cardio equipment. The A40 is their lowest-priced elliptical.
For a long time, the A40 was my favorite budget elliptical. It features 7 workout programs, 8 levels of magnetic resistance, and it boasts the Schwinn badge so we can be sure of a quality product.
Still, the A40 has been around for many years, and it seems its competition has started to catch up, especially when we compare it to the Sunny Elliptical, which trebles the number of workout programs and doubles the number of resistance levels plus we need to remember the Schwinn is $100 more than the Sunny.
However, the Schwinn A40 trumps the Sunny when it comes to the all-important stride length. A 17.5″ stride length ensures the Schwinn has a much wider appeal and is suitable for users up to 6ft.
Even though the Schwinn has been around a long time, there aren't many ellipticals that can match it on build quality and stride length for the price point.
Yes, the Schwinn sadly lacks when it comes to workout programs, but it shines when it comes to the essential stuff like build quality and stride length. If you need an elliptical with a longer stride length, the Schwinn is still worth some serious consideration.
To Sum Up
Elliptical are one of the only cardio machines that offer a full-body workout. Reaping the health benefits of elliptical workouts in our homes is great news and not having to pay thousands of fo dollars for the privilege is even better.
The Sunny Health Elliptical lets you take advantage of elliptical workouts at a price most can afford. It has more than enough resistance strength for some serious calorie burn and enough workout program to keep you coming back for more.
It's quiet in use thanks to its maintenance-free magnetic resistance system and is heavy enough not to wobble while you workout.
If you're 5'6″ or under the Sunny Health SF-E320002 shouldn't disappoint.