When I think of Marcy, I think of low cost and quality. I've reviewed their weight benches, Olympic benches, and bikes, and everything they produce is low-cost, but it's better than what most companies can make for the same price. The Marcy Elliptical sits in the same boat as the rest of their gear; it's designed for beginners, it's failry well made, and it's cheap.
Good Choice For Beginners Under 5'8″.
An elliptical like the Marcy has all the features you'll need to get going with low-impact workouts at home. It's a great choice for beginners who don't want to spend or need to spend a ton of cash on their first elliptical. Still, you need to be careful, cheap ellipticals like this have short stride lengths, so if you're over 5'8″, this elliptical isn't for you.
Yeah, there are always drawbacks when going low cost, and the main drawback with budget ellipticals is usually the stride length.
There are other drawbacks that I'll get into later, but it's not all bad; the pros do outweigh the cons with the Marcy NS-40501E Elliptical just don't expect too much when spending under $300 on an elliptical.
In today's review, we'll look at everything the Marcy elliptical trainer offers, including those drawbacks. At the end of the review, I'll compare the Marcy with a similar priced best selling elliptical, the Fitness Reality E5500XL as it will be interesting to see how they match up.
First, a quick look at the Marcy Elliptical product specs!
Product dimensions – 63 x 28 x 69 inches
Resistance Type – Magnetic
Pre-programmed workouts – No
Why Do We Like The Marcy Elliptical Trainer?
The price is what you have to love most about the Marcy Elliptical Trainer. You basically get a full-body workout at home for under $300. You don't have to spend money on a gym membership; you can train at home in peace without the hassle of driving to a gym.
And because it's Marcy, you're not going to end up with a piece of junk, yes, it's not gym quality, but it's not going break down in 6 months like so many budget ellipticals made by companies you've never heard of.
Marcy has been around for decades, so at least when going low cost, you have an elliptical made by a company with a ton of experience in low-cost cardio gear.
Easy To Use
Something else I know many people are going to like about this elliptical is how easy it is to use. There's nothing complicated about it. You can just jump on it and get going; this, for me, is the Marcy elliptical's main selling point. You don't have to spend half an hour trying to figure out the monitor, there are no subscription apps to deal with, and best of all, you can use it without a power supply.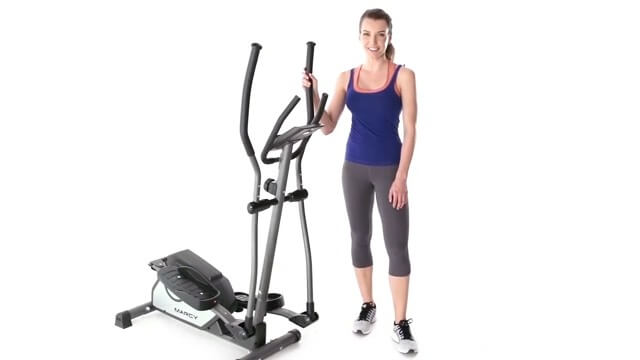 Let's Talk About The Marcy Elliptical Stride Length
The stride length of an elliptical is one of the most important features you need to consider when choosing your elliptical, as it determines who can use it and how comfortable you'll feel.
Most high-end ellipticals use 20″ strides, a 20″ stride is suitable for user heights between 5'1″ and 6'5″, so it suits most people's size, and this is why a 20″ stride is used on nearly all commercial gym machines and high-end ellipticals for home.
When you start to pay less for an elliptical, the stride length will always be shorter, and when you spend under $500, the stride length really starts to suffer.
The stride length of the Marcy Elliptical is just 12″, which means the max user height for this elliptical is just 5'8″, yes, taller people could use the Marcy elliptical, but it will restrict your stride. It won't feel natural and can cause joint problems.
To get the most out of this elliptical and keep your stride natural and unrestricted, you need to be 5'8″ or under.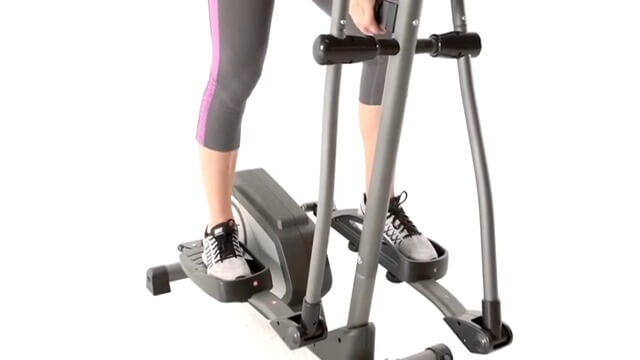 There's No Way of Telling The Flywheel Weight
Unless we take the flywheel housing apart and weigh the flywheel, there's no way to find out the weight of the flywheel as it's not stated anywhere.
And it's not worth the effort to contact Marcy as this isn't a high-end machine, so the flywheel weight isn't so important. Most ellipticals in this price bracket use 6lb flywheels.
The smoothness of your elliptical motion depends mainly on the weight of the flywheel; heavy flywheels produce a smooth, uninterrupted elliptical motion. Cheap ellipticals won't feel like high-end machines because of their light flywheels, and with 6lb or 4lb flywheels, the elliptical motion can feel a little jerky sometimes, but this is something to expect in this price range.
I've been reviewing ellipticals for years and never found a budget elliptical with a heavy flywheel.
Rear Drive Elliptical – More Stable Than Front Drive
Still, at least this is a rear-drive elliptical, rear drive ellipticals are more stable than front-drive machines; they're slightly longer, so they have a flatter elliptical movement, and the step-on height is lower, which gives the elliptical a lower center of gravity.
However, you haven't got much weight here. The Marcy Elliptical weighs just 73lb. Lightweight ellipticals will always feel a little unstable; you haven't got the weight to keep them planted to the floor. Getting hold of a cheap floor mat will help to prevent wanted movement.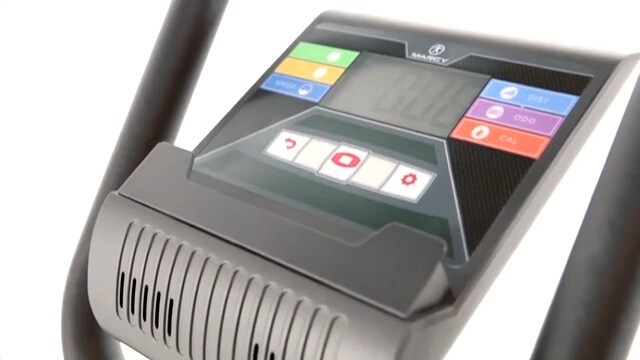 Basic but Easy To Use Monitor
Monitors don't come much more basic than this. It tracks just the essentials, such as distance, calories, and time. On the positive side, it's super easy to use, there are no annoying menus to scroll through, and everything can be accessed with a single touch of a button.
And it runs on a couple of small batteries, so doesn't need a power supply.
Still, with monitors this basic, you do miss out on important features like heart rate monitoring, and there are no workout programs to keep you challenged. However, there is a tablet holder, which means you can download a few free fitness apps, or you can watch Netflix while working out. You need something to keep away the monotony of long cardio sessions!
And because this elliptical is very quiet, you won't be disturbed by the sound of the elliptical.
8 Levels of Magnetic Resistance
Magnetic resistance is what you want for your elliptical. It's the best type of resistance for any home cardio machine.
The reason why magnetic resistance works so well with ellipticals is that it provides a smooth resistance, which in turn keeps the elliptical motion smooth. Also because it's a frictionless resistance system its quiet which is what you what for a home elliptical, especially if you haven't got a spare room to house the elliptical.
And best of all, there's literally no wear and tear with magnetic resistance because it is frictionless. 
The Marcy elliptical boasts eight levels of magnetic resistance. Level 1 is the weakest, and eight is the strongest. You select resistance manually using the tension knob situated just under the monitor.
Remember, this is an elliptical for beginners, so even on level 8, the resistance strength isn't that strong, it's enough for burning calories and increasing overall fitness levels, but it's not strong for serious athletes in training.
Two Sets of Handle Bars
You'll notice the elliptical comes with two sets of handlebars. One is static, and one set moves. The moving pair will give you a full-body workout when used with the pdeals. The other pair of handles, the static pair, are great for first time users. The fixed handles allow you to concentrate on your lower body and get used to the elliptical motion, and after a couple of days, you can move up to using the moving pair for a full-body workout.
Even when you've got used to the elliptical, the static handles can come in handy, especially if you want to give the lower body a workout on its own. Hold on to the static handles and select a high resistance level. This will give the glutes and quads a really good workout.
Marcy Elliptical Assembly Video
Ellipticals are slightly more challenging to assemble than treadmills or exercise bikes, so I'd give yourself a couple of hours to assemble the Marcy elliptical. This isn't a heavy elliptical, which means most people should be able to do this without needing anyone else to give them a hand.
The complicated stuff, like the base, frame, drive and resistance systems, already come pre-assembled.
You'll need to attach the stabalizer bars, the pedal bars, the pedals, the console mast, the moving arms, the stationary handlebars, and the monitor. A detailed manual with full instructions and the tools for the job are provided. 
For maintenance: You'll need to keep the joints lubricated as this will prevent any of those annoying squeaks you always get with ellipticals, and make sure to check for loose bolts and screws every month or so. 
Good quality for price point
Easy to use fuss-free design
Fairly small footprint makes it easy to store
Fixed and moving handlebars
8 levels of magnetic resistance
Quiet in operation, you can watch TV or Listen to music without being disturbed by the sound of the machine
Built in transport wheels and tablet holder
Short stride length – only suitable for users up to 5'8″
No way to monitor heart rate
Fitness Reality E5500XL Elliptical
Fitness Reality are another company well known for making quality low-cost gear. Like Marcy, they've been around a long time and are one of the only companies I trust to deliver something durable in this price bracket.
The Fitness Reality E5500XL costs $100 more than the Marcy, but I think it's worth it when you consider how much more it offers you. You get an 18″ stride length with the Fitness Reality elliptical, which is almost unheard of for an elliptical costing well under $400. It means users up to 6'1″ can use the E5500XL elliptical without feeling restricted.
Also, you get a better monitor with the Fitness Reality machine, okay, it's nothing advanced, but it does boast 21 workout program's and a whopping 25 resistance levels, which is excellent for this price point.
There's no heavy flywheel with the Fitness Reality elliptical, but you do get two lightweight flywheels. Two flywheels will give you extra balance, thus smoother elliptical motion, it's not as good as a single heavy flywheel, but at this price point, it's about as good as it gets and much better than the single lightweight flywheel.
Overall the Fitness Reality Elliptical offers a lot. An impressive stride length, a ton of workout programs and resistance levels, and it's affordable. It's still an elliptical for beginners but it has a few extra features that make it a great alternative to the Marcy, especially if you're over 5'8″.
To Sum Up
I couldn't find too much to fault with the Marcy Elliptical Trainer because, for the price point, there really isn't much else out there that can better it. The build quality is decent, but it's not a high-end machine, and it's best not to expect anything of high quality. What you have here is a well-made elliptical for beginners. It's an elliptical without all the bells and whistles that will get the job done without breaking down, and that is basically what you can always expect from Marcy.