Ellipticals are one of the only machines you will find for home use that can offer a full-body workout. They'll tone and strengthen muscles in your upper and lower body while increasing your cardio fitness at the same time.
And best of all, they're low impact, protecting the joints in your hips, knees, and ankles.
Still, buying one for your home can be a headache, especially in the under $500 price bracket, as the quality on offer can differ hugely from one elliptical to the next. This is why it's always best to go with a trusted company that has decades of experience.
Exerpeutic 4322 – Solid – Well-Built Elliptical
Exerpeutic has been around for years. I've reviewed a ton of their cardio gear, and they never fail to impress. Their cardio machines consistently receive 4-5 star ratings, and the recently released Exerpeutic 4322 is no exception.
The 4322 is a well-priced elliptical that boasts a whisper-quiet magnetic resistance system, a solid build, and more workout programs than most ellipticals in the under 500 price range.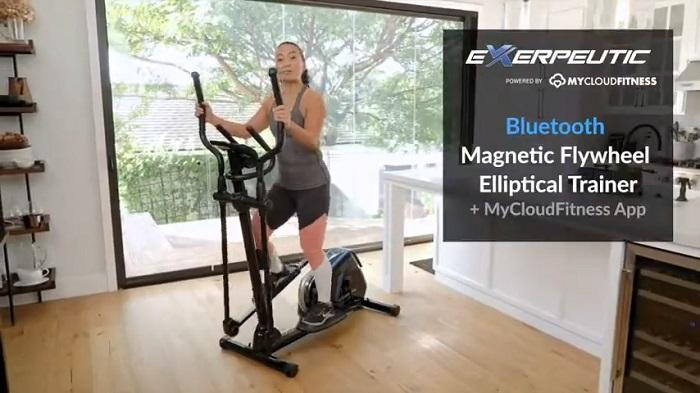 Today I'm going to take a close look at everything the Exerpeutic 4322 Elliptical trainer has to offer, including its drawbacks. At the end of the review, I'll compare it with its closes rival in this price bracket, the Sunny Health SF-E320002 ellipticals.
But first, a quick look at the 4322 product specs!
Product dimensions – 53L x 25W x 63H inches (135L x 63.5W x 160H cm)
Resistance system – magnetic
Why Do We Like The Exerpeutic 4322 Elliptical Trainer?
My favorite feature of this elliptical has to be its resistance system. You only have to go back a decade, and nearly all our cardio equipment used air to create resistance, and while there's nothing wrong with air resistance, it is noisy, so not ideal for home use.
Fast forward a few years, and now we can take advantage of magnetic resistance, which is what we find on the Exerpeutic elliptical.
Magnetic is a resistance system that's whisper-quiet when in motion you won't disturb yourself or others with the sound of your workouts. You can watch TV and listen to music, and the sound of the machine will not bother you.
The Exerputic 4322 also benefits from a belt drive system that is almost silent in use much quieter than the old chain drives. Plus, belt drive systems have the bonus of being maintenance-free.
Another advantage of owning a magnetic resistance elliptical is that you can walk or jog at a slow pace but on a high resistance level, something that was impossible with air resistance. Great for those of you that want to strengthen and tone the muscle in your legs and butt.
Stride Length – 13″ Too Short?
One of the most important features you must consider before buying an elliptical is the stride length.
What's the stride length? Stride length is the measurement between the toe of the front pedal to the heel of the rear pedal. This measurement is so important as it will determine how naturally you will be able to stride.
The Exerpeutic stride length is just 13″, which is on the short side but to be expected in this price bracket. Nearly all entry-level ellipticals suffer from a short stride length. It's only a deal killer if you're over 5'9″ anyone over this height will have issues walking or running at pace on this machine.
Taller users may be ok with a stride this length if using the machine for gentle workouts that require shorter strides.
The short stride length is the only real drawback of this machine; everything else about the 4322 is impressive for the price point. Still, if you're under 5'9″, you have nothing to worry about.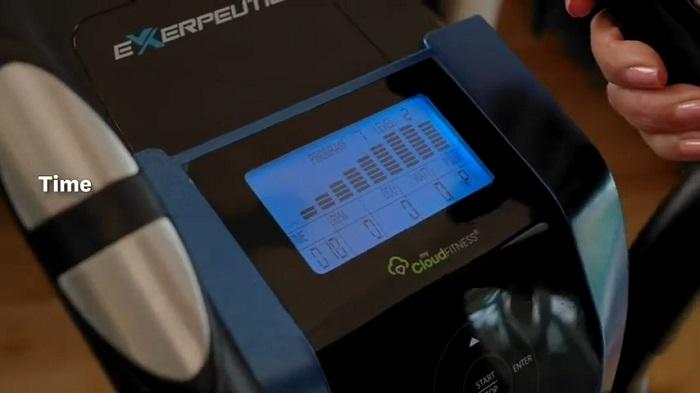 Easy To Use Monitor/Control Console
One of the more advanced monitors I've come across in this price bracket, and it's nice to see that it features BlueTooth and gives you access to the free version of the MyCloudFitness app, which lets you download all your workout stats.
But I think what's most impressive about this monitor is the number of workout programs and resistance levels it includes.
We have 24 workout programs, 3 times more than the popular and more expensive Schwinn A40 elliptical and 16 levels of resistance which is more than enough for most fitness levels. You shouldn't have any trouble finding a resistance strength to suit your workout.
Also, we have the Pulse sensors built into the fixed handlebars for monitoring your Target Heart Rate Zone with the ability to track on the APP. Plus, all the usual stuff such as speed, RPM, distance, calories burned, and watts can be tracked and viewed on the LCD.
You can control your resistance strength and choose workout programs from the monitor.
The monitor also includes a device holder for a tablet or phone.
Duel – Handlebars
Most decent ellipticals, including the Exerputic 4322, come with two sets of handlebars, one set of fixed handlebars, and one set of moving handlebars. The fixed set of handlebars are excellent for beginners as they allow for support and let you get used to the elliptical motion.
The moving set of handlebars work your upper body while on the elliptical, allowing for a full-body workout.
However, you can not monitor your pulse rate when using the moving set of handlebars as the pulse sensors are built into the fixed set of handlebars, which is a disappointment.
Build Quality – Heavy Machine
We cant expect gym quality in this price bracket. Still, Exerpeutic are known for building high-quality gear even in the low-cost ranges. And the 4322 is no exception; it's heavy at 95lb, which is a good thing! Because not only is the extra weight a telling sign this machine is made from quality materials, it will also help keep the machine stable during your workout sessions.
You may be thinking 95lb sounds heavy, especially when it comes to moving the machine. There's no need to worry as the Exerpeutic elliptical has integrated transport wheels just tilt and roll to move.
Impressive monitor for the price point that includes 24 workout programs, 16 levels of magnetic resistance and BlueTooth
Fixed and moving handlebars
Adjustable stabilizers on the rear base
Quiet machine can watch TV while exercising
Trnbaspoirt wheels – just tilt and roll to move
Can only monitor pulse when using the fixed set of handlebars
Sunny Health & Fitness SF-E320002 Elliptical
I've always liked Suuny Health and Fitness as these guys try their best to provide you with a quality piece of cardio equipment at the lowest price possible, and most of the time, their cardio gear is better than anyone else's for the price.
The Sunny SF-E320002 is Exerputic's closest rival in this price bracket. Both machines feature the same amount of workout programs, both have the same amount of resistance levels, and both machines weigh around the same.
It's hard to separate the two machines; they are that similar in features.
However much I like the Sunny, it does, just like the Exerpoutic, suffer from a short stride length even shorter than the Exerpeutics at just 11.5″, which gives this machine a height limit of just 5'7″ for fast-paced workouts. Plus, there is no BlueTooth or fitness app included.
Still, if you're  5'7″ or under, this is another excellent machine for the price with a stable build and plenty of workout options. Costing slightly less than the Exerpeutic, it is worthy of some serious consideration.
To Sum Up
As I mentioned earlier, you can't expect too much from an entry-level elliptical you won't find any with HD screens and power inclines.
They're fairly basic machines designed for beginners and intermediates. The Exerpeutic is one of the best out there as it boasts a nice heavy build, so you will feel stable when you're exercising. It's not going to feel cheap like so many of the ellipticals in this price bracket.
The Exerpeutic also comes with one of the most impressive monitors I've seen in the entry-level range, with more than enough workout options to help you reach your fitness goals.
Bang for buck you won't find much better than the recently released Exerpeutic 4322 Elliptical Trainer certainly one of my favorites for under $500