There is no doubt that elliptical machines are one of the best tools that anyone can use to perform a great workout.
However, the market for ellipticals is flooded, and it can be tricky, especially for first-time buyers, to sort the good from the bad.
This is why it has become increasingly important to buy from a brand with a lot of history behind them. So if you love cross-training and are in the market for a good quality affordable elliptical machine, the ProForm 250i is one of the best options for you.
ProForm is a genuine company and has been in the business for a long time.
Even tho ProForm provides quality products,  some of you may still have questions such as, what's so good about the ProForm Elliptical? And why should I choose it?
If you have these kinds of questions, then our ProForm 250i Elliptical review guide will provide you with all the essential information you need.
Product dimensions –  50 x 26 x 18 inches 
Resistance Type – Magnetic
Frame – Heavy duty steel tubing
Overview
The ProForm 250i Elliptical is one of the most popular ellipticals on the market, and it is perfect for people who have just started their cross-training journey.
This elliptical comes with iFit compatibility, and you will also get other excellent features such as 14 preset programs, 14 resistance levels, inertia-enhanced flywheel, and many more.
It is specially designed for beginners who are searching for a budget-friendly elliptical. It features a large LCD that shows all the exercise values, and the front-drive system makes it perfect for small rooms. To increase mobility, transport wheels are integrated into the front stabilizing feet, just tilt and roll to store.
Apart from this, it also has other essential features, such as a water bottle holder, iPod compatibility, and a workout fan. The ProForm Elliptical 250i boasts a 5-year frame warranty along with 90-day parts and labor warranty.
Why Do We Like The ProForm 250i Elliptical?
Well, the main thing that sets this elliptical apart from others is its price. The ProForm elliptical trainer is very affordable and you will benefit from some impressive features. It comes with a compact look, which is specially designed for people who are tight on space.
Though if you are a hardcore trainer, then it is not the best option for you. But a beginner can use its resistance levels and perform an intense cardio workout.
 Another great thing that we like about this elliptical is that it comes with Silent Magnet Resistance Technology, which provides very smooth and quiet adjustments.
This elliptical also features a strong frame and although the build quality is way off commercial grade it's still good enough for home workouts. 
Stride Length
Stride Length is one of the most important features of an elliptical, and its something we should consider before choosing any elliptical for our home workouts. The ProForm 250i comes with a 17-inch stride.
The stride is not adjustable, which means taller people might face problems working out on this elliptical.
If you are over 6ft, then this elliptical is not the perfect option for you. Though if you want an elliptical just for walking, then you can go with it. But for intense workouts that require a larger stride taller users over 6ft should choose an elliptical that has at least an 18-inch stride
14 Levels of Magnetic Resistance
This elliptical comes with 14 levels of magnetic resistance, which can give be used for light, medium, and intense calorie-burning workouts. In the past few years, magnetic cardio equipment has gained a lot of popularity, and all credit goes to their silent motion.
This ProForm Elliptical creates minimal sound while working out; you can even enjoy your Netflix and music without any disturbance. As compared to the air machines, these kinds of magnetic resistant machines are much more efficient and provide better control.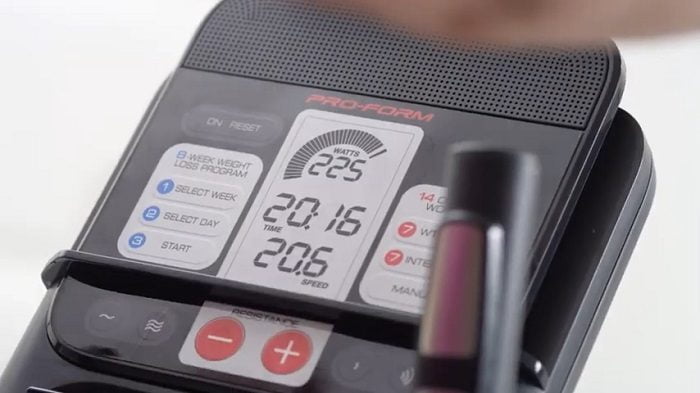 Monitor/Control Console
ProForm 250i features a very basic monitor console but that doesn't mean you won't get functionality. It is very simple to use which makes it perfect for everyone.
The display is large, so you can easily see all the details but it doesn't show all the values at once. You can track different values such as distance, watt, speed, calories, resistance level, average heart rate, and the total strides.
2 Sets of Handle Bars
However, this is not a unique feature and most elliptical come with this but still, it is very helpful in providing stability. This Elliptical comes with 2 sets of handlebars, one provides complete movement and the other one is fixed, which helps the beginners in getting familiar to elliptical motion.
High quality – stable build
14 levels of smooth magnetic resistance
Comes with Bluetooth and iFit compatibility
Built-in cooler fan and speaker
The console doesn't have user profile to record the daily workout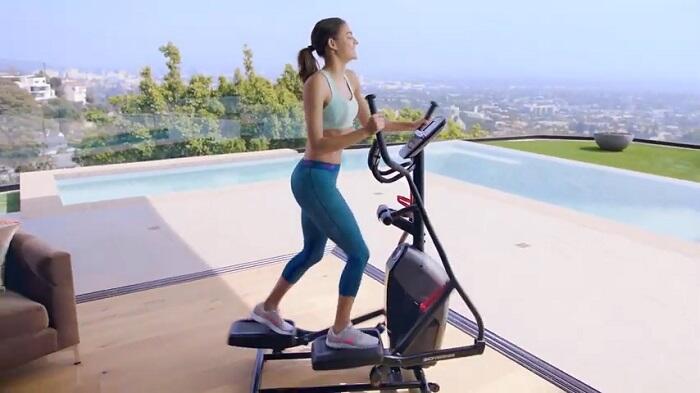 Schwinn 411 Elliptical Trainer
Schwinn 411 Elliptical Trainer is one of the best alternatives to the ProForm 250i. With this elliptical, you get a lot of advanced features at a very budget-friendly cost. It comes with an 18-inch stride that is perfect for taller people and you will also get a 10-year frame warranty. It has 16 levels of resistance that enables you to do an intense workout.
It comes with all the basic features such as the water bottle holder, 2 sets of handlebars, transport wheels, Bluetooth tracking, etc. This Schwinn 411 Elliptical trainer is a great option for people who want a compact elliptical at a reasonable cost. Schwinn is a reputable company and has been serving people for decades. So if you go with the Schwinn 411 Elliptical trainer, then it is guaranteed that you will get a high quality product.
You can read our full review of the Schwinn 411 elliptical trainer HERE
To Sum Up
As you know the market is rising and many new elliptical trainers are coming onto the market, but still ProForm 250i Elliptical is one of the best value elliptical trainers you'll come across. You will get all the features that are required to get a full-body low impact workout.
The only issue is that the ProForm 250i Elliptical lacks the resistance strength for the more serious of users. So if you are someone who loves doing intense workouts, then you can opt for the Schwinn 411 Elliptical trainer. It is also a budget-friendly elliptical and the best thing is that it comes with an 18-inch stride, which makes it perfect for taller people.