Exterra ellipticals all seem to have one thing in common? They are fuss-free ellipticals, and by that, I mean there are no fancy HD screens or built-in fitness apps. There's not even wireless heart rate monitoring?
What these guys like to focus on is the build. They save money by supplying a fairly basic monitor and instead put that money to better use by delivering an affordable well built elliptical that will last.
So although their ellipticals dont offer much in the way of technology, they do offer you a solid elliptical at a great price.
Whiper Quiet – Compact – 17″ Stride Length
The Exterra FS3.5 Elliptical is their mid-range option. It boasts a whisper-quiet magnetic resistance system, a 300lb max weight capacity, a decent stride length of 17″, and 24 workout programs.
Weighing 120lb is a good weight for a mid-level elliptical the extra weight will help with stability, and it's a telling sign this machine is made from quality materials.
In today's review, I want to take a close look at everything the Exterra FS3.5 has to offer, including its drawbacks. We'll also compare the Xterra FS3.5 with its little brother, the FS1.5 Elliptical. First, a quick look at the Exterra FS3.5 product specs!
Product dimensions – 57.1″ L x 20.5″ W x 63″ H
Resistance Type – Magnetic
Pre-programmed workouts – 12
Why Do We Like The Xterra FS3.5 Elliptical Trainer?
One of the most important features you should consider when choosing an elliptical is its stride length. This measurement is vitally important as it determines how naturally you will be able to stride.
Most ellipticals in this price bracket sadly suffer from a short stride length, limiting their max user height to around 5'7″.  Thankfully, the Exterra offers a surprisingly long stride length of 17″. This allows users up to 6'1″ to active a full-length stride even at pace, which is great news for taller users.
And it's not just the stride length that impressive the Exterra FS3.5 also includes a heavy 15lb flywheel and, when coupled with the almost silent belt drive system, will ensure a smooth elliptical motion, something we all need from an elliptical for home use.
The size of this machine can come in handy too. Front-drive elliptical such as the Exteraa FS3.5 is always slightly shorter than the rear-drive drive machines allowing them to fit into small spaces. However, this machine is particularly compact for an elliptical, which is a good thing if you are tight on space.
24 Levels of Whisper Quiet Magnetic Resistance
Its wasn't long ago that nearly all our home cardio gear used air or friction to create resistance, and while both of these types of resistance system are great for the job and still feature on many commercial gym machines, they're noisy!
Magnetic resistance became popular around ten years ago and now features on most home cardio machines. It's a popular choice because it's almost silent in operation, which means you won't disturb others around with the sound of your workouts. Plus, it's maintenance-free as the magnetics never actually touch the flywheel, so there's no wear and tear like there is with friction resistance.
Another useful feature of magnetic resistance is that it lets you walk slowly on a high resistance setting something impossible with air resistance. Perfect if you want to strengthen and build the muscles in your legs.
The Xterra FS3.5 includes 24 levels of magnetic resistance, more than enough for most fitness levels to find a suitable resistance strength for their workouts.
However, I should mention, this isn't a commercial machine, so the resistance strength will not be strong enough for seasoned athletes, etc., training for events. This type of elliptical is suitable for increasing cardio fitness,  burning belly fat, and strengthing/toning muscles.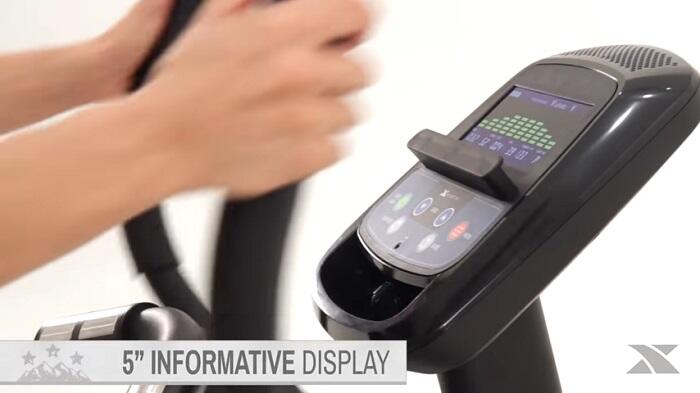 As I mentioned early the monitors of Xterra Ellipticals are nothing to shout home about. They're basic; there's no BlueTooth, no built-in fitness apps, or color HD screens.
Still, it isn't all negative. Basic monitors are nice and easy to use. You won't have to spend hours trying to figure out how to work the thing. You can just jump on the elliptical and get going with your workout.
The FS3.5 monitor does track all your usual workout data, such as speed and distance, calories, and heart rate. We also have 24 workout programs which is a good amount for an affordably priced machine. Plus 24 levels of magnetic resistance, which can be selected via the monitor.
Thankfully the monitor is backlit and a good size at 5″ so you can easily view your workout data while you workout.
Two Set of Handlebars – Full-Body Workout
The Exterra FS3.5 is equipped with 2 sets of handlebars, one fixed and one mobile. The fixed set is great for beginners as they provide support and allow you to get used to the elliptical motion before moving on to the mobile handlebars.
The mobile handlebars provide a full-body workout. However, the only slight issue is that the pulse sensors are built into the fixed set of handlebars, making monitoring your heart rate troublesome when using the mobile set of handlebars.
An Hour For Assembly
Assembly of Xterra ellipticals can be on the tricky side as you do have to put together a lot of the elliptical yourself. Still, most of the heavy stuff comes pore assembled such as the drive train and resistance system.
You'll need to attach the rear base frame with the pedal rails to the front unit, the front bar, the pedals, the upright post, the moving arms, and the console.
Most users completed the build in around an hour, but to be on the safe side I'd recommend you set aside an afternoon for the job. A detailed manual with all the assembly instructions is included as well as the tools for the job.
Magnetic resistance ellipticals are low maintenance, once built there really isn't much you'll need to do. If you do start to hear a few squeaks, just make sure to lubricate the joints with a few drops of lubricant.
Study build – supports 300lb user weight
Impressive 17″ stride length – allows users up to 6'1″ to exercise at pace
16 levels of whisper-quiet magnetic resistance
Low impact – protects knees and joints 
adjustable rear levellers help keep the elliptical stable on uneven floors
Transport wheels – just tilt and roll to move
No BlueTooth to download workouts stats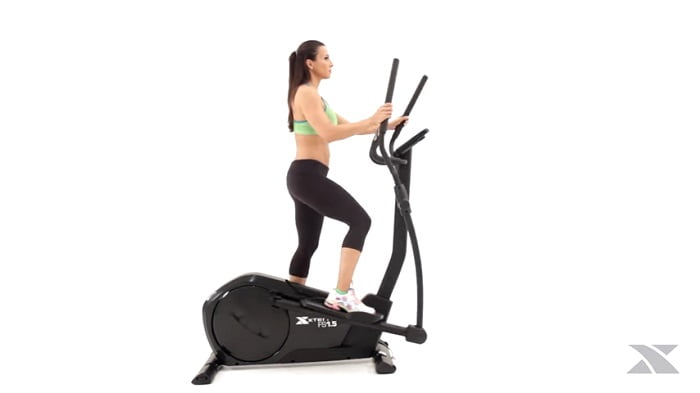 Xterra FS1.5 Elliptical
The Xterra FS1.5 elliptical is the little brother to the FS3.5 and the reason I thought I'd mention it in this review is that it costs around $200 less yet it's very similar to the FS3.5.
Both ellipticals share the same built quality, both weigh around the same and both take advantage of whisper-quiet magnetic resistance systems.
And what I liked about the FS1.5 is that it includes a 14″ stride and 17lb flywheel two impressive features especially when you consider the price.
The monitors of both machines are fairly similar too. Yes the FS.35 has a few more resistance levels and workout programs but nothing I think is worth the extra $200
It seems the only reason you'd want to choose the FS3.5 over the cheaper FS1.5 is the stride length.
Taller users will not be able to achieve a full stride, especially at pace when exercising on the FS1.5. The max height for a 14″ stride is around 5'10" for intense workouts that require larger strides.
Shorter users might want to save themselves a few bucks and consider the FS1.5 elliptical, it is one of the best budget ellipticals I've reviewed this year.
To Sum Up
You can't expect too much when paying under $1000 for an elliptical. As long as we make sure the elliptical has a stride length to suit our height and workout needs and the build quality is high, you should be ok. Thankfully the Exterra FS3.5 Elliptical shines in both departments. A 120lb weight is reassuringly heavy for a mid-level elliptical and tells us this machine isn't cheaply made.
The stride length is impressive at 17," and the flywheel is a good weight which means the elliptical motion will be smooth.
The monitor lacks somewhat in advanced features, but it does track all the essential workout stats and includes a wide selection of pre-programmed workouts. Overall it's another fuss-free, well-built machine from Xterra, perfect for those looking to lose some weight and increase their cardio fitness at home.