The Goeelliptical V-950 is built by a relatively unknown company, these guys haven't been around long, but they do produce a few impressive ellipticals, and V-950x is one of them.
Usually, I wouldn't consider reviewing an elliptical from a company with little to no history. Still, I had to make an exception for the V-950x because this machine is surprisingly good for the price point.
GoElliptical V-950x – Heavy Duty Build – Impressive Stride Length
Boasting a 19″ stride, a heavy-duty build, wireless heart rate monitoring, and a heavy flywheel its looks like Goelliptical has got all the essentials right with this machine.
It's still a long way off commercial grade, but weighing 160lb, this is no lightweight, cheaply built elliptical either.
Today I want to take a close at everything Goelliptical has to offer, including its drawbacks. At the end of the review, I'll compare the GoEllipticalo V-950x with the similarly priced and very popular Schwinn 411.
First, a quick look at the GoElliptical V-950x product specs!
Product dimensions – 63 x 28 x 69 inches
Resistance Type – Magnetic
Pre-programmed workouts – 24
Why Do We Like The GoElliptical V-950X
What stands out about this elliptical is its weight. This machine is heavy for a mid-level elliptical, which is a good thing. The extra weight of this machine is a telling sign it's made from quality materials.
Also, the heavy build will help keep the elliptical planted to the floor. When you're exercising on the V-950x, it's not going to feel unstable and cheap like so many ellipticals in this price bracket. You'll feel like you're exercising on a quality, stable elliptical, and that's exactly what we want from an elliptical for home use.
Another feature of this machine I like is that it uses a fairly heavy (18lb)  high inertia flywheel.
A heavy flywheel normally results in a smooth elliptical motion and when coupled with the belt drive system of this machine, not only is the elliptical motion going to be smooth it's going to be extremely quiet as well, which is great for anyone who doesn't want to disturb others with the sound of their workouts.
24 Levels of Whisper Quiet Magnetic Resistance
The GoElliptical V-950X boasts a surprising amount of resistance levels for the price, with 24 in total. With users praising the strength of resistance in the upper levels.
But what's best about this resistance system is that it's magnetic. Magnetic resistance has been popular for around a decade now, and it's a perfect system for home use as it's whisper-quiet in operation. The magnets never have to touch the flywheel. Thus, no friction is created, and with no friction, there's no sound.
Magnetic resistance, thankfully, is also maintenance-free, so you won't have to change any parts a few months down the line because of wear and tear. Magnetic resistance systems should last years of heavy use.
Another useful benefit of magnetic resistance is that you can walk at a slow pace on a high resistance level, which was impossible with air resistance. This is great for those who want to build and strengthen the muscles in your legs and butt.
19″ Stride Suitable for users Up To 6'1″
One of the most important features you have to look out for when choosing an elliptical is the machine's stride length.  This measurement is vitally important as it determines how naturally you will be able to stride.
For those that don't know, the stride length is the distance between the toe of the front pedal and the heel of the backpedal when at their widest point.
I was surprised to see that the GoElliptical is equipped with a 19″ again impressive for the price bracket, and it's going to allow uses up to 6'1″ to achieve a full-length stride at pace.
People over 6'1″ can still use the machine for light workouts, but they won't be able to run at pace, as high-intensity workouts require a larger stride. If you're over 6'1″ and want to workout at pace on an elliptical, look for a stride length of 22″+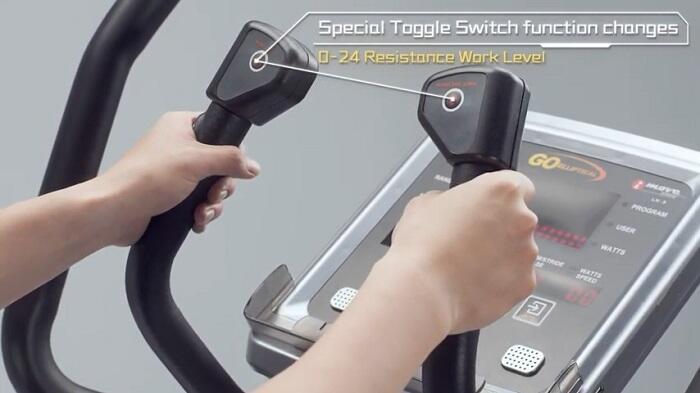 Monitor/Control Console – Includes Wireless Heart Rate Monitoring
The monitor of the GoElliptical isn't advanced. There's no online connectivity, nor are there any built-in fitness apps or an HD screen, and at this price, I wouldn't expect there to be. What we do have is a fairly basic, easy-to-use monitor.
It does hover include wireless heart rate monitoring, which is a much more accurate way to monitor your heart rate than the built-in pulse sensors, and it's perfect for those of you who love to train in your chosen heart rate zone. The only downside is that you have to buy the heart rate chest strap separately. (around $40)
Another great feature of this monitor is that it includes a ton of workout programs, 24 in total. Workout programs are excellent for keeping away the monotony of long cardio sessions. They'll also challenge you and help you reach your cardio goals faster.
And lastly, we have the 24 levels of magnetic resistance, which can be selected via the one-touch buttons of the monitor.
There are also buttons built into the handlebars you can use to change resistance strength. This saves you from having to take your hands off the handlebars in the middle of a workout. It's a handy feature and one usually reserved for high-end ellipticals.
Assembly – Heavy Machine Might Need Two People
This is a large, heavy elliptical; even if you think you can build it yourself, you may need some help to move the heavy box into place for the build.
Most of the machine comes pre-assembled, including the drive and resistance system, but you'll still need to attach the handlebars, stabilizers, the arms pedals, and the monitor.
While a few people found the job easy, some found it difficult because the instructions weren't great. To be on the safe side, I'd dedicate an afternoon for the build just in case you find it challenging. Tools and manual are included.
Haevy-duty, stable build – supports 300lb
Impressive 19″ stride suitable for user height range of 5'1″ to 6'1″
Decent weight flywheel for smooth elliptical motion
Quiet magnetic resitnace system
Built-in pulse sensors + wireless heart rate compatibility
Fixed & Moving set of handlebars for full-body workout
Adjustable foot pedals and handlebars
Transport wheels – just tilt and roll to store
Schwinn 411 Elliptical Trainer
The big difference between Schwinn and GoElliptical is that Schwinn has been around for over a century, and for 50 of those years, these guys have been building quality cardio gear for our home gyms.
Their 411 elliptical is one of their most popular elliptical, and thats because it's compact in size yet boasts an impressive stride length of 18″. It's one of only two compact ellipticals in this price range to be equipped with such a long stride.
Its size and weight make it perfect for apartmnebnt living or for anyone who doesn't have the space to house a large rear-drive elliptical such as the Goelliptical-V950x.
The Schwinn monitor isn't too bad either, it too has wireless heart rate monitoring, a ton of workout programs, but it lacks resistance levels with just 16 on offer compared to the GoEllipticals 24.
The 411 has been a favorite of mine for a long time, and it's recently been updated and now includes the Free Schwinn Run Social App, which will give you an extra 27 global courses to follow- you can download onto your tablet or phone.
The Schwinn 411 is an excellent alternative to the larger ellipticals, and if your someone who doesn't have a ton of space to spare, there's isn't a better equipped compact elliptical in this price range than the Schwinn 411. It's certainly worth some serious consideration.
To Sum Up
The Goelliptical V-950X isn't anything special, nor is it disappointing. What I like most is how heavy the machine is. This tells me it's not built with cheap materials, and it gives us a good idea of the quality of the machine.
We know little about this company, so durability is something I can't comment on. The V-950x has only been available for a few months at the time of writing this review. I'll update this review as time goes by.
What we can be sure of is an excellent stride length,  a smooth drive system, and a heavy flywheel. All these features are essential if you want an elliptical for both light and intense workouts at home.