Even when you look at high-end Sole Ellipticals like the E55 and The E95 that cost close to $2k, you won't find an advanced monitor. Sole Fitness has never been a company that focuses too much on the techy stuff; there's no HD color Touchscreens or fancy options like auto trainer control.
These guys focus on the essentials, and that's what you'll find stands out most about Sole E25 Elliptical, it's a machine that's got all the essentials right, but just the monitor is lacking.
Smoothest Elliptical Motion In The Price Range.
When I talk about essentials, it's the build thats most important, and you have a 212lb build with the E25, which is heavy for the price point, and it's a telling sign this elliptical is built from quality materials. But it's also the smoothness of the elliptical motion that stands out about this elliptical, and it's what many users have praised.
And the reason the motion is so smooth is that the Sole E25 includes the dual rails with 'real wheels' that no other ellipticals in this price range can offer. Also, you have a nice heavy 20lb flywheel and a frictionless resistance system, and when you combine these three features, you're left with the smoothest elliptical motion in this price bracket. There's nothing else that comes close.
It's certainly an impressive machine for the price point, which is why I want to take a close look at everyhting it offers, including any drawbacks.
First, let's check out the product specs!
Product dimensions – 66″ X 23″ X 34″ (box)
Resistance Type – Magnetic
Pre-programmed workouts – 10
Why Do We Like The Sole E25 Elliptical?
I already mentioned in the intro that what stands out most about the Sole E25 Elliptical is the build quality, and it's always the build quality, not the tech, that stands out most about all of Sole's fitnes gear.
These guys are a company that prides itself on the quality of its equipment, and you see it even with their lower priced ellipticals like the E25. And it's backed by one of the best warranties in the business with a lifetime on frame and three years on all parts. This shows you the confidence Sole has in their equipment and gives you peace of mind when buying.
And I want to talk about the dual rails again because the elliptical motion is so important when choosing an elliptical; the last thing you want is a jerky, stuttering motion like you come across on many ellipticals in this price bracket.
The heavy-duty dual rails with the wheels actually work by keeping the pedals straight and preventing any sideways movement, and the wheels keep everything moving smoothly. Plus, you have a pretty heavy flywheel that also helps keep the motion smooth and consistent.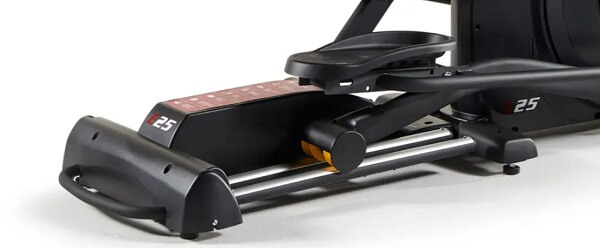 Front Drive Ellipticals Need an Impressive Incline
The reason a decent incline is so important on a front-drive machine like the E25 is that front-drive ellipticals only work the anterior muscles of the legs like your quads, and that is because you stand on the front of your feet when pedaling a front-drive as you have to push the flywheel to get it moving.
Unlike a rear-drive elliptical, where you pull the wheel to get it spinning,
If you want to shift the focus of your workout and work the much larger posterior muscle like your glutes and hamstrings on a front drive elliptical, you need an incline feature.
Burn Twice as Many Calories
Pedaling on an incline will burn at least two times more calories because those large posterior muscles have much higher caloric out demand than the smaller anterior muscles like your quads. The hamstrings are three times larger than the quads, and the glutes are the largest muscles in the body, so it's essential you dont leave these muscles out of your elliptical workouts.
And the Sole E25 doesn't let you down as its boasts one of the best power adjustable inclines I've come across in this price bracket with a 20-level incline—more than enough to work and build those hard-to-train posterior muscles.
You can adjust the incline either from the monitor or use the handlebar controls, a feature I like as it saves you from reaching forward to the monitor in the middle of a workout.
20lb Flywheel is it Enough?
Is this price bracket a 20lb flywheel is about what I'd expect to find. Some ellipticals come with 15lb, some with 25lb, so 20lb is in the middle. It's not impressive, nor is it disappointing,
The flywheel weight is important because it's one of the features that helps keep the elliptical motion smooth, and at 20lb, it's heavy enough. But you have to remember the flywheel weight is just one of the features that aids the smoothness of the motion.
The resistance system, the drive system, and how the pedals move all contribute to how smooth your elliptical feels, and the Sole elliptical trumps every other elliptical under $1200 on these features, so no need to worry about the smoothness of the elliptical motion.
More importantly, the weight of the flywheel will determine how strong the resistance feels in those upper levels; this is where you want a heavier flywheel. 20lb is enough, but only for beginners and intermediates.
The resistance of the E25 will not be strong enough for serious athletes in training. And you wouldn't expect it to be, this is, after all, one of Sole's more affordable ellipticals. If you want commercial strength resistance, you must spend almost twice that of the E25.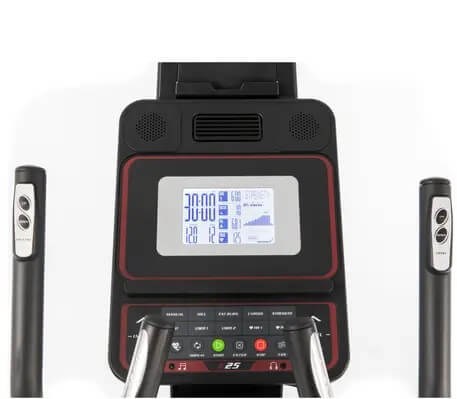 Monitor With Wireless Heart Rate Monitoring
The monitor isn't anything to shout home about. It's pretty basic. There's no HD touchscreens or anything like that.
Still, there's nothing wrong with it, and I'm sure many people will like it because it's so easy to use.
You have the quick touch buttons for resistance and incline that save you from scrolling through a ton of menus, and it does include everything you need. Including wireless heart rate monitoring, which is particularly important for those who love to train in their chosen heart rate zone. Wireless is much more accurate than the grip pulse sensors. And the good thing with Sole is that they provide the HR chest strap, which saves you a few bucks.
The monitor also has ten workout programs, BlueTooth, built-in speakers, a cooling fan, and a tablet holder.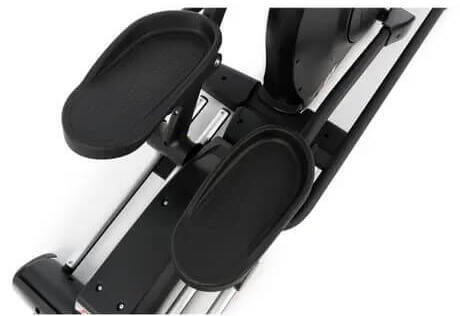 20″ Stride Length
You should never forget to check out the stride length of an elliptical, as it determines who can use the machine and how comfortable they will feel.
I recommend looking for a 20″ stride. This is the same stride length you'll find on most commercial machines in your local gym, and the reason it's the desirable stride length for an elliptical is that it suits the majority of people's heights, with a range from 5ft to 6'3″.
The Sole E25 boasts a 20″ non-adjustable stride.
How Quiet is The Sole E25?
I remember reading somewhere that the Sole E25 elliptical has been measured at 20DB, which is whisper quiet. The reason it's so quiet is that it uses a magnetic resistance system.
Magnetic resistance systems are frictionless, so they hardly make any sound when in motion. Also, this elliptical uses a belt drive system that is much quieter than the noisy chain drives you'll find on some exercise bikes and rowers.
It's so quiet you can watch tv or listen to music without being disturbed by the sound of the machine.
Moving and Static Handlebars
Most elliptical trainers come with both static and moving handlebars. The stationary handlebars will be very useful for beginners because you can grip these and get used to the elliptical motion. Once you build up your confidence, you can move on to the moving pair of handlebars for a full-body workout.
Still, even experienced elliptical users love to use the static handlebars because they allow them to focus fully on their lower body. What many people do is crank up the resistance to a high level and give the legs a really heavy workout.
Set Aside an Afternoon For Assembly
While some people will no doubt get this thing built in an hour or so, most people will find it a little tricky; I know I find ellipticals more tricky to assemble than exercise bikes or treadmills. And it's best to have someone help you as they can hold the parts.
Also, it's pretty heavy at 212lb assembled and about 230lb in the box, so you will need someone there to at least help you get the machine in place and unboxed.
Sole Fitness provides all the tools for the job and illustrated manual.
Best Warranty
As I mentioned in the intro Sole Fitnes is a company that stands behind its products. They provide some of the best warriors you'll find on any elliptical. I don't think there is another elliptical in this price bracket that offers three years on parts like the E25. Thats an excellent warranty for an elliptical under $1200, and you also have a year on labour and lifetime on frame.
Solid build for price point – can handle 350lb
Impressive 20 level power adjustable incline
20″ stride length suitable for users up to 6'3″
Heavy duty dual rails with wheels, prevent side movement of pedals and help keep everything feeling smooth
Wireless heart rate monitoring with chest strap included
Excellent warranty that includes 3 years on parts
Whisper quiet magnetic resistance
Built in transport wheels, cooling fan, Bluetooth speakers and tablet holder
Monitor is a little basic
I would of liked to of seen more built-in workout programs as there's only 10
Stride length isnt adjustable
Nautilus E618 Elliptical
The Nautilus E618 elliptical is another fav of mine in this price bracket. Nautilus also owns Schwinn, but the reason I favor the Nautilus ellipticals over Scwhinns is that Nailitus, for some unknown reason, update the Nuailius ellipticals more often than their Schwinn brand. The Schwinn ellipticals are starting to feel dated.
What shines most about the Nautilus elliptical is that it's pretty heavy for the price weighing 210lb assembled. It's a bit of a beast for an elliptical in this price bracket; not only does that tell me this thing is made from high-quality materials, but that extra weight will really help with stability, and that's exactly what you want.
You also get a 22″ stride with the E618, which will allow users up to 6'4″ to feel comfortable on this machine and not restricted. However, a 22″ stride that isnt adjustable will mean the minimum height for this elliptical will go up a little to 5'2″. Compared to 5ft of the Sole
Like the Sole E25, the Nautilus elliptical use a frictionless magnetic resistance, so it's nice and quiet and boasts 25 levels of resistance which is great to see, but with a 17lb flywheel, resistance in the upper levels won't be quite as strong as the Sole.
And again, like the Sole elliptical, the Nautilus E618 benefits from a power-adjustable incline and wireless heart rate monitoring.
I do prefer the monitor on the E618 because you have more built-in workout programs, with 29 in total, and access to their Explore The World app, where you get a few free global routes to try. (there are over 50 in total if you subscribe to their app)
Is the E618 a better buy than the Sole E25? No, however, it feels more up-to-date than the E25, but it doesn't quite have the build quality. You dont have the dual rails with this machine, nor do you get the impressive warranty that comes with the Sole Fitnes machine,
But heck, this elliptical isn't far off, it's very impressive for the price point, and you do get 2-year parts and 1-year labor which is better than most offer in this price bracket.
Overall this is a well-made elliptical that gets almost everything right, and if you want something with a few more workout options and access to a free/subscription app, this might be the better choice for some people.
To Sum Up
The reason the Sole E25 is so impressive is that it delivers on everything it's supposed to, the build quality is there, the elliptical motion is extra smooth, the resistance in the upper levels is strong enough for most fitness levels, the incline feature is excellent, the machine is whisper quiet, and you have the desirable 20″ stride.
There really isn't much I can fault about the E25. If I was picky, id say the monitor is slightly dated, it needs a few more workout programs, the screen is on the small side for a $1200 elliptical, and it's not even a touchscreen. Still, I wouldn't let the monitor be a deal killer because there is so much that's good about this affordable option from Sole Fitness.
If you want a sturdy elliptical one that's built well and will last, then this machine is unbeatable.
Sole E25 Elliptical FAQs
How Heavy is The Sole E25 Elliptical?
The Sole E25 weighs 212lb which is heavy for a mid-level elliptical, but it's a good thing because it means this machine is sturdy and well-built.
How Long Will Sole E25 Last?
You would expect an elliptical in this price bracket to last at least ten years. Still, it also depends on how much you use it. If this elliptical is used by many people every day, the parts will wear out sooner and need to be replaced. However, you get one of the best warranties out there with the E25 elliptical, so at least for the first few years, you won't have to spend a single buck if any parts need to be replaced.
Is The Sole E25 Quiet?
The Sole E25 uses a frictionless resistance system which means it's very quiet when in motion. It also has a belt drive system, high ratio gears, and dual rails for the pedals, all of these features will help to deliver an ultra-smooth, quiet elliptical motion,