Sole Fitness is a company known for building high-quality cardio gear. They offer some of the longest warranties out there and their ellipticals are usually unbeatable for the price. Today I want to take a look at their entry-level Sole elliptical E25.
Sole Elliptical E25 – Whisper Quiet And Best Incline In Price range.
Don't let the word entry-level fool you. This thing is packed full of advanced features and is only labeled entry-level by Sole because it is their cheapest option at just under $1000. Compared to other ellipticals on the market, the E25 sits perfectly in the mid-level elliptical range both on features and price.
With a market-beating 30-degree power-adjustable incline, 20 levels of whisper-quiet magnetic resistance, heart rate monitoring, and a 20lb flywheel, the Sole elliptical Trainer E25 deserves some serious consideration.
Today, I want to look at everything the Sole E25 elliptical trainer offers, including its drawbacks. At the end of the review, I'll compare the Sole with its closest rival in this price bracket, the excellent Schwinn 470 Elliptical.
First, let's take a quick look at the Sole E25 product specs!
Product dimensions – 66″ X 23″ X 34″
Resistance Type – Magnetic
Pre-programmed workouts – 10
Incline – power adjustable
Why Do We Like The Sole Elliptical E25?
I've reviewed many ellipticals in this price range, and none of them include such an impressive incline feature.
Not only is the E25's incline power-adjustable, but it also adjusts to a maximum of 30 degrees. Normally we'd be looking at machines costing twice as much to benefit from a 0-30 degree power incline. And with 20 levels of incline, you should have no trouble finding the right degree of incline for your workout.
It's always a good idea to look for an elliptical with an incline feature as incline workouts target different muscle groups as to running or walking on a flat surface.
Walking or running on an incline increases leg muscle activation, allowing you to target difficult to train muscle groups such as your calf's, hamstrings, and glutes.
Another great feature of this ellipticals power incline is that it can be adjusted effortlessly from the handlebars. There's no need to get off the machine in the middle of your workout to change your inclination level. 
Impressive 20″ Stride Length
Apart from build quality, stride length is the most important feature you need to consider before buying an elliptical. It's a vital measurement as it determines how naturally you will be able to stride.
You dont want to buy an elliptical only to find the stride length is too short for your to run or walk at pace.
The elliptical needs to be able to do the job it's supposed to do, and for that, you'll need an elliptical that has a suitable stride length for your body size and your workout intensity.
For those that dont know, the stride length is the measurement between the toe of the front pedal and the heel of the rear pedal. The cheaper the elliptical, the shorter the stride length
When paying around $1000- we should expect a stride length from 18″ to 22″. Most commercial machines are equipped with an adjustable stride length of 20-22″, so if we can get anywhere close to there in this price bracket, we're doing very well indeed.
The E25 elliptical boasts an impressive 20″ stride length, so it's going to feel similar to machines you've used in a local gym. This stride length will allow taller users to achieve a full stride. Users up to 6′"2″ should have no issues achieving a full stride even at pace with a 20″ stride length.
Smooth Elliptical Motion – Magnetic Resistance Belt Drive & Heavy Flywheel
The Sole Elliptical E25 features a magnetic resistance system (eddy current brake). Magnetic resistance is the best choice for home cardio gear because it's a lot quieter than friction resistance.
A quiet resistance system is what we need for home use is it allows us to exercise without disturbing others around us. And because it friction-free, it's also maintenance-free, you won't have to worry about replacing any parts due to wear and tear.
Another benefit of magnetic resistance is that it lets you walk or jog at a slow pace but on a high resistance setting something that's impossible with an air resistance machine—a great feature for strengthening and building the legs muscles.
The E25 Elliptical includes 20 levels of magnetic resistance, which is what I'd expect from a mid-priced machine. You shouldn't have any trouble finding a resistance strength to suit your workout needs.
Still, this isn't an elliptical for serious athletes. The resistance strength isn't strong enough. This machine is perfect for people looking to increase cardio fitness at home, burn some unwanted body fat weight and tone, and strengthen muscles. You'll pay quite a bit more for a commercial-grade machine.
Smooth Elliptic Motion
A smooth elliptical motion is something most of us expect from an elliptical, but you'd be surprised how many ellipticals have slightly jerky motions when walking or running at pace.
To achieve a smooth motion, it's usually a good idea to choose an elliptical that has a heavy flywheel, a high gear ratio, and a belt drive system. Thankfully the Sole E25 includes all 3, which is impressive.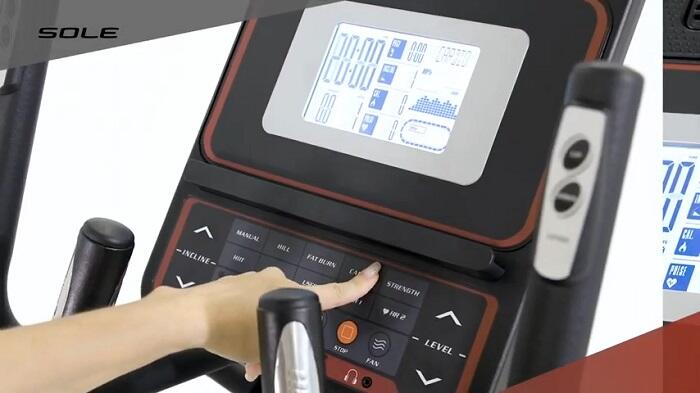 Monitor/Control Console – Includes Heart Rate Monitoring
The monitors that come with Sole ellipticals aren't anything special, and this is true even with their more expensive models such as the Sole E35. Still, I wouldn't call them basic either. We find any HD color screen or 100's of workout programs.
What we do get is an easy-to-use monitor that tracks all the essential data such as time, distance, total distance, speed, RPM, watts, and pulse.
Heart rate monitoring is probably the best feature of this monitor as you choose either using the built-in pulse sessions or the free heart rate chest strap.
Heart rate chest straps are far more accurate than the pulse seasons, so it's a good idea if you're someone who loves to workout in their target heart rate zone to take advantage of the free chest strap.
Another feature I liked about this monitor is the 10 workout programs. Yes, it's not many considering this is a $1k machine, but what's cool is each workout program will self-adjust both the incline and resistance strength automatically depending on what type of workout you choose, which leaves you to concentrate on your workout while the machine does the rest.
A few other useful features, such as Bluetooth, will allow you to sync your phone or tablet with the Sole Fitness app. There are two tablet holders, a USB charging port, speakers, and a workout fan to keep you cool while you work out.
And finally, as we mentioned earlier, you can control the power-adjustable incline and resistance strength from the monitor or the moving set of handlebars.
Overall this is a decent monitor. It's easy to use, has nice large one-touch controls, a backlit screen, and everything is labeled, so there shouldn't be any confusion when selecting workout options.
Build Quality – Study Elliptical 200lb+
This is where the Sole ellipticals shine. Sole Fitness is a company that prides itself on the quality of its cardio machines, and their long warranties are evidence of the confidence these guys have in their cardio gear.
The E25 elliptical trainer weighs over 200lb. That's a heavy machine. The extra weight is a telling sign that this machine is made from quality materials.
Weighing over 200lb will also ensure this machine feels rock solid when in use.
Study, heavy ellipticals give you that feeling of high-end quality when you are exercising on them, and that's exactly what you want from a home elliptical.
The E25 elliptical comes with an excellent warranty – lifetime on frame and 3 years on all parts.
Heavy-duty – stable elliptical – supports 350lb user weight
20 levels of whisper quiet magnetic resistance
0-30 degree power-adjustable incline – target different muscle groups
Heart rate monitoring – built-in pulse sensors + hear rate chest strap
BlueTooth, built-in speakers and USB charging port
Impressive 20″ stride similar to commercial grade ellipticals
2 sets of handlebars one fixed, and one moving for full-body workout
Tablet holders and cooling fan
Transport wheels and lifting handle
cooling fan lacks any real power
Would have been nice to of seen a few more pre-programmed workouts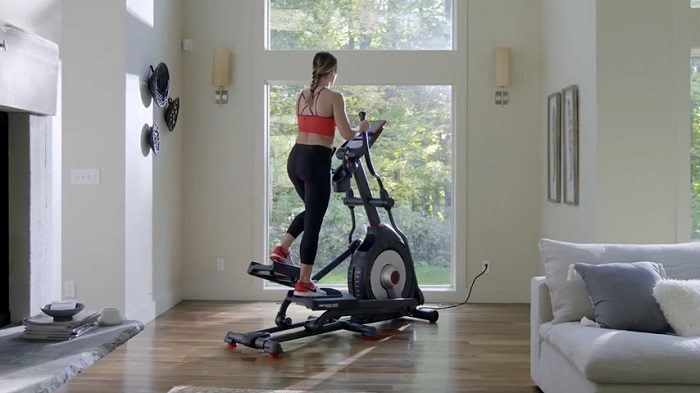 Schwinn 470 Elliptical Trainer
There's no other company that produces cardio equipment that has as much experience as Schwinn. These guys have been around for over a century, and for 50 of those years, they have been building cardio gear for our homes. They specialize in high-quality equipment, and their 470 elliptical is one of their top-of-the-line ellipticals.
The Schwinn 470 has the same price tag as the Sole E25 at the time of writing this review. And is the Sole E25's main competitor.
There are a few things the Schwinn trumps the E25 on, and one of those is workout programs. The Schwinn 470 offers more than double the Sole E25 with 29 workout programs. The Schwinn also offers more resistance levels at 25 and has a better built-in fitness app.
Both machines share the same stride length of 20," and both include a monitor with a backlit screen rather than a color HD screen.
The Schwinn does include a power incline, but it's just 0-10 degrees compared to the impressive 0-30 degrees of the Sole E25.
There really isn't much between the two machines. I prefer the 0-30 degree incline of the Sole, but I love that Schwinn includes a whopping 29 workout programs to help keep away the monotony of long cardio sessions.
It's a tough choice between these two excellent machines. However, I feel the Sole just takes it because of its impressive 0-30 power incline. A 0-30 degree incline will be more beneficial to your workout goals than a few extra workout programs, plus the Sole E25 has a longer warranty and slightly better build quality.
To Sum Up
We havent come across anything better than the Sole E25 elliptical in the under $1000 price bracket, and we've been reviewing ellipticals for a good few years now. Sole fitness seems to really know what they are doing when it comes to their cardio gear.
What's great about the Sole E25 is that it gets all the essentials right. A heavy 200lb stable build, an excellent stride length, its whisper-quiet thanks to its belt drive and magnetic resistance system, plus it boasts the best power-adjustable incline in its price bracket.
The monitor is slightly disappointing in that it only offers 10 workout programs, but what the monitor lacks in workout programs, the E25 makes up for it with its other impressive features.
You can also be happy should anything go wrong. These guys offer one of the best warranties out there, with a lifetime on frame and 3 years on all parts.