Boasting power adjust Incline, adjustable 20″ stride a ton of workout programs and whisper-quiet magnetic resistance the ProForm 720 E Elliptical is an impressive machine, and it has to be! Especially if it wants to challenge for the top spot in this price category currently taken by Schwinn's 470 elliptical.
In our ProForm Endurance 720 E Elliptical Review, we're going to take a close look at this low impact cardio machine. We'll check out all the pros and cons of this capable front-drive elliptical trainer.
Includes Comparison With Schwinn 470
And if you're wondering if the 720 E can cut it against the Schwinn 470? You can find out at the end of the review because I'll be comparing both machines.
First, let's take a quick look at the 720 E product specs!
Product dimensions –  66″ H x 25″ W x 61.7″ L
Resistance Type – Magnetic
Frame – Heavy duty steel tubing
Why Do We Like The ProForm Endurance 720 E Elliptical Trainer?
To find a 0-20 degree power incline at this price is almost unheard of you'd typically be looking at machines costing well over $1k for a power incline, so to find one on an elliptical costing less than $900 was a surprise.
I always recommend to people when looking to purchase an elliptical to at least find one that includes an incline option. Incline workouts let you target different muscle groups, especially your butt, calves, and hamstrings.
While many machines include an incline option, its usually a manual incline, which is better than not having an incline at all, but it means you have to get off the machine to change the angle of the incline.
The power incline of the ProForm can be quickly adjusted via the one-touch buttons of the monitor, no need to get off the machine and disturb your workout.
And if you choose to use the iFit app with the Proform elliptical, the google map feature will automatically adjust the incline angle to mimic the terrain you are training on. Nice!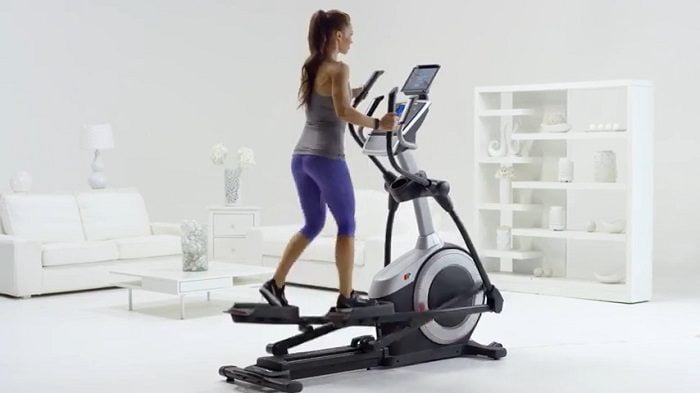 Stride Length
The most important feature of any elliptical you buy will be the machine's stride length. Stride length is the measurement between the toe of the front pedal to the heel of the rear pedal. This measurement is so important as it will determine how naturally you will be able to stride.
Entry-level machines typically are equipped with a stride length of between 12-14," which is ok for shorter people 5'4″ and under, but anyone taller than that will struggle walking or running at pace.
The ProForm 720 E elliptical boasts an impressive 19″ stride length, and considering this machine only costs a couple of hundred bucks more than an entry-level machine, you start to understand why it's such a popular choice.
A 19″ stride length is suitable for heights from 5'2″ right up to 6'1″. A 19″ stride is similar in length to most ellipticals found in commercial gyms and health clubs, so if you're ok using one of those, you'll be just fine on the ProForm 720.
Magnetic Resistance
Ten years ago, most of our home gym cardio gear used air to create resistance, which wasn't a bad thing.
There are some awesome air resistance cardio machines out there like the Concept 2 rowing machine, etc. Still, the thing about air resistance is it's noisy, which can be a pain if you want to watch TV or you are worried about disturbing others with the sound of you exercising.
Magnetic resistance has now become the go-to choice for home cardio machines simply because it is whisper quiet in operation.
And with 20 levels of smooth magnetic resistance and a 20lb flywheel, the ProForm elliptical should be suitable for most fitness levels.
Ok, this isn't a commercial-grade machine, far from it, so serious athletes will have to look elsewhere, but for most us looking for low, medium, and intense calorie-burning workouts, the resistance strength of the ProForm 720 E should be enough.
Another advantage of owning a magnetic cardio machine is that you can run, walk at a slow pace on a high resistance level. (great for toning and building muscles in the legs) This is thanks to magnetic resistance being constant i.e, the resistance strength only changes when you manually change the level via the monitor.
Air resistance (fan) only increases in strength as you walk or run faster; this resistance is dynamic and doesn't allow you to walk at a slow pace while on a high resistance level.
Monitor/Control Console
For the price point, the monitor is surprisingly good, a 5″ easy to read backlit display lets you easily see all of your workout stats. Thankfully, they remembered to include a cool breeze fan on the 720 E great for keeping you cool during intense workouts.
The monitor includes all the usual stuff we expect from ProForm, such as their specially designed workouts 24 in total.
And let's not forget this monitor is iFIT enabled so you can stream a ton of global and studio class workouts. The studio class works can be especially useful as they are led by personal trainers who help give you that extra push when the going gets tough.
One feature I particularly like about this monitor is its one-touch operation. So many monitors are over-complicated and difficult to use. This monitor saves you time where all the essential features are just one touch away, including the resistance levels and power-adjustable incline.
Aswell as BlueTooth, the iFIT app, 24 workout programs, and 20 resistance levels, the monitor also tracks your mileage, speed, calorie burn, heart rate, and time. And lastly, there's an iPhone dock and built-in speakers so you can listen to all your fav tunes while working out.
Stability
It's great to find a machine that has all the bells and whistles such as BlueTooth and a ton of other fun and useful features but we first need to make sure if the elliptical we pick is going to be stable?
Stability is something often overlooked when people choose cardio gear, and it shouldn't be; it's one of the most important things we should look out for. So how can we tell if the Proform is going to be stable? The weight of a machine gives us a good clue if this thing is going to be stable when in motion.
As with all gym gear, the heavier, the better, weight aids stability plus the weight of the machine is a telling sign of the overall quality of the elliptical. The ProForm 720 E weighs well over 200lb. Excellent weight for a mid-level elliptical and should really help keep this thing stable.
The Proform also has wide stabilizing feet at both the front and rear, which will counteract any wobble. When exercising on the ProForm, you will not feel like you are exercising on a cheaply made, unstable machine. Many users have commented on how stable and well built this machine feels when in use.
Heavy duty frame, stable build
20 whisper-quiet magnetic resistance levels
19″ power adjustable stride
0-20 degrees power incline
Provides full body low impact workout
iFit ready – unlimited workouts and classes global courses
2 speed workout fan + built-in speakers and iPhone dock
Transport wheels, just tilt and roll to store
Limited amount of grip positions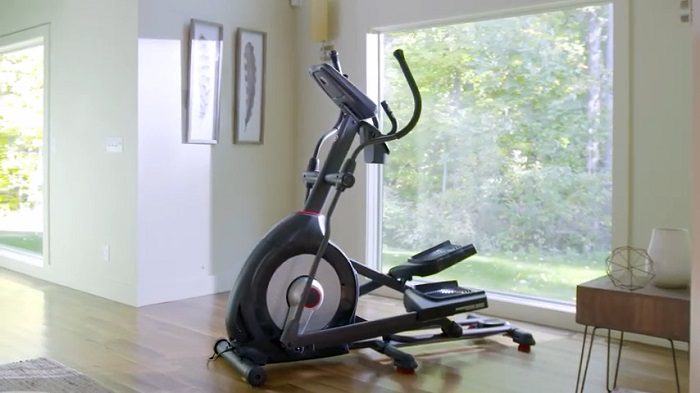 Schwinn has been around for decades. For over 40 years these guys have been producing quality fitness gear for our homes, they know what they are doing, and they do it exceptionally well.
Their 470 elliptical is their flagship elliptical, and it's one of the best on the market for the price. This thing boasts excellent build quality and is packed full of features, just like the Proform.
Both the Proform and the Schwinn have similar amounts of workout programs and resistance levels, both weigh around the same 200lb+, and both machines offer their own fitness apps that can be accessed via BlueTooth:
ProForm uses iFit, and Schwinn is renowned for its Schwinn Trainer App, which is FREE! Compared to the iFit, which is only free for the first year and even then, the first year is only free if you buy the elliptical from their website.
However, iFit offers a much wider variety of workouts and includes many other workout options such as personal trainer courses, manual modes for use with Google maps, and a whole load of other stuff too long to list here.
The main difference between the two machines is the Power adjustable incline. The Schwinn only offers 0-10 degrees power-adjustable incline while the ProForm offers 0-20 degrees.
And the degree of incline can be important for those of you who are buying the machine to work your calves and butt because the steeper the incline, the more your butt, calves, and hamstrings have to work! (build, tone and strengthen)
An important feature the Schwinn offers that the ProForm doesn't is wireless heart rate monitoring.
Wireless heart rate monitoring is a handy feature for people who love to workout in target heart rate zones, yeah the Proform has pulse sensors, but they are no way near as accurate as a heart rate chest strap.
Plus, the pulse sensors are situated on the fixed handlebars. If you were to do a full-body workout using the moving handlebars on the ProForm elliptical, you would have no way to monitor your heart rate.
So when it comes to heart rate monitoring, the Schwinn tops the ProForm!
To Sum Up
Its a difficult choice choosing between the two, it all depends on your workout plans.
Both machines other than the two points I mentioned are very similar. If heart rate monitoring is more important to you than the incline feature, then the Schwinn 470 is a great choice. A solid elliptical with all the latest features.
The ProForm shines when it comes to power adjust features, an excellent 0-20 degree power incline, and adjustable stride. The adjustable stride is another superb feature, especially for shorter people who need a shorter stride and can simply adjust the stride to suit.
If I had to choose between the two, the features of the Proform slightly outweigh that of the Schwinn. I do not work out in target heart rate zones so the wireless heart rate monitoring of the Schwinn would be a waste for my cardio training, I'd prefer the steeper incline of the ProForm 720 E Elliptical.
Both elliptical machines are built by companies that are at the top of their game in the cardio market, both offer excellent value for money, and both are stable, well built elliptical trainers. Whichever one you choose I'm sure you will not be disappointed.