There are a few reasons why the Body-Rider Fan Elliptical Trainer is selling 100's of units every week. First has to be the price for under $150 Body Flex sport the guys who produce the Body Rider Elliptical are offering you a machine that can not only increase your cardio fitness it can also give your entire body a full workout thanks to the dual-action handles bars.
Well Built Budget Elliptical
There's no other machine out there that can offer you a full-body workout other than an elliptical in this price bracket.
The Body Rider Elliptical isn't just some below standard, cheaply built machine; Body Flex offers a one-year warranty on the frame and six months on parts. That's an impressive warranty in this price bracket many of Body Riders competitors offer no warranty at all!
So if you have been looking for a well built elliptical and funds are limited? It might be worth taking a closer look at this capable machine, but before we get going with the rest of the review, let's take a quick look at the product specs.
Product dimensions –  38.58 x 9.06 x 24.8 in
Resistance Type – Fan (air)
Frame – Light gauged steel tubing
Why Do We Like The Body Rider Fan Elliptical Machine?
The main reason we like this machine is that it offers anyone at home an affordable option for a full-body workout, there's no need to spend hundreds of bucks for the privilege, Yes, there's no Bluetooth option or pre-programmed workouts. Still, you don't need those options to lose weight or increase your cardiovascular health.
With many of the higher end ellipticals, you are paying out hundreds of dollars for fancy monitors and workouts apps. With the Body Rider, you have a simple machine that will get the job done.
An average weight person can lose up to 400 calories an hour on an elliptical it doesn't matter whether your elliptical cost $150 or $1000 the principle is the same, workout regularly on it and you will achieve your goals.
Another thing we liked about this machine is its size; the compact size makes it excellent for apartment living and for people who have limited space for their workouts.
The Body Rider is also super easy to move thanks to its lightweight design and transport wheels. Just tilt and roll if you need to store the elliptical in another room.
Stride Length
When we consider the Body-Rider stride length, it's here we see our first issue with the elliptical.
For those of you that don't know what stride length is? It's the measurement between the toe of the front of the pedal to the heal of the rear pedal while the pedals are at their widest stride.
Sadly the Body Rider fan elliptical has a short stride length; short stride lengths are not uncommon in this price range. I expected to see a stride length of between 12″-14″ so, it was no surprise to learn the Body Rider has a stride length of 12″ while this isn't deal stopper for most, but it will be for taller users.
Anyone over 6ft will struggle to achieve a full stride, even walking at a fast pace will prove problematic. I'd recommend a max height of around 5'10" for a 12″ stride length still, intense workouts that require a full stride may remain difficult.
For low to moderate workouts, anyone under 6″ should be fine exercising on the Body Rider elliptical. People over 6ft should look for an elliptical with at least 18″ stride length. With 22″ being optimal.
Resistance
A fan is used to create resistance for the Body Strider elliptical. Usually, I'd recommend choosing a magnetic machine when purchasing an elliptical for the simple reason that they are much quieter in motion than a fan-operated machine.
However, the magnetic machine costs more, and if you want to save a few bucks, air works just as well and will deliver the same smooth motion we look for when buying an elliptical.
So if you don't mind a little more noise when you're working out, you should have no issues with air resistance. One user mentioned he could watch TV and listen to his music without being disturbed by the fan.
To change the resistance levels of the fan, you can easily select which level you want from the resistance knob.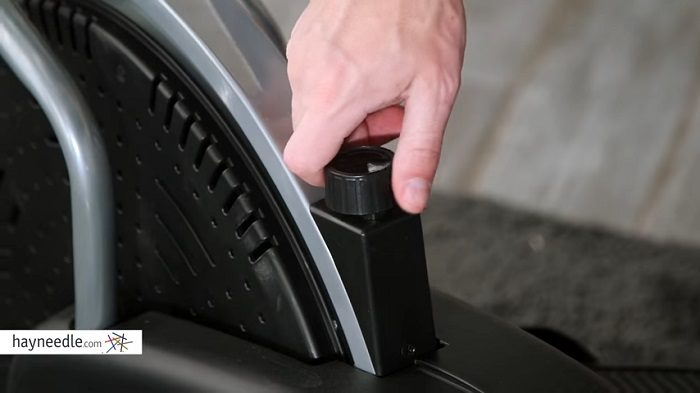 Monitor/Console
Every entry-level cardio machine comes fitted with a basic monitor, and the Body Rider elliptical is no exception. The monitor tracks all the essential data such as time, distance, speed, and calories burned.
The Handle Bars
Exercising on this elliptical using both the moving handlebars and the foot pedals at the same rate will provide you with an excellent full-body workout. Still, I'm sure many people are reading this review wanting to know if the handlebars can remain in a fixed position so you can use the machine solely for a lower body workout.
Thankfully, the guys over at Body Max thought to include a fixed option for the handlebars. Having a fixed handlebar option is a useful feature that allows beginners to get used to the elliptical motion using just their legs, you can progress to the moving handles bars later when your confidence grows.
Quality build for price point
Low impact – nearly zero impact on lower joints and back (excellent alternative to high impact treadmill)
Easy to assemble (most people got the Body Rider built in under an hour)
Light and easy to move (transport wheels)
Works both your upper and lower bosy (fullbody workout)
Works both your upper and lower bosy (fullbody workout)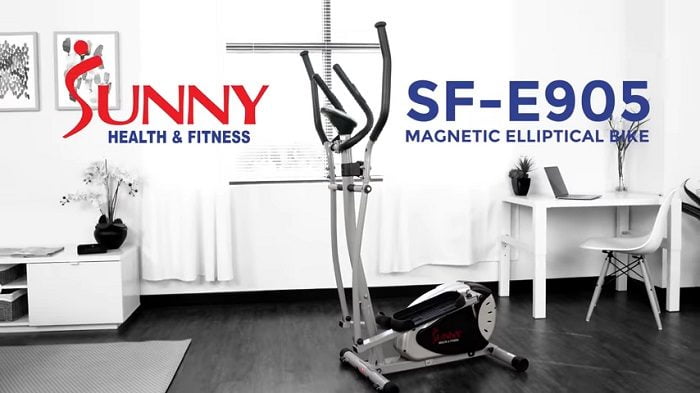 Sunny SF-E905 Magnetic Elliptical
For our alternative, we'll take a quick look at the Sunny SF-E905. The SF-E905 is one of the best entry-level magnetic ellipticals on the market, built by Sunny Health and fItness, a company known well for producing high-quality home cardio gear at budget-busting prices!
For around $50 more than the Body Rider Fan elliptical, the Sunny elliptical offers a few more features. The first being it's magnetic, which makes the machine whisper quiet in operation excellent for those of you who don't want to disturb others close to you with the sound of your exercising.
Also, this machine boasts pulse sensors that are built into the handlebars. The pulse sensors allow you to keep an eye on your heart rate while exercising on the machine.
Just like the Body-Rider, the Sunny SF-E905 is compact in design, and it too has a short stride length of 12″ again this to be expected when looking at ellipticals in the under $200 category.
If you think you might prefer magnetic over air and cash is limited, the Sunny is one of the top picks in this price bracket. For a more detailed review, you can click on our link below.
Click here for a full review of the Sunny SF-E905 Magnetic Elliptical
To Sum Up
The Body-Rider elliptical is a decent quality machine that boasts a low price. Great for anyone looking to burn some calories and tone muscles in both their upper and lower body.
Low impact exercising doesn't have to be expensive! If you can live without advanced monitors, heart rate straps, and BlueTooth, the Body-Stride elliptical is one of the best choices available for anyone on a budget looking to increase their fitness levels.