Exerpeutic 2000XL Elliptical Trainer
Low impact exercising doesn't have to be expensive! A decade ago, if you wanted to reap the benefits of a low impact cardio workout at home, it would have set you back well over 1k for a decent elliptical or rowing machine.
How have things changed? Fast forward ten years, and we are now spoilt for choice; there's a ton of capable ellipticals out there with many costing less than $300.
The Exerputic 2000XL Elliptical while still an entry-level machine boasts more than most in the price bracket. Including Bluetooth, two sets of handlebars, whisper-quiet magnetic resistance, and a 300lb weight capacity, but before we get carried away, there are a few essential things we need to consider.
Built By A Company You Can Trust
The company behind the product should always be out first concern, do they have a good history? And most importantly, is their customer service up to scratch?
Thankfully Exerpeutic is one of the most well-known companies in the home fitness world; they have been around for years and specialize in low impact cardio machines for the home. Reassuringly its customer service, most people praise when it comes to this well-respected fitness company.
Now we're happy about the company behind the product lets have a quick look at the product specs, and we can get on with the review!
Product dimensions –   54L x 23W x 63H inches 
Resistance Type – Magnetic
Frame – Light gauged steel tubing
What Do We Like About The Exerpeutic 2000XL Elliptical?
The best feature of this elliptical is being able to achieve a full-body workout on the machine thanks to the moving set of handlebars. There's no other machine out there that can work both your upper and lower body muscles while boosting your cardio fitness at the same time.
Not only that, but ellipticals also reduce stress and strain on your legs and lower back, unlike a treadmill, which causes a jolt to your upper body 2.5 times your body weight with each running stride.
High impact machines such as treadmills create unwanted joint and lower back stress, something you avoid altogether when exercising on an elliptical.
For under $300 you have a machine that provides a full-body workout strengthing and toning both your upper and lower body muscles plus a machine that increases your heart and lung health.
And for beginners who have never used an elliptical before the Exerpeutic Elliptical 2000 also has a fixed set of handlebars.
The fixed set of handlebars gives the beginner that extra bit of stability while getting used to the elliptical motion, once you have built up your confidence you can move on to a full-body workout using the moving set of handlebars.
The fixed set of handlebars is also useful for those who want to target only the lower body for a more intense leg and butt workout.
Stride Length
Stride length is another elliptical feature that must be taken into consideration before you make your up your mind on which elliptical to purchase.
Why is stride length important? This measurement is crucial as it determines how naturally you will be able to stride.
Because the Exerprutic heavy-duty magnetic elliptical sits in the entry-level range, it's sadly going to have a shorter stride length.
I've searched everywhere for the actual measurements, but they do not seem to mention it on their product pages or amazon. Generally, all ellipticals in this price bracket have a stride range of between 11 -14 inches.
And considering the Exerpeutic is compact in design, we'll probably be looking at a 12″ stride length.
A stride length of between 12 and 14 inches is excellent for walking /running at a fast pace for people 5'10"  and under, but anyone over this height will run into problems, especially if they want to use the elliptical for intense workouts.
The shorter stride length isn't a deal killer by any means; all it does is limit the appeal for taller users; however, taller users will still be able to use the Exerpeutc elliptical as a low impact walker. Yet, for running/walking at pace taller users 6ft and over, Id recommend a stride length of at least 18 inches.
8 Levels of Magnetic Resistance
Another excellent feature of this cable elliptical is its magnetic resistance system.
Magnetic resistance is the preferred choice for people buying cardio equipment at home. Why? Simply because it is whisper quiet in motion. When you're exercising on this thing, you'll be able to watch TV listen to your favorite music without being disturbed by the sound of the machine.
Owning a quiet cardio machine is excellent for people who live in apartments or for anyone who isn't lucky enough to have a dedicated room to house their elliptical. There'll be no disturbing your family or friends with the sound of your exercising.
And that all, because magnetic resistance is constant, it will allow you to run or walk at a slow pace on a high resistance level excellent for toning and building strength in your muscles, something that was impossible with air resistance.
The Exereutic elliptical boasts eight levels of magnetic while this isn't a  huge amount of resistance levels; there's enough to suit most people's cardio needs. Although we still need to remember, this is an entry-level machine and is not suitable for seasoned runners.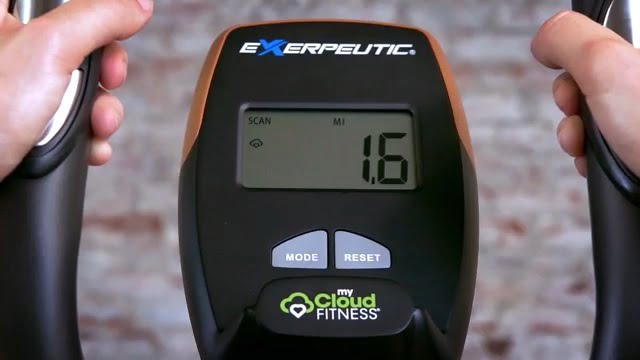 Monitor/Control Console
We can't expect advanced monitors in this price range, but at the least, we want to see a basic monitor that's easy to use and, most importantly, easy to read. And thankfully the Exeperutic is both easy to read and use, its a simple monitor that tracks distance-time heart rate and calories burned.
As I mentioned, this monitor is basic, so no workout programs to shout about, but we do have the Bluetooth option to make up for the lack of workout programs.
Bluetooth will allow you to sync for FREE with MyCloudFitnessWorkoutApp, which is compatible with both android and iOS systems, and it can be used with a heart rate chest strap. Chest straps are far more accurate for monitoring heart rate than the built-in pulse sensors.
The app is a nice interface to work with and I'm sure many will prefer the app over the basic functions of the monitor. Although if you want to use the heart rate monitoring feature of the app, you will have to buy a heart rate chest strap (around $40)
Overall a decent monitor for the price range.
Assembly
Most users found assembly of the Exerpeutic 2000XL easy going with build times of around 1 hour. The main body of the elliptical comes preassembled, so no worries about assembling anything tricky such as the drive and resistance system.
There's still some work to be done, such as attaching handlebars, pedals, monitor, and the ellipticals stabilizing feet.
Two people are going to make the job nice and quick, but many completed the assembly on their own. Tools and a full instruction manual are provided.
Good build quality/stable build
8 levels fo smooth whisper quiet magnetic reistance
Bluetooth function and compatibility with the free MyCloudFitness app for iOS and Android
Pulse sensors built into fixed handle bars
Bi-directional flywheel –  forward & reverse 
Max weight capacity 300lb
HR chest belt not included
No backlight on the console display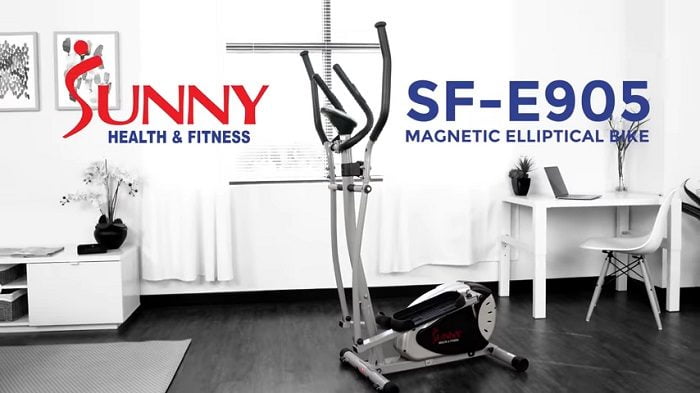 Sunny Health & Fitness SF-E905
Sunny Health is another company you can trust. These guys have been building quality affordable gym gear for years. They specialize in entry-level cardio equipment for home use, and currently, their SF-E905 is there most popular entry-level elliptical.
And there's good reason why this elliptical is so popular, it's cheap, well built and offers all you need for a low impact workout at home. Again just like the Exepeuric, the Sunny doesn't provide any workout programs, and at under $200, we wouldn't expect it too.
But what it does offer is 12 levels of magnetic resistance, pulse sensors built into the handlebars, and yes, you also get the dual set of handlebars, fixed set, and the moving.
Another reason people love this machine is that its small!
The Sunny has one of the smallest footprints of all ellipticals on the market, great if you limited on space. Still, with a footprint this small we see the stride length suffer and with a stride length of only 11″ this machine is only going to be suitable for users no taller than around 5'8″ or so, although seniors or anyone just looking for a walker the height restriction will not apply.
There's no Bluetooth option with this machine, so there'll be no monitoring heart rate with the chest strap or any ability to sync with apps.
A simple, compact elliptical for low to medium level workouts. If your budget is limited and you can live without the Bluetooth option, the Sunny Health and Fitness Sf-E905 is one of the best ellipticals you are going to find in the under $200 category.
Click the link below to read our full review
To Sum Up
Exerpeutic has done it again they have managed to produce a high-quality elliptical machine with a Bluetooth option for under $300, yes, there are a few others in this price bracket that can also boast the same features including BlueTooth. Still, none are built by a company with such a good reputation.
The Exerpeutic 2000XL is a well built, versatile elliptical with enough strength in the resistance to keep most users happy. You'll be able to burn calories, strengthen and tone your muscles, and best all protect your joints at the same time thanks to the low impact nature of the machine.
A worthy contender to be at the top of anyone's list, its certainly one of our favorites in the under $300 price bracket.