When I first started reviewing ellipticals over a decade ago, the most popular stride length was 18," and this was also the length you'd find on commercial machines in the gyms. 10 years on, and the most popular length has gone up a couple of inches, now everyone wants a 20 inch stride elliptical, and yeah, even your local gym ellipticals now boast the more desirable 20″ stride.
20″ Stride – Height Range 5ft to 6'3″
Either people are getting taller, or more than likely, a lot more guys have started using ellipticals.
Still, it makes more sense to choose a  20″ over the 18″ stride, as the 20″ ellipticals have a much wider height range, ranging from 5ft to 6'3″, which means almost everyone can use one, and if you're in a household with more than one person using the elliptical, a 20″ stride will be the best choice.
So if you want to know what the best 20″ stride elliptical is? Of course, it will always be a commercial-grade machine. Still, that doesn't mean you have to buy commercial for home. There are a ton of ellipticals out there that boast 20″ strides that don't carry such high price tags.
Semi-Commerical | Under $1000 | and One Affordable Option
For half the price of a commercial elliptical, we can look to companies like Sole Fitness, who make excellent semi-commercial ellipticals perfect for home use; there's also a couple of impressive mid-level ellipticals under $1000 boasting 20″ strides, and one affordable option I like form Sunny Health that's worth taking a look at.
If you're in a rush, check out the comparison table below for my Top 3 Picks, if you have more time, please scroll past the table and read the review summeries for each elliptical.
Best 20″ Stride Elliptical – Comparison Table
Our Choice
Sole Fitness E35
Stride Length – 20″

Resistance Levels – 20

Flywheel Weight – 25lb

Dual Pedal Rails

Incline – Power Adjust 0-20°

7.5″ Color screen

Weight – 232lb
Best Under $1000
Schwinn 470
Stride Length – 20″

Resistance Levels –  25

Flywheel weight – 18lb

Single Pedal Rails

Incline – Power Adjust 0-10°

Duel Track – Blue 5″

Weight – 165lb
Best Affordable
Sunny SF-E3865
Stride Length – 20″

Resistance Levels –  16

Flywheel weight – 44lb

Single Pedal Rails

Incline – No

5″ Backlit Screen

Weight – 144lb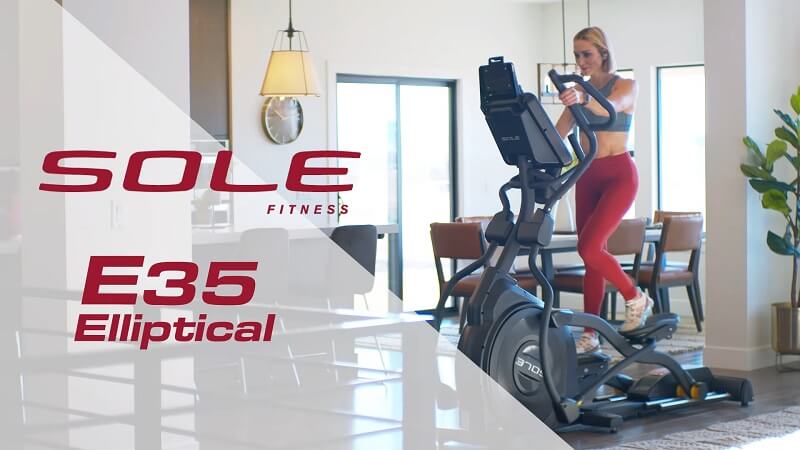 1. Sole E35 Elliptical (Best Overall)
Sole Fitness are a company known for building high quality fitness gear. These guys pride themselves on the build quality of their machines. Their ellipticals may not boast as much tech as the Nordictrack ellipticals, but if it's build quality and the best warranties you're after, Sole Fitness is the company to go to.
And The E35 is my favorite of all the ellipticals they make, it's a heavy machine for the price point. This thing weighs over 230lb, it's a bit of a beast, which is exactly what you want.
All that weight tells me it's made from quality materials, and best of all, it keeps the machine planted to the floor. There's no movement when pedaling on the Sole E35 elliptical.
Extra Smooth Elliptical Motion
Perhaps what's even more impressive than the heavy-duty build is how smooth this elliptical feels in motion.
The reason it feels so smooth is that it includes features you don't usually find on ellipticals in this price range, like the high ratio gears and the duel rails for each pedal with actual wheels; these are features normally reserved for commercial machines, so it's great to find them on an elliptical under the $2k mark.
You also have a pretty heavy flywheel at 25lb, which is easily heavy enough to help keep things smooth and consistent, and when you combine the 25lb flywheel with the high ratio gears, the frictionless resistance system, and those impressive dual rails and wheels you have one of smoothest elliptical motions out there.
5 years Parts Warranty
The Sole E35 is an elliptical that has got all the essentials right; you have the heavy-duty build, the smooth elliptical motion, the desirable 20″ stride, and the best warranty in this price range with five years on all parts and a lifetime on frame.
A warranty this impressive shows the confidence these guys have in their products which is always a good thing.
So does anything let this elliptical down? The monitor is fairly basic, there's no HD color touchscreen or auto trainer control, but this is normal for Sole Fitness.
Even their most expensive ellipticals have a pretty basic monitor, and that's because Sole put all their effort into the build, and the monitors come second, which for me, is better. I prefer a company that concentrates on the essentials of the elliptical rather than the techy stuff.
Still, the monitor isn't that bad. You have wireless heart rate monitoring, which is vital as it's much more accurate than the handlebar pulse sensors. Also, Sole throws in the HR chest strap for free, saving you a few bucks.
The monitor also includes quick touch buttons, Bluetooth, a load of workout programs, and of course, it tracks all your essential workout stats like distance, speed, time, etc.
And lastly, you have an impressive 20-level, 20% power adjustable incline, an essential feature for those who want to burn more calories and build and strengthen the large posterior muscles like the glutes and hamstrings.
Overall the Sole E35 is a solid elliptical that gets all the important stuff right. The monitor might lack a few advanced features, but the rest of this elliptical more than makes up for the basic monitor. This is as good as a 20″ stride elliptical gets for under $2k
Solid elliptical – heavy duty frame
Excellent warranty that includes 5 years on parts
Impressive 20 level power adjustable incline
20″ stride suitable for users up to 6'3″
25lb flywheel, dual rails with wheels, and high ratio gears give the E35 the smoothest elliptical motion in its price bracket
20 levels of magnetic resistance
Wireless heart rate monitoring – HR strap Included
Built-in transport wheels, speakers, BlueTooth, cooling fan, and tablet holder
Monitor might be a little basic for some users
You'll need an afternoon for assembly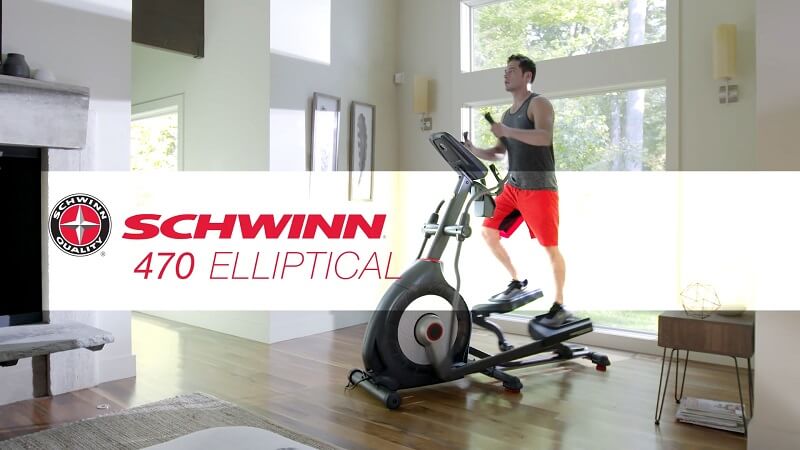 2. Schwinn 470 Elliptical (Best Under $1000)
Schwinn has been around for decades. For over 50 years, these guys have been building fitness equipment for our home gyms, and I've always liked Schwinn. They make high-quality gear, and most of it is affordable.
The 470 is their top-of-the-line elliptical, but it's not commercial grade or anything like that, it's just the top of the line for Schwinn. It's a mid-level machine and one of the best you'll find for around $1000.
What I've always liked most about the 470 is that the build quality is there. Yes, it's not as heavy-duty as the Sole E35, but this thing costs $600 less, yet it still boasts a nice heavy frame weighing 170lb. This is the kind of weight I want to see at this price level.
There are too many cheaply made lightweight machines in the under $1000 price bracket, but thankfully the Schwinn 470 isn't one of them. It's a sturdy, well-made machine for the price.
And you get the all-important power adjustable incline, great for working those large posterior chain muscles.
An incline feature is so important when buying a front-drive elliptical because front drive ellipticals only really work the anterior leg muscles like the quads. To work the much larger posterior chain muscles like the glutes and hamstrings, which have a higher caloric output requirement, you need an incline feature.
And the Schwinn 470 boasts a 10 degree 10 level incline, more than enough to give the hamstrings and glutes a hard workout. You can adjust the incline from the one-touch buttons of the monitor.
And the monitor is something else that stands out about the 470, as you get a whopping 29 workout programs, 25 resistance levels, wireless heart rate monitoring, BlueTooth, the quick touch buttons, and access to the Explore The Word App where you can download all your workout stats, and try out some of their Global routes.
It's one of my favorite monitors in this price bracket, it's not over complicated, it's nice and easy to use, and includes everything you need.
And lastly, you have the 20″ stride, which is great to see on an elliptical under $1000.
Is anything holding the Schwinn 470 back? The only feature that lets this machine down a little is the weight of the flywheel, weighing just 17lb. It's not super light, but you won't get that premium feel that you have with the Sole E35. The motion doesn't feel as smooth, and resistance in the upper levels isn't as strong.
Sturdy build, users have praised how stable the 470 feels
20″ stride length, can accommodate users up to 6'3″
Impressive 10 degree, 10% power incline
Decent monitor for price range, easy to use, and has a ton of built-in workout programs, including their app
25 levels of quiet magnetic resistance – can watch TV without being disturbed by the sound of the machine
Built-in speakers, BlueTooth, tablet holder, water bottle holder and transport wheels
The flywheel is on the light side for a mid-level elliptical
Have to buy HR chest strap seperatley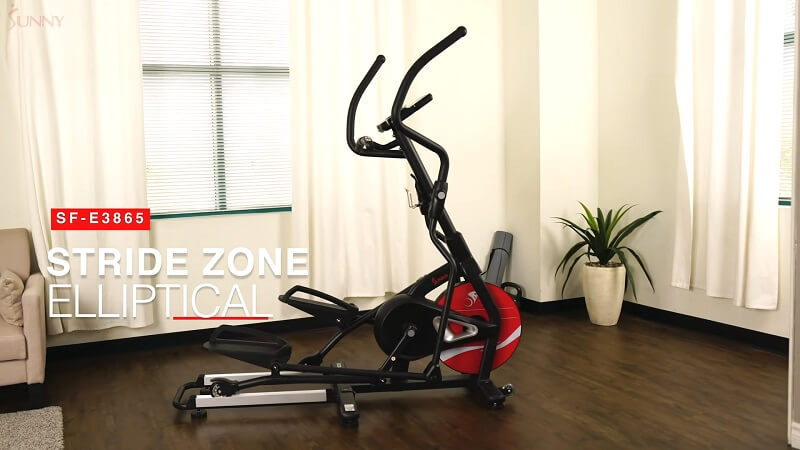 3. Sunny Health SF-E3865 (Best Affordable)
Sunny Health & fitness are the Kings of low cost, they've specialized in low-cost cardio gear for decades, and they're the only company large enough that can actually provide some quality in the lower price brackets. If your budget is tight at the moment, you should always check out Sunny Health first.
Their elliptical SF-E3865 is one of only two low cost ellipticals with 20″ strides I'm happy to recommend. It's a pretty good machine, well built, and weighs 144lb, so it doesn't feel like one of those lightweight unstable ellipticals you mostly find in this price bracket.
But what's crazy about this elliptical is the flywheel, as it weighs 44lb. That's the heaviest flywheel you'll find on almost any elliptical even commercial machines costing $5k don't come with flywheels this heavy.
Still, a heavy flywheel is nothing to complain about. It's a good thing. As the flywheel weight is the main feature that determines how smooth your elliptical is going to feel, it also plays a part in how strong the resistance will feel in those upper levels. And at 44lb, you'll have a surprisingly smooth feeling elliptical for the price bracket.
Other features of the Sunny elliptical include a 20″ stride, and like all the ellipticals in this guide, you get a frictionless resistance system, which is quiet when in motion. The magnets of the resistance system never have to make contact with the flywheel; thus, there's very little nose, around 20DB.
The monitor, as you might expect, isn't anything special. You get 7 workout modes and 10 workout programs, and I was happy to see that you can adjust resistance strength from the monitor and not manually from a resistance knob, like so many in this price range.
There's inst too much I can fault about the Sunny. As for the price, I think it offers a lot of bang for your buck. The only drawback is that there's no incline.
Surprisingly heavy flywheel – smooth motion
20″ stride suitable for users up to 6'3″
Quiet magnetic resistance system
10 workout programs and 7 workout modes
Adjustable stabilizer levelers – great for keeping elliptical stable on uneven floors 
Built in – transport wheels, tablet holder and water bottle holder
Monitor screen isn't backlit making it hard to read in low-light conditions
No wireless heart rate monitoring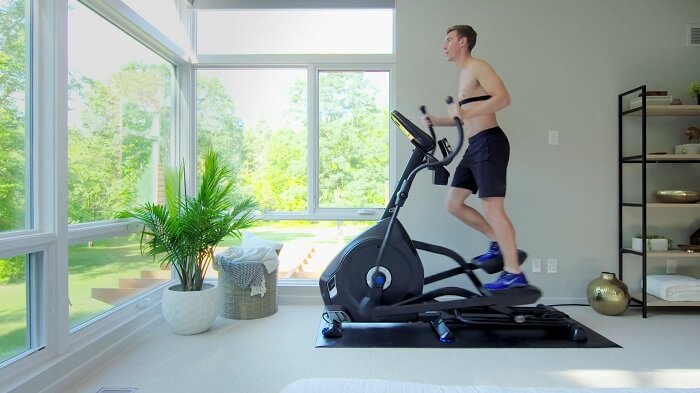 Nautilus E616 Elliptical (currently $749)
Nautilus is a large company that recently took over Schwinn and owns other popular brands like Bowflex. Nautilus ellipticals are excellent. They're very similar to the Schwinn ellipticals, and their low-cost E616 is my favorite elliptical they make.
The reason I like the E616 so much is that it's regularly updated, so includes all the latest tech at a much lower price than its competitors. The E616 is currently in the market for $750, and it includes a power incline, a 20″ stride, weighs 165lb, so it's nice and stable, and has an impressive monitor.
The monitor is the same monitor that ships with the Schwinn 470, so you get 29 workout programs, wireless heart rate monitoring, 25 resistance levels, and access to their Explore The World app, its dual-screen monitor, which allows you to see all your workout stats at one time.
This is an elliptical that offers all the features of a mid-level elliptical but costs a lot less. Okay, the flywheel lacks weight again at 17lb, but its a premier weighted flywheel, and this really does help keep things smooth, also you have the single rails for the pedals, but they do come with wheels and not plastic sliders which also helps keep everything smooth and the path of the stride straight.
I often wonder why the Nautilus ellipticals aren't as popular as the Schwinn ones because they offer just as much if not more, for the money. This is an excellent elliptical for the price point and one I'm happy to recommend.
Sturdy build can handle 300lb
20″ stride suitable for users up to 6'3″
Impressive 10° power adjustable incline – burn more calories, build glutes and hamstrings
Easy to use monitor with quick touch buttons – saves time
25 levels of resistance and 29 built-in workout programs
Wireless heart rate monitoring with HR chest strap included
Can be used with Explore The World App
Built-in transport wheels, speakers, cooling fan, and BlueTooth
Would have liked to of seen a 20lb flywheel
Need two people for assembly
Only ten year warranty on frame
Buying Tips – What To Know Before You Buy
It's always a good idea to know what to look for when choosing an elliptical and, most importantly, what to avoid. We've put together a quick buyer's guide that should provide you with all the information you need.
Weight/Build Quality
The weight of an elliptical or any kind of cardio equipment is more important than most people think, as it's the weight of the elliptical that gives you a good clue to the overall quality of the machine.
A commercial elliptical will weigh anything from 250lb – 350lb. These are heavy-duty, high-quality, durable machines designed to be used for years in gyms and clubs. This type of elliptical will cost from $3k to $6k
Semi-Commerical machines are more affordable but still high quality, and some boast heavy-duty frames; these are the best ellipticals for home gyms. They weigh anywhere from 200lb to 250lb. Prices range from $1.5k to $3k
The Mid-level elliptical is often the most popular choice. The build quality is much better than the cheaply made lightweight budget machines. Although they don't have the premium feel and heavy-duty builds of commercial and semi-commercial machines, they still prove to be an excellent choice for beginners and intermediates. If you search hard, you'll find some with sturdy builds. Look for a weight range of 150lb to 200lb.
Don't Go Under 100lb.
It's best not to choose an elliptical that weighs under 100lb. These are budget ellipticals, and they are made from cheap, lightweight materials. Durability, stability, and resistance strength are always issues with budget ellipticals; if you can avoid this type of elliptical.
Stride Length
The stride length of an elliptical is important because it determines who can use the machine and how comfortable you will feel. Commercial ellipticals like the ones in your local gym use a 20″ stride. The reason this length stride is desirable is that its a stride length that suits most people's heights with a height range of 5ft to 6'3″.
20″ stride lengths can be found on most types of ellipticals apart from the budget machines
Flywheel Weight
The flywheel weight is an elliptical essential you need to pay attention to, as it's the main factor determining how smooth your elliptical motion will feel.
Also, the weight of the flywheel can affect how strong resistance feels in those all-important upper levels.
If you want to avoid a jerky elliptical motion, it's best never to go under 15lb for the flywheel. A weight above this will ensure the motion feels smooth and consistent.
Incline
If you have the cash, it's best to choose an elliptical with a power-adjustable incline, as it saves you from having to get off of the machine and adjust the incline manually.
Also, if you're choosing a front-drive elliptical, an incline feature is highly recommended, as front-drive ellipticals only really work the anterior muscles of your legs like the Quads.
The reason they only work the anterior muscles is that the flywheel is in front of you, which means you need to stand on the front of your feet and push the flywheel to get it spinning, which mainly works the quads.
To get the most out of your workouts on a front-drive elliptical, you need to work the much larger posterior chain muscles like the hamstrings and glutes. The hamstrings are three times larger than the quads, and the glutes are the largest muscles in the body.
Because of their size, the posterior legs muscles have a higher caloric output requirement than the smaller anterior muscles like the quads, so if you want to burn more calories, you have to work the posterior muscles, and to achieve that on a front-drive elliptical; you need an incline. Pedaling on an incline will switch the focus of your workout from the front to the rear.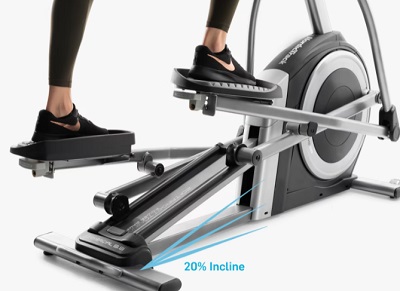 Monitors/Control Console
Monitors are a bit hit and miss with ellipticals in all price ranges. You could buy a $5k commercial elliptical, and the monitor will be more basic than an elliptical with an $800 price tag.
Monitors are not as important as the other feature we have mentioned and are more down to what you really want. Do you love subscription apps? You might want an elliptical with a large HD color touchscreen if you do. Some ellipticals even come with VR.
I think what's most important about an elliptical monitor is that it's easy to use. Look for the quick touch buttons for incline and resistance, as these save time.
Wireless heart rate monitoring is another feature I feel is essential, as the built-in handlebar pulse sensors usually aren't very accurate. Some ellipticals even profile the HR chest strap.
And lastly, you'll need a few workout programs to keep you challenged, which is especially important if you don't want to subscribe to a fitness app like iFit. Most ellipticals come with built-in workout programs.
Other handy features to look for are cooling fans, Bluetooth speakers, a tablet shelf, and water bottle holders.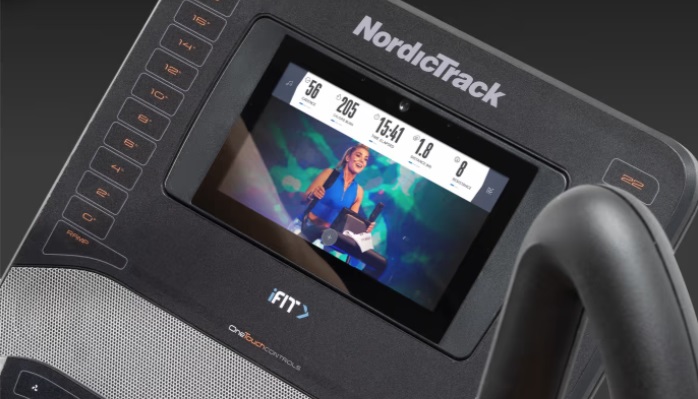 Resistance Type
Most ellipticals use magnetic resistance. This is the perfect resistance type for ellipticals because it is smooth and whisper quiet.
The reason it's so quiet is that it's a frictionless resistance system. And by frictionless, I mean the magnets never have to make contact with the flywheel. Thus, there's little to no noise. You can watch TV or listen to music without being disturbed by the sound of the machine.
To Sum Up
With the Sole E35, you're about as close to commercial grade as you're going to find for under $2000. This machine has a heavy-duty build, the stride length, and an impressive 20-level incline. I love the dual rails for the pedals, the high ratio gears, and the 25lb flywheel. All these features ensure the elliptical motion is extra smooth with this machine.
I can't find any other 20″ stride elliptical in this price bracket that comes close to the Sole E35, the monitor is a bit of let down, yes, but it really isn't that bad. It has the large quick-touch buttons, Bluetooth, and Wireless heart rate monitoring with an HR strap. So you're not left wanting. It just would have been nice to of had an HD screen.
But overall, the E35 easily outshines everything else with a 20″ stride apart from the commercial ellipticals.
And if you want to spend around $1000, the Schwinn 470 won't let you down either. This is a machine that has been around for years, it's stood the test of time, and people are still loving it all these years later. Recently updated, the Schwinn 470 is better than it ever has been and offers good value for money.