Sole Fitness has been around for years. You might have seen some of their equipment in hotel gyms; they have a lot of experience making semi-commercial and commercial fitness gear.
And what I love about these guys is that they bring most of that quality and all that experience over to their home products. So while we can't quite expect gym quality in this price range, the Sole E35 Elliptical is about as good as it gets for under $1500
It's Not About The Tech With Sole
Some people are going to feel a little disappointed with this elliptical because the monitor is basic, there's no HD touchscreen here like with NordicTrack. With Sole, you get the build quality and all the essentials, but the tech lacks. Still, in this price range, it's better to have an elliptical that lacks a few techy features than a company thats put all its money into the tech and forgets about the rest of the elliptical.
And this is where you have to decide whether you want a high-quality elliptical thats going to last years of heavy use or a substandard machine with a large HD touchscreen? You won't find an elliptical for under $1500 that has both.
At least with E35, the build quality is there, so are the essentials, and they offer the best warranty of any mid-level elliptical, which tells me they have a lot of confidence in their equipment.
It's certainly an elliptical I feel is worthy of some serious consideration, and in today's review, I want to take a close look at everything it has to offer and any drawbacks.
First, let's check out the Sole E35 product specs!
Product dimensions – 71″ x  82″ x  31″
Resistance Type – Magnetic
Pre-programmed workouts – 10
Why Do We Like The Sole E35 Elliptical?
What stands out about this elliptical is the weight of the thing. It weighs 231lb out of the box, thats heavy for a mid-level machine, and this is a good thing. That extra weight is a telling sign high quality parts were used in the build, and what's just as important is that weight will ensure this elliptical feels sturdy.
It won't feel like a cheaply made unstable elliptical like so many do in this price range. It's a solid machine for the price point, and thats what sells it for me.
Smooth Elliptical Motion
As important as the build quality is how smooth your elliptical feels, no one wants a stuttering elliptical. And to achieve a smooth motion, you need a heavy flywheel. The flywheel weight is the main factor that contributes to the smoothness of your elliptical.
The Sole Boasts a 25lb flywheel which is what I'd expect in this price range, and easily heavy enough to keep things smooth.
Heavy Duty Dual Rails
Also, with Sole and something you won't find on other ellipticals in this price range are the dual rails with wheels; it's one of my favorite features because the heavy-duty rails help to prevent any sideway movement of the pedals.
The dual rails keep the path of the elliptical stride nice and straight, which is exactly what you want, and the four wheels make everything feel extra smooth.
It's great to see actual wheels for the pedal rails, as most ellipticals use plastic gliders, which dont work as well. When you combine the dual rails, the wheels, and that 25lb flywheel, you probably have the smoothest elliptical motion for the price bracket.
A decent Incline is Essential.
The Sole E35 is a front drive elliptical which means you tend to lean forward because you have to push the flywheel to get it spinning. Standing on the front of your feet and pushing mainly works the anterior muscles of the legs, like the quads, which is great; there is nothing wrong with giving the quads a good workout.
But to get the most out of your workouts, you really need to work the much larger posterior muscles like the glutes and hamstrings. These muscles have a higher caloric output requirement than the smaller anterior muscles, and you must have an incline to work them on a front-drive machine.
Pedaling on an incline will shift the focus of your workout from the front to the rear, giving those large posterior chain muscles a proper workout, and you'll burn twice as many calories.
Thankfully the incline feature on the Sole E35 is one of the best you'll come across.
Sole always offers excellent inclines with their ellipticals, and the E35 is no exception boasting a 20-level, 20% power adjustable incline.
You can adjust the incline from the quick touch buttons of the monitor or use the handlebar controls. A handy feature thats saves you from having to reach forward to the monitor to adjust the incline in the middle of a workout.
Basic but Good Control Console
I mentioned in the intro the monitor is something that lacks with Sole Ellipticals, including the E35, but it's really not that bad. Yes, there's no HD color screen and only ten workout programs. Still, it's great that it includes wireless heart rate monitoring, which is a much more accurate way to monitor heart rate than the pulse sensors, plus Sole throw in the HR chest strap, saving you a few bucks.
Also, you have the quick touch buttons, a feature I like to see on any monitor as they save time. Other features include BlueTooth speakers, a cooling fan, and of course, it tracks all your essential workout stats like distance, time, calories, speed, etc.
A few of you will be disappointed with the monitor, but I feel many will like it as it's nice and easy to use and includes everything you need for your workouts at home.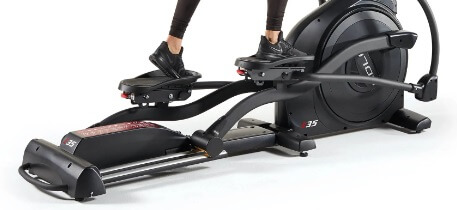 20″ Stride Suitable For Users Up To 6'3″
The stride length is another important feature you must consider as it determines who can use the machine.
In your local gym, you'll find commercial machines us a 20″ stride. 20″ is the ideal for an elliptical because its suitable for most peoples heights with a height range between 4'11" and 6'3″
The Sole E35 has the desirable 20″ stride so no complaints here.
Whisper Quiet – 20 Levels of Frictionless Resistance
Magnetic resistance is frictionless; by that, I mean the magnets of the resistance system never have to make contact with the flywheel. And because they dont make any contact, you'll left with little to no sound, which is why it's ideal for home cardio gear like ellipticals.
Another positive of magnetic resistance is how smooth it feels. There's nothing jerky about it which is what we want. 
Also, you have a belt drive system with the E35 elliptical, which is much quieter than a chain drive, and when combined with a magnetic resistance system, you have a noise level of around 20DB, which is whisper quiet.
The Sole E35 comes with 20 levels of resistance which is enough for most fitness levels.
The 25lb flywheel will ensure strong resistance in the all-important upper levels. Still, remember this is a mid-priced elliptical from Sole, so while it is impressive for the price point, the resistance won't be strong enough for seasoned athletes.
It's an elliptical for beginners and intermediates.
Static and Moving Handlebars
Most ellipticals are equipped with two pairs of handlebars, a moving pair, and a static pair. The static pair are great for beginners because beginners can grab hold of these for support and get used to the elliptical motion, and once their confidence is built can move on to the moving pair of handlebars for a full-body workout.
But it's not just beginners who like to use the static pair handlebars. Seasoned elliptical users love using the static pair as they allow you to focus fully on the legs. You can crank up the resistance and give the legs a really hard workout.
Assembly Can Be Tricky
The E35 is a large, heavy elliptical, so you'll need an extra pair of hands to help you get the machine in place and unbox it. Ellipticals are more tricky to assemble than exercise bikes and treadmills, so I recommend setting aside an afternoon to assemble this one.
Take your time assessing it, as most of the problems that arise with ellipticals are because they haven't been assembled correctly.
Sole Fitness offers free delivery to your door, but you must pay extra for assembly. All the tools for the job and an illustrated manual are provided.
Sturdy elliptical for price point – heavy duty frame
Excellent warranty that includes 5 years on parts
Impressive 20 level power adjustable incline
20″ stride suitable for users up to 6'3″
25lb flywheel, dual rails with wheels, and high ratio gears give the E35 the smoothest elliptical motion in its price bracket
20 levels of magnetic resistance
Wireless heart rate monitoring – HR strap Included
Built-in transport wheels, speakers, BlueTooth, cooling fan, and tablet holder
Monitor might be a little basic for some users
You'll need an afternoon for assembly
Nautilus E618 Elliptical
If you want to keep the price tag below $1000, then the E618 from Nautilus is a cracker for the price. Nautilus also own Schwinn, so their elliptical are very similar, except for some reason, Nautilus updates its line of ellipticals much more often which is why you should always choose a Nautilus elliptical over the dated Scwhinn's
The best thing about the E618 elliptical is that it weighs over 200lb which is excellent for an elliptical costing under $1000, it's a solid machine that doesn't move around when exercising.
Also, you get a 22″ stride with the E618, so it's a great choice for taller users on a budget, usually, you have to spend well over $2k to find a stride this wide.
And the monitor is good too, as it includes wireless heart rate monitoring with chest strap included and a whopping 29 built-in workout programs and 25 resistance levels.
Still, where it's held back a little is the flywheel weighing just 17lb. It is on the light side, but about right, considering this machine costs $400 less than the E35
The incline is power-adjustable, but it's only a 10-level, 10-degree incline, nothing to moan about, just not as impressive as the Sole.
And with magnetic resistance and a belt drive system, it's quiet enough that you won't disturb others with your workouts.
Overall for under $1k, you can't really fault the E618, it's an elliptical that boasts all the essentials and more. For those on a tighter budget, this is one of the best you'll find.
To Sum Up
The Sole E35 has been a best seller for Sole Fitness for years, and there's a good reason why it sells so well, the build quality is higher than anything in its price bracket, and the long warranty not only gives people peace of mind when buying, it also shows us how much confidence these guys have in their equipment which is always a good thing.
If I had to fault it, the next update should include a touchscreen. The monitor is starting to feel a little dated.
Apart from the lack of a touchscreen and not enough workout programs, this machine is unbeatable. If you want something that will last, and something that shines on all the important essentials, the E35 is the one to go for.
Sole E35 Elliptical Machine FAQs
Are Sole Ellipticals Any Good?
Sole makes semi-commercial and commercial ellipticals, and they have more experience than most at making high-quality ellipticals for our homes. You can expect heavy-duty frames and durability from a Sole Elliptical. They may not have the technology of some ellipticals, but they certainly boast the best build quality in their price ranges.
How Heavy is The Sole E35Elliptical
The Sole E35 Elliptical weighs 231lb
How Long Will The Sole E35 Elliptical Last?
Sole ellipticals are known for durability, and the Sole E35 is one of the best ellipticals Sole makes. It has an excellent warranty with five years on parts, so at the very least, the E35 elliptical will last you five years, and with the right maintenance, there's no reason the E35 shouldn't last another 5 after that.