We're verging on commercial grade with the SOLE E35, this thing is heavy duty and packed full of features including a power-adjustable 30-degree incline. It's one of the only ellipticals in the under 2k category that can boast build quality similar to machines used in commercial gyms.
In our SOLE E35 Elliptical Review, we're going to cover all the pros and cons of this capable machine from SOLE. I'll also be comparing SOLES E35 with Schwinn's top of the line model their 470 elliptical trainer, be sure to check out the comparison at the end of the review!
Before we get on with the review, let's take a quick look at the product specs.
Product dimensions –  58 x 32 x 83 inches
Resistance Type – Magnetic
Pre-programmed workouts – 10
Frame – Heavy duty steel tubing
Why Do We Like The SOLE E35 Elliptical Trainer?
What you have to love about this elliptical or any of the SOLE Fitness home cardio gear is the build quality.
These guys build their cardio machines to a high standard, with durability at the forefront of everything they do, why? Because SOLE's main business is supplying cardio gear to hotels.
Building cardio gear for hotel use means SOLE has a ton of experience producing gym grade cardio equipment that can be used 24 hours a day for years without breaking down.
Only recently has SOLE decided to enter the home gym market, and their ellipticals for home mirror the quality of the machines they send out to hotels which is great news to anyone looking for a high-quality durable machine for home.
And thankfully they don't cost the earth. For under $2k you won't find a better built elliptical trainer.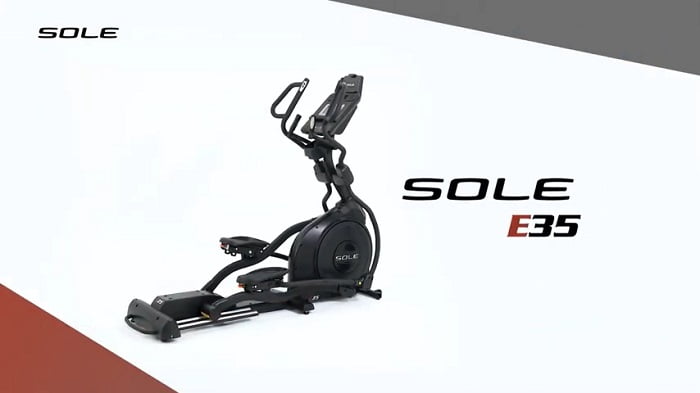 Stride Length
Apart from the quality of the build, stride length is the second most important thing we need to consider when buying an elliptical.
For those of you that don't know what stride length is, its the measurement in between the toe of the front pedal to the heel of the rear pedal.
This measurement is vitally important as it determines how naturally you will be able to stride. The last thing anyone wants is to buy an elliptical and find the stride length is too short to run or walk at pace.
At this price, we should expect to see a decent stride length, and you'll be happy to hear the SOLE E35 boasts a 20″ stride length adjustable up to 22″. This is a great stride length, which will allow users up to 6'2″ to exercise comfortably on the SOLE elliptical.
A stride length of between 20-22 inches is the norm for commercial ellipticals, this is the same stride length as the ellipticals you come across in your local gym. If you are ok exercising on one of those, you'll be just fine working out on the SOLE E35.
Power Adjustable Incline
Incline has to be one of my favorite features of any elliptical. Owning an elliptical with incline capabilities will allow you to target different muscle groups such as the hamstrings, calves and butt. However, what's great about this machine's incline is that it power adjusts.
Power adjustable includes saves you having to jump off the machine and change the level of incline manually which can be annoying and disrupt your workout. The SOLE E35 lets you adjust the incline simply by selecting the level you want from the touchpads on the monitor. Nice.
And what's most impressive is the height of incline, while most ellipticals in this price bracket only offer a max height of 20 degrees the SOLE E35 trumps them all with a 0-30-degree power incline.
Resistant Type/Strength
The SOLE E35 elliptical trainer provides you with 16 levels of magnetic resistance. While this isn't a huge amount, it's certainly nothing to complain about. Sixteen levels will provide enough resistance strength for most fitness levels. And with a reasonably heavy flywheel (25lb), you can be sure of a smooth motion.
I'd always recommend for home use, to choose magnetic over air resistance for the simple reason magnetic resistance is whisper quiet when in use. You won't disturb yourself or others with the sound of the machine.
Also magnetic resistance is constant; i.e., it doesn't matter how fast or slow you walk or run the resistance strength will stay the same unless you manually change it via the monitor.
Whys constant resistance a good thing? It means you can run or walk at a slow pace on a high resistance level. Great for building muscle strength and something impossible with air resistance as air resistance only increases as you walk or run faster; we call this dynamic resistance.
Monitor/Control Console
Nothing particularly fancy about the monitor of the SOLE E35. There's no HD color screen, nor any built-in Fitness apps like you get with the NorickTrack and Schwinn ellipticals.
What you do get is all the important stuff, such as wireless heart rate monitoring (chest strap included) Bluetooth, ten workout programs, 16 resistance levels, and built-in speakers.
I know many of you will be thinking the monitor sounds simple for the price bracket and it is, but it's simple in a good way, this monitors nice and easy to use, and although SOLE Fitness doesn't have its own fitness app this machine does include the tablet holder so if you want to use your fav fitness apps such as MyFitnessPal, FitBit, and all the others you can!
Assembly SOLE E35
This is a heavy piece of equipment so we recommend two people for assembly,  always a good idea to ask the delivery people to place the box in the room you are going to keep the elliptical, saves having to move it later.
Most people have got this thing together within 3 hours. All tools and a detailed step by step instruction manual is included.
High quality, stable build
Power adjustable incline (0-30 degrees)
Wireless heart rate monitoring (chest strap included)
Unique foot pedals designed in collaboration with a leading physical therapist and sports enthusiast. SOLE engineers have designed in a 2-degree inward slope to the foot pedals which reduce ankle and knee stress. (pedals also cushioned and adjustable to suit all users)
16 levels of whisper-quiet magnetic reistnace
Lifetime frame warranty – 5 years parts and 2 years in-home labor (excellent warranty for price bracket – best we have seen)
Cannot download new workouts
Stride length isn't adjustable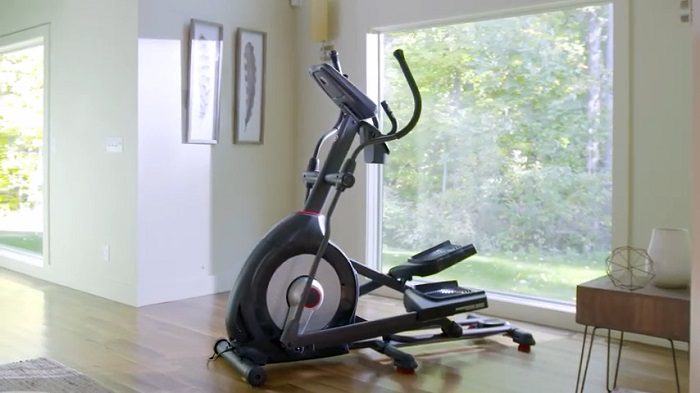 Schwinn has been building home cardio equipment for over 40 years. These guys know what there doing when it comes to your fitness, and their continued popularity is evidence of this.
The 470 elliptical is Schwinn's top of the line offering; it boasts all the essential features such as power-adjustable incline, wireless heart rate monitoring, and a large number of workout programs and resistance levels.
So is there a big difference between the Schwinn 470 and the SOLE E35? When it comes to features no, they both offer similar features with the Schwinn providing a few more resistance levels and workout programs. But as we mentioned earlier, the SOLE trumps the Schwinn when it comes to incline. (Schwinn incline 0-10 degrees) (SOLE E35 incline 0-30 degrees)
While I put Schwinn right up there with the best when it comes to home cardio equipment, including their ellipticals, the build quality of the SOLE may be slightly better. And that's only because SOLE has a load of experience at building commercial machines.
The E35 also receives higher user ratings than the Schwinn 470 not much higher but noticeably so with many users praising the build quality and the excellent customer service SOLE Fitness provides.
But to be honest, there isn't much between both machines, both boast the same stride length, and both have very similar features.
It's a tough choice to choose between the two, but in the long run, if you're after a serious machine that's going to last years of heavy use, I'd recommend you take a closer look at the SOLE.
However, the 470 is a couple of hundred bucks cheaper. It offers a ton of workout programs and resistance levels and is our favorite elliptical in the under $1k price bracket, so it is still worthy of some serious consideration.
Click the link below for our full review of the Schwinn 470
To Sum Up
SOLE Fitness are without a doubt becoming kings of the elliptical market; their E35 elliptical is a solid, durable machine that beats all others out there when it comes to the quality of the build, ok it's not packed full of advanced features such as HD screens, but it doesn't need to be, you have all you need here for a full-body, low impact workout at home.
Other than the build quality, what stands out about the E35 is its adjustable incline, 0-30 degrees is impressive for a machine under $2k couple that with a 20″ stride length and the awesome warranty and you surely have one of the best ellipticals currently available for home use!