Ancheer has a couple of ellipticals on the market at the moment; there's the Ancheer Elliptical Machine we're reviewing today and an older version of it. It's best to avoid the previous model as it has a few issues, some parts won't connect properly etc., and the flywheel is too light to keep the elliptical smooth.
Heavier Flywheel and Larger Stride
The updated version is much more impressive. The flywheel is a good weight for the price point, there's also minimal assembly to deal with, and it boasts a few extra features like BlueTooth and a larger stride which is probably the most important update.
I'm not a massive fan of budget ellipticals because they always come with build issues, so they are usually a waste of money, but what I like about Ancheer is they listened to their customers and made the right changes to their elliptical and they didn't hike up the price. It's now an elliptical worthy of some serious consideration, and if you're a beginner on a budget, this might be the right choice.
In today's, Im going to take a close look at everything this low-cost elliptical from Ancheer has to offer, including any drawbacks.
First, let's check out the Ancheer Elliptical product specs!
Product dimensions – 63 x 28 x 69 inches
Resistance Type – Magnetic
Pre-programmed workouts – 0
Why Do We Like The Ancheer Elliptical Machine?
The first thing you'll like about the Ancheer elliptical is how easy it is to set up, and it comes almost fully assembled, taking just 20 minutes to get up and running. Ellipticals are usually a headache to assemble, so having one that arrives 90%  assembled is always a good thing.
Work Your Glutes and Hamstrings
Something else I really like about this machine is that the flywheel is behind you. When the flywheel is positioned behind you, you must pull it to get it spinning. This means your posterior muscles, like your glutes and hamstrings, are doing most of the work.
The glutes and hamstrings are much larger than your anterior muscles, like your quads, and because they're larger, they have a higher calorie output demand which means you'll burn more calories on this machine than a front-drive elliptical that works the quads.
Naturally Keeps You in a Straight Upright Position
Also, because you are pulling more than pushing, your body naturally stays upright, so there's no need to worry about correcting your posture all the time as you would on a front drive machine.
8 Levels of Whisper Quiet Resistance
The Ancheer elliptical uses a magnetic resistance system. This type of resistance system is always the best choice for ellipticals because it's a frictionless system that hardly makes any sound. The magnetic never has to make contact with the flywheel, thus creating a smooth, almost silent resistance.
You get 8 levels of resistance with the elliptical, which is about what I'd expect in this price range. Thankfully the flywheel weight has increased with this model, so the upper levels of resistance are stronger than previously. Not strong enough for seasoned athletes but strong enough for anyone looking to burn off some unwanted belly fat and increase their overall fitness levels.
Still, because this is a budget machine, you can't adjust the resistance strength from the monitor. Instead, you have to adjust manually via the tension knob. It's easy to do but not as quick as adjusting from a monitor.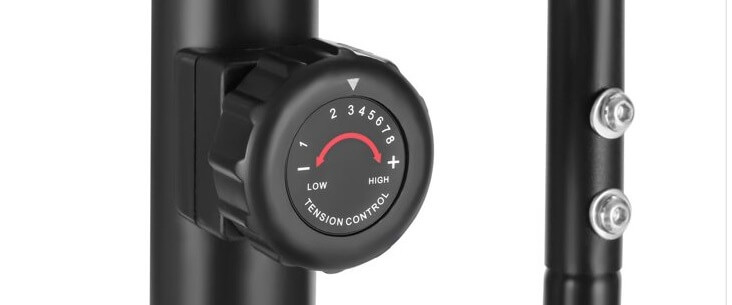 How Smooth is The Elliptical Motion
This is a $300 elliptical, so dont expect to feel anything like a machine you might use in your local gym; those machines cost $3k and up.
Still, for a budget machine, the elliptical motion is fairly smooth because you have most of the features that contribute to a smooth elliptical motion. The feature that affects the smoothness of the elliptical motion the most is the weight of the flywheel. Heavy flywheels produce the smoothest, most consistent motions.
The minimum is 12lb to keep this smooth, and thanks to the recent update, you now have a 15lb flywheel with the Ancheer elliptical, which is impressive for the price and really helps keep everything feeling smooth.
Other features to look for are a magnetic resistance system, a belt drive system, and high ratio gears, you dont have the high ratio gears with the Ancheer Elliptical, but you have got both a belt drive and magnetic resistance system. So for a budget machine, you're doing well.
16″ Stride Suitable For User Up To 6ft
Another impressive improvement Ancheer made to this elliptical is the stride length. It now boasts a 16″ stride, which is excellent for a budget machine, and it means users up to 6ft can enjoy using the Ancheer elliptical without feeling restricted.
Basic but Good Monitor With BlueTooth
In this price range, you can't expect much from the monitor; in fact, there are a few that dont even include monitors.
Still, for a budget machine, I like the monitor; it's nice and easy to use, has a fairly large LCD, and even comes with BlueTooth and free access to a fitness app where you can download all your workout stats, which is great to see.
The monitor tracks all the essential workout stats such as distance, time, calories, etc., and comes with a tablet holder, so if you get bored, you can always watch Netflix or YouTube to keep away the monotony of long workout sessions.
You also have pulse sensors built into the static handlebars and can easily view your pulse rate on the LCD.
Overall a basic monitor but has a little more than most in this price bracket.
It only Weighs 77lb
This, for me, is the main drawback of the Ancheer elliptical or any budget elliptical they're too light. There isn't much weight there to keep things planted on the floor. Yes, you cant expect a heavy-duty machine for $300, but 77lb is super light, and I'm afraid stability might be an issue for some.
Ancheer have done their best to try and keep things stable, the large rear stabalizer bar will certainly help, and I was happy to see the adjustable levelers; these are an excellent feature to help keep the elliptical stable on uneven floor.
Still, even with these extra features, it will always be a lightweight elliptical, it's going to be more sturdy than most cheap ellipticals, but you won't get that nice solid feeling of a more expensive machine.
2 Pairs of Handlebars
Most ellipticals come with a moving and static pair of handlebars. The static pair are excellent for beginners because you can grab hold of these and get used to the elliptical motion, and once you've built your confidence, you can move on to the moving pair of handlebars for a full-body workout.
20 Minute Assembly
As I already mentioned in the intro, assembly is very easy with the Ancheer elliptical. All you need to do is attach the stabalizer bars, attach the two handlebars, and the monitor. Most people got this together in around 20 minutes. An illustrated manual and tools for the job are provided.
Impressive stride length for price point suitable for users up to 6ft
15lb flywheel keeps elliptical motion smooth
Quiet frictionless resistance system – can watch TV listen to music without being disturbed by the sound of the machine
Decent monitor with BlueTooth and access to fitness app
Adjustable levelers help keep elliptical stable on uneven surfaces
Easy assembly – comes 90% pre-assembled
No build in workout programs
LCD isnt backlit making it hard to read in low light conditions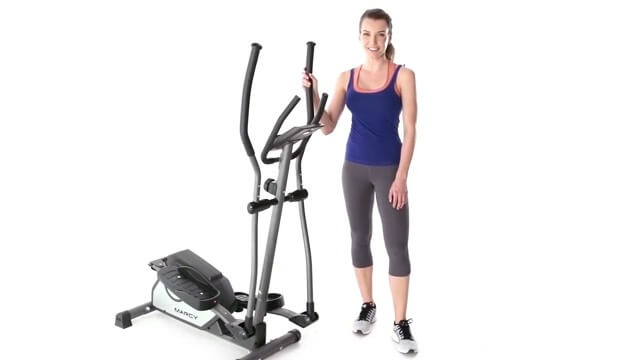 Marcy Elliptical Trainer
Marcy are one of the few companies worth considering when choosing low-cost gym gear. I've reviewed a ton of their stuff, and I'm always impressed with the quality for the price.
They've been around for a couple of decades, and they know what they're doing in the low price ranges. And their elliptical is about as good as you'll find for under $250. Yes, it costs even less than the Ancheer but matches the Ancheer on all the essentials.
The Marcy, like the Ancheer elliptical, comes with 8 magnetic resistance levels, so it's nice and quiet when in operation; a belt drive system, and a 14lb flywheel to keep things smooth.
The stride length is a touch shorter than the Ancheer, and you'd expect it to be as the Marcy over $50 cheaper, but at 14″, the stride length is still impressive for such a low-priced machine.
If you're under 5'10", the Marcy is one of the best budget ellipticals out there. Marcy are a company that stands behind their fitness gear so should anything go wrong, you shouldn't have problems getting it fixed.
To Sum Up
I think Ancheer have done really well with their updated elliptical. I especially like the rear drive design but what's most noticeable is the 16″ stride, this is an impressive length for such a cheap elliptical, and you also get a fairly heavy flywheel which helps keep everything feeling smooth.
It's a long way off anything you might use in your local gym, but for a home elliptical that you might use 30 minutes a day, it's perfect for weight loss and increasing your fitness levels. For $300, there isn't anything else out there that can beat it.