A large 2014 study found ellipticals significantly reduced wear and tear on our joints compared to running and walking on a treadmill, in fact, treadmills cause a jolt to your body 3-5 times your own bodyweight! Not good at all for your lower body joints and lower back.
Ellipticals are en excellent low impact alternative to the treadmill, they reduce stress and strain on your legs, and because your feet never leave the pedals, it's like walking in mid-air.
Low Impact Full-Body Workout
There is no other machine out there that can give you a full-body workout with almost zero impact on your joints. Ellipticals are designed for anyone, including seniors who want to protect themselves from injury when exercising.
Today we're going to take a close look at 5 of the best elliptical for seniors; All five ellipticals are well built machines with long warranties and have been carefully selected for seniors and people with joints problems.
It can be tough trying to pick out the right elliptical for your fitness needs, so many variations of both build quality and features. But don't worry, we've done all the hard work for you.
After months of researching and writing reviews for numerous ellipticals, we've been able to separate the good from the bad, we know which companies stand behind their products with excellent customer care and warranties.
Horizon Fitness Low Step on Height – High Quality Builds
One of our favorite cardio fitness companies has to be Horizon Fitness, these guys offer some of the best warranties in the business, and their customer service is first class.
They are well known for their high quality builds and durable designs, and what's best about this impressive company is they produce the most suitable ellipticals for seniors and their needs.
Why are Horizon ellipticals best for seniors? Because they are the only company I have come across to include a low step-on height for the user.
A low step-on height is vital for people who have joint issues. It can be hard work getting on and off an elliptical as most, sadly, have a high step on height some as high as 16″.
Horizon has addressed this problem, and now all of their ellipticals include the low step-on height of just 10″ This is great for seniors who don't want to risk injury getting on and off the elliptical.
So, today we are going to take a close look at three of Horizon's excellent ellipticals. And for those of you who are tight on space, I've also included two of the best mini ellipticals in there too.
If you have time, you might want to check out our handy buyer's guide, which follows the reviews, especially useful if this is your first time buying an elliptical.
First, let's take a quick look at the comparison table!
Best Elliptical For Seniors – Comparison Table & Reviews
Our Choice
Horizon 7.0 AE Elliptical
Stride Length – 20″

Resistance Levels – 20

23lb Flywheel

BlueTooth

Incline – Power Adjust 0-10°

Step on Height – 10″

+ Folds For Storage
Horizon Evolve 3 Elliptical
Stride Length – 20″

Resistance Levels – 20

18lb Flywheel

+ BlueTooth

+ Incline – Power Adjust 0-10°

Step on Height – 10″

Folds For Storage
Best Affordable
Horizon EX-59 Elliptical
Stride Length – 18″

Resistance Levels – 10

14.4lb Flywheel

BlueTooth

+ Incline – Power Adjust 0-10°

Step on Height – 10″

Folds For Storage
1. Horizon 7.0 AE Elliptical
The Horizon 7.0 AE elliptical is one of Horizons top of line machines, this thing is packed full of useful features and has a nice heavy 195lb stable build.
We're not looking at commercial grade here, but we're not far off. You'd have to spend well over $2k for a commercial machine, and to be honest, a commercial elliptical is overkill for a home gym. But just because it isn't commercially rated doesn't mean it isn't durable and well built.
Weighing close to 200lb means the Horizon 7.0 AE is going to feel solid and reassuring stable when you are exercising on it, the extra weight is going to help with stability and its also a telling sign this elliptical is made from quality materials.
And it's not just the build quality that shines when it comes to this excellent cardio machine; we also have the incline feature. Owning a machine with incline lets you target different muscle groups especially good for the calf's, glutes, and hamstrings, and what's great about the incline is that it is power-adjustable.
The 20 levels of power-adjustable incline can be adjusted with a simple touch of a button from the monitor; there's no need to get off the machine and adjust it manually.
The monitor also boasts a 7″ screen so you can easily view your workout stats, and thankfully the 7.0 AE is compatible with many fitness apps, including AFG – My Fitness Pal, Fit Bit, and Under Armor.
If you want to monitor your heart rate when exercising the 7.0 has you covered there too, you can either choose to use the built-in handlebar pulse sensors, or you have the option to monitor your heart rate wirelessly.
Wireless heart rate monitoring is a much more accurate way of monitoring heart rate and great for anyone who loves to train in their chosen heart rate zone; all this can be achieved through the Pro Free app.
So, the 7.0 AE is an elliptical with an advanced monitor, one that includes power incline, wireless heart rate monitoring, and app compatibility. Still, we now need to look at some of the other important features. The features that will determine whether this machine is right for your body size and fitness needs.
The first and most important thing you need to consider when buying an elliptical is the stride length. The stride length will determine how naturally you will be able to run or walk on the elliptical.
The Horizon 7.0 AE boasts the same stride length (20″) that you would find on ellipticals in your local gym or health club. So if you are ok exercising on one of those, you should be fine using the Horizon 7.0 AE for your elliptical workouts.
Generally, we recommend a min-height of 5.3″ to a max height of 6.3″ for a 20″ stride length.
And lastly, we come to the resistance levels, and this machine has a good amount for the price bracket with 20.
20 levels of resistance will give most people enough range in resistance strength for light, medium, and intense workouts. 20 levels combined with the heavy flywheel should last you years of growth as your fitness levels improve.
And what's best about the resistance type of this machine is that it is almost silent in operation, you can watch TV listen to music without being disturbed by the sound of the machine.
Overall the Horizon 7.0 is an impressive machine; it has all you need for a low impact workout at home. Great to see the power-adjustable incline and the low 10″ step-on height.
Users who own the machine seem to be really happy with the 7.0 praising the quality of the build, and Horizon's excellent customer service.
20 levels of power-adjustable incline
Compact front drive design
Great warranty 3yr parts 1 yr labour and lifetime on frame
Intergrated transport wheels, just tilt and roll to store
0% financing up to 24 months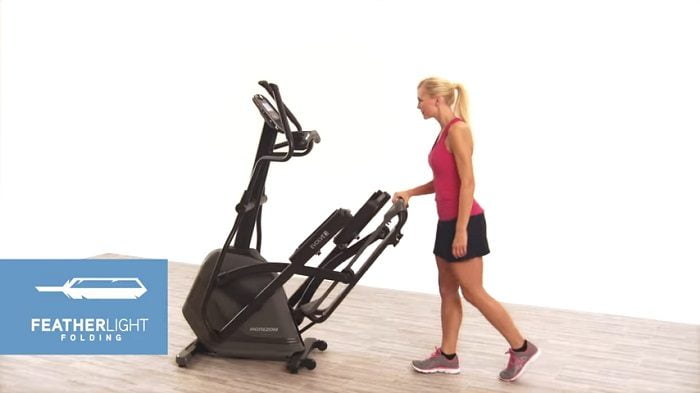 2. Horizon Evolve 3 Folding Elliptical
In the past, the main problem with folding ellipticals was their build quality. It seemed no company could build an elliptical that folds and keep the quality and durability of a regular full-sized elliptical.
And then along came Horizon with their foldable range the Evolve 3 and Evolve 5, and by the sounds of it with rave customer reviews, they pulled it off.
Here we have a surprisingly well built folding elliptical. The Evolve 3 has everything you would expect from a full-sized elliptical, impressive stride length, a ton of resistance levels, workout programs, and a heavy, durable frame, yet it folds for storage.
Yes, the Horizon Evolve 3 folds to nearly half its overall footprint, great for those of you who are limited on space, and what I really liked about this foldable elliptical is just how easy it is to fold.
Horizon developed a foldable feature called FeatherLight, which means you can fold this elliptical they say with one hand its that easy!
Ok, this thing isn't cheap and doesn't come with all the bells and whistles of their 7.0 AE elliptical, but you are paying that little extra for the quality and ease of use of their patented, folding FeatherLight design.
Again this machine has the important low step-on height, and again just like its bigger brother the Horizon 7.0 AE, it comes with the industry-standard 20″ adjustable stride suitable for most heights.
This elliptical is for those of you who want to reap the benefits of a full-sized elliptical but don't have space to house one permanently. If you have been looking for a foldable elliptical, they don't come much better than the Horizon Evolve 3.
'FeatherLight' fold sytmem makes this elliptical surprisingly easy to fold in one simple step
20 whisper-quiet magnetic resistance levels
Easy to assemble, under 30 minutes
ViaFit wireless fitness tracking
32 built-in workout programs
Built in transport wheels tilt and roll to store
Horizon EX-59 Elliptical
The Horizon EX-59 is Horizons entry-level elliptical, this one is more suited to beginners, it has the lightest flywheel of the three ellipticals in this review and also has the least resistance levels with 10.
However, just because its entry-level doesn't mean you won't get a good workout from it, it has the same excellent build quality as both the Evolve 3 and 7.0 AE, and it too will have good strength in the upper resistance levels.
We also see the impressive warranty and 10″ step-on height. But what I like most about this machine is its stride length.
An 18″ stride on an entry-level elliptical is excellent; usually, we see between 12-14," so it was a pleasant surprise to see the 18″ stride. This means users up to 6ft will be able to exercise comfortably on the Horizon EX-59.
Easily the most popular elliptical Horzion sell, and that's because it sold at a fairly affordable price at just under $600. Still, this isn't that cheap for an entry-level machine. You pay that little extra for durability and the peace of mind should anything go wrong that this is a company that stands behind their products and will sort an issue quickly.
Not all of us need a ton fo workout features and apps; the Horizon EX-59 is a simple machine that's both easy to use and store. A great elliptical for beginners and seniors who need a durable machine but don't want to pay the extra for advanced monitors and features.
Easy to use monitor with BlueTooth
Excellent warranty for price point
Compact front drive elliptical
10 whisper quiet resistance levels + 10 workout programs
Top 2 Mini Ellipticals
Mini ellipticals or otherwise known as under-desk ellipticals are an excellent space-saving alternative to the large upright ellipticals, their main selling feature is their manageable size.
These things are compact, easy to use, and are great for people who like to sit in their favorite comfy armchair and enjoy a cardio session at the same time.
Yes, they'll never burn as many calories or give as good a workout as a full-sized elliptical. Still, if you don't have the space to house a full-sized elliptical or love the idea of being able to sit and workout at the same time, the mini elliptical is a wise choice.
Today we're going to a quick look at two of the best mini ellipticals on the market. Both ellipticals come with the lowest pedal heights of any on the market that means not only can you sit and use them while watching TV, you can, if you wish, also use them when sitting at a table or desk.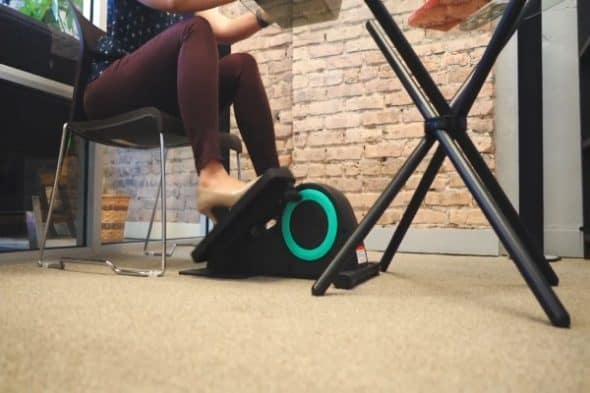 Cubii Jr Mini Elliptical
The main reason we're looking at the top two mini ellipticals on the market is build quality and durability, most mini ellipticals are cheaply made, unstable, and will not last years of use.
The Cubii Jr has been built to last these guys really know what they are doing when it comes to mini ellipticals, and it's the main reason why they sell more mini ellipticals than any other company out there.
The Cubii Jr is the Crème de la crème of mini ellipticals weighing 32lb, twice the weight of its competitors this shows the Cubii Jr has been built from quality materials, it's going to last.
I've read a ton of customer reviews and haven't come across any complaints of durability or build quality, which is rare when we look at mini ellipticals.
Nearly all customers praise this excellent little elliptical! With 4.5/5 the average rating.
We have eight levels of magnetic resistance, so it's going to be almost silent in operation. As I mentioned above, the Cubii boasts one of the lowest pedal rotation heights allowing you to use the machine under a desk easily.
At around $200, the Cubii is well priced for what you get; a solid mini elliptical, eight resistance levels, low 10″ pedal rotation height, and industry-leading super low 3″ knee clearance height. An excellent machine that offers you a low impact workout from the comfort of your armchair.
Increases circulation, strengthening of muscles, concentration and loosening of joints.
A versatile 8 resistance levels
Patented ergonomic angles provide a smooth elliptical exercise that is low impact on your joints
Well built, stable, durable machine
Low profile 10″ high footplates, one of the lowest on the market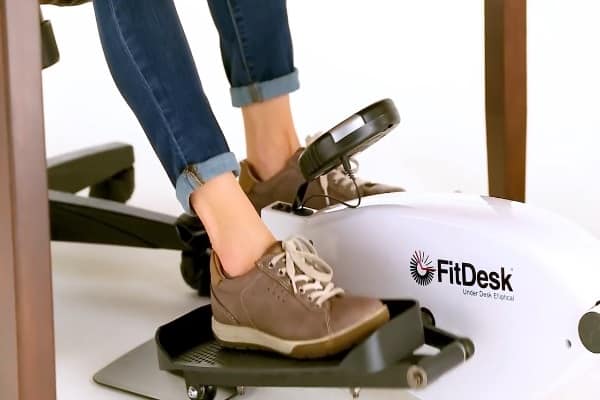 FitDesk Mini Elliptical
The FitDesk cost 50 bucks less than the Cubii Jr and doesn't quite match in build quality, but it's not far off!
Again the FitDesk Just like the Cubii Jr provides a low pedal rotation height, so it's a great machine if you were thinking of using it under a table or desk.
But what I love most about this machine is the thought these guys have put into the design.
And the thought really shows with their foot shifter, rather than having to bend down and change resistance level via a knob, the FitDesk designers included a foot shifter so you can easily change resistance levels with a quick shift of your foot, nice…
Unlike the majority of mini ellipticals on the market where you have to bend down and read your workout stats from the small built-in LCD, the FitDesk includes a small LCD on a cable, so that you can have it next to you on your desk, or by your side. A useful idea as the built-in LCD's are almost impossible to see when the machine is under a desk.
Overall, some real competition here for the Cubii Jr. The FitDesk mini elliptical has all you need for a low impact lower body workout. Its useful design features and stable build make this an excellent choice for seniors, office workers, or anyone who wants to avoid the health risks of sitting for long periods and not exercising.
8 resistance levels magnetic reistance
Sturdy well built machine
Footshifter for fast hassle-free resistance level selection
Fluid forward and backward motion
Built in
rolling foot massager
Buying Tips & General Info For Elliptical Machines (Not Mini)
Is it your first time buying an elliptical machine? Well, you might want to read some of our helpful buying tips, here you can check out all the main features of elliptical machines and you should be able to find out which features suit you and your fitness needs best.
There are many different varieties of ellipticals crowding the market we can however group them into three different categories.
These categories are defined by the placement of the flywheel or drive system. The drive system is the core component that facilitates the elliptical motion.
The placement of the flywheel is important as it can affect stride length, smoothness of elliptical motion, and the level of noise made by the machine when in action.
Front-drive ellipticals – Front-drive ellipticals are usually found in the budget to the mid-level range, they typically have a large wheel housing at the front of the machine.
If you own a front-drive elliptical, you will find yourself leaning slightly forward when exercising, similar to using a stairclimber. A basic but durable design, maybe a little noisier than the center drive machine but nothing too noticeable.
Centre drive ellipticals – Centre drive ellipticals have only been around for a few years, although a reasonably new design they are becoming increasingly popular. Designed to be similar to a treadmill, except the pedals are where the track would usually be. Centre drive designs allow for a gentle workout.
The flywheel center drive elliptical is typically a compact machine and is best suited for those who are exercising in small spaces. Be slightly careful with this compact design as the stride length can be very short.
Rear Drive Ellipticals
– Most rear-drive ellipticals have a smaller wheel housing located behind the pedals making these the longest in design. Many manufacturers claim the rear-drive machines allow for a smoother, more circular pedal motion.
The pedals can also be on a track, which allows for an incline. Rear drives systems are usually reserved for high-end ellipticals. Some of the widest stride lengths can be found on rear-drive ellipticals.
Hybrid Ellipticals – Hybrid ellipticals boast multiple functions, as well as an elliptical they function as an exercise bike.
You can adjust the hybrid machine to move between bike and an elliptical simply by moving pedals and rearranging the seat. Hybrid ellipticals are mostly found in the budget range and are a popular space-saving choice for people wanting to reap the health benefits of both an exercise bike and an elliptical.
Other Key Components To Look Out For
Stride Length – This is the measurement in between the toe of the front pedal to the heel of the rear pedal while the pedals are at their widest stride. This measurement is vitally important as it determines how naturally you will be able to stride.
If your buying an elliptical for intense workouts, the first thing you will want to be able to do is run freely – if your elliptical has a too short stride length, this will not be possible and your machine will not be doing the job it should.
If you plan on walking on running slowly, you can get away with a shorter stride length – Great news if your budget is tight.
Taller users 6ft and over will need a machine with at least 20″ stride length for fast-paced running or walking.
Resistance Strength

–
Budget ellipticals $600 and under typically provide eight levels of resistance. While this isn't a ton of resistance levels, it will provide enough resistance for medium to light cardio workouts.
That's not to say you won't burn any calories on a cheaper machine; it all depends on your fitness levels. Still, in general, a machine with eight resistance levels is usually best suited for beginners, walkers, seniors, or anyone looking for lighter workouts.
When you spend a few more bucks $600+, we start to see 16-24 resistance levels here; you can expect reasonably strong resistance in the upper levels. the machines are, in general, of higher quality and will provide the user with much more of a challenge and will allow for years of growth.
$1.5k+ ellipticals will, of course, come with the most resistance levels and heavier flywheels – Great if you can afford one but sometimes overkill for a home gym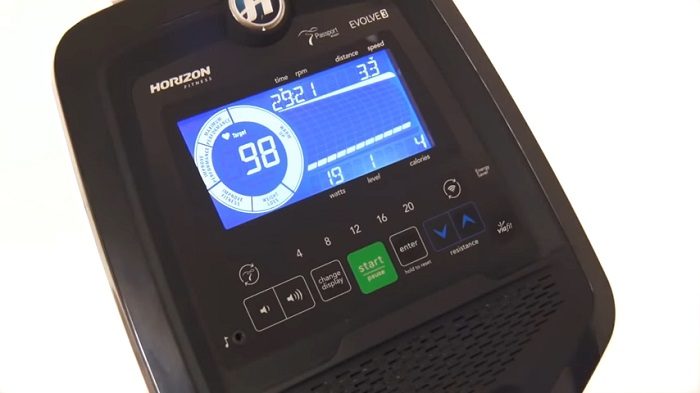 Your Workout Space
Ellipticals are not small these things take up a lot of room, so you need to be sure your home has the space to house one comfortably. Most ellipticals are between 4 and 7 feet long, and you'll also need to remember to leave room for the pedals while they are in motion.
The pedals of some rear-drive ellipticals can extend a foot behind the mainframe. Also, allow for 20 inches each side of the machine.
Lastly, we need to consider the ceiling height, especially important if you're hoping to use the machine in a basement. Check the elliptical max pedal height plus your hight-the combined height of both will be the maximum height of the chosen elliptical. The last thing you want is to be banging your head!
Bonus Features
This is the fun part of your machine; bonus features can include water bottle holders, tablet holders, fun workout apps, wi-fi, pre-workout programs, and heart rate monitoring. While some are more useful than others, remember not to go too crazy here. The more features you choose, the more money you'll need to spend.
While still not essential to your cardio fitness, work programs, and heart rate monitoring are two features I feel are worth spending a few extra bucks on.
Workouts programs are excellent for setting new challenges and keeping your interest, especially for long cardio workouts sessions. Heart rate monitoring is extremely useful for those of you who wish to exercise in your target heart rate zones.
Benefits of Ellipticals
1. Boost your stamina and cardio capacity – Aerobic exercise is a vital part of any balanced exercise routine. Aerobic exercise demands your heart and lungs to work harder; thus, in doing so, making them stronger.
Elliptical allows for an excellent aerobic workout ellipticals work both your upper and lower body, strengthening your muscles, heart and lungs continued use will help build your stamina and endurance
2. Low Impact – Elliptical reduce the stress and strain on your legs through an elliptical motion. Your feet never leave the pedals; it is like walking in mid-air. In comparison, when you walk or run on a treadmill, every step causes a jolt to your body.
3. Burn A Lot of Calories – Depending on how much you weigh. An elliptical can burn 230-350 calories in 30 minutes. Burning more calories than you consume can really help you to lose weight. If you want to give a significant boost to your calorie burn, try increasing the intensity of the workout on your elliptical.
4. Dual-action workout – One of the benefits you are going to like about elliptical machines is the combined upper and lower body workout. This is why elliptical are sometimes called cross-trainers! When we use the elliptical properly, the elliptical trainer can strengthen and tone the quadriceps, hamstrings, glutes, chest, back, triceps, and biceps.
5. Weight Bearing – Unlike an exercise bike, an elliptical provides a weight-bearing exercise. Weight-bearing exercises help slow down and prevent osteoporosis.
6. Improve Balance -We know weight-bearing exercising can help to strengthen our bones, but did you know they can also help you improve your balance. If you stand up straight on an elliptical and let go of the fixed set of handlebars, you not only target your core muscles, but you also improve your balance.
Assembly
Once your new elliptical arrives on your doorstep, the next thing you're going to have to do is to assemble the machine. It's certainly not the part most people look forward to, but there are a few things you can do to make the whole process a little easier. First, make sure you have an extra person to help you out.
Ellipticals are generally quite large machines, and some parts will need to be held in place. A few people may be able to manage on their own; however, I'd always recommend two people for assembly.
Next, your going to need the right tools, most elliptical, including the Horizon ellipticals, comes with all the tools required for the job. However, in my experience, the tools sent with home gym equipment are usually sub-standard, so, for an elliptical, I'd recommend you have ready a decent set of screwdrivers and a wrench.
And lastly, make sure you read the instructions carefully! Another good tip is not to tighten any of the screws, etc. fully until the elliptical is fully assembled.
Below is an elliptical assembly video of the Horizon E59, this a great video that will give you a rough idea of how to assemble an elliptical. I urge you to give the video a quick view before you assemble yours.
To Sum Up
The Horizon ellipticals are all impressive machines with long warranties and useful features.
The Horizon 7.0 AE stood out from the rest thanks to its power-adjustable incline, its an excellent feature and something we always recommend you look for if budget allows.
The low step-on height of all three ellipticals will appeal to many who want to minimize the risk of injury while exercising and there are no other ellipticals out there we could find that could match the low step-on height of the Horizon ellipticals.
For those of you who can live without power adjustable incline and advanced monitors, the Horizon EX-59 Elliptical is an excellent choice, a simple, easy to use, well built elliptical. And thankfully, even though it's half the price of the 7.0 AE it still boasts an impressive stride length and the all-important 10″ low step-on height.
Whichever elliptical you choose I hope our review has gone some way in helping you pick the right elliptical for your fitness needs.