The good news is you dont have to spend a ton of money to get hold of a decent foldable rowing machine, I've been reviewing budget rowers for years, and it's surprising just how good low-cost rowers are these days.
Yeah, we're not going to find rowing machines with advanced monitors. Still, there are some impressive machines that are well built, durable, boast smooth rowing strokes, and best of all, fold to less than half their original footprints so be can be stored easily in the corner of a room.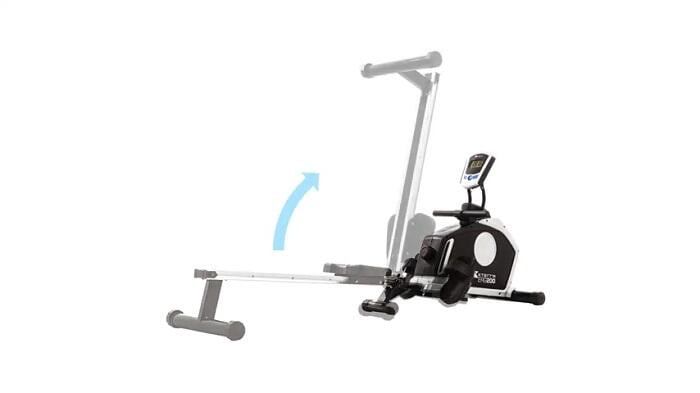 Magnetic Resistance Whiper Quiet – Perfect For Home Use
As well as a fold for storage feature, another desirable feature for a home rowing machine is a quiet resistance system.
Quiet resistance systems are especially useful for those of you who love to watch Netflix or listen to music while rowing; the last thing you need is the sound of the machine disturbing you or others around you.
Magnetic resistance is the ideal resistance system for home use. Its whisper-quiet in operation, maintenance-free, and easy to use. It features on all of our rowers in this guide so you can be sure you won't have to worry about noise whichever machine you choose
After many hours of research, I've finally managed to select the 5 Best Foldable Rowing Machines in the Under 350 price bracket. For those in a rush below is a quick comparison table , and if you scroll past the comparison table, you can read my summary for each rowing machine.
Best Foldable Rowing Machine Comparison Table
Our Choice
Fitness Reality 1000
Weight – 66lb

Resistance – Magnetic 14 levels

Weight Capcity 250lb

Max user height – 6'4″

Foldable

Rating – 4.5/5
Weight – 60lb

Resistance – Magnetic 8 levels

Weight capacity – 250lb

Max user height – 6'5″

Foldable

Rating – 4.3/5
Weight – 55lb

Resistance – Magnetic 10 levels

Weight capacity – 300lb

Max user height – 6'2″

Foldable

Rating – 4/5
1. Fitness Reality 1000 Plus Rower
I've reviewed many products from these guys, and they always impress. Their 1000 plus rower is no exception. It boasts more resistance levels than any other machine in its price bracket, with 14 in total, a long rail, so it is suitable for users up to 6'5″, plus a belt drive and magnetic resistance system to keep things quiet.
Smooth Rowing Stroke
But perhaps what's most impressive about the Fitness Reality Rower is its smooth rowing stroke. It's something many users have praised, comparing it to the feel of gym-quality machines.
The smooth stroke is thanks to the rower's 6.6lb premier weighted flywheel and magnetic braking system, plus its extra smooth gliding seat with high-quality ball bearings that runs effortlessly up and down the rail.
Only Low-Cost Rower to Include BlueTooth
Another feature I was surprised to find on the Fitness Reality Rower was BlueTooth its the only rower in this price bracket to include BlueTooth with free access to the MyCloudFitness app so you can track and download all your workout data.
The folding feature is super easy to use; just pull a pin to fold the rower, takes a few seconds. And once folded, you can roll the rower on its built in transport wheels and store it in the corner of a room.
The Fitness Reality rowing machine is a near-silent rowing machine because it utilizes magnetic resistance and a belt drive system. This is the quietest combination you can find for any rower making a rower like the Fitness Reality a perfect choice for home use.
And lastly, another feature I know many users loved about this machine is the extra pair of footpads found at the front of the rower. These can be used in conjunction with the rowers' handle to perform standing exercises such as bicep curls and standing rows.
Overall the Fitness Reality sits pretty high above the rest in this price bracket; it offers more features than any other rower, has a smooth rowing stroke, is whisper-quiet, easy to fold and assemble, and boasts the most resistance levels, making it the best choice for both beginners and intermediates—an excellent rower from Fitness Reality with a surprisingly low price tag.
14 levels of smooth whisper quiet resistnace
Maintenance free belt drive system
Long rail/beam – suitable for users 4.9″ – 6.4″ 
Smoothest rowing stroke in price bracket – thanks to high-quality parts and excellent design.
Easy to fold takes just a few seconds
Front stabilizer foot pedals allow for additional upper body workouts
Bluetooth enabled sync with MyCloudFitness app
Built-in transport wheels – just tilt and roll to store
No pulse reading function
No pre-programmed workouts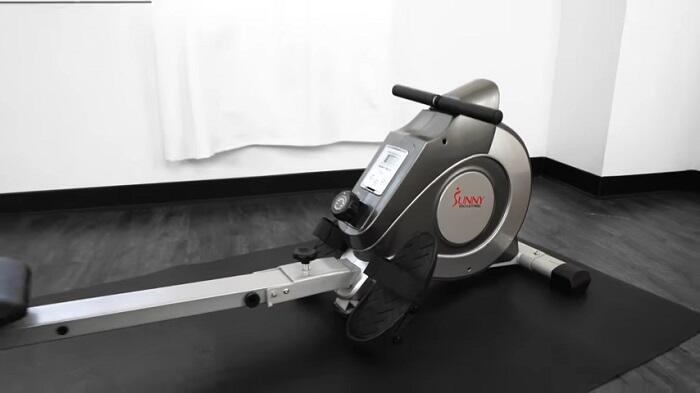 2. Sunny Health & Fitness SF5155 Rower
Sunny Health & Fitness are the market leaders in high-quality, affordable cardio gear for our home gyms. These guys have been at the top of their games for over two decades, and their rowers are some of the best out there right now.
The Sunny Health SF-RW5155 is their flagship low-cost rowing machine, and it's been my favorite budget rower for the past five years until the Fitness Reality 1000 came along.
Whys is the Sunny so good? Resistance strength, it's one of the only rowers under $300 where people praise the resistance strength, it has been compared to commercial machines; it's that good, something rare for a budget rower.
This is a $250 rower, so to include a resistance system that is strong enough for intense workouts in the upper levels is impressive. Also, the Sunny Health SF-RW5155 boasts the longest rail in this price range at just over 40″, making it suitable for users up to 6'6″
Like the Fitness Reality, the Sunny is a magnetic resistance rower but includes only eight levels, but as we mentioned, those eight levels are stronger than its competition. It's also another belt drive rower, so it's a quiet machine and excellent for home use.
As with all budget rowers the Sunny SF-RW5155 includes a basic but easy-to-use monitor that tracks your essential data such as distance, scan, total stroke, calories burned, and time.
The Sunny has an easy-to-fold system – remove a pin to fold the machine. This impressive rower also boasts built-in transport wheels, so just tilt and roll to move.
Overall you won't find a better rower for $250. The Fitness Reality only betters it, but as I mentioned, the Fitness Reality costs slightly more, so it has a few extra features.
Excellent build quality for price point
maintenance-free belt drive and magnetic resistance systems
longest rail in price bracket and a 275lb max weight capacity make this rower a great choice for larger users
Built-in transport wheels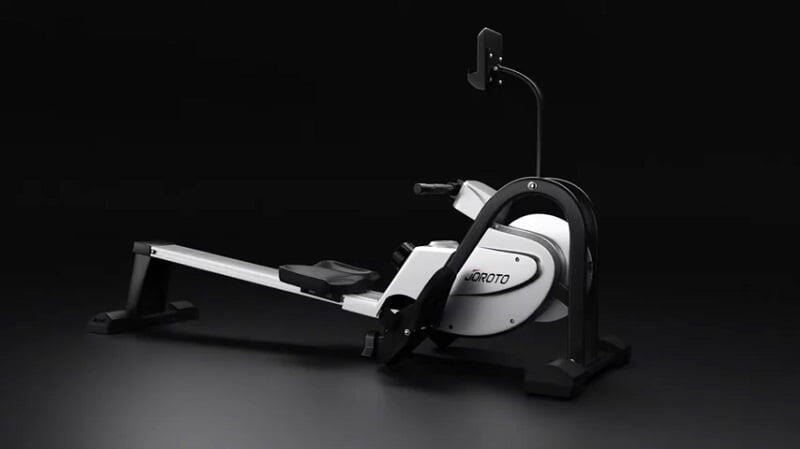 3. Joroto M35 Rowing
Although Joroto havent been around that long, they're starting to make an impact in the low-cost cardio market. I reviewed a spin bike of there's last year; it was surprisingly impressive, well built, durable, and easily as good as anything else out there, and by the looks of things, their new rower is just as impressive.
This is a great-looking rower from Joroto. You wouldn't think it was a budget rower, but it is, and at just under $300 is a bargain.
Boasting both magnetic resistance and a belt drive system, this thing is one of the quietest budget rowers you'll find. It also includes an angled wide rail, a seat with high-quality ball bearings, and a decent weight premier weighted flywheel, which provides a smooth, uninterrupted rowing stroke. People love its smooth stroke, with many mentioning how good it feels rowing on this machine.
With ten resistance levels, the Joroto includes two more than most budget rowers selected via the tension knob situated on the flywheel housing.
This isnt a foldable rowing machine? Still, it's worth considering because of its unique design. This rower has been designed to be stored standing, which means when standing, it only takes up 0.15 meters of space thats a lot less space than any foldable rower, so I thought it was worth including this machine, especially if you're tight on space.
There really is only a handful of well-built rowers in this price bracket, so it was a pleasant surprise when the M35 was released earlier this year.
It's another excellent low noise, low maintenance rower that can challenge the likes of the Sunny Health SF-RW5155 and Fitness Reality 1000. You won't be disappointed with this machine bang for buck this ones a winner.
Sturdy build can handle up to 300lb
Specially designed to be stored upright – tales up just 0.15 square meters of space when standing
10 levels of whisper quiet magnetic resistnace
Belt drive system much quieter than a noisy chain drives and maintenance free
Can accommodate users up to 6'2″
Not suitable for seasoned rowers
4. Advenor Magnetic Rowing Machine
There's nothing that stands out about the Advenor magnetic rower. It's a fuss-free rowing machine which is what I like about it. It's an excellent choice for people who dont need any extras but just want a well-built rower for light to medium cardio workouts.
This machine weighs nearly 60lb, so we know it's built from quality materials also that extra bit of weight will help keep the rower planted to the floor.
Something I noticed about this rower is its large comfy seat which is perfectly contoured to prevent your butt from slipping in the push phase of the rowing stroke. The seat is also made from high-density foam, this is the good stuff; it's not soft to cause stability issues or too hard to be pff putting its just right.
The Advenor is another rower with a fairly long rail for the price point and can accommodate users up not 6'3″. Thankfully the Advenor boasts both magnetic and belt drive systems making the rowing experience quiet and smooth.
A slightly angled rail will intensify the push phase of the rowing stroke and accelerate the recovery phase, which is what we want from a home rower.
Advenor has got all the essentials right with this rower its well-built, sturdy, has a good length rail, and its whisper-quiet to use. Yes, it's basic, but thats its appeal. Nothing is confusing about this foldable rower from Advenor. Assembly takes just 40 minutes.
Sturdy frame can hold up to 265lb
Whisper quite resistnace system great for home use
Good length rail for a budget rower can accommodate users up to 6'3″
Buil in transport wheels just tilt and roll to store
Adjustable levelers keeps rower stable on uneven surfaces
Great price for a well built rower
No option to monitor pulse
Not suitable for serious rowers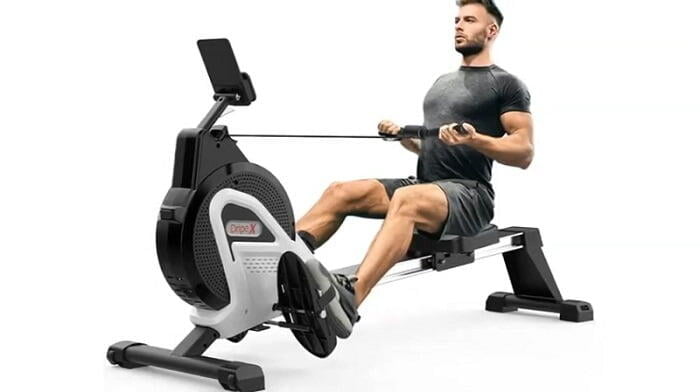 5. Dripex Magnetic Rowing Machine
The Dripex is a budget rower thats receiving a lot of praise right now, and most of that praise concerns its rowing stroke and just how smooth it is.
The smooth rowing stroke is partly due to the 7lb premier weighted flywheel being the heaviest in the price range, but it's not just the flywheel that contributes to a smooth rowing stroke. It's also how well the seat slides on the rail, and thanks to the Dripex including both high-quality ball bearings and a double-sided rail, this seat slides more smoothly than most.
We also get 15 levels of resistance with the Dripex, which is almost double that of most budget rowers.
Still, just because a budget rower includes more resistance levels, it doesn't mean the resistance strength in the upper levels will be any stronger than the eight levels of the similarly priced rowers. All it really means is that you have more choice, which is a good thing if you're a beginner and don't want to have large jumps in resistance strength.
Rail length is impressive accommodating users up to 6'3″, and so too is the seat made from high-density foam padding and contoured to avoid slips.
The monitor is basic; there are no workout programs or apps included. It tracks all your essential workout data such as distance, calories, time, count, and total count.
Overall the Dripex has everything you'd want from a rower in this price range, well built, long rail, and quiet resistance and drive systems. I love the double-sided rail, something we dont usually see on a budget rower, and it's nice to have a few more resistance levels to choose from—a good rower at an affordable price.
Sturdy build can handle up to 275lb
Surprisingly long rail – accomadates users up to 6'3″
Folds for easy to storage
Whisper quiet magnetic resistance system with 15 levels of resistance
Adjustable levelers on the stabilizers keep the rower stable on uneven surfaces
Maintenance-free belt drive system
Built-in transport wheels
 double-sided rail that allows the seat to slide up and down the rail smoothly
LCD screen is small and hard to read
A few complained of missing parts when the rower was delivered
The screen of the monitor isnt backlit makes hard to view in low light
Buying Tips Budget Foldable Rowers
Because there's such a difference in quality from one company to the next in this price range, I thought id put together a quick guide, so you know what to look for and what to avoid.
1. Weight of the Rower Does it Matter?
Not a lot of people consider the weight of a rowing machine when choosing. But it's more important than you think.
The weight of a rowing machine is a telling sign of the overall quality of materials used in the build. The extra weight of a heavy rower will also help keep the rowing machine planted to the floor. So the heavier, the better when looking for a budget rower.
2. Monitor – Control Consoles
The monitors of low-cost rowers are usually basic they dont come with any built-in workout programs or apps, and dont include HD screens. Still, this isnt a bad thing as it saves a ton of cash. Also, they are nice and easy to set up and use plus, they come with tablet holders, so you can, if you wish, download your favorite fitness apps on your tablet.
In this price range, we want the company to spend the money on the build, not the monitor, as the build quality is far more important.
If you come across a rowing machine in this price bracket that includes an advanced monitor, be careful because they might have spent most of the budget on the monitor, and the quality of the rower will suffer, and thats the last thing you want.
3. Resistance Type
For home use, magnetic resistance is the preferred choice because it's so quiet in use. It's also one of the cheapest resistance systems to produce, so it keeps the price of the rowing machine down.
Air resistance is another good choice, but because it uses a fan to create resistance, it's noisy, and if you live in an apartment, you'll disturb others with the sound of your workouts.
However, I like air rowers. They mimic the feel of outdoor rowing more realistically than a magnetic rower because their resistance systems are dynamic; it only gets stronger the faster you row.
Magnetic – Constant Resistance
Magnetic resistance is constant. The strength of resistance only changes when you manually select another resistance level.
Constant resistance allows you to row at a slow pace on a high resistance level, great for strengthing and building the leg muscles and something thats imprtappible with air resistance because it is dynamic.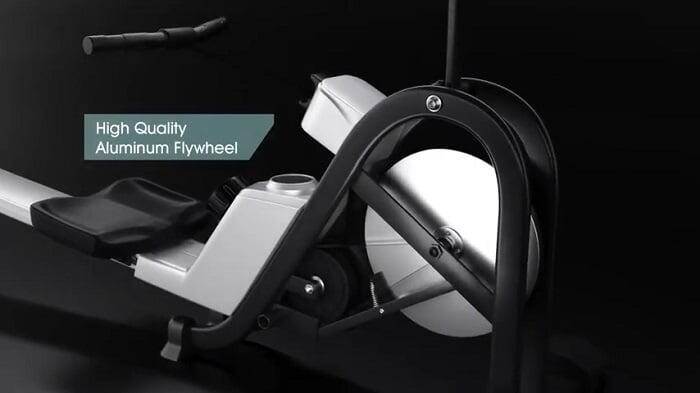 4. Flywheel Weight
Generally, we'd recommend you look for a heavy flywheel with budget rowers, as the extra weight typically provides a smoother rowing stroke and adds something to the resistance strength. It's not always the case, but in this price bracket, a heavier flywheel is more important than with high-end rowers. Budget rowers usually have a flywheel weight anywhere from 3lb to 8lb.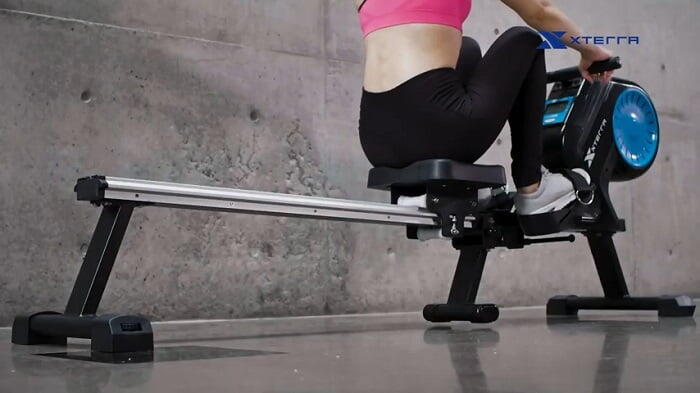 5. Rail/Beam Length
If you're a tall guy, it's necessary first to check out the length of the rower's rail. The majority of budget rowers have short rails and usually can only accommodate users up to 6'1″ comfortably, and by comfortably, I mean achieving full leg extension.
Many budget and mid-level rowers may boast higher max heights, but in reality, when you get them home, many users have difficulty with full leg extension. If you're over 6ft, look for a rail length of at least 38″. As I mention, only a handful of budget rowers include long rails for taller users.
If you're over 6'3″ and dont want to pay mid-levels prices for a rower with a long rail. The Sunny health SF5155 (No.2 in the review) is the best budget machine for taller users. With a rail length of just over 40″ allowing users up to 6'5″ to achieve full leg extension.
6. Stability – Weight + Wide Stabilizers
The weight of the rower plays an important role in the overall stability of the thing. Still, we also want wide stabilizers to prevent any wobbles and look for adjustable levelers. Adjustable levelers allow you to adjust each corner of the stabilizer independently, and they are great for keeping the rower stable on uneven surfaces.
Stability can also depend on smaller things such as the seat. A too-soft seat will cause you to feel unstable when rowing which affects rowing form. It's best to look for high-density foam padding for the seat, as this is just right. It's not too soft to cause stability issues or too hard to be off-putting.
Also, make sure the seat is contoured to prevent slips in the push phase of the rowing stroke.
And if you're going to place your rower on a polished surface, it's best to get hold of a cheap rubber floor mat to prevent rower movement and to dampen the sound.
To Sum Up
When I started reviewing rowing machines, there weren't any foldable budget rowers. You'd have to spend well over $800 for a decent one. Fast forward a few years, and although we're not spoilt for choice, there are thankfully a few excellent budget foldable rowers to choose from.
I was partially impressed with the Fitness Reality 1000 Plus Rowing Machine. The 1000 plus rower includes all the vital features we want from a home rower. Smooth rowing stroke, long rail, a wide selection of resistance levels, and it's heavy for a budget rower with its 66lb build. It's made from quality materials, and including BlueTooth is a bonus.
But we can't forget Sunny's SF-RW 5155 Magnetic Rowing Machine. This rower has been at the top for years, and it continues to be one of my favorites with smooth, strong resistance, a long rail, and a high-quality build plus, it only costs $250!
The Joroto is another excellent rower, almost as impressive as the top two, but it's not a foldable rower, so it couldn't really go any higher on the list. Still, it is one of the best buys you'll find, and it takes up less space when stored than any of the foldable rowers.