The Joroto Rowing Machine M35 is Joroto's flagship low-cost rowing machine, they have put a lot of thought into the design of the M35, and so far, I'm liking it, especially the aluminum flywheel.
Still, this isnt a rower packed full of features. It's got all the essentials, and the build quality is there, but if you were expecting fitness apps and workout programs, this isnt the rower for you.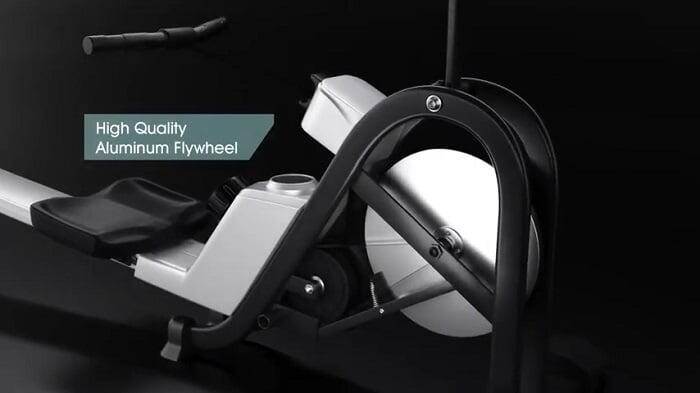 Great Build Quality but Monitor Lacks Features.
However good a budget rower looks, they dont usually come with many monitor features, which can be a good thing as we want them to spend the money on the build in this price bracket rather than a fancy monitor.
And it's the build where this rower shines, weighing 55lb its sturdy and can handle up to 300lb. And boasting both magnetic resistance and a belt drive system, the M35 is one of the quietest rowers you'll find, making it a perfect choice for a home gym.
I've been reviewing rowing machines in this bracket for years, and there really is only a handful of decent magnetic ones that are durable and can deliver resistance strong enough for intense workouts, the Joroto Rowing Machine, with its ten levels of resistance and 4.4lb premier weighted flywheel is thankfully one of them.
At the end of the review, I want to compare the M35 Rower with the top sellers in this price bracket, the Fitness Reality 1000 Plus, currently one of ours favs for under $300. It will be interesting to see how the Joroto matches up.
First a quick look at the Joroto product specs!
Product dimensions – 71L x 21W x 36H inches
Resistance type – Magnetic
LCD multi-function monitor tracks –  time, distance, total stroke count, calories, scan
Why Do We Like The Joroto Rowing Machine?
There's a great deal to like about this rower, but perhaps what's most important is that it delivers a smooth rowing stroke, which many budget rowers fail to do.
A lot goes into achieving a smooth rowing stroke, and your rowing form is one of them (check this YouTube Vid for tips). Still, you can't have a great rowing stroke if you own a sub-standard rower.
Premier Weighted Flywheel
We need a decent flywheel weight and smooth resistance system; these are two features the Joroto includes, also it helps if there is a slight tilt to the rower rail. An angled rail will keep you in the correct position, intensify the stroke's leg push phase, and speed up the recovery phase.
Smooth Gliding Seat
And to keep everything smooth in all phases of the rowing stroke, we need a seat that glides smoothly across the rower's rail, and this is something that Joroto has got right as they have included three sets of wheels that slide effortlessly within the grooves of the rail.
And when all the above features are combined, the Jororto will deliver a very smooth uninterrupted rowing stroke, which is why so many people praise this machine and comment how good it feels when rowing on it.
Another impressive feature of this rower is its seat its made from high-density foam padding. This is the good stuff its not too soft to cause stability issues, and it's not too hard to be offputting. The seat is perfectly countered to prevent slips in the leg push phase of the rowing stroke, helping you keep strict rowing form.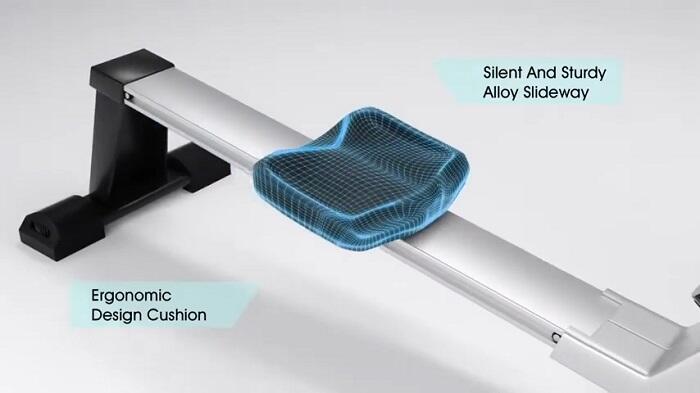 10 Levels of Whisper Quiet Magnetic Resistance & Belt Drive System
Magnetic resistance has been around for a while now and it's even starting to appear in commercial gyms but where it's by far most popular is for home use and the reason why? It is almost silent in operation and thats because the magnets of the resistance system never have to make contact with the flywheel.
Its a frictionless resistance thus its quiet, maintenance-free, and a great choice for home gyms.
Constant Resistance
Magnetic resistance offers more benefits than just being quiet. Magnetic resistance is a constant resistance which means the resistance only gets stronger or decreases when you select the strength via the tension knob.
And because it's constant rather than dynamic it allows you, if you wish, to work out at a high resistance setting but row at a slow pace this is great for building and strengthening the legs muscles and something thats impossible with air rowers because they utilize air resistance which is dynamic.
Designed for Beginners & Intermediates
The Joroto Rowing Machine boasts 10 levels of resistance which is a couple more than most rowers in the price bracket but even in the upper levels it won't be strong enough for serious rowers training for competitions, this rower has been designed for beginners and intermediates or anyone who wants to shift some unwanted fat and increase their fitness levels.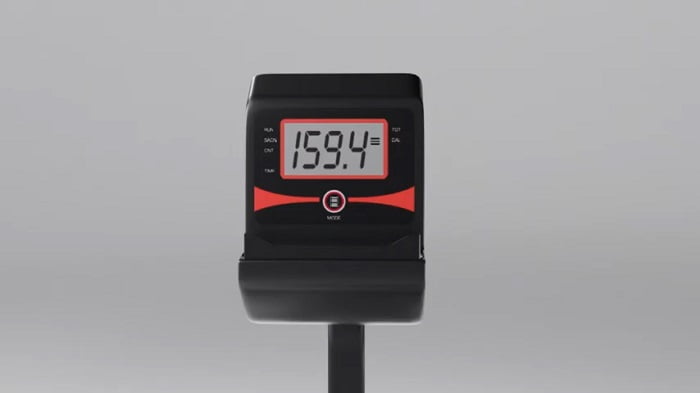 Basic Easy To Use Monitor
As I mentioned, monitors on low-priced rowers aren't anything special. They track all the essential stuff such as distance, count, total count, and calories. There are no built-in workout programs, and there's no way to monitor your pulse.
On the positive, it is easy to use and set up, boasts a large LCD, making it easy to read your stats while you row, and the monitor is height adjustable so you can always see it properly when you row no matter what height you are.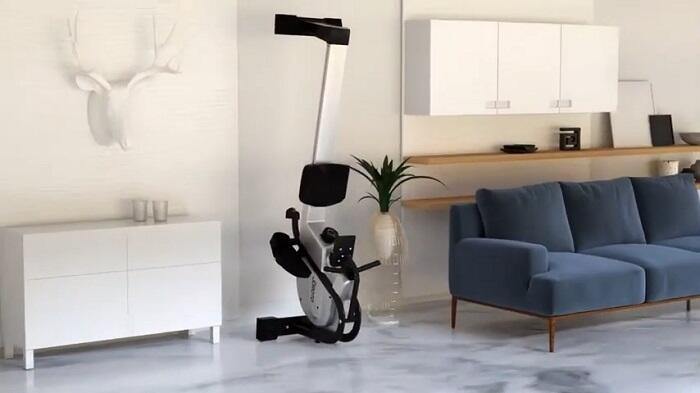 Any Extra Features?
This is a pretty basic rower, so I cannot mention many extra features, but I do like how easy it is to store. There's no folding feature, but Joroto has specially designed this rower to be stored in a standing position, and when in this position, it takes up just 0.15 meters of space, meaning you can store it in the corner of a room up against a wall.
We also have built-in transport wheels, which make moving the machine much easier. Just tilt the rower and roll.
Easy Assembly – Under 1 Hour
All the complicated stuff like the magnetic resistance system and drive system come preassembled, all you'll need to do is attach the seat to the rail and connect the rail to the frame, Which just leaves you to attach the foot pedals the stabilizers, and the monitor.
Illustrated instructions are provided as well as all the basic tools for the job. The average assembly time is under 1 hour. I'd recommend two people for the job as some pieces need to be held in place
Sturdy build can handle up to 300lb
10 levels of whisper quiet magnetic resistnace
Belt drive system much quieter than a noisy chain drives and maintenance free
Only takes up 0.15 metres of space when stored upright
Can accommodate users up to 6'2″
Not suitable for seasoned rowers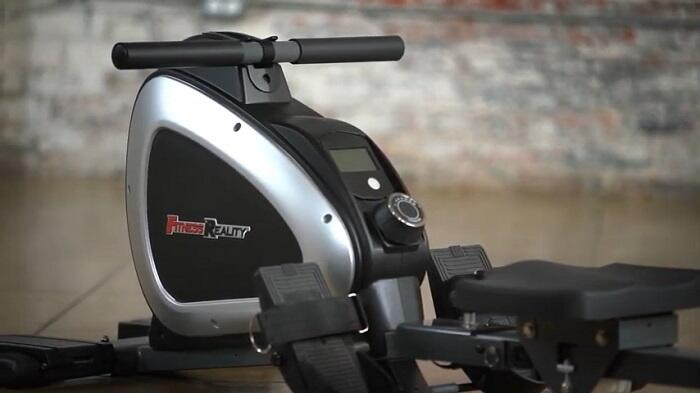 Fitness Reality 1000 Plus Rower
I've reviewed a lot of gym gear from Fitness Reality, and these guys are always impressive, bang for buck, they are one of the best out there, and their 1000 Plus Rower is no exception.
It's another budget rower with the same price tag as the Joroto, and it's very similar as they both include the whisper-quiet magnetic resistance system. Both have belt drive systems, have similar flywheel weights, and have good rail lengths to accommodate taller users.
There really isnt much that separates these two rowers. They are both that good. But there are a couple of small things. The monitor on the Fitness Reality is slightly more advanced as it includes BlueTooth and free access to the MyCloudFitness. The MyClouydFitness app lets you download all your workout data. Also, there are a few paid features and a ton of other free features to check out.
The Fitness Reality 1000 comes with another unusual feature and thats an extra pair of footpads at the front base of the machine. You can use these in conjunction with the rowing handle to perform standing exercises such as bicep curls and standing rows, which I know many uses loved about this rower.
And lastly, the Fitness Reality folds for storage rather than being stored uptight. Still, even though the Joroto doesn't include a folding feature, when standing it takes up less room than the folded Fitness Reality Rower.
To Sum Up
It's great to see another well-built low-cost rower on the market, they dont come along very often, but Joroto seems to know what they're doing and has delivered an excellent budget rower to rival the top two in this price bracket.
I particularly liked how quiet the Joroto Rowing Machine is and how smoothly the seat glides on its three sets of wheels; plus, this rower looks good too and will suit any modern house, apartment, or garage gym. Certainly a rower worth some serious consideration.