These guys build more indoor rowers than any other company out there, I've reviewed a ton of their gear over the years, and most of the time, they've impressed. Still, they have never really built any heavy-duty commercial-grade equipment; most is mid-level and affordable. We can't expect gym quality with Stamina's ATS 1405 Air Rower, but it's easily good enough for home use.
Most of the essentials are there with the ATS 1405 Air Rower.
The Stamina ATS Air Rower 1405 has got most of the essentials right, you have a reasonably heavy frame which will help with stability, the resistance system is smooth, you have a durable chain drive system, the rail is a good length accommodating users up to 6'4," and the seat glides smoothly thanks to the high-grade ball bearings and rollers. The only thing this rower really lacks is an advanced monitor, but at this price point sadly we'll never see one.
It's undoubtedly an air rower worthy of serious consideration, and if you want to benefit from dynamic resistance rather than the constant resistance of a magnetic rowing machine, then the Stamina 1405 Air Rower is one of the best choices in this price bracket.
And today, I want to take a look at everything this impressive machine has to offer, including its drawbacks. At the end of the review, I'll compare the ATS 1405 Air Rower with their newset rower Stamina X Air Rowing Machine it will be interesting to see how they match up.
But first, a quick look at the ATS 1405 Air Rower product specs!
Product dimensions – 78.5 x 19.75 x 31.5 inches
LCD multi-function monitor –  speed, distance, time and calories burned. SCAN mode cycles through each of these in real-time.
Why Do We Like The ATS 1405 Air Rower?
The best feature of this rowing machine is its resistance system! It's dynamic, which means there is literally a limitless amount of resistance levels.
Just like rowing on actual water outdoors, the resistance on this machine is determined by the pace of your workouts. This makes for a  more realistic experience than a magnetic rower that utilizes a constant resistance system.
Constant resistance is just that; it stays the same strength no matter how fast or slow you row unless you manually select another resistance level.
Air rowers don't have such limitations. Their dynamic systems provide an infinite amount of resistance levels mimicking the feel of outdoor rowing. And it's this reason why pro rowers and athletes choose an air rower for training.
Durable chain drive system
Most magnetic rowing machines and water rowing machines use a belt drive system, and while there's nothing wrong with belt drive systems, they're quiet and require little maintenance; they do wear out quickly, especially on low-cost rowers.
A chain drive system will last a lifetime, you'll need to lubricate them once in a while, just like a bike chain, but they are durable, which is always a good thing. Still, chain drives can be noisy and create more vibrations than a belt drive.
Be warned air rowers are noisey
Noise is the main drawback of an air rower. You'll hear the sound of the air going through the fan flywheel and the sound of the vibrations made by the chain drive system. If you live in a small apartment or you don't have a separate room to house an air rower, the noise will disturb others around you.
Buy a Cheap Mat To Absorb Vibrations
A cheap mat to place under the rower is a good idea if you live in apparent as it will soak up a lot of those vibrations caused when rowing. The Sunny Health Rowing Mat is a cheap mat for rowing machines. It will prevent slips and absorb vibrations, costs around $10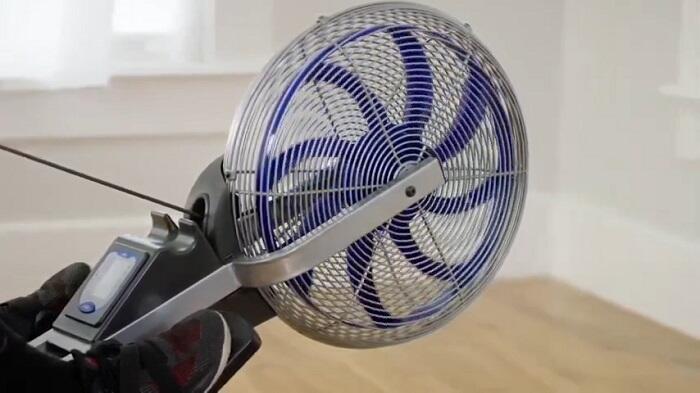 Build Quality – Stability
At 63lb, this rower isn't that heavy, but it's not too light either. You can usually tell the quality of materials used in a rower's build by the overall weight of the machine, and at 63lb, the ATS 1405 Air Rower is a mid-weight rower which is about right for the price point. High-end machines weigh around 100lb.
63lb will help with stability, it's not going to feel cheap and unstable. Plus, we have nice wide stabilizers on the front and rear of the machine, which will help prevent any wobbles.
Rubber feet prevent slips
Another handy stability features are the rubber feet the Stamina rowing machine has on each corner of the stabilizer bars. Rubber feet are not only great for stopping the rowing machine from slipping when you're exercising on it, but they'll also protect your floors from scratches.
The rubber feet are also height-adjustable, an excellent feature for keeping your rower stable on uneven surfaces.
Contoured Padded Seat
Seat design is important; a few rowing machines in this price bracket haven't bothered to include a contoured seat, which is a mistake. A contoured seat isn't just important for comfort? It will also stop your butt from slipping in the push phase of the rowing stroke. Thankfully the ATS 1405 seat is perfectly contoured for both stability and comfort.
The ATS 1405 Air Rower seat will feel hard when you take it out of the assembly box but don't worry, that's just the PVC coating, the seat is padded with foam. Too soft is a bad thing, a rower seat needs to be fairly hard. Too soft will cause stability problems. The seat padding on this rower is just right, and it's not too hard to be off-putting.
Seat glides effortlessly across the rail
Another impressive feature of this rower is its high-quality ball bearings and rollers. They allow the seat to glide effortlessly across the rail, keeping the rowing motion smooth and quiet.
Oversized chrome rail
The rail is overised just like the pedals, which is something I've always liked as oversized features are a sign of quality.
We usually only find oversized wide rails on more expensive rowing machines, so seeing it on a mid-level air rower like the Stamina was a nice surprise. Also, a wide rail will help keep the seat stable.
Basic Monitor – Tracks all Essential Workout Stats
It's not just the Stamina ATS Air Rower 1405 that suffers from a basic monitor. All rowers in this price bracket come with basic, dated monitors. Even a few high-end air rowers don't come with a better monitor than this one.
Still, basic monitors aren't all bad as they're easy to set up and use and don't require a power outlet. The Stamina monitor tracks all the vital workout stats such as strokes per minute (SPM) and total strokes (COUNT), distance, speed, time, and calories.
And at least the screen is large and easy to read. 
Sadly, there's no way to monitor pulse, which is annoying as I know many people love to work out in our favorite heart rate zones. And at this price, you would expect to see this feature.
The monitor is the only thing that really lets down the Stamina ATS Rower and many other air rowers. It's not a deal-breaker but slightly disappointing.
Any Other Features Worth Mentioning?
The folding feature is a feature worth mentioning as it almost halves the overall footprint of the rower. And it's easy to fold. Just remove a pin. It takes a few seconds.
Also, we have built-in transport wheels, just tilt and roll to store.
And lastly, I like that rail of this rower is angled. An angled rail is useful because it intensifies the push phase of rowing stroke 'great for the legs' and speeds up the recovery phase.
Easy Assembly – 30 minutes
This rower doesn't come fully assembled, but most of the compiled stuff, such as the drive and resistance systems are pre-assembled. All you'll need to do is connect the rail to the front of the machine, attach the seat to the rail, attach the footrests, the monitor, and the stabilizers. The average build time is around half an hour.
Decent build quality with sturdy steel frame
Dynamic resistance system – mimics the feel of outdoor rowing
Long rail accommodates users up to 6'4″
Oversized parts give the feel of quality
Contoured seat aids stability and provides comfort
Chain drive system for durability
Well built affordable alternative to the Concept 2
Monitor isn't backlit making it hard to read in low light conditions
Doesn't monitor heart rate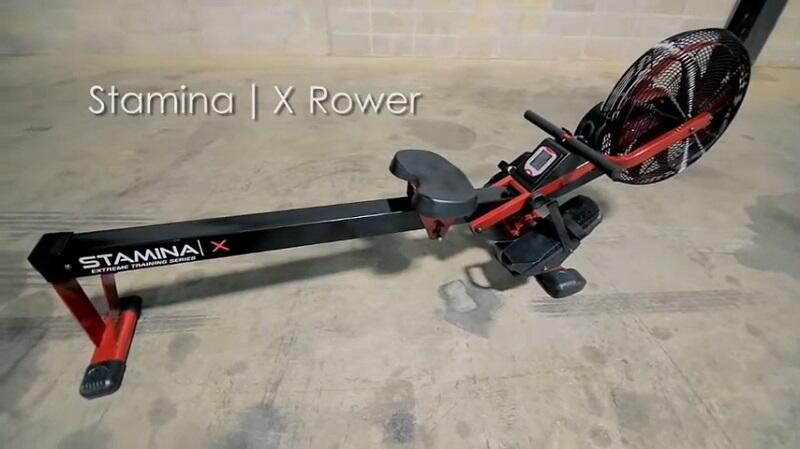 Stamina X Air Rowing Machine
I hoped when Stamina released their new air rower, the Stamina X. It might have had a few important upgrades such as a better monitor and maybe a more heavy-duty frame as it costs more than the Stamina ATS 1405 Air rower?
But it looks like all these guys did was paint the Stamina ATS 1405 a different color and call it the Stamina X. Both rowing machines weigh the same, both have the same length rail. Both have the same disappointing monitor and share the same resistance system, folding feature, chain drive, rowing handle, stabilizers, seats, and rollers.
The only difference here is the paint and the name. It's basically a replacement for the Stamina ATS 1405 air rower, but they haven't made any improvements, just upped the price, which is sad.
There's nothing wrong with the Stamina X rower; it's a good machine, but why pay more? The ATS 1405 is the same machine, so it might be a good idea to get hold of the ATS 1405 now before they put it out of production.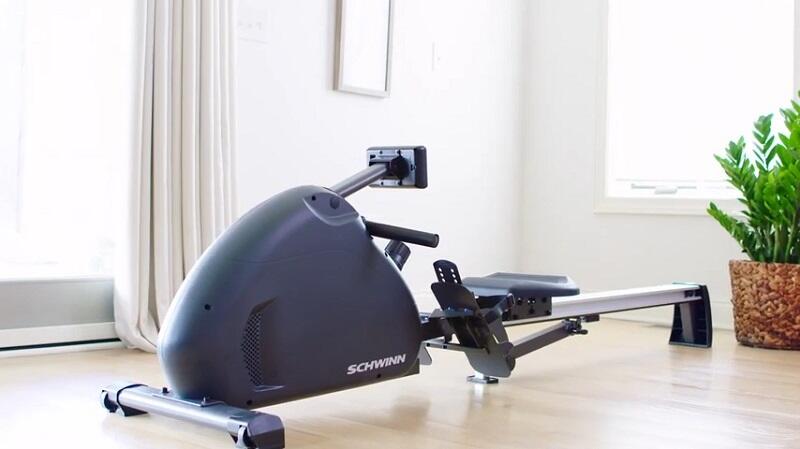 Schwinn Crewmaster Magnetic Rowing Machine
It's worth considering a magnetic rowing machine because magnetic resistance systems are chapter to manufacture than air resistance systems; thus, it brings down the rower price. So for just under $500, you can get hold of a high-end magnetic rower like the Schwinn Crewmaster instead of a mid-level air rower.
The Schwinn is a heavy magnetic rower. It weighs over 90lb, so we know this machine is sturdy and well built.
Thanks to its high inertia flywheel and belt drive system, it boasts a smooth rowing stroke. And includes ten levels of resistance, more than enough for most fitness levels.
And because this rower is magnetic, it's whisper-quiet in operation. You won't disturb yourself or others with the sound of your workouts.
The Schwinn also includes one of the longest rails you'll find on any rower and can accommodate users up to 6'6″ at full leg extension, and with a 300lb max capacity, it's a great choice for larger users.
The monitor is well equipped as it includes a few workouts programs and wireless heart rate monitoring something we don't get with air rowers in this price bracket plus, Schwinn provides you with a wireless heart rate chest strap to go with it.
The Schwinn Crewmaster is my favorite magnetic rower under $500 and has been for a while now. It's a high-quality magnetic rower built by a company with an excellent reputation. If you want a near-silent heavy-duty rower? The Schwinn is a great choice.
To Sum Up
Currently, for under $500, there isn't anything better on the market than the 1405 ATS Air Rower it is the best affordable air alternative to the Concept 2.
But we need to remember this machine is a long way off commercial grade, so don't expect it to be in the same league. Still, it's a decent mid-level air rower, and if you want that natural feel from a rowing machine, one that mimics the feel of rowing outdoors, you'll need an air or water rower that utilizes dynamic resistance. Yes, the monitor is lacking, but overall the rest of the rower is well made and sturdy.