If you don't want to spend Concept 2 money, the Stamina ATS Air Rower Model 35 1405 might be your next best choice, built by one of the leading fitness companies this thing is one of the best non-commercial rowers you're going to find.
Includes Metal Rowing Chain
Featuring an oversized chrome seat rail and metal rowing chain, the Stamina ATS offers a little more than most in this price range.
In this review we're going to take a close look at the excellent Stamina 1405 rowing machine, we'll also compare it with two other top-rated machines around the same price. By the end of the review you should have a good idea if the Stamina is the right choice for your needs.
78″ by 31.5″ by 19.75″ (Width by height by depth) 
LCD multi-function monitor: Track your speed, distance, time and calories burned
3yr warranty on frame 90 days on parts
Why Do We Like The Stamina 1405 Rower?
A rowing machine is one of the only pieces of cardio equipment that can give you a full body workout, did you know you can lose up to 700 calories an hour on a rowing machine? Well, you can, and that's not all, a decent rower can help you build and strengthen your back, shoulders, arms, and quads, all while giving your lungs and heart a workout too.
When it comes to intense workouts and calorie loss most people opt for an air rower, why? Because the resistance is dynamic, you are not limited to a given amount of resistance levels like you are with magnetic rowers.
An air rower such as 1405 has an unlimited amount of resistance levels, this is because the resistance is determined by how hard (fast) or slow you row.
It's the main reason why we favor the mid-range Stamina rower over many of the magnetic rowers on offer right now, dynamic resistance allows you to set as many goals as you like.
The big downside for many people when choosing magnetic is, the resistance can become too easy, especially on budget rowing machines.
After six months or so, many users are outgrowing the resistance of their magnetic machines and are left having to upgrade, not good when you have spent $300+ on a new rower!
1405 has been praised for its strong smooth rowing action and because it's an air rower, there'll be no need to upgrade this one any time soon, the Stamina ATS Air Rower Model 35-1405 will appeal to and suit most people's fitness needs and levels.
Stamina Air Rower 1405 Video
Build Quality
We have to remember this is not a commercial grade rower, it's better than most in this price range but don't expect the build quality of a Concept 2.
Stamina is very well known for producing high-quality low price gear and this rower is no exception, it weighs 73lb which isn't too bad for a mid-level rower.
The weight of a rowing machine gives us a good clue to the overall quality of the thing, the heavier the better, 1405 isn't built like a tank but the extra weight will help with stability.
But don't worry if you're thinking 'wow' that's heavy, how am I going to move it? The Stamina comes with built-in transport wheels, you can also fold this rower, simply remove two pins and fold, once folded, just tilt and roll to store.
We mentioned earlier the Stamina rower comes equipped with an oversized chrome rail and metal rowing chain, it's always nice to see a metal rowing chain, much more durable than nylon, but a few years ago when 1405 first came out there were a few issues with the chain that have now thankfully been resolved.
Stamina has always stood behind their products and have some of the best customer services I have come across, we were glad to see they saw a problem and fixed it.
I thought this was worth noting as some of the negative reviews on Amazon reflect the issues with the chain. Remember the rower no longer has any chain problems, so when looking at customer reviews try and filter out the old ones (anything over a year).
When reviewing budget to mid-level rowers, air and magnetic, this part of the review is always where we seem to hit the big negative, we have excellent built quality, smooth strong resistance, a great price, a stable build and then you guessed it, a cheap rubbish monitor.
There's no way of measuring your pulse with this monitor, so if you want an accurate calorie count please don't rely on this setting, there are no workout programmes, well there's not much at all really, but at least the monitor tracks distance, I have seen a few that don't even bother to do that.
Don't let this be a deal killer, although when you get to mid-level prices, I would expect to at least have a built-in pulse receiver! You can however set goals using the time setting and as we mentioned distance traveled.
Comfort
Another positive of this rower is just how comfy it is to use, users have praised how comfy the foam padded seat is, much nicer to sit on than the molded plastic seats you see on cheaper rowers.
The Stamina ATS 1405 also has large adjustable footrests with straps, the straps help keep your feet secure while rowing.
And lastly and most importantly, the smooth air resistance allows for a strong, smooth non-jarring rowing stroke.
Strong, smooth air resistance
Loud compared to magnetic rowers
The Stamina rower will arrive at your doorstep partially assembled, it's recommended that two people put together the rower as some parts need to be held in place while one person tightens the screws.
Instructions and all tools are provided, average assembly time…under 1 hour.
Efitment Aero Air Fan Rower
A surprisingly impressive air rower for the price, the Aero rower is Efitment's new beast to the market and it's receiving high ratings everywhere.
And there's a good reason for the ratings, the build quality of this rower is superb and for the price, it looks unbeatable.
Strong, stable, solid build and smooth air resistance are just some of the resounding features of this entry-level air rower.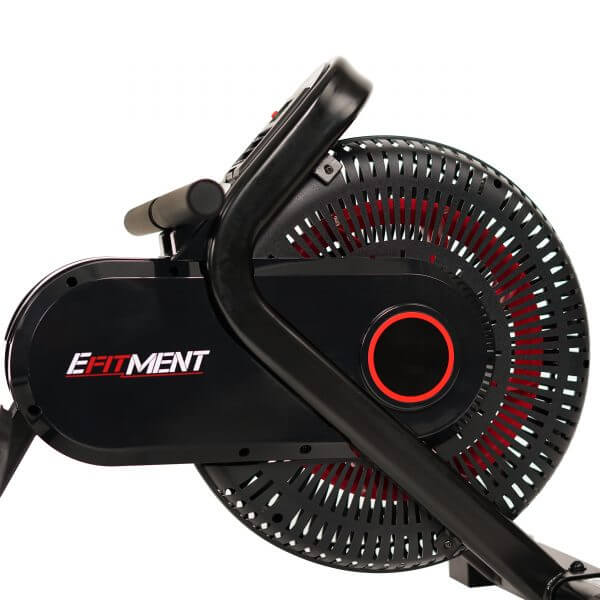 The only reason I say entry level is because of the price, the Efitment rower is almost 100 bucks less than the Stamina and by what users have said so far, just as good.
A long rail with this one too, users up to 6'3 have no issues with full leg extension, even a guy who was 6'4″ said he was happy with the rail length.
If you like the sound of this rower and would like to read a more detailed review you can check out our full review here: Efitment Aero Air Rower Full Review
Sunny Health & Fitness 5155 Magnetic Rower
The Sunny Health & Fitness is one of the most popular magnetic rowers for sale on the market.
This rower sells by the thousands and for an entry-level rower its pretty good. You won't hear many people praising the resistance strength of budget magnetic rowers, however, the 5155 is one exception.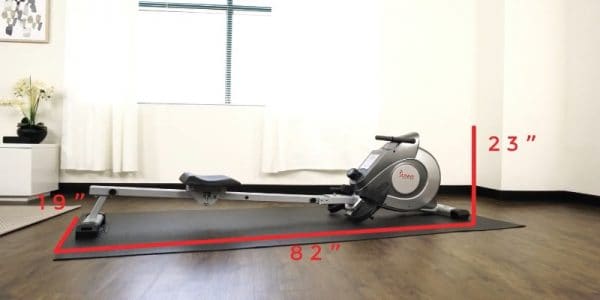 The 5155 is renowned for its strong resistance, right through levels 4-8, this is great news for people who are after a quieter machine, you can have all the benefits of a whisper quite magnetic rower and strong smooth resistance, all for under $300
With a long rail, comfy seat and only the basic monitor holding this one back, you might want to give this magnetic rower some serious consideration.
Our Full Review: Sunny Health & Fitness SF-RW5155 Review
The Stamina ATS 1405 is a very capable air rower, built to last and from a company you can rely on and trust. I feel at this price the Stamina is slightly let down by its basic monitor, especially when you have the likes of the Efitment Rower which also offers excellent build quality but costs a 3rd less.
Stamina needs to up their game a little or drop their prices if they want to compete with some of the awesome new rowers hitting the market at the moment.