It can be tricky buying a budget rower because the quality can vary hugely from one company to the next. You're not going to get a heavy-duty Rowing machine for under $300, and they're going to be a long way off commercial grade.
Still, we can expect to find good-quality rowers capable of intense calorie-burning workouts.
The Sharevgo SRM1000 Rowing Machine isnt a cheaply built rower like so many in this price bracket. This thing weighs 62lb, which is a good weight for a budget rower and is a telling sign that quality materials were used in the build. Plus, the extra weight will help keep this rower planted to the floor.
Surprising Amount of Features
Most budget rowers dont come with any advanced features so it was a pleasant surprise not only to find Bluetooth but also to see that these guys have designed the monitor to be compatible with wireless chest straps.
Wireless chest straps are the most accurate way to monitor your pulse rate and an excellent option for those of you who love to train in your chosen heart rate zone.
Also, we have one of the longest rails I've seen in the price bracket, an easy-to-use folding system, and a whisper-quiet magnetic resistance system, making the Sharevgo Smart Rower a great choice for home use.
When it comes to features, the SRM1000 Smart Rower easily rivals the best sellers in the price bracket, which is why I want to compare it with one of them at the end of the review. First, let's take a look at everything this new rower from Sharvgo has to offer.
Product dimensions – 82L x 20W x 32H in
Resistance type – Magnetic
LCD multi-function monitor – with BlueTooth
Frame material – alloy steel
Why Do We Like The Sharevgo SRM1000 Rowing Machine?
The one feature that makes this rower stand out from everything else in this price bracket is that Sharego offers a free fitness app which is almost unheard of in this price range.
Free Acess To Shaevgo Fitness App
And considering the monitors on all low cost rowers, including the Sharevgo 1000, are extremely basic, it's certainly a welcome addition to see a budget rower with Bluetooth and access to the free Sharevgo fitness app. This app will let you download and store all your workout data and set workout goals on time, distance, rowing strokes, etc.
It's great to have access to a free fitness app, but perhaps more impressive is that Sharevgo has designed this rower to be compatible with nearly all  Bluetooth HRMs, i.e., chest straps and optical heart rate sensors on the market.
Wireless Heart Rate Monitoring
A monitor that is wireless heart rate chest strap comapatible is a big step up in this price range, with only one other rower I know of with this feature for under $300.
Yes you'll have to buy a chest strap separately (for about $30), but this will allow for the most accurate heart rate monitoring, and it's a small price to pay for those of you who love to train in your chosen heart rate zone. 
Quiet Rower Thanks To Magnetic Resistance System
I always recommend magnetic resistance for home use because it's much quieter in operation than air resistance, which uses a noisy fan to create resistance.
Magnetic resistance has featured on cardio gear for over a decade but because this type of resistance system was new back then you'd have to spend quite a bit on a high-end rower to reap its benefits.
Thankfully, magnetic resistance has filtered its way down the price ranges over the past few years, which is great news for people who dont want to spend a ton of cash on a rowing machine or bike.
Frictionless Resistnace – Quiet & Maintanance Free
The main reason why magnetic resistance is so quiet is that the magnetic never heave to make contact with the flywheel; thus, it's a frictionless resistance system making it near silent when in motion.
Magnetic resistance is the perfect choice for those of you who love to watch tv or listen to music while you exercise and handy if you dont want to disturb others around you with the sound of your workouts.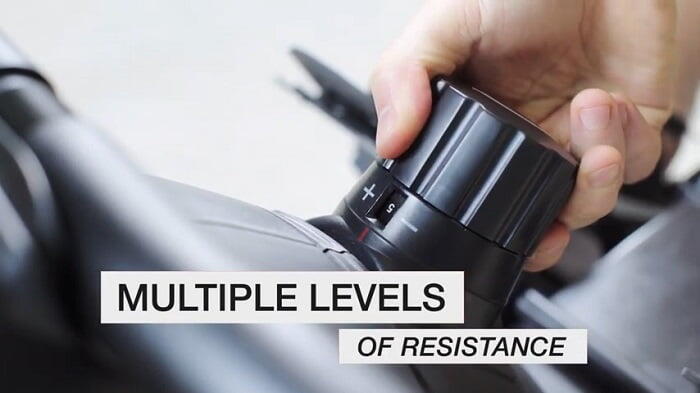 Magnetic Resistance is a Constant Resistance System!
Magnetic resistance is a constant resistance which means it doesn't matter how fast you row, the resistance strength will stay the same unless you change it manually via the tension knob.
Constant resistance has its benefits, such as rowing at a slow pace on a high resistance level (great for building and strengthening the legs)
Still, constant resistance isnt as realistic as dynamic resistance, which air rowers utilize.
Air rowers mimic the feel of actual rowing more closely because the resistance is dynamic: the resistance strength gets stronger the faster you row.
However the main drawback with air rowers is the noise they create, so they are not ideal for home and are more prevalent in commercial gyms.
Eight levels of Resistance – Good for beginners and intermediates
As I mentioned, this rower is a long way from commercial-grade, so dont expect super-strong resistance. It is, however, easily strong enough in the upper levels for calorie-burning workouts, and some people may never reach the 7th and 8th levels of resistance. But if your serious rower, the light flywheel won't produce enough resistance for competition training, etc.
The Sharevgo has been designed for beginners or anyone new to indoor rowing.
Basic – Easy To Use Monitor
All monitors in this price bracket are basic. They dont include workout programs or an HD screen, but they track all the essential workout data such as time-distance stroke scan and calories burned.
The screen on this monitor is relatively small, which isnt a good thing as it makes it hard to read when exercising. Plus, it isnt backlit, so it's not ideal in low light conditions.
And while the monitor is basic and the screen is small, many of you won't need to use it. Why? Because the Sharevgo boasts BlueTooth with FREE access to the Sharevgo Fitness app.
You can track your stats on the app and download everything to your tablet or phone, which is impressive at this price point, and let's not forget you also have wireless heart rate monitoring with this rower. You'll need to get hold of a chest strap to take advantage of it, and they cost around $30 for a decent one.
Any More Features Worth a Mention?
There's a couple of other features worth a mention. The folding system is a good one. It folds quickly. It's not too fiddly like many of them. It takes just a few seconds to fold to almost half its original footprint.
Long Rail For a Budget Rower
Many rowers in this price bracket suffer from short rails, with some accommodating users only up to 6ft. The Sharevgo has a reasonably long rail for the price point, which can accommodate users with a leg inseam of up to 36″. This is great to hear as it gives us a max user height limit of 6'4″
Build in Transport Wheels & Adjustable Levelers
We also have built-in transport wheels. Just tilt and roll the rower to store.
One of the most usfell features are the adjustbale levelers built into the rear stabsizers; these things are really handy for keeping the rowing machine level on uneven surfaces. Not all budget rowers include these, so it's nice to see them featured.
And I like the seat. I dont generally like budget rower seats; they're either too soft or too hard, but because Sharevgo used high-density foam padding for the seat, it's not too soft to cause stability issues nor too hard to be off-putting. It's just right.
Plus, the seat is perfectly contoured to prevent your butt from slipping in the push phase of the rowing stroke. So a thumbs up for the seat.
Sturdy build can handle up to 300lb
Inlcudes BlueTooth and Free access to Sharevgo Fitness app
Wireless heart rate chest strap compatible
Long rail suitbale for users up to 6'4″ (and minimum height 4'11")
High density foam padded seat contoured to prevent slips in the leg push phase of the rowing stroke
Includes adjustbale levelers keeps the rower stable on uneven surfaces
Built-in transport wheels – just tilt and roll to store
Quiet rower thanks to its magnetic resistnace and belt drive systems. Great for indoor use
Monitor screen is smalll and not backlit
Resistnace stength isnt suitable for seasoned rowers
Some smaller parts like the foot pedals seem a little cheap…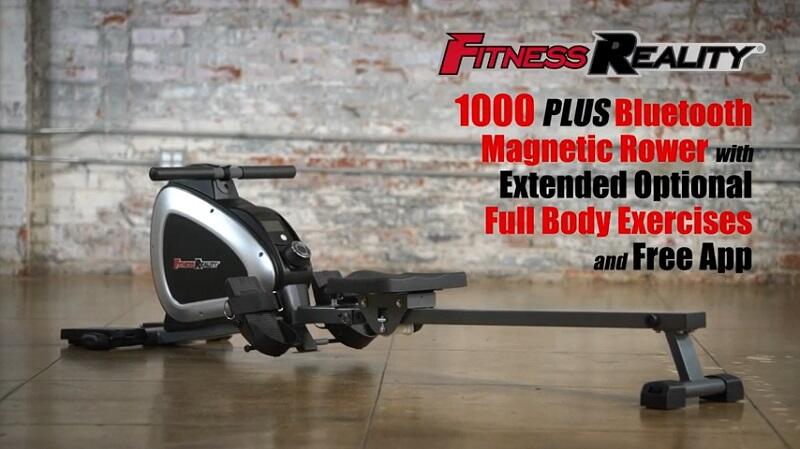 Fitness Reality 1000 Plus Rowing Machine
I've reviewed a lot of gear from these guys, and they always impress. They specialize in low-cost gym gear, and their rowing machine is one of the best rowers you're going to find around the $300 price mark.
And it's the only other rower in this price category that includes BlueTooth, but what I like most about the Fitness Reality is its build quality. These guys never cut back on quality even when the price is low, and thats one of the reasons this rower is so popular right now.
It's very similar to the Sharevgo rowing machine in that both offer magnetic resistance, both include belt drive systems, both fold for storage, and both have long rails so they can accommodate taller users.
The Fitness Reality 1000 includes 14 levels of resistance, but just because there are more levels is doesn't mean they will be any stronger than the eight levels of the Sharevgo. All it really means is it gives the beginner more choice, so it's useful if you dont want large jumps in resistance strength when you first start with a rowing machine.
The Fitness Reality 1000 has a decent weight flywheel of nearly 7lb and a smooth gliding seat that runs on high-quality ball bearings, so the rowing stroke on his rower is surprisingly smooth for the price.
And lastly, the Fitness Reality includes an extra pair of footpads at the front of the rower, which allows you to perform standing exercises such as bicep curls and standing rows, something I know many users loved about this machine.
Overall it's an impressive machine from Fitness Reality. It doesn't include the wireless heart rate option, but all the other essentials are there.
One of my favorites in this price bracket and certainly worth some serious consideration, especially if you want a rowing machine built by a well-known company.
To Sum Up
At first, I was slightly cautious about the Sharevgo Rowing Machine as it's built by an almost unknown company, but surprisingly the SMR1000 offers more than most for the price tag. I love the free access to their fitness app, as this makes up for the reasonably poor monitor we see featured on all low-cost rowers.
And even though the build quality is high with this one, it's not excellent,  so dont go expecting gym quality, this is a budget rower, and you'll feel that when you row on it. Still, it boasts some great features such as magnetic resistance and a smooth belt drive system, so it's nice and quiet and great for home use.
Overall it's a well equiped rower at a great price. The long rail, the free app, and the sturdy build are what make this rower stand out above most in this price bracket.
There are a few cheaply built things I didn't like so much about the rower, like its foot pedals, but they're more than made up for by the other impressive features.