Not all of us can afford to spend $500+ on a home gym cardio machine, and there really isn't any need to if you do your research, you can find some little gems well under the $500 mark if you look hard, well after a few hours of research, we're quite sure we found one, the Sunny Health & Fitness SF-RW5612.
Cardio + Upper & Lower Body Workout
For around $300 you get a cardio machine that not only works your upper body but your lower body too, that's the great thing about rowers they strengthen your arms, shoulders, back and quads, all while giving you a great cardio workout.
Ok, the Sunny Health magnetic rower isn't best suited for pro-athletes and seasoned rowers, but we're not expecting a commercial grade rower here.
The SF-RW5612 is an entry level rower that offers a strong, smooth resistance, great for beginners and intermediate users, with enough strength in the resistance for moderate calorie loss and strength building.
Why Choose The Sunny Health & Fitness Magnetic Rower?
There are basically two types of rowing machines that are popular right now amongst fitness fanatics; one is the air rower, the other is the magnetic rower, is one better than the other? That all depends on personal preference.
The air rower is favored because the resistance is dynamic. The faster you row, the stronger the resistance, people like this because it gives a more natural and realistic effect.
Magnetic resistance, on the other hand, is constant, the resistance is not determined from the speed you row, but by the resistance level, you select. (the resistance will only become stronger if you manually select a tougher resistance level)
Why do people favor magnetic? Because the user can row at a slow pace with strong resistance and let's not forget magnetic resistance is usually whisper quiet compared to their noisy air counterparts. You can exercise on the Sunny Health rower while watching TV, or if you like to exercise early, you can, without disturbing anyone else in your household.
Sunny Health & Fitness SF-RW5612 Video
Comfort
It's important to find a rowing machine you're going to be able to spend more than 15 minutes on without getting a sore butt, from many of the reviews I've read, users are praising the wide padded seat that comes with this rower. A 62-year-old lady said she had no problems at all exercising on this machine for 45 minutes a day.
It's also nice to see padded handles, great if you're going to use the Sunny for long rowing sessions and want to avoid calluses, it also stops your hands slipping if they become sweaty.
The ergonomic foot pedals are oversized to accommodate any foot size, they are also non-slip and come with straps to keep your feet secure while rowing.
Beam length is also important when it comes to rowing comfort, a short beam will not allow full leg extension, which is a must when buying a rower. People as tall as 6'2″ should have no issues achieving full leg extension. You don't want to unpack this thing, get it built, only to find you have extension issues!
Dual Function
The dual function feature on this rower certainly sets it apart from other entry rowers. The Sunny comes with carefully designed footplates allowing you to stand and perform multiple shoulder and arm exercises without having to leave the rowing machine. 
You could use this feature for say, interval training, 10 minutes rowing then 5 sets of bicep curls, repeat, but instead of bicep curls, this time try 5 sets of upright rows.
No need to use this feature if you feel it's a little gimmicky, but it will provide some strength benefits and help break up the workout when you become bored with rowing for long periods.  
Storage
One of the downsides to buying the SF-RW5612 is the machine lacks a foldable option. Although the rower is compact compared to many other entry-level rowers it will, by the very nature of the thing, have a reasonably large footprint.
The Sunny does come with integrated transport wheels, so moving it shouldn't be an issue, just tilt and roll, but if you're tight for space a foldable rower such as the Velocity magnetic rower may be a better option for you.
Assembly is quite easy with this rower, most get it built in under an hour, as always it's easier with two pairs of hands, but don't worry if you're on your own, I haven't heard of any horror stories regarding assembly of the Sunny rower. All tools are supplied and all parts are labeled in separate bags to make assembly that much easier.
LCD Monitor
So as not to single out  Sunny Health's LCD monitor, we can say, that nearly all budget level cardio machines including rowers come with very basic LCD monitors, yes, it will tell you calories burned, count (stroke) total count (total strokes) time and calories burned, but for some reason many of these basic monitors will not give a distance reading which is a shame.
And when it comes to calories they are anything if accurate, the monitors have no way of knowing your weight, heart rate, etc, so they give a guess at best.
Solid, well built for price level
Efit is yet another company offering up a well-built entry-level rower. Just like most rowers around this price point, the Efit has 8 magnetic resistance levels and a user height limit of around 6'3″.
The is something noticeably different about the Efit magnetic rower and that is the seat. Efit have opted for a wide padded seat, which has gone down well with the users who have bought it, many people have mentioned how comfy this machine is to use for long periods.
What the Efit does lack is any real strength in the resistance, there have been a few complaints that even at levels 7-8 resistance seemed poor.
Whilst this is somewhat disappointing, you cannot expect resistance levels of $1000 machines, most of the entry level rowers will provide a decent cardio workout, and will challenge many users for years to come. But don't expect pro level workouts from budget machines.
Another excellent use for an entry level rower such as the Efit would be for an all body warm up, much more beneficial than warming up on an exercise bike because you are working both your upper and lower body. Overall a well-designed rower which we think is worth a closer look.
Sunny Health & Fitness SF -RW 5515
There's not a lot of difference between this rower the SF-RW5515 and the newer model we just reviewed the SF-RW5612, both have 8 resistance levels, both are very quiet in use, both offer a strong smooth resistance and both have a very basic LCD monitor.
This model does not include the dual function feature of the SF-RW5612, which may not matter to many of you, and personally, I wouldn't pay the extra $80 for it.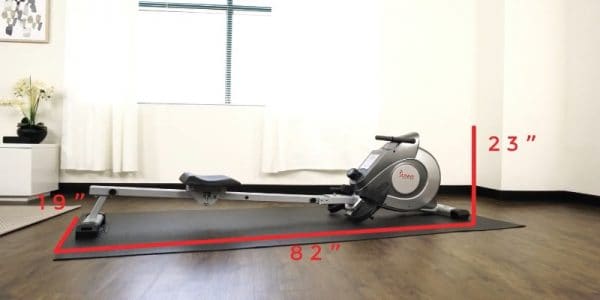 But what this rower does have is the foldable feature which is great for storage, and it also includes transport wheels allowing it to be easily moved. On the whole, for a rower that has been around for a while, it still receives very positive reviews from its users.
A budget rower that's stood the test of time and still continues to sell well.
If you can go without the dual function feature of the SF-RW5612, then why not save yourself a few $'s and get hold of basically the same magnetic rower at a more affordable price.
Our full review can be found here: Sunny Health SF RW5515 Magnetic Rower
To Sum Up
Sunny Health and Fitness produce some of the best budget rowers on the market and the SF-RW5612 is no exception. A well-built machine that offers the user a strong smooth resistance, let down slightly by the dated LCD monitor, this machine still offers a lot for the money. Although it would have been nice to be able to fold the rower for storage.