Sunny Health & Fitness has become the popular choice of company for people searching for entry-level magnetic rowers, whether you can call the Sunny Health & Fitness SF-RW5508 a budget rower is debatable, although it does come in at half the price of top-level rowers, it's still quite pricey compared to the rest of the Sunny Health magnetic rower series.
There's a good reason for the price increase, the SF-RW5508 offers up to 10 resistance levels compared to the standard 8, a stronger heavy duty, quality build, and unlike any of their other magnetic rowers, gives you the option to monitor your pulse with the built-in wireless pulse monitor.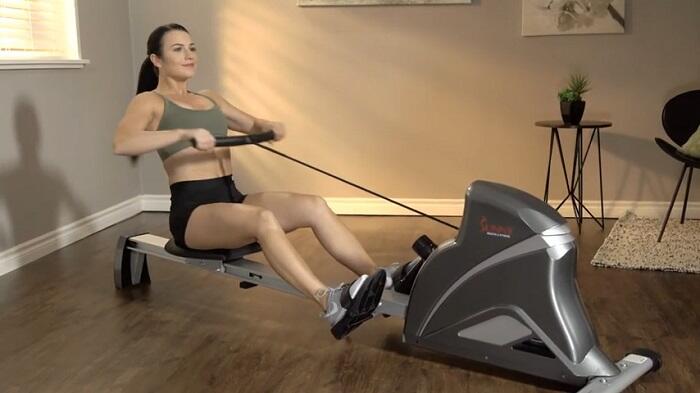 In this review we'll take a close look at the Sunny Health SF-RW5508, we'll also compare this excellent rower to two other top magnetic rowers in this price range, you can find the comparison table and alternatives at the end of the review.
Why Choose The Sunny Health Magnetic Rower?
It can be a difficult decision when choosing the right type of cardio machine for your home and needs, whilst the most popular choice used to be the exercise bike, rowing machines are becoming the go-to machine for a decent cardio workout at home. Why? Because they offer you an upper and lower body workout.
Rowing machines will strengthen your shoulders, arms, back and quad muscles all while giving you a top level cardio workout.
But that's not all, because we're looking at magnetic rowers they include a few other excellent benefits, the first being, they are whisper quiet to use, users have mentioned the Sunny Health SF-RW5508 to be extremely quiet when in use.
Some lower budget magnetic rowers are spoiled by their noisy seat wheels, but not the SF-RW5508, users have praised the smooth gliding action of the seat on the 38″ rail.
The whisper quiet motion of this rower will let you watch TV without being disturbed and more importantly you will not disturb others around you while exercising. 
These are a few of the many reasons people are ditching the noisy air rowers and replacing them with magnetic, this segment of the rowing machine market has been growing and growing over the past few years, and even in commercial gyms air rowers are being replaced by magnetic.
Sunny Health SF-RW5508 Video
As we mentioned earlier the Sunny Health & Fitness rower has 10 magnetic resistance levels compared to the standard 8, why the extra levels with this machine? As with any budget level cardio machines, the main problem most people encounter is poor resistance.
A lot of people are buying budget rowers, using them for 6 or so months, only to realize the resistance isn't strong enough to progress any further with their workout goals.
Poor resistance isn't an issue if you're buying a budget rower, bike, stepper for say a warm/cool down machine but if you're serious about fitness and have long term views for improvement, budget machines will always have their limits.
For a $100 more Sunny Health offer the 5508, ok it's not a pro-level machine but what it does offer is a stronger resistance, with 2 extra levels.
The resistance of the 5508 is that much stronger, the machine has even been advertised for light commercial use, which is great for many of you, not only does the 5508 offer easy levels for beginners it also has enough strength in the resistance for more intense workouts and should appeal to some seasoned rowers too.
To change the resistance on this magnetic rower, you simply turn the resistance knob and choose your levels from 1-10.
At this price, I would have expected to be able to change the levels of resistance via the built-in monitor as I know a few in this price range allow for that, a shame really as it would have been another feature to set this model apart from their budget range.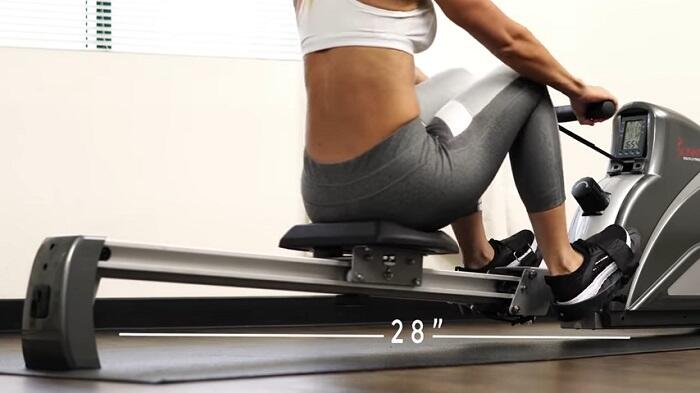 Comfort
With a noticeably larger seat than most rowing machines, the Sunny Health seat gives you that extra bit of comfort when exercising, the seat is also fully padded.
The non-slip curved handlebar allows for a better grip and more comfortable rowing stroke, the non-slip grip should do away with any slippage issues which arise when the hands get sweaty.
Nice to see the handlebar is designed with a soft grip, this will help prevent blisters forming after long rowing sessions.
Tall users shouldn't have any issues with full leg extension on this rower. Many of the budget rowers' rail length is quite short and people over 6'1″ struggle to achieve full leg extension, so you'll be glad to hear users of 6'6″ have had no trouble with full leg extension on the Sunny Health rower.
Monitor LCD
One of the most capable monitors we have seen in this price range, the monitor comes with a large LCD screen which is easy to read and tracks all your fitness data, although disappointingly you can not change the resistance from the monitor, it does, however, track a very good amount of data, almost twice that of similarly priced rowers. 
This monitor tracks:
Distance
Calories burned
Pulse
Strokes
Time
Strokes/Min
500m/Time (split-time)
Also worth a mention is the wireless pulse receiver built into the monitor, yes, it costs an extra $50 to buy the heart rate chest strap and some people have complained about having to pay the extra $50, but this is an option.
If the Sunny Health 5508 came with the chest strap as standard, it would have pushed up the price of the rower by $50 so, in this case, it is a good idea to have it as an option, not everyone will need or want it.
Heart Rate Monitor benefits:
Track heart rate while working out
Workout in different heart rate zones helps target specific goals
Allows for a more accurate calorie burned count
Can track pulse recovery rate
There's no foldable option with this rower,  you may have seen foldable features on their other models but I can assure you this machine does not include this helpful feature.
The reason they left out the foldable feature maybe due to the heavy stable design with improved 300lb capacity or might be because of the upgraded seat rail design which requires electronics to be attached to the seat rail, either way, there isn't a super easy way to store the machine.
But don't fear if you really do need to fold it, one user said, he simply pulled out a pin, detached the wires, lifted and separated. This will almost half the footprint, but I feel may mess with the warranty if anything goes wrong.
The integrated transport wheels will make the rower easy to move, just tilt and push.
Whisper quiet rowing stroke
High info monitor for price range
Built-in wireless pulse receiver
Easy to assemble (30 mins) all tools included
Cannot change resistance level from monitor
As soon as you take a look at this rower you can be assured it's made by a well-respected company.
CAP Barbell, CAP's Velocity rower offers 8 resistance levels but also offers you a little more than most, with 12 pre-set workouts they consist of 6 pre-programmed workouts, 4 open slots to customize your workouts, 1 target heart programme, and 1 manual.
And unlike the Sunny Health rower where you have to change the settings using the resistance knob, on the Velocity you can simply choose resistance using the LCD monitor.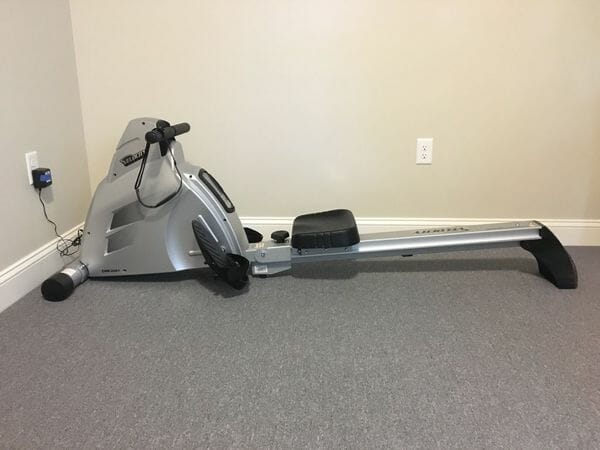 This is another magnetic rower where users have praised the whisper quiet motion.
The rower is a little more compact than most, which means taller users above 6'2″ may struggle with full leg extension.
If you are taller than 6'2″  it may be worth taking a closer look into the rail length/height restrictions (measure inside leg), as one user said he was 6'2″ and even with full leg extension there was a couple of inches spare left on the rail, so maybe fine even for 6'4″
A well built mid-range magnetic rower, which includes a built-in heart rate receiver, no need to buy the chest strap for this one, it already comes with it.
Our Full Review: Velocity Magnetic Rower
Marcy Turbine Magnetic Rower
Marcy is another well known company producing quality home gym equipment for people on a budget.
I've had the pleasure of reviewing one of their adjustable benches and I can tell you the quality and versatility of the bench was better than many benches costing twice as much, and that quality is also true of their rower.
The Marcy magnetic rower is a very well built, no frills magnetic rower, costing considerably less than the other two in this review, it may lack a few features but it makes up for it with a strong resistance (noted by many users) and heavy-duty quality build.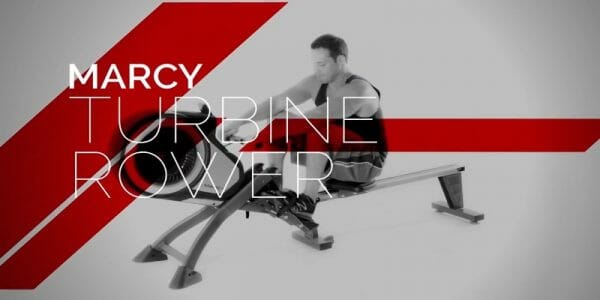 This machine is also going to be stable with wide stabilizing feet at the front back and middle of the machine. All feet are capped with rubber which will help stop the machine sliding on hard floors, not only that this is a heavy machine weighing 85lb, weight is great for stability plus it generally gives us a good clue to the overall build quality of the rower.
If you're after a tough, no-frills rower with strong resistance, the Marcy is definitely worth a closer look.
To Sum Up
For a company that builds affordable fitness equipment, the Sunny Health & Fitness SF-RW5508 is surprisingly well built and versatile, with features seen on machines costing $200 more, this mid-range magnetic rower should appeal to advanced users as well as beginners.