Stamina ATS Air Rower 1399
Air rowers provide an excellent full body workout, and until recently the only way most of us could reap the benefits from one of these awesome cardio machines was to go to the gym.
In the last few years, fitness companies such as Stamina have been able to produce some extremely well-built rowers at affordable prices, there's no need to spend $800+ to get hold of a decent rower anymore.
For under $300 the Stamina ATS Air Rower 1399 will give you a pro-level cardio workout, without leaving a gaping hole in your bank account.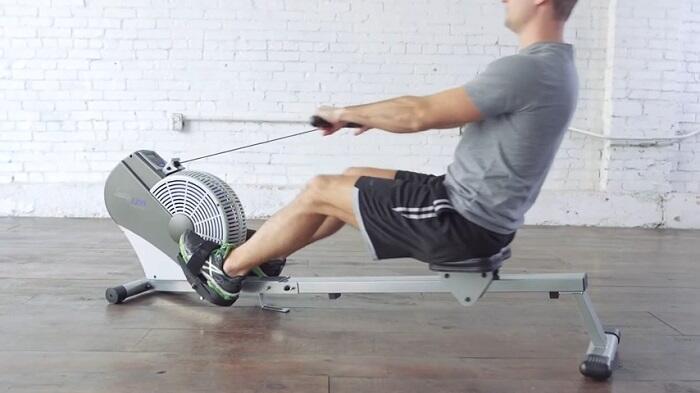 Why Do We Like The Stamina Air Rower?
With first rate build quality there really isn't much not to like about this rower, Stamina has always been known for building durable, strong, stable machines and 1399 is no exception.
With a solid steel frame and a tough nylon strap, the ATS 1399 should last a few years and take most of what you can throw at it. It's great to see wide stabilizing feet capped in rubber, the wide feet should really help with keeping the rower stable and the rubber feet will stop it from sliding on hard floors.
The inclined rail of the Stamina is another positive for this capable rower, an inclined rail will make you push your legs a little harder through the drive, this leads to a better leg workout.
Resistance
The main selling feature of this machine has to be the resistance type, air resistance allows for a strong smooth natural rowing stroke, which is preferred by many over magnetic as air rowers mimic the resistance felt when rowing on water.
I know some users can get a little confused over resistance types and how they work so let's take a quick look at the two most popular resistance types, magnetic and air.
Air resistance is dynamic, there are no resistance levels to choose from, dynamic resistance works simply by how fast you row, if you want strong resistance and an intense workout you can row fast, less resistance, row slow. This is exactly how resistance works when rowing on water.
The benefits of air resistance
Dynamic, you are not limited to a given amount of resistance levels
Great for interval training, you can row fast, slow, fast, slow, and do not need to worry about having to change the resistance from the monitor or control knob
Much more natural feel than magnetic resistance
Magnetic rowers also offer a strong smooth rowing stroke but rather than using a fan and air for the resistance, they use a magnet inside the flywheel housing, the closer the magnet to the flywheel the stronger the resistance.
The main difference here is: with the air rower you can row faster for stronger resistance, with magnetic you simply select a difficulty level. Magnetic resistance is constant, it doesn't matter how fast or slow you row, the resistance will stay the same unless it's manually changed.
The Benefits of Magnetic Resistance
Whisper quiet, great for apartment living, you can row without disturbing anyone around you
Slightly cheaper than air rowers
Constant resistance allows you to row at a slow pace at a high resistance level, this is impossible with an air rower
Monitor
Sadly as with most entry-level cardio machines, the Stamina ATS Air rower 1399 has been designed with a very basic monitor which tracks time, distance traveled and calories burned.
Although basic, at least you have the option to track the distance, so many of the budget rowers leave this out. But there's no workout programme and no pulse receiver.
We need to remember that as this machine has no idea of your actual weight or heart rate, it will not be able to give you an accurate calorie count.
Assembly
An easy to assemble rowing machine, most people have taken between 15-45 minutes to assemble, nothing too tricky, supplied with all the tools and very coherent instructions.
Storage
In general rowing machines have a pretty large footprint, and being able to fold the machine is a big help if you're tight for space.
The Stamina ATS rower is very easy to fold, simply pull out a pin and fold, takes a few seconds as shown in the video above, and because this rower comes with built-in transport wheels, it's a breeze to move, simply tilt and roll.
Good for any fitness level
Strong smooth rowing stroke
Large pivoting foot rests
Noisy compared to higher priced air rowers
Sunny Health 5155 Magnetic Rower
Sunny Health & Fitness are very well known for making some of the best entry level rowers out there, the 5155 being their most popular model.
And it's popular for a good reason, while most entry-level magnetic rowers suffer from resistance issues ( lack of strength in the upper levels) the Sunny Health 5155 has been praised for its strong smooth resistance right through levels 4-8.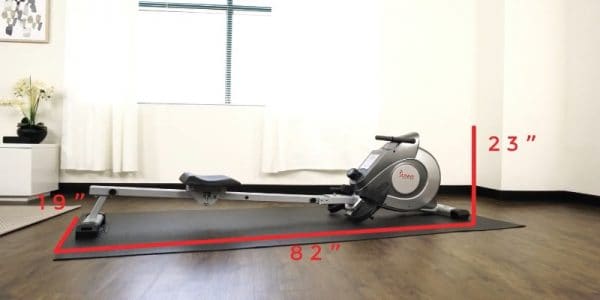 This whisper quiet rower has one of the longest rails of any magnetic rower, users as tall as 6'4″ have had no issues with achieving full leg extension.
With a comfy seat, pivoting oversized footrests, a high-quality build and strong resistance, the Sunny Health and Fitness magnetic rower is one rower you should take a closer look at.
If you would like to read our full review it can be found here: Sunny Health & Fitness 5155 Review
The Efitment rower is surprisingly good, designed with a strong sturdy steel frame, this rower is going to be durable, with a slightly better build than the Stamina, Efitment's new rower is going to become a very popular choice indeed.
The Efitment rower weighs 10lb more than the Stamina and as with most fitness equipment the extra weight is a good sign, weight is great for stability and will also give us a good clue to the overall quality of the rower.
Although this rower has only been available for a few months, it has already received very high ratings, with an average of 4.5 out of 5. With many users commenting on how smooth the rowing action was.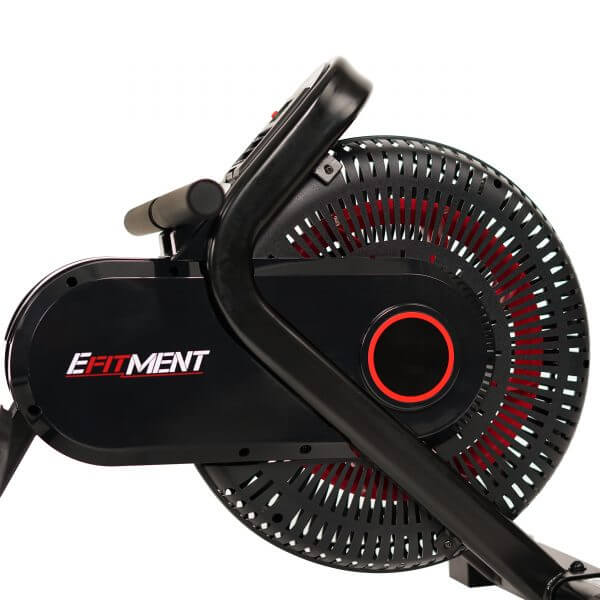 Again we see another basic monitor with the Efitment but that's about the only downside I can find with this excellent rower. Taller folk will be happy to hear the Efitment rower comes with a long rail, 51.4″
To Sum Up
Both the Efitment and Stamina machines are at the top of their games, there are no better two air rowers in this price range.
With the Stamina 1399 Rowing Machine, you have a company you can trust, it's been around a long time and their customer service is excellent. And with the Efitment Areo Rower, you have a slightly stronger build and that useful extra weight.
However, if you like the idea of rowing in near silence then you won't find a better magnetic rower for the price than the Sunny Health 5155, a well built magnetic rower with strong resistance and with its 8 resistance levels to choose from this rower should cater for most fitness levels.