6 Best Budget Rowing Machines For Home Use
Treadmills, exercise bikes, and rowing machines are all great bits of kit for a home gym, and all offer excellent cardio workouts, but what makes the rowing machine different from the exercise bike and treadmill is that it gives you a full-body workout while providing a pro-level cardio workout.
And the best part is you don't have to spend a load of cash to get a decent one.
When I first started reviewing rowing machines, there wasn't any Budget Rowing Machines on the market. Fast forward ten years, and we're spoilt for choice, which is great news, but we still need to be careful? The quality on offer from one company to the next can vary hugely, so it's worthwhile doing your research and reading guides like ours.
High-Quality Affordable Rowing Machines
We're not going to find heavy-duty rowing machines in this price bracket nor will we find advanced monitors, but we can expect to find high-quality low-cost rowers built by companies with a lot of experience.
Must Include The Essential Features If You Want a Top-Level Workout.
A high-quality budget rower should include all the essential features such as a long rail, a whisper-quiet resistance system, a heavy flywheel, a smooth rowing stroke, and if you're lucky Bluetooth.
Yes, there's more bad than good in the budget price range but the good ones are really good and certainly worth some serious consideration.
Best Budget Rowing Machines Comparison Table
Our Choice
Fitness Reality 1000
Weight – 66lb

Resistance – Magnetic 14 levels

Weight Capcity 250lb

Max user height – 6'4″

Foldable

Rating – 4.5/5
Weight – 55lb

Resistance – Magnetic 16 levels

Weight capacity – 350lb

Max user height – 6'4″

Foldable

Rating – 4.3/5
Weight – 60lb

Resistance – Magnetic 8 levels

Weight capacity – 250lb

Max user height – 6'5″

Foldable

Rating – 4.3/5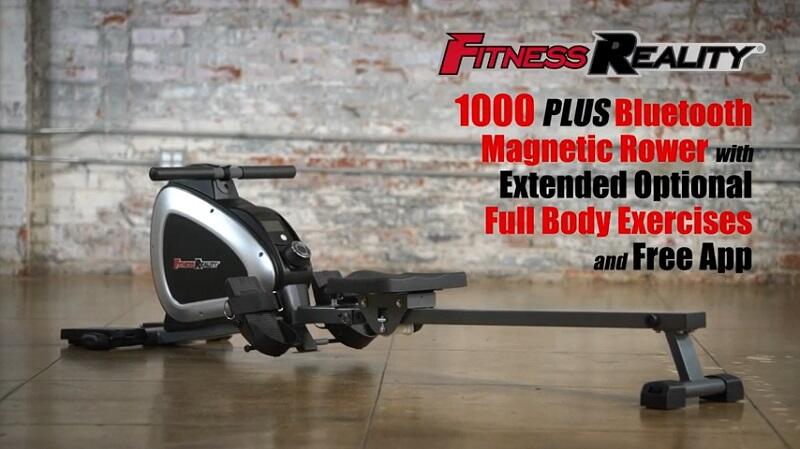 1. Fitness Reality 1000 Plus Rower
I've always liked Fitness Reality. They build some impressive gear, and their prices are low. Their 1000 Plus Rower outshines everything else in this price bracket, both on features and quality.
This rower weighs 66lb thats heavy for a budget rower and it's a telling sign the Fitness Reality 1000 is made from quality materials.
Smooth Rowing Stroke
The Fitness Reality rower also boasts one of the smoothest rowing strokes you'll find for under $300, thanks to its premier weighted flywheel and smooth magnetic resistance system.
Whisper Quiet
Because this rower is a magnetic rowing machine, it comes with a belt drive system as well. Belt drives are almost silent in operation and make for the quietest combination you'll find for any rowing machine when combined with magnetic resistance. You can watch TV listen to music without being disturbed by the sound of the machine.
Near silent rowing is what this rowing machine is all about, making it the perfect choice for a home rower.
The Fitness Reality rowing machine includes 14 levels of resistance more levels than most in the price bracket.  And a 7lb premier weighted flywheel the resistance is strong and smooth even at high stroke rates.
Bluetooth Enabled
Perhaps what's best about this rowing machine from Fitness Reality is that the monitor is Bluetooth enabled. It's the only rowing machine in the price bracket to include Bluetooth and access to the MyCloudFitness App.
Other features include a fast-folding system. Just remove a pin, and the rower folds to half its original footprint in a few seconds, no fiddley folding mechanisms here. Also, we have one of the longest rails accommodating users up to 6'4″.
And lastly, an extra feature we dont usually come across on rowing machines is the second pair of footpads at the front of the rower. You can use these footpads with the rowing handle to perform standing exercises such as bicep curls and standing rows, a feature I know many users loved about the 1000 Plus.
14 levels of smooth whisper quiet resistnace
Maintenance free belt drive system
Long rail/beam – suitable for users 4.9″ – 6.4″
Smoothest rowing stroke in price bracket – thanks to high-quality parts and excellent design
Easy to fold takes just a few seconds
Front stabilizer foot pedals allow for additional upper body workouts
Bluetooth enabled sync with MyCloudFitness app
Built-in transport wheels – just tilt and roll to store
No pulse reading function
No pre-programmed workouts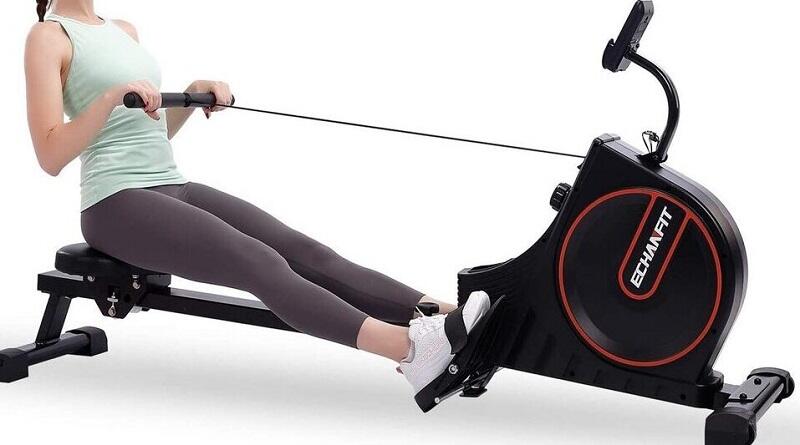 2. Echanfit Rowing Machine
Echanfit are a company that are doing great in the budget price range. This company seems to really know what they are doing when it comes to affordable cardio gear and has got all the essentials right with their budget rowing machine.
The Echanfit is another magnetic rowing machine which means it utilizes adjustable resistance. It is not like an air rower where resistance gets stronger the faster you row. Magnetic resistance is constant; it only gets stronger when you manually change it via the tension knob.
The Echanfit boasts 16 levels of magnetic resistance suitable for beginners and intermediates, which is the most you'll find in this price range. It also has a long rail thats accommodates users up to 6'4 and an impressive weight capacity of 350lb, so it's an excellent choice for larger users.
Again we see a belt drive system, so the Enchanfit is whisper quiet in operation.
The monitor is simple. There's no Bluetooth or apps available, but we have to remember this rower is currently on offer for 250 dollars, so we can't expect anything advanced. Still, it is one of the better monitors. I love that it's height-adjustable, which allows you to view the screen properly when exercising no matter what your height is, and it's large and easy to read.
The seat runs smoothly on the rail thanks to the high-quality ball bearings and rollers, and the rail folds easily because it uses a quick-release system that takes seconds to fold, just like the Fitness Reality.
Overall an excellent fuss-free well built rower from Enchanfit. If you only want to spend $250 on an indoor rower, you won't find better than this one.
Decent build quality for price can handle up top 350lb
14 levels of whisper-quiet magnetic resistance
Maintenance-free belt drive system
Long rail accommodates users up to 6'4″
Quick release folding system
Built in transport wheels – just tilt and roll to store
resistance isnt strong enough for serious rowers
LCD isnt backlit making it hard to read in low light conditions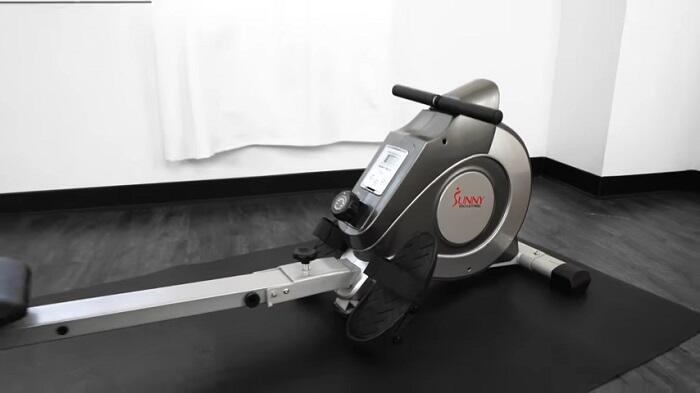 3. Sunny Health & Fitness SF-RW5155 Rower
Sunny Health & Fitness are the Kings of affordable cardio gear. They've been at the top of their game for nearly two decades, and their rowers are some of the best out there. The Sunny SF-RW5155 is their flagship budget rower, and it has been in my top 3 budget rowers for the past five years. It's that good.
What sells this rower from Sunny is the build quality for the price point, this thing has been out for five years, and it still sells as well today as it did when it was first released. The Sunny rower has stood the test of time with people praising it years after purchase and not many budget rowers can lay claim to that.
It's also one of the only budget rowers that have strong enough resistance for intense cardio workouts, and even though it only has eight levels of magnetic resistance, many users have mentioned how strong it is in the upper levels, comparing it to machines they have used in their local gyms.
This is another $250 rower, so no advanced monitor features. Still, the Sunny includes all the essential features such as a long rail accommodating users up to 6'5″, smooth magnetic and belt drive systems, and folds for storage, so it doesn't take up much room once stored.
Just like the Enchanfit rower, the Sunny SF-RW5155 is a bargain for the price. Both the Sunny and the Enchanfit offer great value for money, and they are not far behind the Fitness Reality rower when it comes to quality either.
Excellent build quality for price point
maintenance free belt drive and magnetic resistance systems
longest rail in price bracket and a 275lb max weight capacity make this rower a great choice for larger users
Built-in transport wheels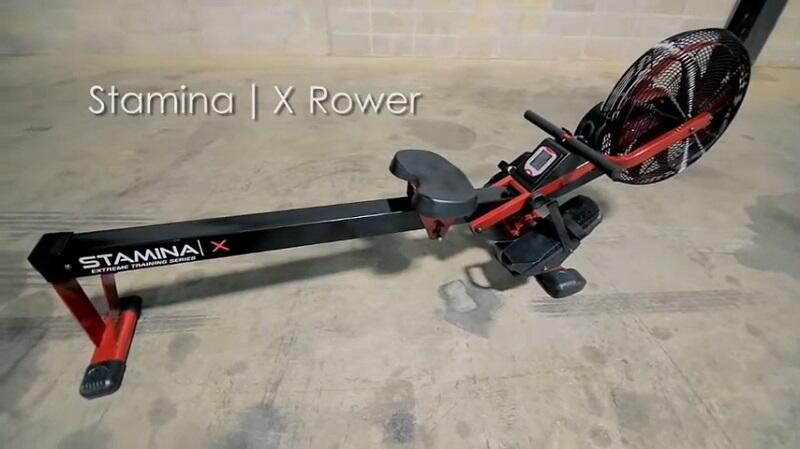 4. Stamina X Rower
Stamina builds more low-cost rowing machines than any other company in this price bracket. It's hard to keep up with them sometimes.
Most of their rowers are impressive for the price point, and while they make some excellent magnetic rowers, I thought their low-cost X air rower needed to be included in this review because it is the only decent air rower out there that isnt overpriced.
The Stamina does cost a little more. It's around 350-400, but it's worth that extra cash as this thing weighs 70lb, so we know it's sturdy and made from quality materials.
Also, what's different about this rower compared to the top 3 in this guide is that it's an air rower, so it uses a fan to create resistance.
The benefit of air resistance is that it mimics actual rowing much more closely than a magnetic rower, and thats because air resistance is dynamic; it only gets stronger the faster you row, just as it would if you were rowing on water.
Still, the downside of air resistance is the noisy fan used to create resistance, so they are not ideal for home use unless you have a dedicated room or garage to house one.
However, some people, including myself, love the sound the fan makes because it reminds you of how hard you're working out and pushes you to work harder.
Budget air rowers, just like magnetic ones, do not come with advanced monitors; the Stamina monitor is basic, but it's a good size and easy to use.
Other features include a long rail accommodating users up to 6'5″ and a folding system. If you can get this rower for under $400, it's a bargain.
Steel frame – sturdy construction can handle 250lb
Dynamic resistance mimics the feel of outdoor rowing
Long rail accommodates users up to 6'5″ (minimum 5ft)
Large LCD easy to read you workout stats while you workout
Extra smooth high grade rollers and ball bearings
Chain drive system – durable should last a lifetime of use
Monitor isnt backlit making it hard to read in low light conditions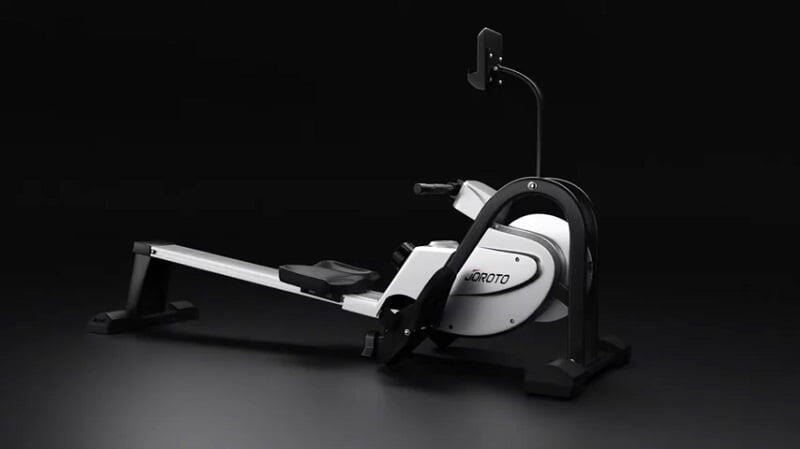 5. Joroto M35 Magnetic Rowing Machine
Joroto hasn't been around that long, but everything they have built so far has impressed with high ratings from users.
I had the pleasure of reviewing their spin bike a few months ago and was surprised at the quality on offer for the price, and by the looks of things, their low-cost rower is just as good.
The Joroto M35 is a magnetic rower that includes ten levels of magnetic resistance and a belt drive system, so it's quiet and smooth. And thanks to the all aluminum flywheel, the resistance feels strong and uninterrupted, which users have praised.
The rail isn't particularly long, as this is a compact rower, so it's a good choice for small spaces. Still, users up to 6'2″ will be able to achieve full leg extension on the Joroto. And we have a hefty 300lb max capacity making it a good choice for larger users.
The monitor is basic but tracks all the essential workout data such as time, distance, total stroke count, calories, scan. And the monitor is height adjustable and a good size to be easily viewed while you're working out.
What strikes me most about the Joroto M35 rowing machine is how it looks. We think it's a great-looking rowing machine and will suit any modern home, the open flywheel housing showing the aluminum flywheel is a nice touch from Joroto.
Storing the Joroto is slightly different from most rowing machines because Joroto has designed their rower to be stored standing and once stored it only takes up 0.15  square meters of space. Which is a lot less space than the folding rowers!
Another impressive budget rower shines quality for around $300: Smooth rowing stroke, sturdy build, and great design. 
Sturdy build can handle up to 300lb
10 levels of whisper quiet magnetic resistnace
Belt drive system much quieter than a noisy chain drives and maintenance free
Only takes up 0.15 metres of space when stored upright
Can accommodate users up to 6'2″
Not suitable for seasoned rowers
6. Advenor Magnetic Rowing Machine
The Advenor rowing machine doesn't include any bells and whistles. This is about as fuss-free as you can go before the quality starts to suffer.
And it's the fuss-free design thats appealing for many about the Advenor. There's nothing complicated about this rowing machine its super easy to assemble, easy to use, made from quality materials, and delivers a smooth rowing stroke which is surprising considering the price.
I liked the Advoror because these guys havent cut back on any of the essentials. We have a magnetic resistance system with a 6lb flywheel and a belt drive system, so everything regarding stroke and resistance strength is smooth and strong.
The seat is contoured, which helps prevent slips in the push phase of the rowing stroke, and the rail is angled, which intensifies the push phase of the rowing stroke and accelerates the recovery phase, good to see on no-frills rower like the Advenor.
Other features include a folding system, a decent length rail allowing users up to 6'3″ to achieve full leg extension, and transport wheels making the rower easy to move just tilt and roll to store.
Sturdy frame can hold up to 265lb
Whisper quite resistnace system great for home use
Good length rail for a budget rower can accommodate users up to 6'3″
Buil in transport wheels just tilt and roll to store
Adjustable levelers keeps rower stable on uneven surfaces
Great price for a well built rower
No option to monitor pulse
Not suitable for serious rowers
Buying Tip For Budget Rowing Machines
Because the quality can carry so much from one company to the next with budget rowing machines, I thought it was a good idea to compile a quick buyers guide, so you know what to look for.
The last thing you want is to receive your new rower and find it's not suitable for your needs or it's cheaply built and only lasts a few months.
Is the Weight of a Rowing Machine Important?
Not many people will consider the weight of a rowing machine essential and if they do, most usually look for something light because it's easy to move. But what you should be looking for is the heaviest rower you can find for your budget, as the weight of a rowing machine or any cardio machine is a telling sign of the overall quality of materials used in the build.
Also, the extra weight will help keep the rower planted to the floor.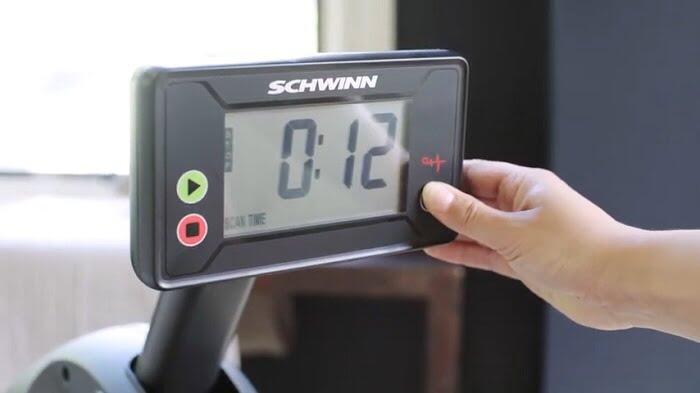 Monitor/Control Console
We won't find advanced monitors in this price bracket with HD screens and tons of workout programs. The monitors on budget rowers are basic, but they track all the essential workout data such as distance, time, strokes per minute total stroke count, and calories burned.
Choosing a rowing machine with a basic monitor will save you a ton of cash, and to be honest, most people who buy a rower with all the advanced features never end up using half of them, so that it can be a waste of money.
Basic monitors have some benefits; they are easy to set up easy to use and do not need to be plugged into the mains. They run on a couple of small batteries.
Resistance System which is Best? Magnetic Air or Water
There are three types of resistance systems generally used for home rowers, and by far the most popular is magnetic, and the main reason for that is because it's so quiet when in use.
The reason it's so quiet is that the magnets of the resistance system never have to make contact with the flywheel; thus, it's a frictionless resistance, and because it's frictionless, there's no noise and no maintenance.
Another benefit of magnetic resistance is that it is a constant resistance system. The strength of resistance only changes if you manually select a different resistance level via the reis tension knob. The good thing about this is you can row on a high resistance setting at a slow pace, great for the legs and something thats impossible with air or water resistance because they are both dynamic.
Also, magnetic resistance systems are cheaper to produce than air or water systems, bringing down the rowing machine's cost, which is always good news.
Air Resistance
I've always liked air rowers because they mimic the feel of outdoor rowing much more so than a magnetic rower. And they achieve this by using dynamic resistance: it only gets stronger the faster you row, like outdoor rowers. Still, the main drawback of air rowers is the noise the fan makes, which can be loud, especially at high stroke rates.
Water Reistnance rower
Water resistance rowers are probably the most realistic of all; because not only is the resistance system dynamic, you also get the sounds of the blades running through the water. The drawback here is that water rowers are expensive to produce. There are a few budget water rowers around, but the quality is so low they are not worth considering right now.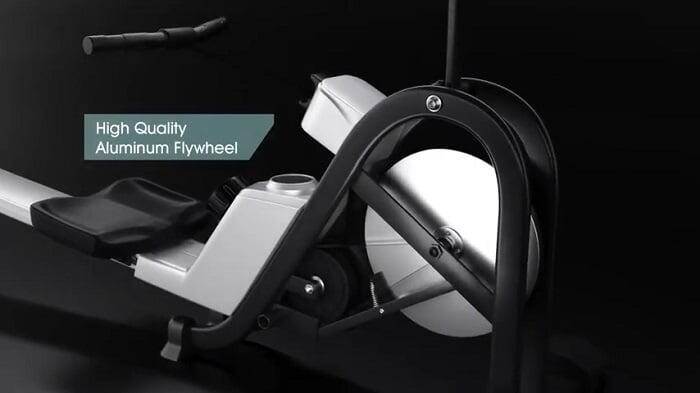 Flywheel Weight
Generally, we'd recommend you look for a heavy flywheel with budget rowers, as the extra weight typically provides a smoother rowing stroke and adds something to the resistance strength. It's not always the case, but in this price bracket, a heavier flywheel is more important than with high-end rowers. Budget rowers usually have a flywheel weight anywhere from 3lb to 8lb.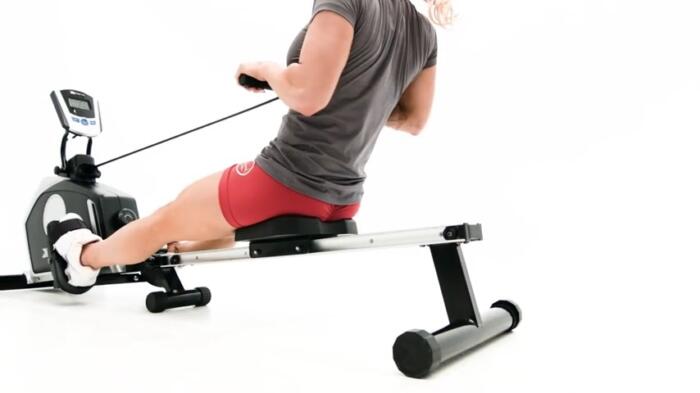 Rail/Beam Length
Rail length is important, especially if you're tall, and while the majority of budget rowing machines do not include long rails, there's are a handful that do, all of which are featured in this guide. For people over 6'2," you should look for  rail length thats the length the seat can slide not the total length of the rail of at least 38″
6'4″ -6'6″, there are only two budget rowers that can comfortably support your height with rail lengths of over 40″. One is the Sunny Health SF-RW5155, and the other is the Enchafit rowing machine. Good news because both are excellent rowing machines.
Stability – Weight – Stbalizers & Levelers
I've already mentioned the weight of a rowing machine plays a vital role in its overall stability, but there are a few other features we can look for. The first is wide stabilizing feet, and sometimes you can find rowers with these featured at both ends of the rower. Wide stabilizers help prevent any wobble when rowing.
Another handy feature some budget rowers include is adjustable levelers. These are excellent for keeping the rower stable on uneven floors. You can independently adjust each one.
And lastly, the seat, what the seat padding is made from can affect your stability when rowing. Look for high-density foam padding. This stuff isnt too soft to cause stability issues or too hard to be uncomfortable. It's just right.
To Sum Up
Although it can be time-consuming and a little tricky to find a high quality rower in this price bracket, it's worth the effort because there are a few excellent rowers to be found for under $300, and the one that stands out the most is the Fitness Reality 1000 Plus.
The Fitness Reality 1000 Plus Rowing Machine has everything going for it. It's built by a reputable company thats been around for years. It boasts the smoothest rowing stroke, a long rail, a decent monitor that includes Bluetooth, and an easy-to-fold system. Best of all, it utilizes both magnetic resistance and a belt drive system making rowing on this machine a near-silent experience.
For $250, the Sunny Health SF-RW5515 and Echanfit Rowing Machines are unbeatable, and it's almost impossible to separate the two rowers on features and build quality as both offer so much for the price tag.  Whichever one of these two you choose, you won't be disappointed. Nothing comes close to them in the under $250 price bracket.