Schwinn has been around for over 100 years. Schwinn has more history in the fitness market than any other company. These guys are known for quality, and thankfully their prices aren't crazy. Currently, they only have one rower out, which is the Schwinn Crewmaster rower. 
Decent Quality Mid-Level Rower
Over the years, I've reviewed a ton of Schwinn gear, and they usually impress, build quality is always up there, so when I saw their new rower, the Crewmaster, I couldn't wait to take a look. Schwinn hardly ever makes rowers! There's only been one other a few years ago.
However, the Crewmaster rower isnt anything special it's not a heavy-duty option, and it's still a long way of a commercial machine, but this thing weighs 90lb, so it's not cheaply built either.
We can call it a mid-level rower based on build quality, but when it comes to features, the Crewmaster is lacking compared to other similar priced rowers.
Includes Comparison With Stamina Avari
Today we're going to take a close look at Schwinn's attempt at a mid-level rower, including its drawbacks.
At the end of the review, I'll compare the Crewmaster to the Stamina Avari, one of the Best Magnetic Rowers on the market, a little more expensive than the Schwinn. Still, it will be interesting to see how the Schwinn matches up against one of the market leaders.
First, a quick look at the Crewmasters product specs!
Product dimensions – 89.10″ x 21.10″ x 31.70″ (L x W x H)
Resistance type – Magnetic
LCD multi-function monitor tracks –  Distance, Time, Total Count, Calories Burned, Strokes per Minute 
Why Do We Like the Schwinn CrewMaster Rower?
Whats impressed me most about this rower from Schwinn is that they have got all the essentials right. The first is the length of the rail, and at just over 5ft, it's impressive.
There are quite a few mid-level foldable rowers that get rail length wrong. It's too short, resulting in low max height limits of around 6'2″, which is disappointing.
The Crewmasters 5ft rail will accommodate users up to 6'6″ which is excellent, and with a 300lb max weight capacity, large guys will like this rower. There's no lower limit on height, so no need to worry if you're a shorter user.
Another thing I really like about the rail is its width; it boasts a wide rail for a mid-level rower and that extra width aids stability.
Many users have mentioned how stable they feel when rowing on the Crewmaster, partly thanks to the wide rail. There's no seat wobble, and the seat glides smoothly up and down the rail on its rollers.
Oversized features are a sign of quality, and you can see this again with the large foot pedals and straps. For rail length, rowing stroke, and comfort, the Schwinn gets a thumbs up.
90lb Heavy and Stable
The Schwinn does lack monitor features, but it makes up for it with build quality as i mentioned this machine weighs over 90lb which is heavy, the extra weight is a telling sign this rower is made from quality materials its also going to help a ton with stability as it will keep the rower planted to the floor.
Ten levels Whisper Quiet Magnetic Resistance.
Magnetic resistance isnt anything new, you might hear a lot of companies talking about it as a new resistance system, but it's been featured on cardio gear for at least a decade now. Still, it has many advantages over other resistance systems such as air and water.
The first noticeable difference is price. Magnetic systems are a lot cheaper to produce than the others, bringing down the cost of your rowing machine, which is always a good thing.
Another benefit of magnetic resistance is just how quiet the system is when in use, and that is down to the magnets never having to make contact with the flywheel. It's a frictionless resistance system which means no noise and no wear and tear.
You can watch your fav Netflix shows listen to music without being disturbed by the sound of the machine.  The low noise level is one of the main reasons magnetic rowers are so popular with people who live in apparents. You dont need a separate room to house the rower. You can perform your workouts without disturbing people close to you.
And we can't forget the Crewmaster also uses a belt drive system, yes it's not as durable as a chain drive, but it's silent in operation. Overall a very low Decibel rower.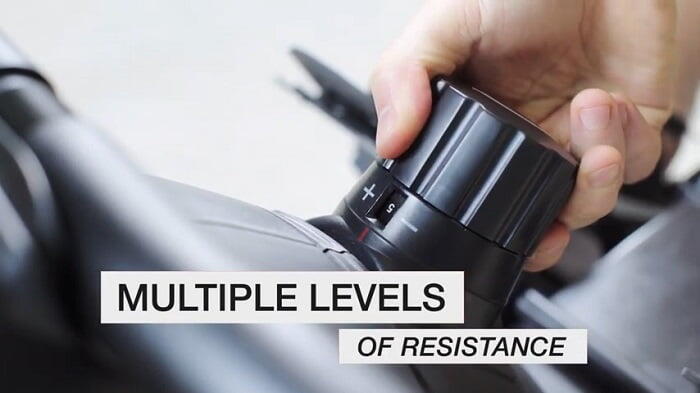 The Schwinn Crewmaster rowing machine includes ten levels of magnetic resistance. While that isnt many for a mid level rower, many users have mentioned they can feel a big difference in resistance strength from the lower to the upper levels, which is reassuring.
Sadly we can not select resistance strength from the monitor. It has to be chosen via the tension knob situated in the front of the flywheel housing. This is easy to reach and adjust when on the rower.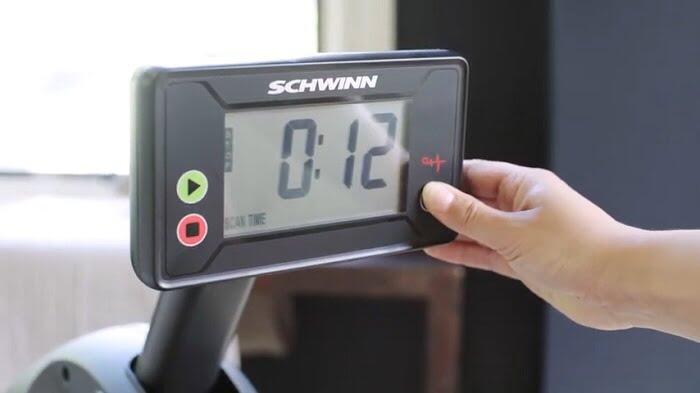 Basic Monitor – Easy To Use
One positive of the Schwinn monitor is thats it's simple to use and doesn't take half an hour to set up. It has a nice large LCD screen so that you can see your stats easily while working out.
And another cool feature is that you can adjust the monitor's height.  However, if you're someone who loves their fitness app and workout programs? You're going to be disappointed as the Schwinn doesn't include any apps and no pre-programmed workouts at all.
This is a shame. I'm sure for some of you. Personally, I prefer fuss-free monitors id prefer the money goes into the build of the rower, which is what Schwinn has done.
The Crewmaster tracks all the essential workout stats such as:
Time

Count (number of strokes for current workout)

Distance
Total Count (total strokes done for the history of the machine)

Calories

RPM (stroker per minute)

Pulse

Scan
Schwinn thought to include one crucial advanced feature, wireless heart rate monitoring, great for those of you who love to work out in your chosen heart rate zone. The only down side you'll have to buy a heart rate chest strap for around 40 bucks.
Anything Else We Liked?
You have to love any space-saving features, cardio gear is large, and rowers take up a lot of room. We need a folding feature, and most of all, it needs to be easy to fold.
The Crewmaster is super easy to fold. You just pull a pin, and it folds with ease. It takes a second or two. This halves the machine's overall footprint again, making it an excellent choice for apartment owners tight on space.
Another handy feature are the transport wheels, as once folded, we can tilt the machine and roll it to store.
Perhaps, one of the most important things about this rower and something I noticed straight away, was the warranty its impressive, especially for a $500 rower, ten years on the frame, three years parts, and one-year labor thats more impressive than some warranties I've seen on rowers costing twice as much.
The extended warranty shows Schwinn has a lot of confidence in the build quality of this rower.
Assembly 45 Minutes
Most people found the Crewmaster easy to assemble, taking an average of 45 minutes. Schwinn recommends two people for assembly so one person can hold parts in place, but many users managed to put this thing together on their own.
The rower is shipped in two boxes and comes with all the tools necessary for the assembly and illustrated instructions.
Belt drive and magnetic reistnace sytem make the Crewmaster rower whisper quoite when in operation
Folds for storage and includestransport wheel just tilt and roll to store
Good quality for price point
Excellent warranty for a $500 rowing machine
Can not adjust reistnace level from the monitor
A few users mentioed the nylon belt seemed cheaply made
Not suitable for seroius rowers
Stamina Avari Magnetic Rowing Machine
For a long time, the Stamina Avari has been one of the most sort after magnetic rowers. For almost five years, this machine has been blowing away the competition, but in all that time, Stamina hasn't updated anything, which isnt always bad. Sometimes upgrades ruin a good machine (recently, the Avari has been relaunched on Amazon with different color choices, which is why you won't see so many user reviews). Still, when you consider we're paying around $650 for this one, you'd expect at the least a monitor update.
When I first reviewed the Stamina Rower, people compared it to the Concept 2, saying that the rowing stroke was just as smooth, and the resistance strength was so impressive that any fitness level could use this machine. There aren't many magnetic rowers that can boast that.
Also, this machine is durable its stood the test of time. People have owned it for years and are still praising how well it works.
Compared to the Schwinn, both machines are similar, weigh around 90lb, use magnetic resistance, and include long rails, and both are built by well-known companies in the fitness industry.
But the, Stamina is a class above the Schwinn, especially when we talk about resistance strength. It has a heavier flywheel, more resistance levels, 12 pre-set programs, and a heart rate chest strap.
It's undoubtedly a rower worth considering if you take your cardio seriously, and it's a rower you won't outgrow anytime soon. Yeah, it hasn't been updated for a while, but it still outshines everything else.
To Sum Up
There's nothing that stands out about the Schwinn Crewmaster Rowing Machine its basically a good mid-level rower, and thats why I liked it. It's fuss-free, well built, and the monitors easy to use. It's my kind of cardio gear and something I'd buy.
If like me you dont need lots of fancy features and just want a solid rower for cardio workouts, thats what the Schwinn rower is. It's also quiet has a smooth rowing stroke; it's heavy, stable, and comfortable. Plus, the monitor, although basic, is easy to use and large enough to see while your rowing. And best all this rower comes with a great warranty so you have peace of mind too.